This Loaded Zuppa Toscana Recipe (Tuscan Soup) is the ultimate creamy, hearty, decadently delicious comfort food, all made in ONE POT, and has been called the "best soup I have ever tasted" by many!
This Zuppa Toscana Recipe is NOT an Olive Garden Zuppa Toscana Copycat, instead it is a BETTER than Olive Garden Zuppa Toscana recipe loaded with Italian sausage, potatoes, bacon, cannellini beans, carrots, corn, and kale/spinach! With one bite, I think you'll agree!
Zuppa Toscana Recipe Video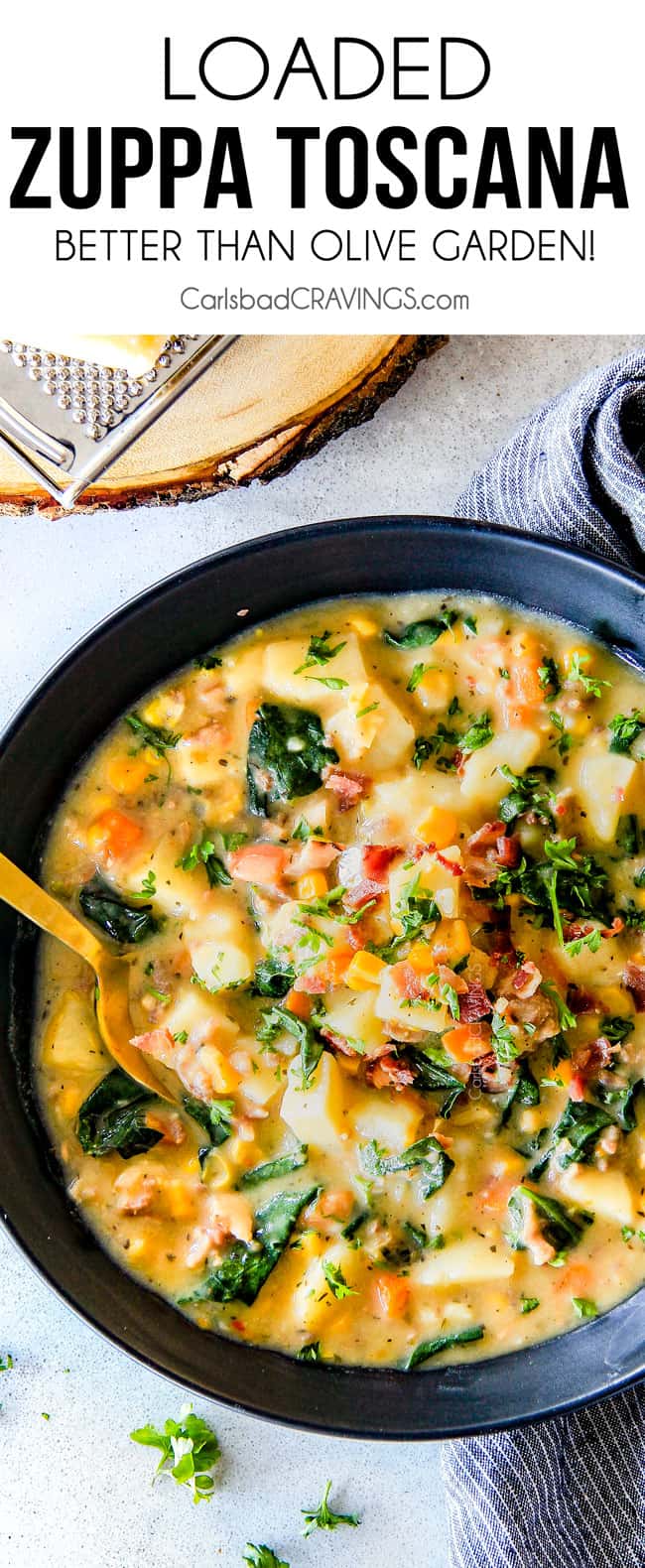 I looooove hearty, comforting Italian soups from my Olive Garden Chicken Gnocchi Soup, to my One Pot Lasagna Soup to my Italian Vegetable Soup to my Parmesan Tomato Basil Soup, but oh my goodness friends, this might be my favorite yet. Get ready to fall in love with richly satisfying Zuppa Toscana soup all over again! Because this Better Thank Olive Garden Zuppa Toscana recipe is going to have you falling hard. To. Say. The. Least. I love it so much I've even created a Creamy Tortellini Toscana Skillet version!
What is Zuppa Toscana?
If you aren't familiar with Zuppa Toscana, which literally means, "soup in the style of Tuscany," it is a Tuscan soup popularized in America by Olive Garden. Classic Zuppa Toscana, however is much heartier, often consisting of not only Italian Sausage, potatoes and kale (like the Olive Garden version) but onions, celery, carrots, cannellini beans, zucchini and powdered chili.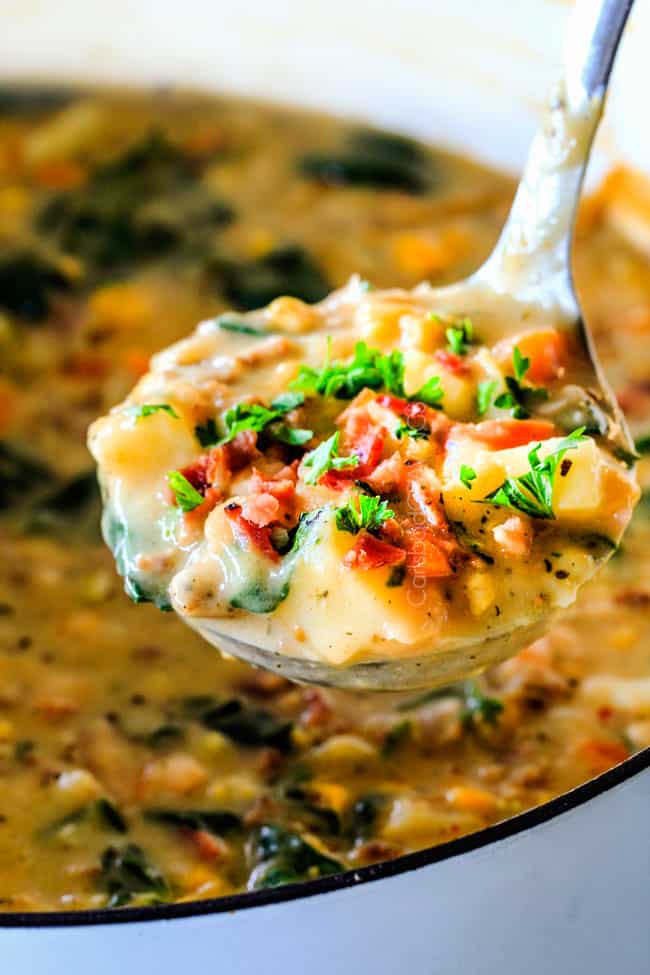 My Zuppa Toscana Recipe vs. Olive Garden Zuppa Toscana Recipe
If you love Olive Garden's Zuppa Toscana, I promise you will love my version too! My Zuppa Toscana recipe has all the creamy goodness of Olive Garden's version but with more veggies like classic Zuppa Toscana to create this truly better than Olive Garden Zuppa Toscana that you can make in ONE POT in your own home while wearing your slippers. This Zuppa Toscana recipe is mega creamy, bursting with veggies and exploding with flavor. This is one hearty bowl of soup that you will never want to put down!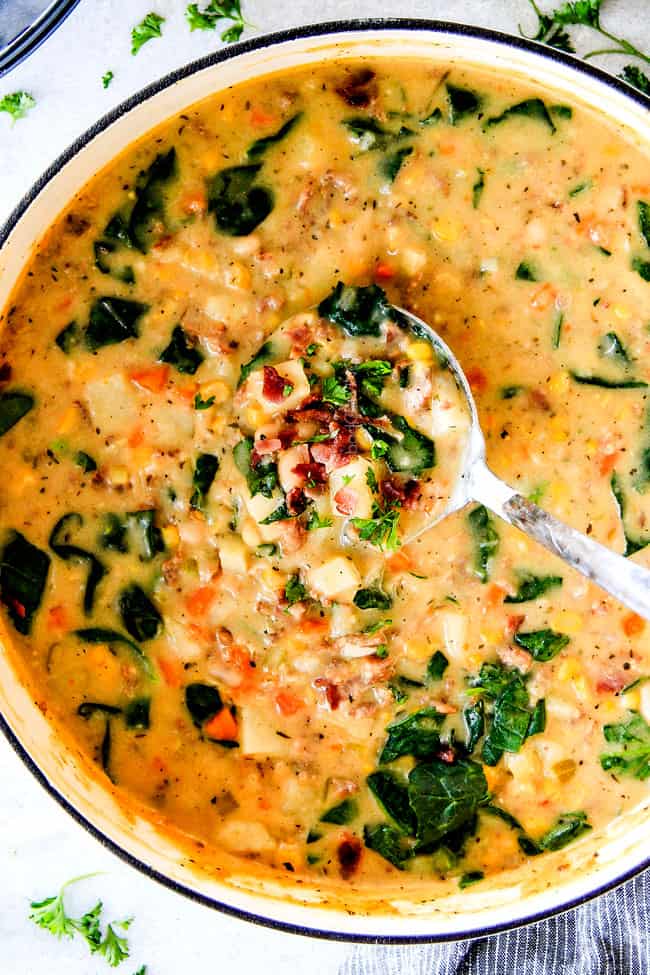 How to Make Zuppa Toscana
To make this Zuppa Toscana, we start with by cooking our bacon in the same pot we're going to cook the rest of our soup. We use the leftover bacon grease to saute and infuse our mirepoix with even more flavor.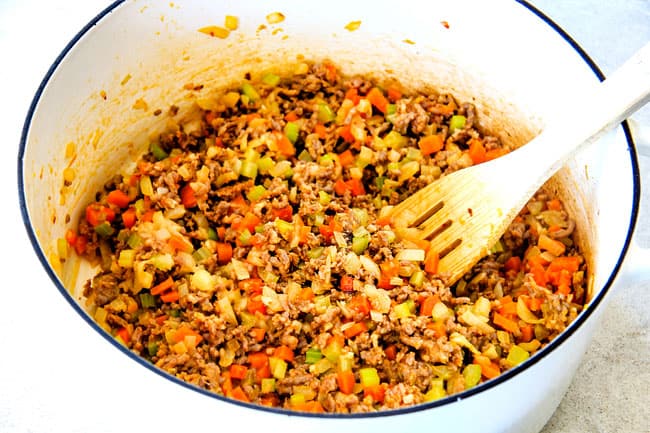 Mirepoix (pronounced "meer-pwah"), is simply a fancy French term for the combination of diced carrots, onions and celery sautéed in butter/olive oil and in this case, bacon fat – mmmm. Every chef will tell you that every great soup or stew should begin with a mirepoix. And I heartily agree. It adds richness and depth of flavor that can't be achieved any other way. Chopping the celery, onions and carrots is probably the most time consuming part of this whole Zuppa Toscana recipe, but it's so worth it. You can chop all your veggies in advance or you can even buy mirepoix by the jar and keep it in your refrigerator (I have a few friends with young children that swear by this shortcut)!
2. Next, we cook our sausage and garlic then sprinkle in our flour and cook for couple minutes to get rid of the raw flour smell then add our potatoes, creamy cannellini beans, creamed corn (also helps thicken the soup while adding flavor), and sweet corn.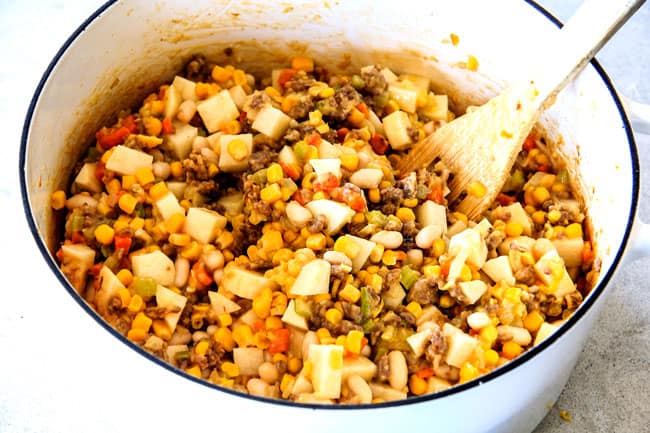 3. Next, we whisk in our chicken broth. Now, a trick I use often in soups and sauces is to whisk some cornstarch into some milk before adding it to the soup. This makes the milk behave like heavy cream and helps thicken the soup. Finally, add our blend of handpicked herbs and spices…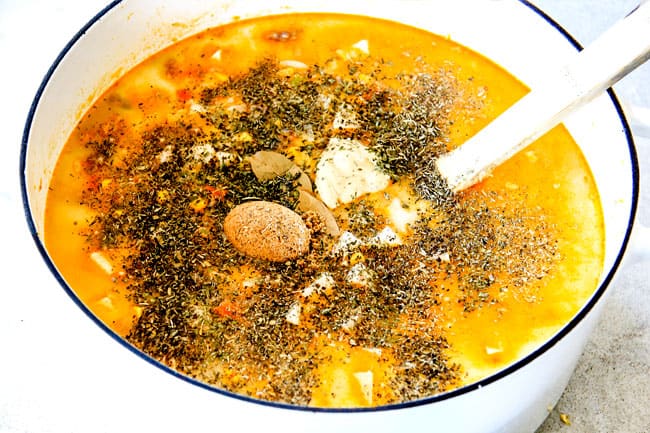 4. Simmer until the potatoes are tender (about 15 minutes) and you can barely resist the aroma escaping your soup pot.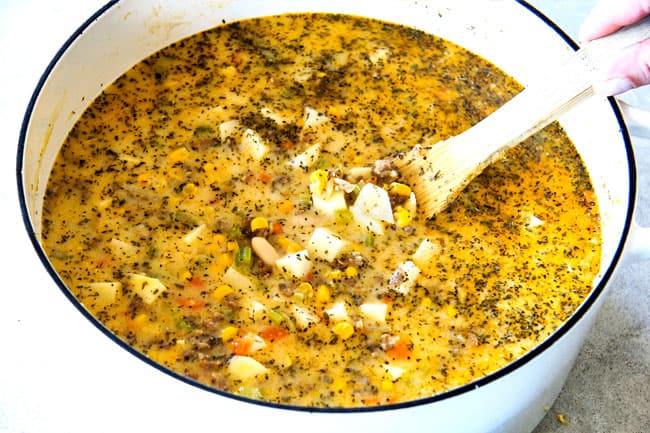 5. Stir in half and half, spinach or kale and half of your chopped bacon.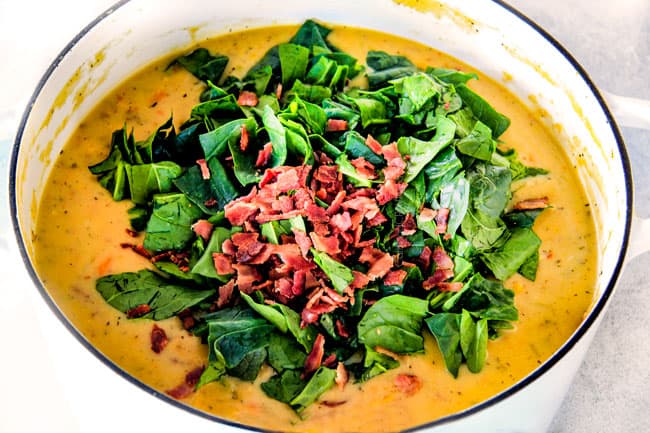 6. Garnish individual bowls with remaining bacon and as much freshly grated Parmesan you heart desires.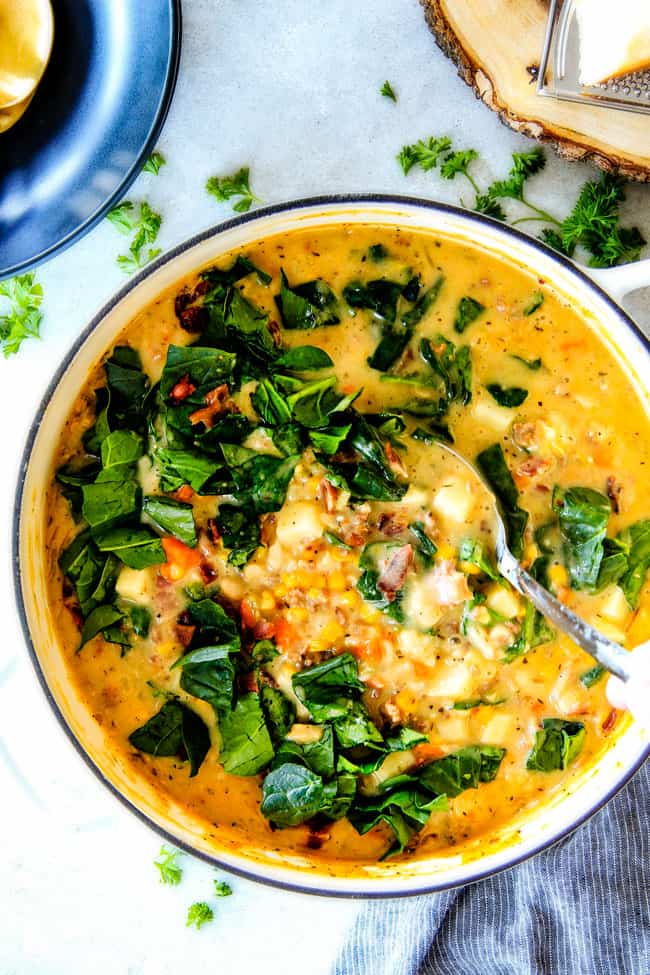 Tips and Tricks To Zuppa Toscana Soup
Is Zuppa Toscana Healthy?
Zuppa Toscana is naturally loaded with nutritious veggies and this version uses flour, cornstarch and half and half instead of heavy cream. Still, if you would like to make this Zuppa Toscana recipe healthier, then there are a few substitutions you can make: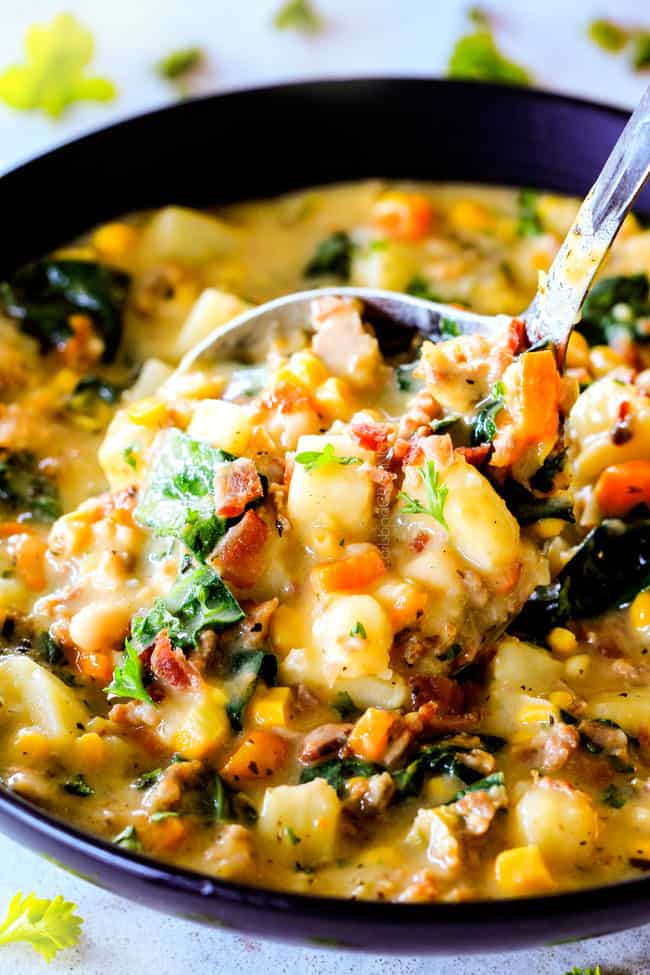 Can I Freeze Zuppa Toscana Soup?
No, I don't recommend freezing Zuppa Toscana due to the creamy nature of the soup and the potatoes. The potatoes will not freeze well and turn into an unpleasant grainy, disintegrating, mushy texture.
What Goes With Zuppa Toscana Soup?
Serve Zuppa Toscana Soup with my family favorite Ugly Duckling Garlic Parmesan Breadsticks for the ultimate Better than Olive Garden Zuppa Toscana experience! Cheesy Pesto Pull Apart Bread or Spinach Dip French Bread would also be fabulous. This creamy soup would also be delicious with a big green salad, Cucumber, Tomato Salad or Wedge Salad.
See you in my slippers.
Looking for more One Pot Soup Recipes?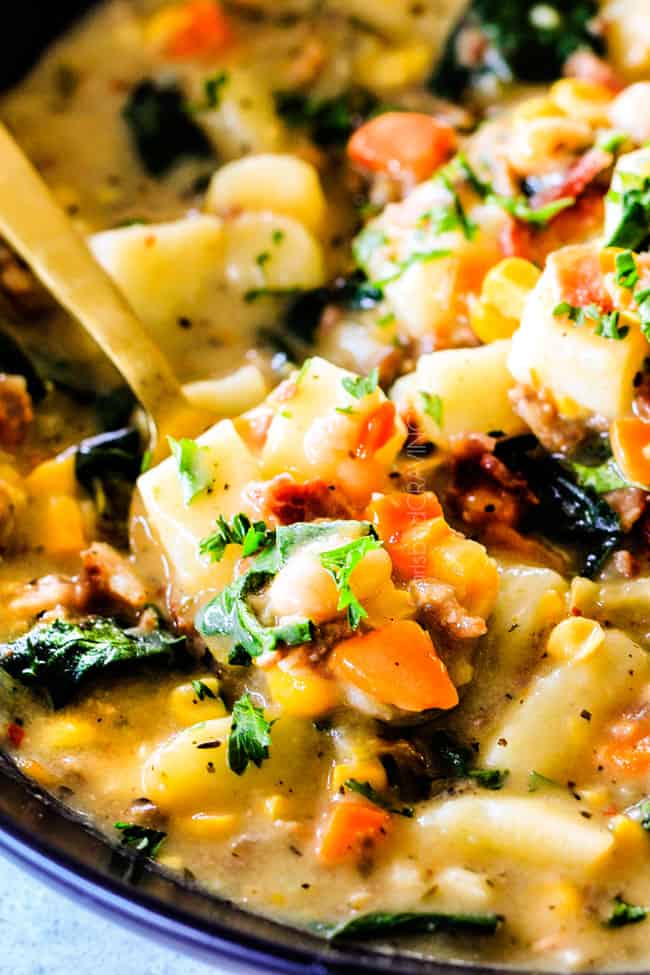 You might also like these Italian soups:
WANT TO TRY THIS BETTER THAN OLIVE GARDEN ZUPPA TOSCANA RECIPE?
Pin it to your SOUP, DINNER OR BEEF Board to SAVE for later!
Find me on Pinterest for more great recipes!  I am always pinning :)!
©Carlsbad Cravings by CarlsbadCravings.com
Better Than Olive Garden Zuppa Toscana
This ONE POT Loaded Zuppa Toscana (Tuscan Soup) is the ultimate creamy, hearty, decadently delicious comfort food!  This ONE POT Loaded Zuppa Toscana (Tuscan Soup) is the ultimate creamy, hearty, decadently delicious comfort food and has been called the "best soup I have ever tasted" by many! This Zuppa Toscana is BETTER than Olive Garden Zuppa Toscana recipe loaded with Italian sausage, potatoes, bacon, cannellini beans, carrots, corn, and kale/spinach!
Save This Recipe To Your Recipe Box
You can now create an account on our site and save your favorite recipes all in one place!
Ingredients
6

slices

bacon

uncooked

1

pound

bulk/ground spicy Italian sausage

3

carrots, chopped

(approx. 1 ½ cups)

3

stalks celery, chopped

(approx. 1 ½ cups)

1/3

cup

flour

1 1/2

pounds/3 medium

russet potatoes

chopped into bite size cubes

1

15 oz. can

cannellini beans

rinsed and rained

1

15 oz. can

can sweet corn

rinsed and drained

1

15 oz. can

creamed corn

4

cups

low sodium chicken broth

3

cups

milk

3

tablespoons

cornstarch

1

tablespoon

Dijon mustard

1

tablespoon

chicken bouillon

1

tsp EACH

dried parsley, salt

1/2

tsp EACH

dried basil, dried oregano

1/4

tsp EACH

dried thyme, pepper

1/4

teaspoon

red pepper flakes, or more to taste

(optional if you like heat)
Add later:
2-3

cups

half and half

4

cups loosely packed

fresh chopped spinach or kale
Garnish (optional)
remaining bacon

in directions

fresh parsley

Parmesan cheese
Instructions
Cook bacon in Dutch oven/large stock pot until crispy; remove from pot. Drain all but 2 tablespoons bacon grease or add additional olive oil to equal about 2 tablespoons.

Add onions, carrots and celery and sauté for 5 minutes over medium heat. Increase heat to medium high and add sausage and garlic and cook, while crumbling meat, until meat is browned, about 3 minutes. Sprinkle in flour and cook, while stirring, an additional 2 minutes.

Turn heat to low and stir in potatoes, cannellini beans, creamed corn and sweet corn. Add chicken broth. Whisk cornstarch with milk (you can whisk with as little as 1 cup milk, just enough so it dissolves) and add to pot. Stir in Dijon, bay leaves and all seasonings.

Increase heat to high, cover pot and bring to a boil. Remove lid and reduce heat to a gentle simmer until potatoes are fork tender, about 15 minutes, stirring occasionally.

Stir in half and half, adding additional broth or half and half if desired for a less "chunky" soup and warm through.

Remove from heat and stir in spinach/kale and half of chopped bacon.

Garnish individual servings with remaining bacon and Parmesan cheese if desired.
Notes
Don't miss the "how to make" recipe video at the top of the post!
This recipe makes a lot of soup so consider halving the recipe if you don't like leftovers.
Did You Make This Recipe?
Tag @CarlsbadCravings and Use #CarlsbadCravngs
Leave a Review, I Always Love Hearing From You!
©Carlsbad Cravings Original