CRISPY FRIED BAJA FISH TACOS THAT ARE BETTER THAN ANY RESTAURANT WITH A ONE STEP DUNK BATTER!
These Baja Fish Tacos are cocooned in a warm corn tortilla garnished with crunchy cabbage, fresh pico de gallo, and creamy white sauce all finished with tangy lime. You are going to love how easy this Baja Fish Tacos recipe is and bonus, almost all the components can be prepped and refrigerated beforehand for a quick weeknight meal or super fun dinner to serve for guests. But above everything, they are just so ridiculously delicious.
I am beyond giddy for you to make these fried Baja Fish Tacos because I honestly think they are some of the best you you will ever eat in your entire life – and right in your own home! They are wonderfully crispy with a depth of flavorful spices, texture packed between the cabbage and the crema and still wonderfully light and fresh!
Baja Fish Tacos Recipe Video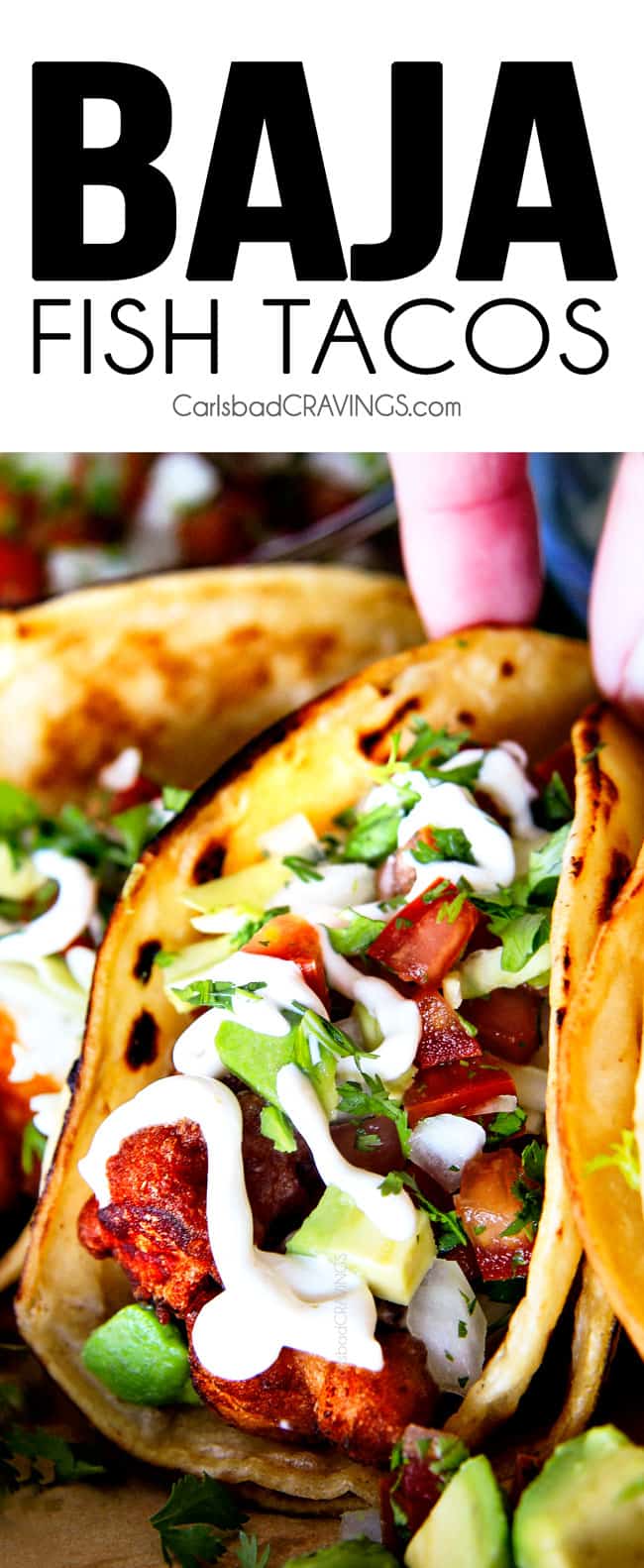 What are Baja Fish Tacos?
There are Fish Tacos and then there are BAJA FISH TACOS! Growing up and still living in San Diego (Carlsbad is a coastal city in northern San Diego), I have devoured my share of Baja Fish Tacos – they are everywhere! You've probably seen them at Rubios, Mexican restaurants, or if you've ever visited San Diego or ventured as far as the Baja Peninsula in Mexico, you've probably sunk your teeth into some rendition of these Baja Fish Tacos.
They all have similar components but truly authentic Baja Fish Tacos are always fried (never blackened), served on corn (not flour) tortillas, with thinly sliced cabbage, pico de gallo, creamy white sauce and plenty of lime. That's the way its done. And that's the way it should be. Because it is DELICIOUS.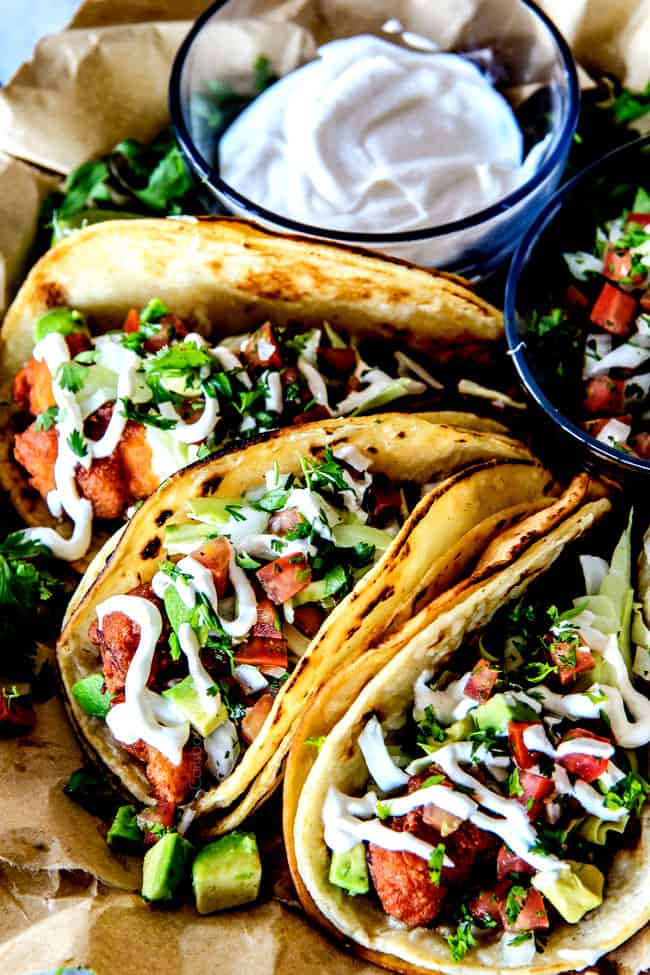 Where do Baja Fish Tacos Come From?
Baja Fish Tacos originated in Ensenada, a coastal city in Baja Mexico, about 75 miles south of the border of California. It is a stones throw away from where I met my Patrick when it was safer to travel to Baja. But that's another story. Ensenada is still considered the destination for fish tacos.
Thankfully, Ralph Rubio, a then SDSU student, couldn't leave Baja Fish Tacos in Baja after love-at-first-bite on a spring break surfing trip in Ensenada in the 1970s. I was able to meet Ralph Rubio at a private cooking demonstration and tasting at a Carlsbad Rubios (see IG pic HERE. Carlsbad is actually Rubios headquarters) where Ralph described his epiphany while at his favorite Mexican fish taco stand:
"Why didn't someone open a restaurant like this in San Diego?" He thought to himself, "Well, maybe I could do it."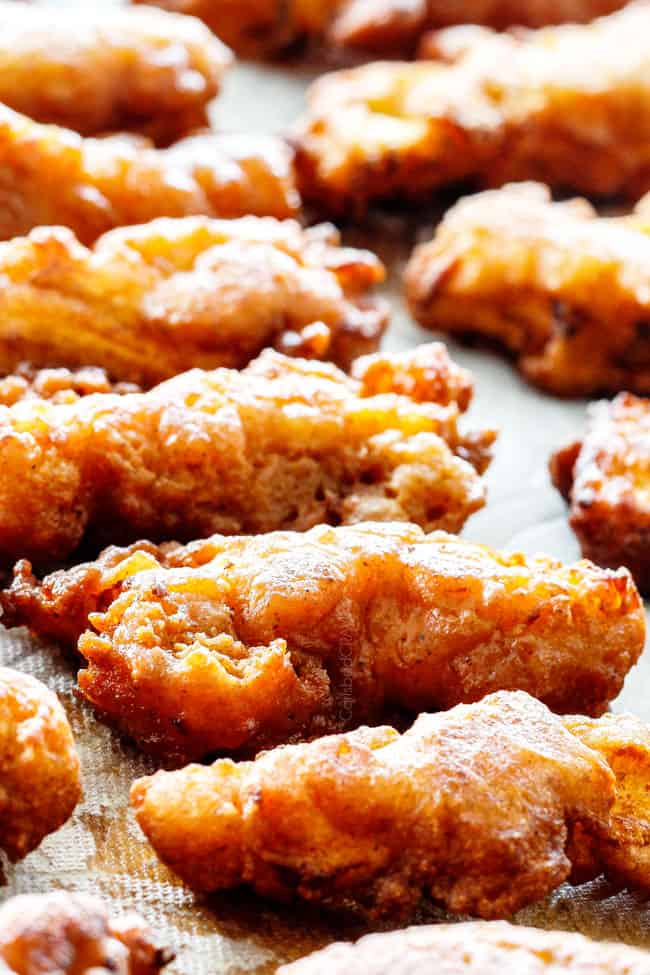 Shortly after, with the help of his family, Ralph converted an old Orange Julius stand and San Diego was introduced to Baja Fish Tacos. He described how in the beginning, business was so slow that he would lay on the roof of his first restaurant and come down to make individual orders as they came in. It didn't take long though for his Baja Fish Tacos to catch on like wildfire and he eventually opened the now famous Rubios Coastal Grill with over 190 restaurants.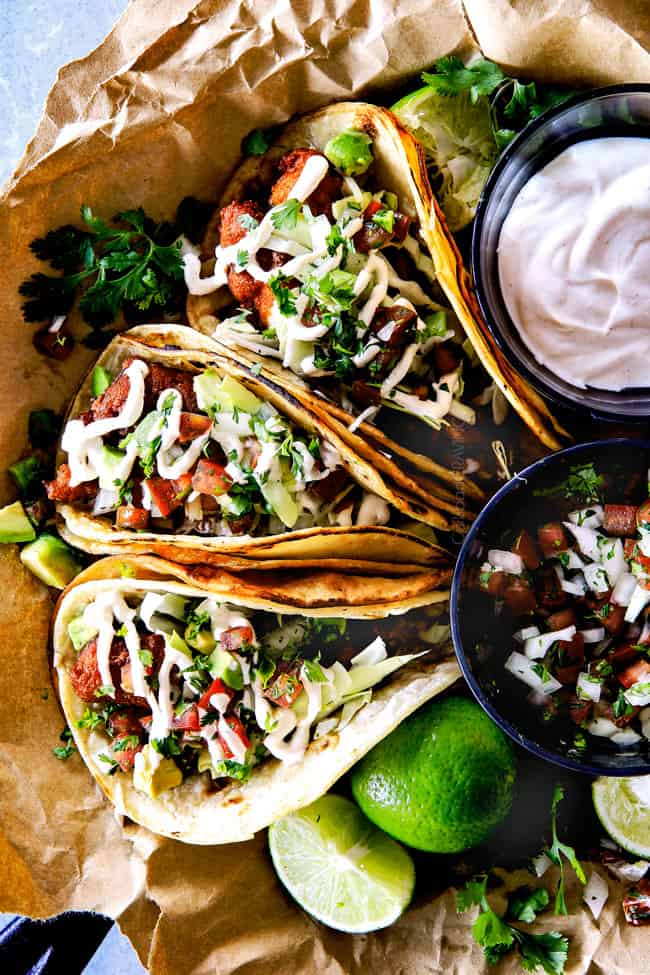 So now that you know the backstory on Baja Fish Tacos, let's get up to date with these Baja Fish Tacos!
How to Make Baja California Fish Tacos
For the tacos themselves, you want to use some sort of white fish. I like halibut, but any firm white fish will do. Slice them into ¾ x 4 inch strips. Don't worry about them being perfect or terribly uniform, just error on the side of slicing thinner than thicker so we keep our nice ratio of batter to fish.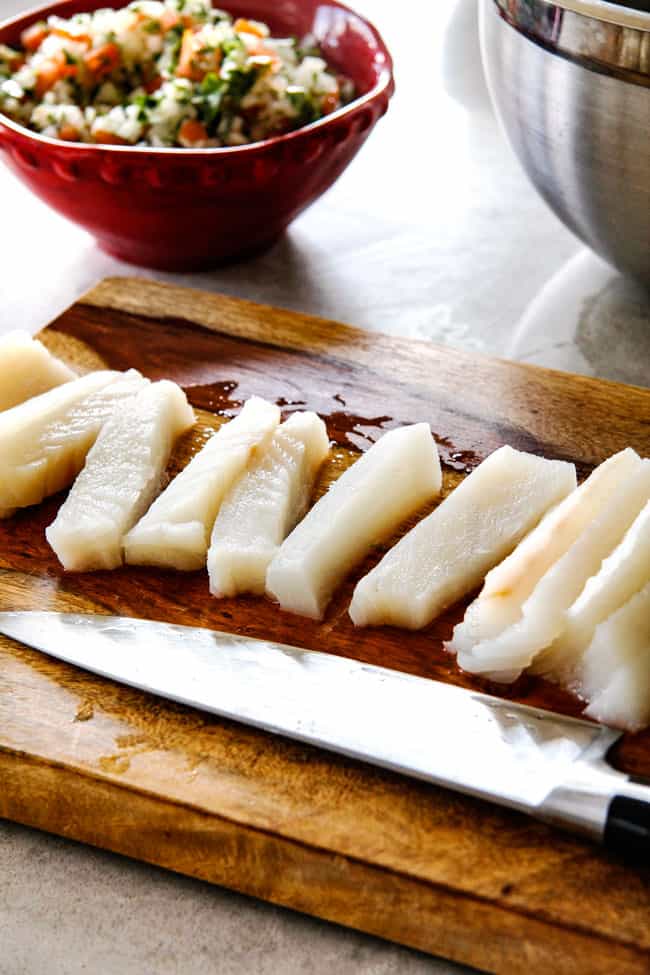 The batter itself is super quick whisking of crushed Ritz crackers, panko breadcrumbs, flour baking powder, egg, and sprite with a kick of flavor from chili powder, cumin, garlic powder, onion powder, cayenne pepper and salt. The Ritz lend a wonderfully buttery taste to the tacos, the panko lends a nice crunch and the spices add a depth of subtle flavor without tasting overpowering – even with the cayenne pepper – they will not taste spicy – just flavorful.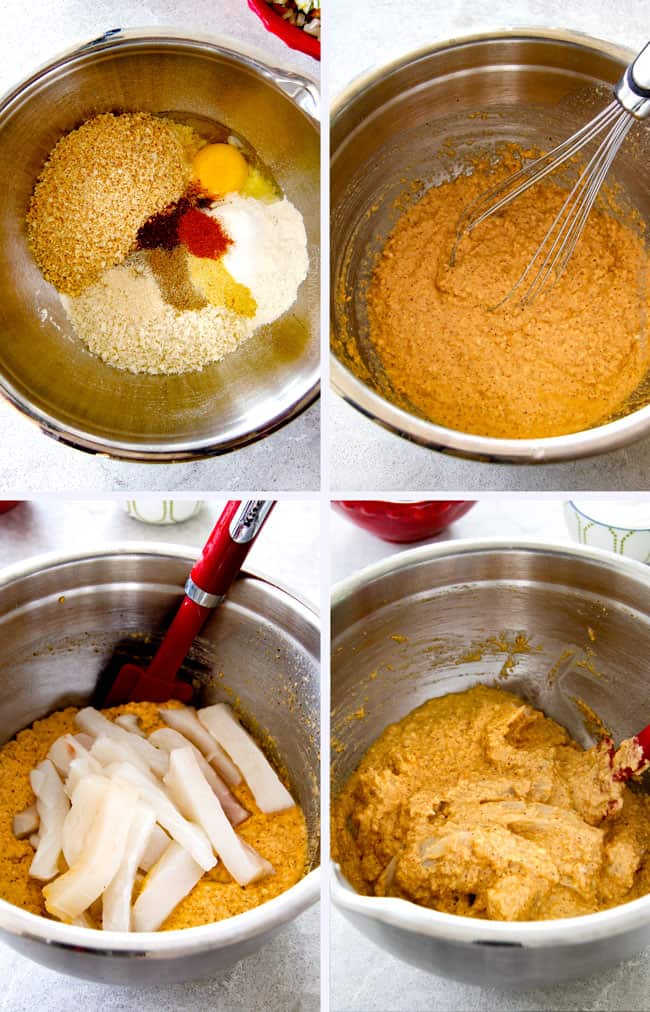 The most important thing about frying the fish is to pat the strips very dry after you slice them. This will ensure the batter sticks. Next, add your fish to the batter all at once and stir to coat- how easy is that?!
To fry, we don't need to deep fry, just an inch or so of vegetable oil works beautifully. Once hot, add your battered fish a few at a time and fry until golden, about 2 minutes on each side.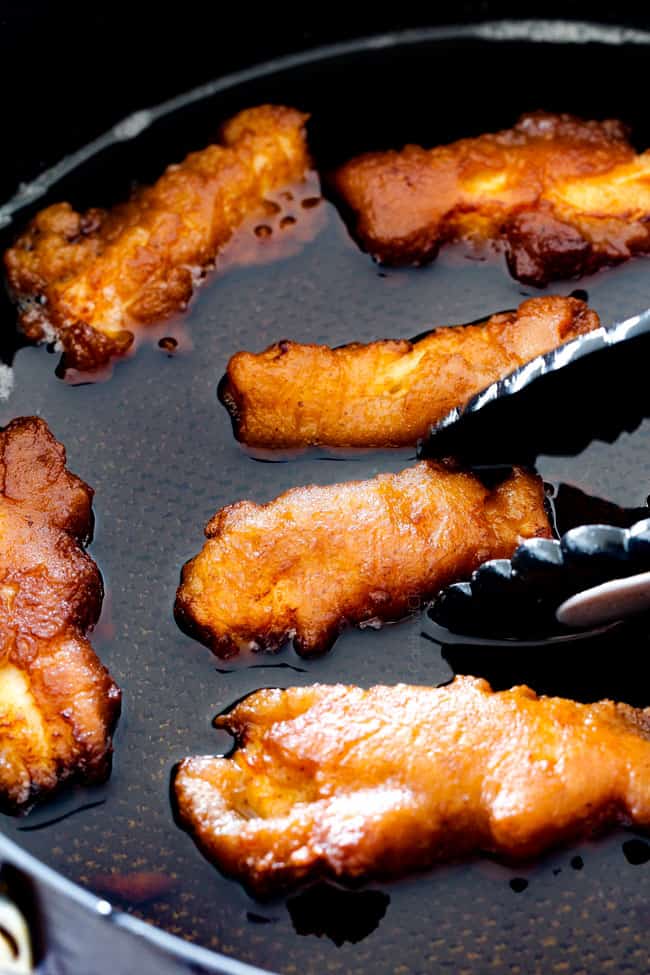 Now its taco time! You will want to use warm corn tortillas. You can achieve this by microwaving 2 tortillas at a time between slightly dampened paper towels so they are warm and pliable or you can pan fry them as shown by heating 1 teaspoon vegetable oil in a seasoned skillet over medium heat and cooking each tortilla for about 20 seconds, making sure you don't overcook so they stay soft and not crispy.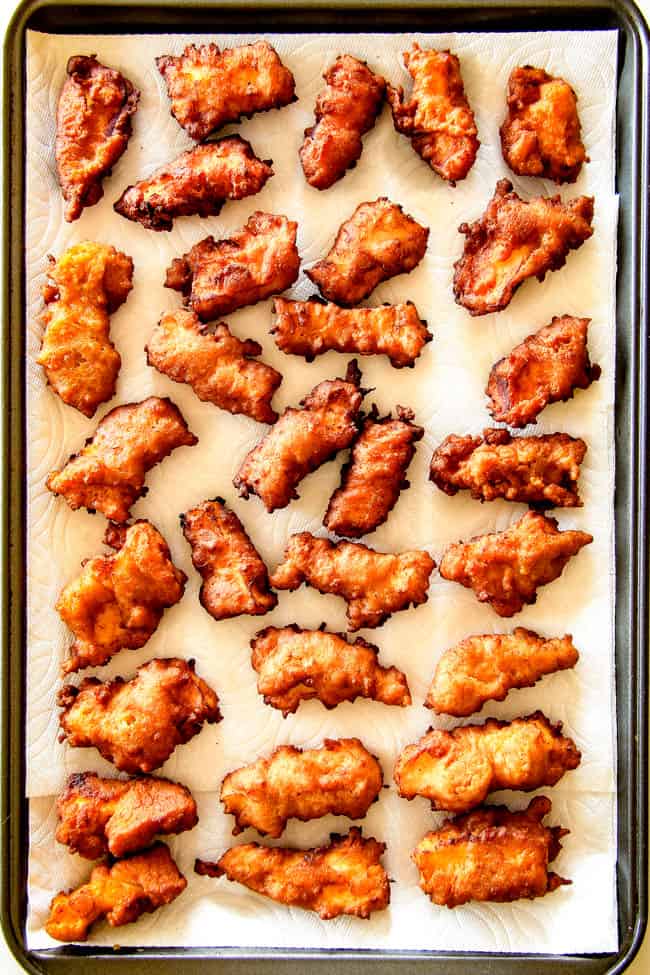 Fish Taco Sauce
Finally, assemble the fish tacos with thinly shredded cabbage, fresh Pico de Gallo, freshly squeezed lime juice, Creamy White Sauce and a drizzle of hot sauce to taste. But above all, don't skip the white sauce! This Fish Taco Sauce brings all the components together and is so heavenly I actually doubled my original recipe to give you what is listed there now. Because you will want more Fish Taco Sauce!
To make this creamy white sauce, simply whisk together mayonnaise, sour cream, 2 tablespoons lime juice and splashes of ground cumin, garlic powder and salt.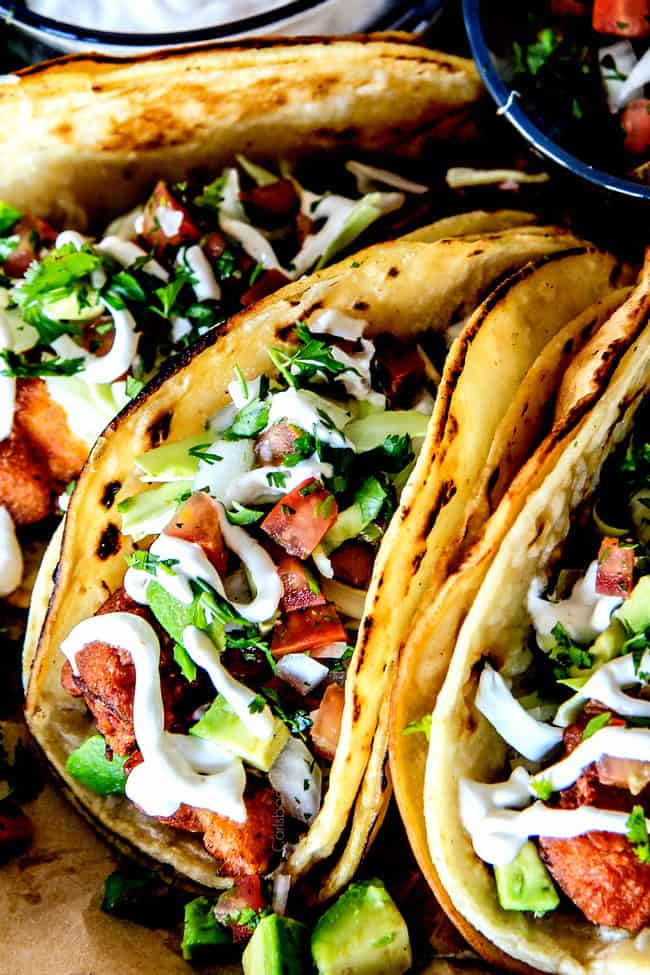 And the eat!
What to Serve with Baja Fish Tacos?
You can be as simple or as indulgent as you would like to be with these Fish Tacos. Here are some topping and side ideas: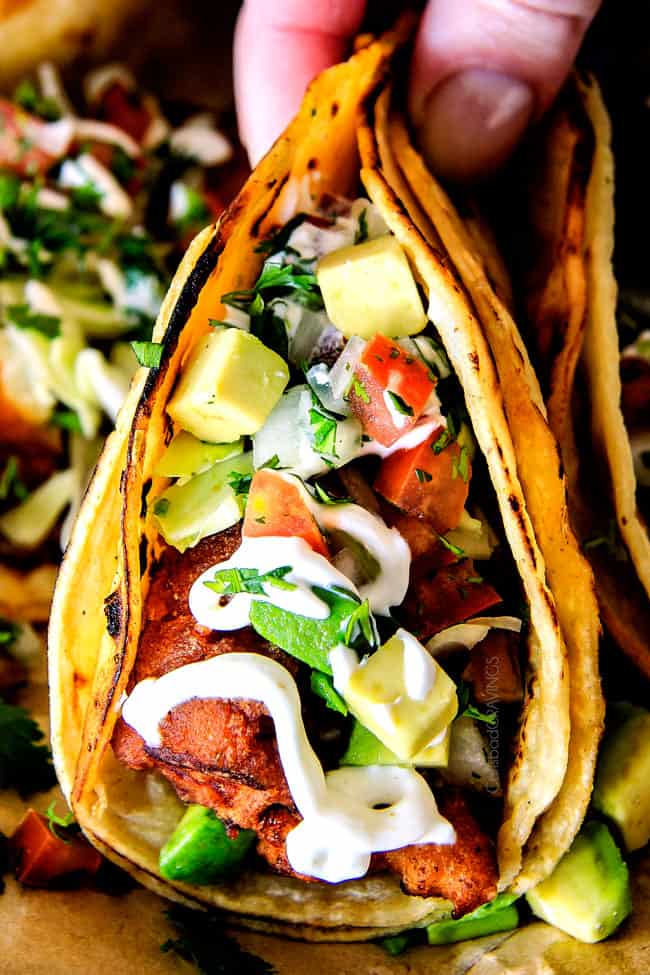 LOOKING FOR MORE TACO RECIPES?
You might also like these Mexican Favorites:
WANT TO TRY THESE BAJA FISH TACOS?
Pin them to your MEXICAN, SEAFOOD or DINNER Board to SAVE for later!
Find me on Pinterest for more great recipes! I am always pinning :)!
©Carlsbad Cravings by CarlsbadCravings.com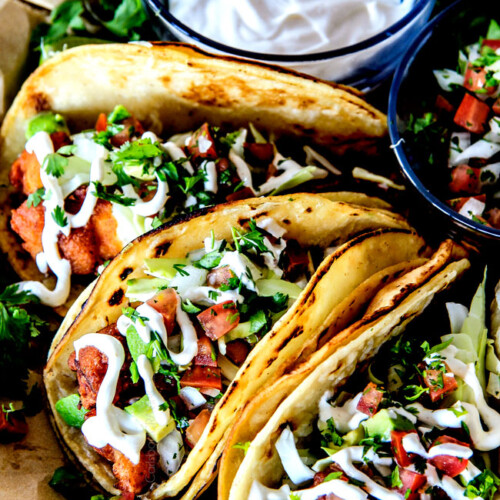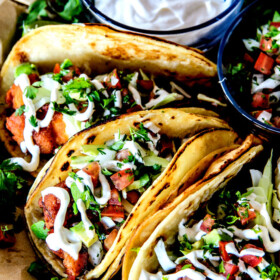 Crispy Baja Fish Tacos (Video)
These crispy fried Baja Fish Tacos BETTER than any restaurant!!! They are cocooned in a warm corn tortilla garnished with crunchy cabbage, fresh
pico de gallo
, and creamy white sauce all finished with tangy lime.  You will be obsessed with these fish tacos and they are easier than you think with a ONE STEP BATTER!   
Save This Recipe To Your Recipe Box
You can now create an account on our site and save your favorite recipes all in one place!
Ingredients
Instructions
White Sauce
Whisk the White Sauce ingredients together in a medium bowl, cover and refrigerate.
Pico de Gallo
Combine the

Pico de Gallo

ingredients together in a medium bowl, cover and refrigerate.
Tortillas (Microwave or Pan Fry)
MICROWAVE: Heat tortillas in the microwave by placing 2 tortillas between two slightly dampened paper towels and microwaving for 40 seconds. Place warmed tortillas on a plate with a paper towel in between and cover with a towel. Repeat with the remaining tortillas.

PAN FRY: Heat 1 teaspoon vegetable oil in a seasoned skillet over medium heat. Add tortilla and cook until its golden and starts to brown in spots, about 20 seconds, then flip and cook until other side is golden. The tortilla should still be soft and pliable, not crispy.

Place warmed tortillas on a plate with a paper towel in between and cover with a towel. Repeat with the remaining tortillas, adding additional oil as needed after every couple tortillas.
Fish
Mix all the batter ingredients together in a large bowl.

Slice fish into strips approximately 3/4" wide x 4″ long (they don't have to be exact – error on the side of thinner). Pat fish very dry and add all of the fish to the batter and gently stir to coat.

Fill a 12-inch pan with about 1 inch deep oil and heat to 375 degrees F.

Working in batches, fry fish until golden, flipping halfway through. Place on paper towels.
Assemble
Add fish to tortillas (I use 2 strips per taco) and top with shredded cabbage,

Pico de Gallo

, freshly squeezed lime juice and White Sauce. Drizzle with hot sauce/salsa to taste and garnish with avocados if desired.
Notes
Don't miss the "how to make" recipe video at the top of the post!
Did You Make This Recipe?
Tag @CarlsbadCravings and Use #CarlsbadCravngs
Leave a Review, I Always Love Hearing From You!
Carlsbad Cravings© Original