Baked Chicken Caprese is an easy, satisfying meal all in one with wonderfully juicy, flavor bursting chicken smothered in gooey mozzarella cheese with fresh basil and the most incredible balsamic reduction!
This Baked Chicken Caprese is a quick and easy meal-in-one with hardly any clean up and is one of my favorite recipes to date!
Are you guys read for summer?! Its been in the 80s here in heavenly Carlsbad which has me giddy for summer and all its fresh flavors! While I still can't get to my outdoor grill (landscapers are working on our yard – we moved recently and they are working their magic with the dirt), I can still bring you the taste of summer with this Sheet Pan Caprese Chicken and Veggies!
This Baked Chicken Caprese is even more delicious than it looks or sounds. It is one of my absolute favorite sheet pan meals to date and we all know I love sheet pan meals where everything bakes in ONE PAN so there is hardly any clean up and no additional sides to prep! Some of my other Sheet Pan Meals you want in your arsenal of quick easy dinners include:
So if you can't get to a grill for whatever reason, hopefully you will find satisfying solace in in those sheet pan meals. Now onto this Baked Chicken Caprese!
What is Caprese?
Caprese refers to something from or in the style of Capri, an Italian island. Culinary speaking, "Caprese" refers to its namesake – Caprese Salad of fresh tomatoes, basil and mozzarella and often balsamic vinegar. I loooooove fresh and bright Caprese flavors and have celebrated them in my Caprese Avocado Chicken Wraps, Caprese Chicken Salad with Asparagus, Avocado and Bacon, Caprese Pasta Salad and my Caprese Pasta with Balsamic Chicken.
I used the same balsamic chicken marinade in my Caprese Chicken Salad because its my favorite balsamic marinade with hints of Dijon, lemon juice, garlic and basil but instead of just marinating the chicken in it, we reserve some to toss with our green beans, squash and tomatoes so we not only have flavor bursting chicken but flavor bursting vegetables as well.
How To make BAKED CHICKEN Caprese
First, we roast the green beans for 8 minutes then add our tomatoes, squash and chicken and bake for another 15 minutes to ensure everything is done at the same time.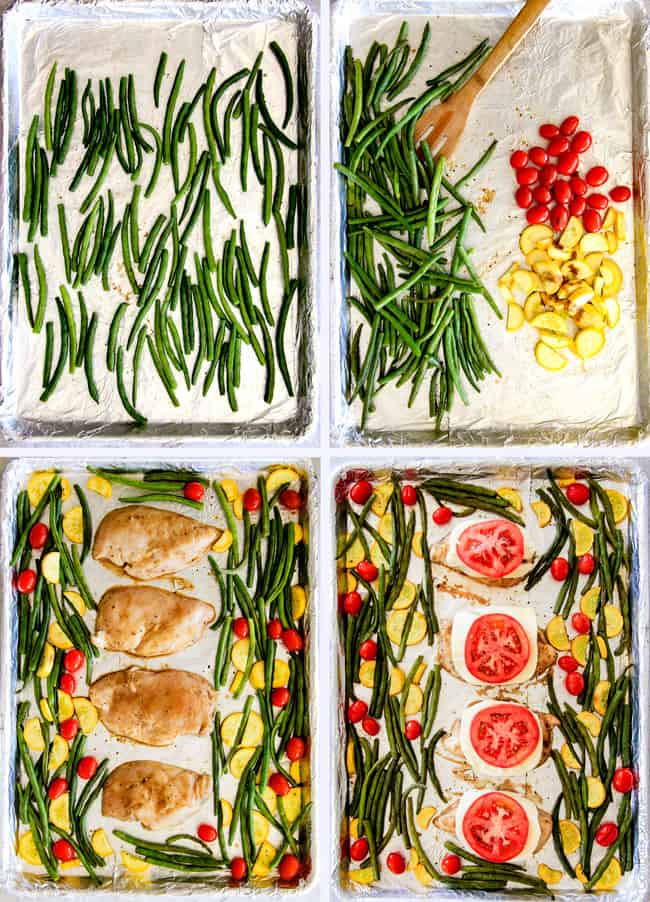 Now the best part, we layer each piece of chicken with one thick slice of mozzarella followed by one slice of tomato and back in the oven for the cheese to melt all over the place. You can bake for less time if you don't want your cheese to spread as much, but I like my cheese all sorts of ooey goey melty delicious.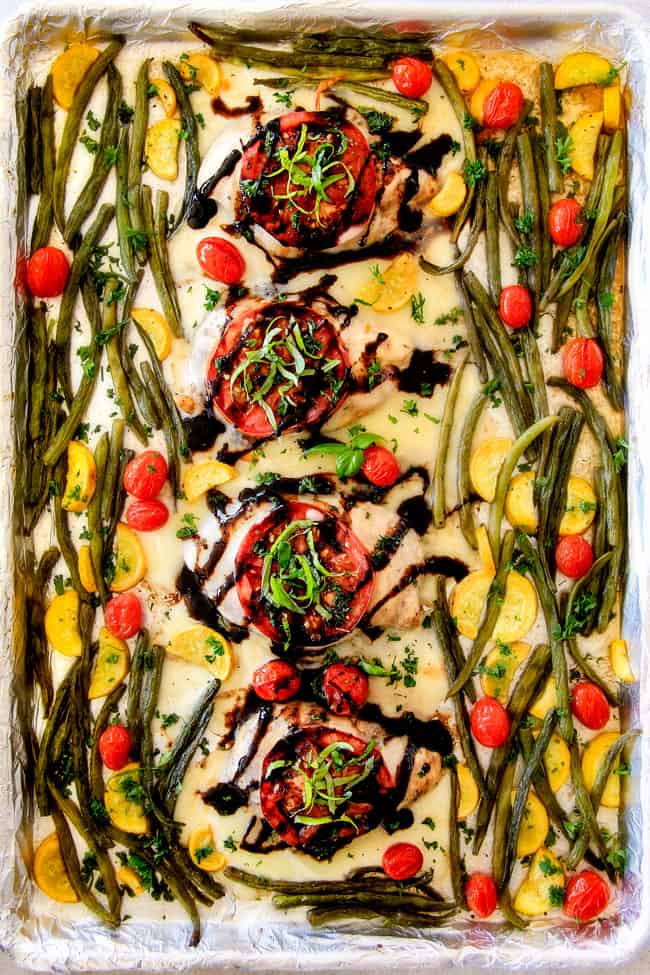 While our veggies are turning crisp tender, our tomatoes are sweetening, and our caprese chicken is baking in its balsamic marinade, we make our Balsamic Reduction – you DON'T WANT TO SKIP THIS! If you are familiar with balsamic reduction, then you know its one of the best things on earth. If you aren't familiar with it, you will soon learn its one of the best things on earth. To make, simply simmer your balsamic vinegar with a touch of sugar until it reduces and thickens to a sweet, full bodied flavored reduction that is the consistency of syrup and the flavor of heaven.
To finish off our Baked Chicken Caprese, add some fresh basil and drizzle the chicken with plenty of Balsamic Reduction. And now you have flavorful crisp tender green beans and squash, with pops of sweet juicy tomatoes (one of my favorite parts), mozzarella smothered balsamic chicken with fresh basil all elevated by sweet and tangy Balsamic Reduction AKA a symphony of flavors and textures AKA the light, fresh taste of summer with just the right amount of cheeeeeeese!
Want to try this Sheet Pan Caprese Chicken and Veggies?
Pin it to your SHEET PAN, CHICKEN, DINNER Board to SAVE for later!
Find me on Pinterest for more great recipes! I am always pinning :)!
©Carlsbad Cravings by CarlsbadCravings.com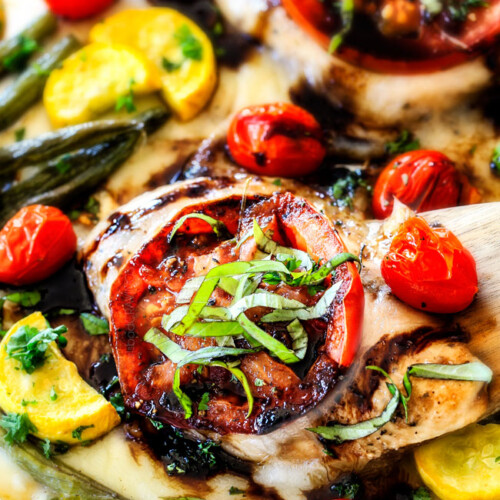 Baked Chicken Caprese
Sheet Pan Caprese Chicken and Veggies is an easy, satisfying meal all in one with wonderfully juicy, flavor bursting chicken smothered in gooey mozzarella cheese with fresh basil and the most incredible balsamic reduction!
Total Time:
6

hours
43

minutes
Save This Recipe To Your Recipe Box
You can now create an account on our site and save your favorite recipes all in one place!
Ingredients
2

large chicken breasts

sliced horizontally in half (1 ½ pounds)*

salt and pepper

4

slices

thick mozzarella

or 6-8 oz. shredded mozzarella
Balsamic Chicken Marinade
Vegetables
12

oz.

green beans, trimmed

1/2

pint

cherry tomatoes

1

yellow squash, halved

sliced into ¼" pieces

1

large tomato, sliced

1/4

cup

loosely packed basil, chiffonade
Balsamic Reduction
1/2

cup

balsamic vinegar

1 1/2

tablespoons

brown sugar

Reserved Balsamic Glaze

(in directions)
Instructions
Whisk together all of the Balsamic Marinade ingredients in a medium bowl. Remove ¼ cup and add this to large freezer bag then whisk in ¼ cup olive oil. Add chicken and toss to coat. Marinate in the refrigerator 6 hours up to overnight. Refrigerate remaining marinade separately ("Reserved Balsamic").

When ready to serve, let chicken sit at room temperature for at least 20 minutes. Meanwhile prep vegetables and line a large jelly roll pan with aluminum foil. Spray foil with nonstick cooking spray.

Preheat oven to 400 degrees F.

Add green beans to baking sheet. Add 1 tablespoon olive, 2 teaspoons Reserved Balsamic and ¼ teaspoon salt. Toss to Coat. Bake for 8 minutes.

Remove green beans from oven and push to the left side of pan. Add squash and tomatoes to the other side. Add 1 tablespoon olive oil, 1 teaspoon Reserved Balsamic Mixture and ¼ teaspoon salt to squash/tomatoes. Toss to Coat. Mix all vegetables together and push to sides of pan to make room for chicken in the middle as pictured.

Pat chicken dry of excess marinade and place in the center of pan. Drizzle chicken with 1 teaspoon Reserved Balsamic. Bake for 15 minutes at 400 degrees F.

Remove chicken from oven. Layer each piece of chicken with 1 slice mozzarella followed by one tomato slice. Season tomatoes with freshly cracked salt and pepper to taste. Bake for an additional 5 minutes OR until chicken is fully cooked through (reaches an internal temperature of 165 degrees F). Cheese will spread quite a bit and green beans will look wilted but will still be tender-crisp (both are a good thing).

Meanwhile, add all remaining Reserved Balsamic (there will only be a little left) to a small sauce pan along with ½ cup balsamic vinegar and 1 ½ tablespoons brown sugar. Bring to a boil then reduce to a simmer just until the consistency of syrup. Remove from heat. If Reduction thickens before you use it, then reheat in the pan.

Drizzle tomatoes/chicken with Balsamic Reduction, top with fresh basil and serve immediately. I love serving mine with brown rice.
Notes
*you can also use 4 small chicken breasts that equal 1 ½ pounds
Did You Make This Recipe?
Tag @CarlsbadCravings and Use #CarlsbadCravngs
Leave a Review, I Always Love Hearing From You!
Carlsbad Cravings© Original