Avocado Pasta is quick and easy and SO healthy! 
This Avocado Pasta Recipe is sooooo creamy, and sooooo healthy with the Best Avocado Pasta sauce ever! This quick and easy Avocado Pasta is completely customizable – leave it as simple as you want and slurp up the creaminess or add all sorts of veggies for texture heaven. This easy Avocado Pasta is spiced with the flavors of Baja and the option of Chili Lime Chicken, fresh sweet corn, bell peppers and pepitas – all on the table in less than 30 minutes!
Growing up I was spoiled with sprawling avocado trees shading our backyard. Avocados everywhere. Now, even without an avocado grove at my fingertips, I still can't get enough of their creamy, luscious goodness: guacamole, Avocado Salsa, Tomatillo Avocado Ranch, Creamy Avocado Salsa Dressing, topping soups, enchiladas, tacos, burritos, fajitas and now the creamiest pasta I have ever slurped – Baja Avocado Pasta. Because avocados should be the main event.
This Baja Avocado Pasta is SO thick and creamy without any butter, heavy cream or cream cheese. So you don't have to feel bad when you just can't stop diving in mouth first.
Equally as delightful, this Avocado Pasta can be on the table as quickly as it takes to cook your pasta! Now that is my kind of quick, easy, creamy, healthy dinner!
Is Avocado Pasta Healthy?
The star attraction and main ingredient in this Avocado Pasta are avocados! The health benefits are staggering for the little green avocado.
Studies have shown that cholesterol levels significantly are reduced when you eat 1 to 2 avocados a week. Blood triglycerides and LDL Cholesteral are also lowered.
Here are some of the most abundant nutrients, in a single 3.5-ounce serving of avocado:
Vitamin K: 26% of the daily value (DV)
Folate: 20% of the DV
Vitamin C: 17% of the DV
Potassium: 14% of the DV
Vitamin B5: 14% of the DV
Vitamin B6: 13% of the DV
Vitamin E: 10% of the DV
10 grams of Fiber: 36% of the DV
avocados also contains small amounts of magnesium, manganese, copper, iron, zinc, phosphorous and vitamins A, B1 (thiamine), B2 (riboflavin) and B3 (niacin).
One study I read, showed that adding avocado or avocado oil to your meal (salsa or salad) can increase antioxidant absorption 2.6 to 15 fold! This means those nutrients, vitamins, and antioxidants that might not absorb well into our body can absorb at a way higher rate when eaten with avocado.
So, not only are avocados highly nutritious, they can dramatically increase the nutrient value of other plant foods that you are already eating.
And the best part is avocados taste SO GOOD! Now, if only chocolate was this healthy. But you might not even miss it with one slurp of this Avocado Pasta!
Avocado Pasta Sauce
This Avocado Pasta sauce is SO velvety delicious, you won't believe it's healthy! Just like you won't be able to stop slurping this pasta sauce made from avocados, sour cream, cilantro, jalapenos, lime, cumin and smoked paprika then infused with fresh sauteed sweet corn, red bell peppers, green chilies and diced tomatoes. It all culminates in blanketing every crevice of your warm, velvety favorite pasta.
Heavy cream and butter are usually the forces behind decedent creamy sauces, however, Greek yogurt and avocados blend to create equally luscious avocado pasta sauce that is high in fiber and protein instead of saturated fat.
There is some fat in this avocado pasta sauce, but it's the healthy kind, courtesy of those delicious avocados that will help you feel fuller longer – and remember all those health benefits of avocados we talked about earlier?!
Avocado Pasta Sauce is also delicious on:
zucchini noodles
cauliflower rice
whole-wheat noodles
quinoa
rice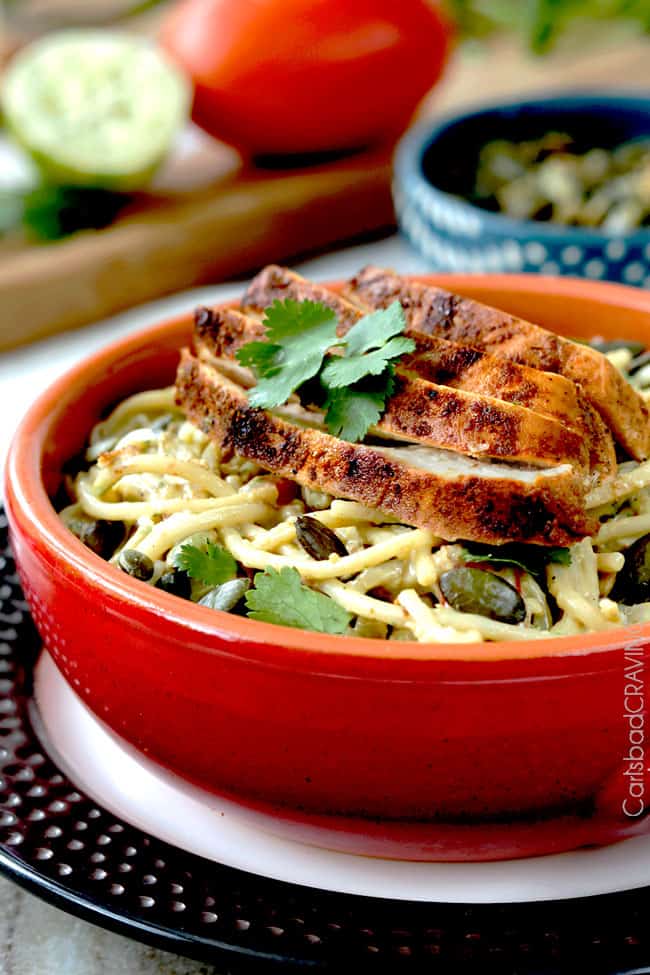 HOW TO PICK THE BEST AVOCADOS FOR AVOCADO PASTA!
The best Avocado Pasta starts with the best power packed healthy avocados! Here are tips you need to know for navigating the grocery store or farmers market.
For ripe avocados, dark is better, look for the darkest green- turning purple colored skins.
Color isn't the only factor that you should consider when looking for a ripe avocado. Always test it by touch too. If an avocado feels firm or hard to your touch, it isn't ripe yet. Purchase it only if you plan to use the fruit several days in the future.
The harder an avocado is, the longer it will take to ripen.
If the avocado feels soft, it's overripe, avoid it. You want the avocado to just give slightly when pressed.
Do not place unripe avocados in the fridge as this stalls the ripening process and they may not ripen at all. Only place in the refrigerator once ripened to prolong their life.
If you need to purchase several avocados, it's a good idea to choose them at various stages of ripeness. That way, you'll have some that you can use right way, some that you can use in a couple of days, and some that you can use four or five days in the future.
Check the avocado stems for clues on what's inside. Peel back the small stem or cap at the top. If the area underneath is green, the avocado is good to buy. If the area is brown, the avocado is overripe so it's best to avoid it.
When you're checking the stem area, keep an eye out for mold as well. If the area is black or dark brown, the fruit is likely moldy.
How to ripen avocados quickly
To ripen avocados more quickly – so you can eat your Avocado Pasta NOW – simply have them hang out with some bananas. Place your avocados and two bananas in a brown paper bag. The bananas release a lot of ethylene which triggers ripening in the avocados.
BEST WAY TO CUT AVOCADOS FOR AVOCADO PASTA SAUCE
Place an avocado on a cutting board. Hold it with one hand so it is stable while you cut around the seed lengthwise. You want to cut into the avocado until the knife comes in contact with the seed, then start to rotate the avocado with the opposite hand until the avocado is complete cut through.
Pick up the avocados and rotate them until they separate.
To remove the seed, you can either spoon it out or strike it with a knife and twist. ONLY use a knife if you are confident with your knife skills.
Scoop the now seedless avocado flesh out with a spoon.
AVOCADO PASTA SAUCE INGREDIENTS 
Avocados: you will need 2 medium avocados for this recipe – not the large Haas avocados. Take care you use ripe avocados so they not only blend beautifully but taste indulgently creamy. Unripe avocados will not turn creamy even when blended in your blender and will result in chunky, grassy flavored sauce.
Sour Cream or Greek Yogurt: you can use either of these creamy components with fantastic results. Even fat -free products will be wonderfully creamy. You don't want to use regular yogurt because it is not nearly as thick as Greek yogurt.
Fresh Cilantro: you can use the leaves and the stems for this Avocado Pasta Sauce as the stems boast a lot of flavor and are going to get blended anyway. If you don't love ciilantro, you can substitute with fresh parsley.
Garlic: fresh garlic is fantastic but you can substitute with 1 teaspoon garlic powder.
Lime Juice. You can use fresh or bottled lime juice and use more or less to taste.
Jalapeno: 1 jalapeno adds a little kick but is not overly spicy. If you taste the avocado pasta sauce after blended and would still like it spicier, you can mix in some of the jalapeno seeds (which carry the heat of the jalapenos), or some cayenne pepper to taste.
How to Make Avocado Pasta
This Avocado Pasta couldn't be any easier! If you choose not to make the chicken, it can be on your table in less than 15 minutes!
To make the Avocado Pasta, you start by making the Avocado Pasta Sauce. Add avocados, sour cream or Greek yogurt, milk, jalapenos, cilantro, lime juice, salt, cumin, pepper and smoked paprika to your blender and blend until smooth.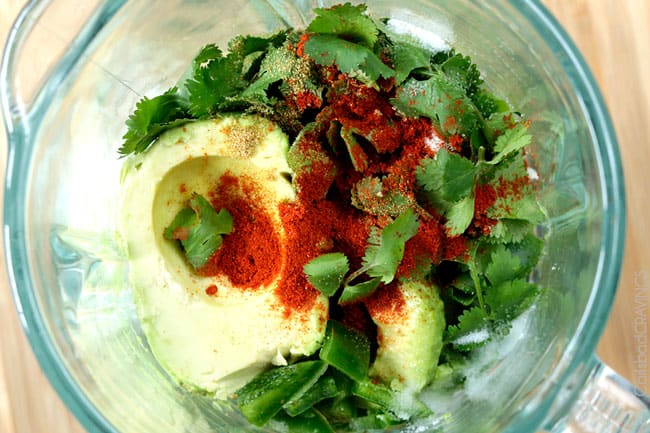 If you don't want to add any veggies, then you would just warm the sauce in a skillet, then stir in your cooked pasta.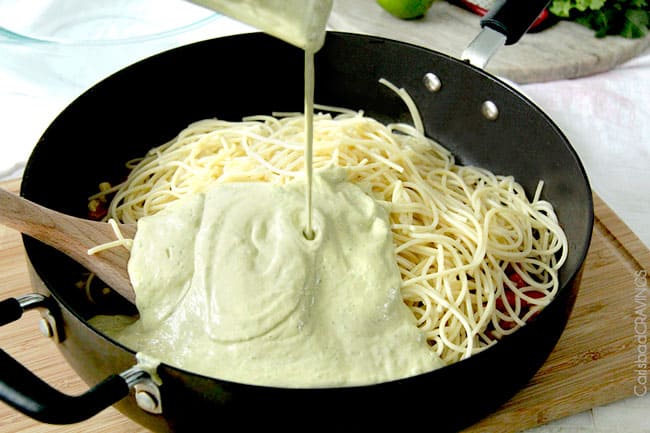 If you want to add veggies, then saute them in a large skillet then add your avocado pasta sauce, warm through, then stir in your pasta.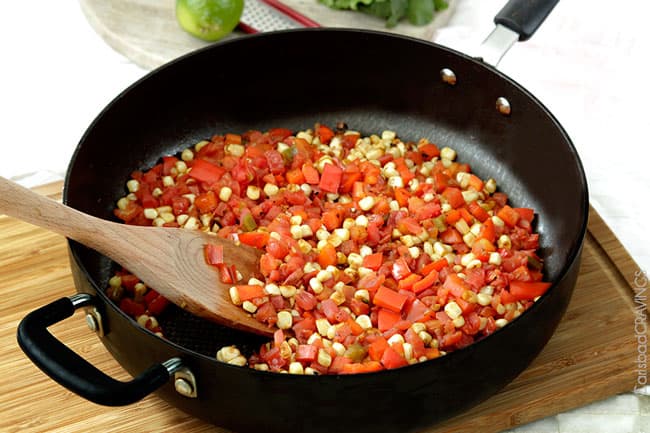 TIPS for CREAMY AVOCADO PASTA SAUCE 
Use your Blender!: a blender is a must for the creamiest avocado pasta sauce! It purees the avocados to a fabulously silky texture. Note that some blenders blend to the point the sauce will become liquidy instead of creamy – don't puree to that point. Stop blending when your avocado pasta sauce is thick and creamy.
Can I use my food processor? You can use your food processor – but adjust your expectations. A food processor will not create nearly as creamy of a pasta sauce.
Adjust consistency: Depending on actual liquid in your sour cream or Greek yogurt, size of avocados, and the way your blender blends, you may need to add more or less milk. You want the sauce to be thick and creamy but smooth and pourable. If your avocado pasta sauce is too thick, add additional milk, if too thin, add additional sour cream or Greek yogurt.
Scrape down sides. After you'e blended your avocado pasta sauce, stop and scrape down the sides, then blend some more to make sure your sauce is completely smooth.
Don't use high heat: warm your avocado pasta sauce over relatively low heat and just until warmed through so the sour cream or Greek yogurt doesn't curdle.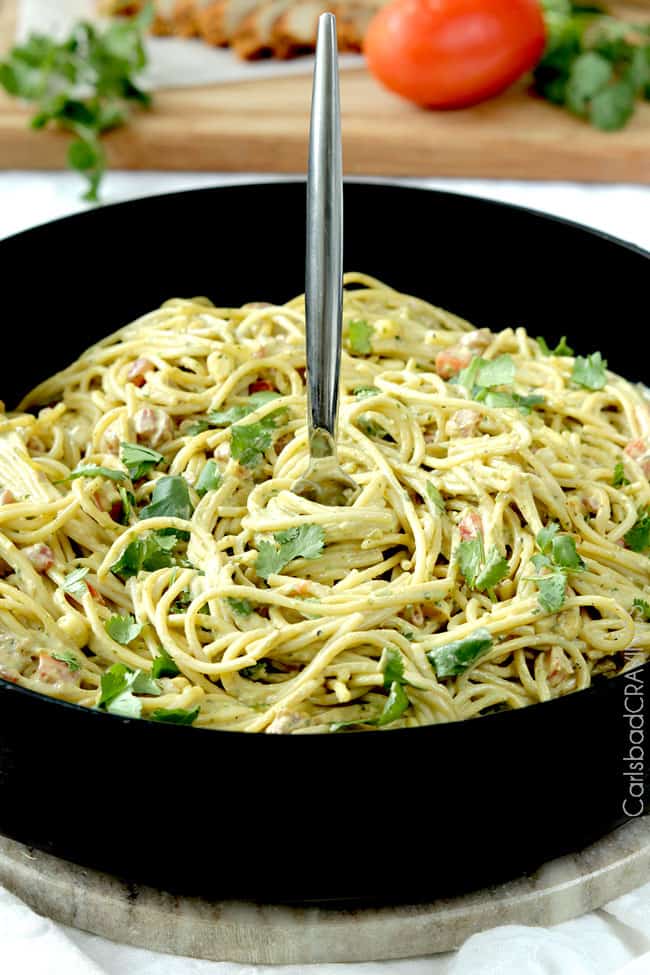 Avocado Pasta Variations
As I mentioned in the beginning, you can add virtually anything to this Avocado Pasta to create new and tasty combinations. Here are some more ideas to customize your pasta:
Add Seasoned Chicken: This Avocado Pasta Sauce Recipe is even more delicious topped with Chilli Lime Chicken. Fiestalicious tender chicken packed with flavor from an easy rub of your favorite spices of Baja and brightened by fresh lime juice and lime zest. So crave worthy, I gave it its very own post. It makes everything better. Of course, the chicken is optional, but to me, this tantalizing juiciness is hardly optional.
Add Rotisserie Chicken: Rotisserie chicken is an easy, convenient way to add protein to your Avocado Pasta to make it even more filling.
Seafood: Or move from poultry altogether and try simple butter garlic shrimp or fajita shrimp or fajita salmon. You can also serve Avocado Pasta as a side to any tacos such as Blackened Fish Tacos.
Other Proteins: This Avocado Pasta would also be fabulous with the ground turkey I use in my Turkey Tacos, or lean ground beef, or sliced turkey sausage. As always, bacon is always acceptable for topping off any meal or salad.
Vegetables: I use diced tomatoes and corn in this Avocado Pasta sauce, but you can mix it up and add peas, mushrooms, zucchini, asparagus, spinach, arugula or sliced cherry tomatoes. In fact, one of my FAVS to add is to roast whole cherry tomatoes for about 12 minutes at 400 degrees F. Nothing beats the burst of hot juicy tomatoes in creamy pasta!
Seasonings: You can mix up the flavor profile of this Baja Avocado Pasta and go Italian by swapping the cilantro for basil and parsley, swapping the lime juice for lemon and adding Parmesan cheese.
Pasta: Try zucchini noodles, spaghetti squash, whole wheat noodles or play around with different types of pasta shapes: orecchiette, penne, rigatoni, cellentani, etc.
Serve hot or cold: You can serve this Avocado Pasta warm or cold. Warm pasta plus a thick sauce makes for an easier, more even application. Dressing the pasta with the sauce while warm also means the pasta will absorb more flavor from the sauce – so I personally love this Avocado Pasta warm. That being said, it is still refreshing if chilled in the refrigerator and served chilled.
Dressed down or spiced up and filled with veggies, no matter how you customize this Avocado Pasta, I know you will love the tantalizing creamy goodness!
Will Avocado Pasta Sauce Turn Brown?
This Avocado Pasta can be made and stored in the refrigerator in an airtight container for up to 4 days. The lime juice will prevent the avocado pasta sauce from discoloring too much, but it will darken slightly. A change in color of the pasta sauce color doesn't mean it's going bad, it simply means the sauce is oxidizing.
CAN I FREEZE MY AVOCADO PASTA?
You can freeze the Avocado Pasta Sauce without the pasta, but it's not perfect. You won't lose flavor, but the sauce will discolor and turn a dark green, almost brown color. The dairy will also separate when frozen, so you will want to give it a quick blend again before using.
If the coloring does not concern you, then go for! It is always so convenient to have healthy meals at the ready.
When ready to use, thaw the avocado pasta sauce in the fridge overnight and blend up the next day. You can dress cold noodles or warm at a very low temperature so the oils in avocados and dairy doesn't break down and separate. Use frozen avocado pasta sauce within three months.
Looking for more Mexican Recipes?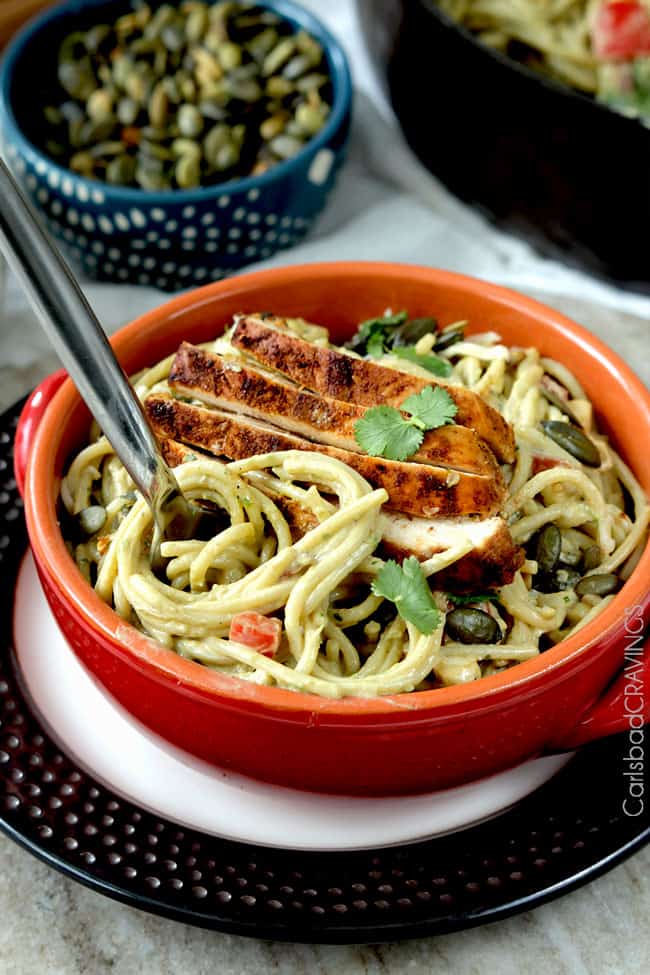 Want to try this Avocado Pasta Recipe?
Pin it to your HEALTHY, PASTA or DINNER BOARD to SAVE for later!
Find me on Pinterest for more great recipes!  I am always pinning :)!
©Carlsbad Cravings by CarlsbadCravings.com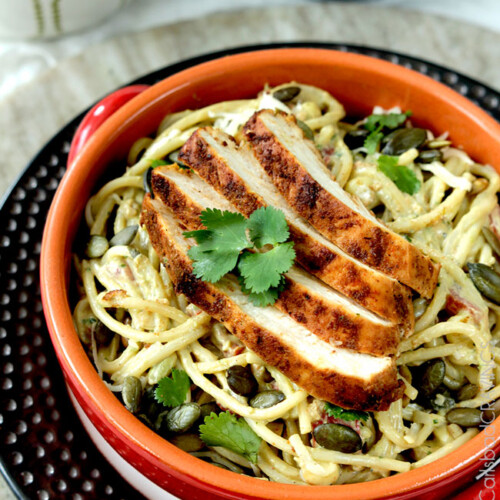 Baja Avocado Pasta
This Avocado Pasta is quick and easy and SO healthy!  It's spiced with the flavors of Baja and the option of Chili Lime Chicken, fresh sweet corn, bell peppers and pepitas  – all on the table in less than 30 minutes! This Avocado Pasta Recipe is sooooo creamy, and sooooo healthy with the Best Avocado Pasta sauce ever! 
Save This Recipe To Your Recipe Box
You can now create an account on our site and save your favorite recipes all in one place!
Ingredients
1

Recipe Chili Lime Chicken

optional

16

oz.

thin spaghetti, cooked al dente

1

red bell pepper, chopped

fresh corn kernels from 1 ear of sweet corn

1

15 oz. can diced tomatoes

with green chilies, drained

Hot sauce to taste

1

cup

cherry tomatoes

halved
Creamy Blender Avocado Sauce
1

cup

light sour cream or Greek yogurt

2/3

cup

milk

2

avocados, peeled and pitted

1-2

jalapenos, seeded, deveined

and roughly chopped

1/4

cup

packed cilantro with leaves and stems

2-3

garlic cloves

peeled

1

tablespoon

lime juice

1

teaspoon

salt

1/2

teaspoon

cumin

1/4

teaspoon

pepper

1/4

teaspoon

smoked paprika
Garnishes (optional)
Pepitas

Pepper jack/cotija cheese

fresh lime juice
Instructions
Prepare Chili Lime Chicken according to directions. When done, remove chicken to cutting board and cover to keep warm. Don't slice until ready to serve.

Meanwhile, add all of the Creamy Blender Avocado Sauce ingredients to your blender and chop then puree/liquefy until smooth.

In the same skillet you cooked your chicken in, heat 1 tablespoon olive oil over medium high heat (you can use remaining oil from chicken if there's enough). Add red bell peppers, corn and garlic and sauté 1-2 minutes, or until red peppers are crisp-tender. Add diced tomatoes/

green chilies

and heat through.

Add cooked pasta followed by Creamy Avocado Sauce and cherry tomatoes. Stir to combine and heat through. Taste and add additional salt, pepper, hot sauce to taste.

Garnish individual servings with chicken and optional toppings of cheese, pepitas and fresh lime juice.
Notes
Refrigerate leftover pasta for up to 4 days. The lime juice will keep the sauce from discoloring.
Did You Make This Recipe?
Tag @CarlsbadCravings and Use #CarlsbadCravngs
Leave a Review, I Always Love Hearing From You!
Carlsbad Cravings Original