SZECHUAN BEEF THAT IS EASY TO MAKE BUT RIVALS ANY RESTAURANT!
This Szechuan Beef is so good, you'll never want to order Chinese takeout again! This Chinese stir fry boasts buttery tender beef enveloped in dynamic spicy sauce made from layers of chiles, garlic, ginger and of course Szechuan peppercorns with just a touch of sweetness. This Szechuan Beef is easy to make with make ahead marinade and multi-dimensional sauce and then it's just a quick stir fry to dinner!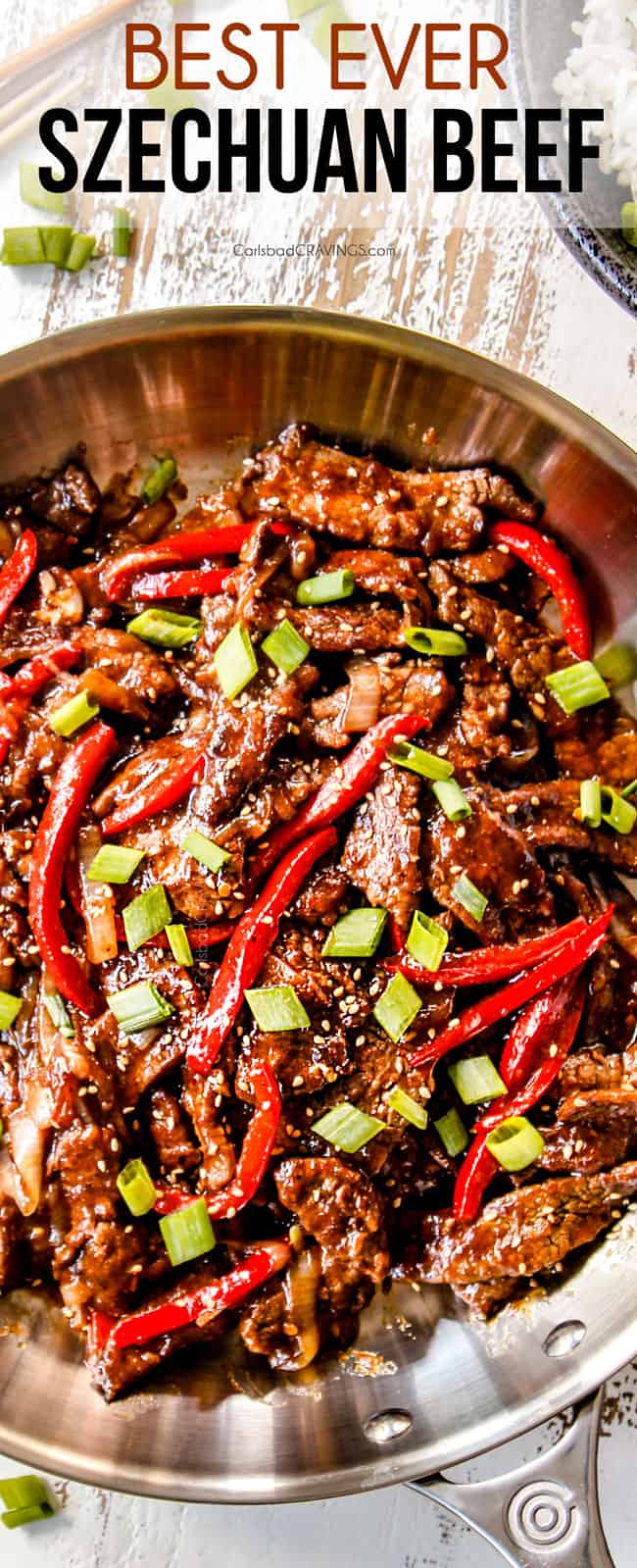 PIN THIS RECIPE TO SAVE FOR LATER
You guys, I am IN LOVE with this Szechuan Beef! I feel like every time I make a new Chinese beef stir fry recipe it becomes my favorite but this literally is my new favorite because it is EXPLODING with layers of complex flavor – and of course, spicy! This Szechuan Beef recipe will satisfy your Chinese food takeout cravings – the only problem is, it will leave you craving more!
This Szechuan Beef recipe is a perfect marriage of savory, sweet and spicy with a tingly sensation due to the Szechuan peppercorn – in other words – the perfect Chinese beef!
With a little make ahead prep, you can have dinner on the table in 10 minutes! You can marinate your beef, whisk up the sauce and chop your veggies while your beef is marinating so the stir fry will literally take minutes when it's time to cook. So, please don't shy away when you look at the ingredient list – it is long – but most of the ingredients are just dump and whisk; I wouldn't want you to cheat yourself out of this sensational, new favorite Szechuan Beef!
What is in Szechuan Beef?
You have probably seen or devoured Szechuan beef, Szechuan chicken or Szechuan shrimp at your favorite Chinese restaurant – and if not, this recipe is your chance. In the US, Szechuan Beef has come to mean thin slices of marinated beef stir fried to juicy perfection in Szechuan sauce. It is ALL about the spicy, complex sauce.
Szechuan style cuisine originated in Sichuan, China and is characterized by its bold, pungent, spicy flavors from garlic, chili peppers, and most importantly, Szechuan peppercorn. Szechuan peppercorn are what differentiate Szechuan beef from other spicy stir-fries because they boast layers of unique flavors (more info below).
Szechuan Beef (/ˈsɛʃwɒn/ or /ˈsɛtʃwɒn/) is also known as Sichuan or Szechwan named for a region in China. It comes from the Chinese word "Sichuan" in pinyin meaning "four rivers." So, when you see Szechuan, Sichuan or Szechwan, know you are in for a zippy, spicy tingly treat.
What does Beef Szechuan style taste like?
Beef Szechuan style boats a dynamic layering of flavors. Chile peppers (which also include red pepper flakes, or chili paste) are combined with Szechuan peppercorn, garlic, ginger and soy sauce to create a complex, savory, spicy stir fry with a touch of sweetness from brown sugar accompanied by a tingly sensation due to the Szechuan peppercorns. Szechuan peppercorns add the unique, complex flavor notes that set this beef stir fry apart.
If you enjoy spicy foods, you will LOVE Szechuan Beef. If you don't love spicy foods, you can use less chili paste or stick with the tamer yet tantalizing Mongolian Beef or Broccoli Beef.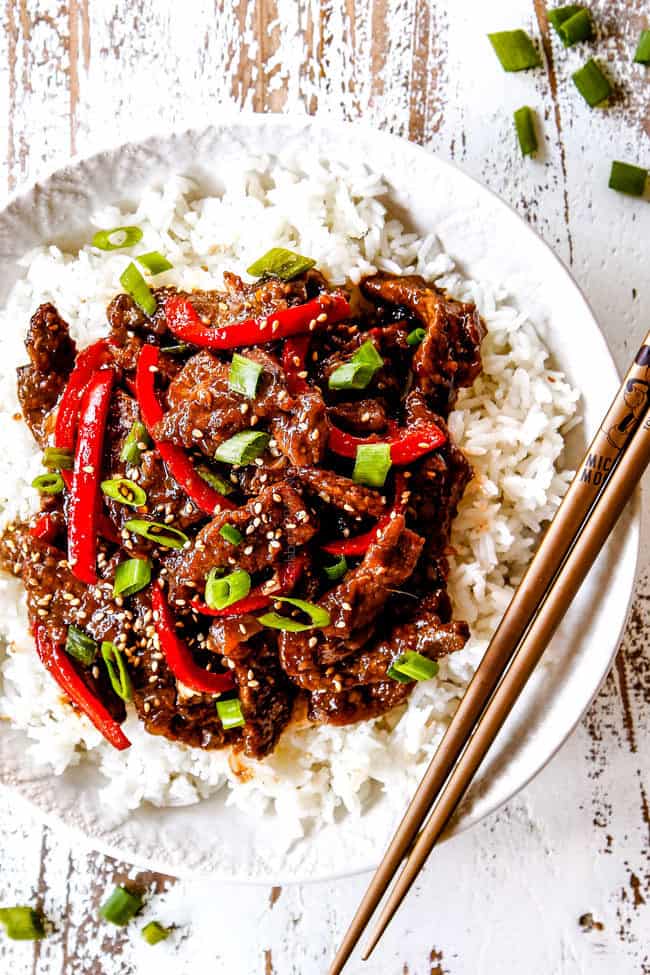 What is the difference between Hunan and Szechuan beef?
If you're like me, you love spicy Chinese food, so what is the difference between the two popular spicy beef stir fries? Both Hunan and Szechuan beef are characterized by their savory, hot and spicy flavors and generous use of chili peppers and garlic. They differentiate in:
HUNAN BEEF VS SZEUCHAN BEEF: Hunan is hotter and spicier due to the use of fresh peppers. Its flavor profile is also considered plainer without the kiss of sweetness. Hunan also uses more vegetables as well.
SZECHUAN BEEF VS MONGOLIAN BEEF: Mongolian Beef is not characterized by being a spicy dish and instead is more mild and sweet. It uses some of the same ingredients such as soy sauce and brown sugar but replaces the oyster sauce with sweeter hoisin sauce and only uses a splash of chili sauce.
What are Szechuan peppercorn?
Let's talk the Szechuan in Szechuan Beef. Szechuan peppercorn ("peppercorn" is the correct plural form) are actually a berry from the husks of Chinese Ash trees in the citrus family. It actually doesn't come from the same family as black pepper nor is it related to chili peppers. Instead, it is its own fabulous entity.
What Szechuan peppercorns taste like?
For a long time, I thought Szechuan peppercorn were hot, but they actually aren't spicier than black peppercorn, but they do boast a more complex peppery zing. The spicy illusion comes from the fact they are always cooked with chile peppers. In addition, before hot chiles were brought to China, Szechuan peppercorn were cooked with ginger to add heat to dishes.
Szechuan peppercorn taste perfumy, complex, and peppery with a citrus zing and pine, lavender notes coupled with a tangible mouth-numbing sensation. They remind me of a complex cross between pepper, cardamom, ginger, clove and lemon.
This tingling sensation is caused by the molecule hydroxy-alpha-sanshool in the peppercorn that interacts with the nerve cell receptors in your lips and mouth – but don't be alarmed! The molecule is simply telling the brain that the area is being touched and the brain confuses this with sensation of numbness. Chefs speculate that the numbing effect takes down the heat of the always accompanying chile peppers, which allows partakers to more fully appreciate the chile's fruity side – and not just the heat – another win for the Szechuan peppercorn!
Where to Buy Szechuan Peppercorn
Szechuan peppercorn can be found on Amazon (my fav!) at most Asian markets (call first) spice stores, or sometimes specialty stores like Whole Foods and Sprouts.
The most important thing to be aware of is that Szechuan Peppercorn can be sold under different names: dried peppercorn, dried prickly ash, dehydrated prickly ash, Indonesian lemon pepper, flower pepper, or hua jiao.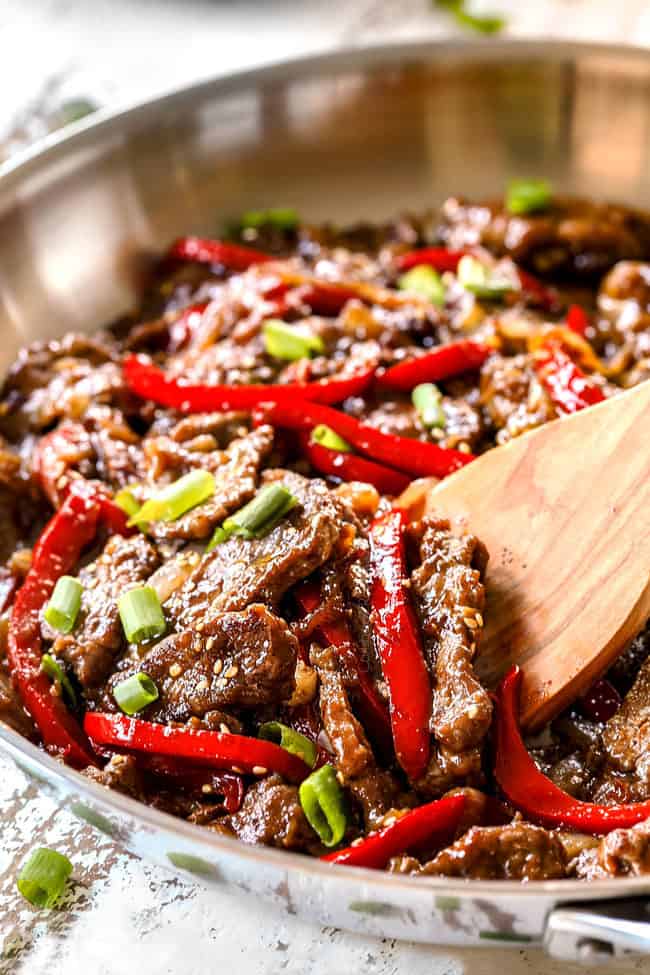 Szechuan Peppercorn Substitutions
Many Americanized Szechuan Beef recipes don't include Szechuan peppercorn, which is kind of blasphemy, in my opinion, as it literally is in the name of the dish. Szechuan peppercorn adds peppery heat and complex citrus notes that is hard to replicate.
That being said, you can use a Szechuan peppercorn substitute if don't have access to it. There are many substitutes such as grains of paradise, Tellicherry peppercorns and Tasmanian pepper but the most accessible is freshly ground pepper and coriander.
Pepper + Coriander: The pepper brings the peppery heat and the coriander brings the fresh, pungent citrus flavor. Use both freshy ground pepper and freshly ground coriander for best results when possible.
Pepper: The last option would be to use freshly ground black pepper to provide the peppery heat but it would be lacking in the unique, complex, flavor notes.
WHAT KIND OF BEEF IS USED FOR SZECHUAN BEEF?
Beef Tenderloin is often called for in Beef Szechuan style, but I recommend flank steak like in my Korean Spicy Noodles because it boast just the right amount of marbling which means it is more flavorful than tenderloin – and less expensive – winning. Less expensive flank steak will emerge buttery delicious when marinated and coated in soy sauce and cornstarch.
You can use tenderloin, sirloin or ribeye steak for this Szechuan Beef recipe as well, but I wouldn't pay the extra $$ for it if you don't have it on hand already.
HOW DO YOU MAKE SZECHUAN BEEF EXTRA TENDER?
This Szechuan Beef is crazy tender thanks to 1) slicing the beef thinly, 2) slicing the beef across the grain and 3) marinating the beef. The marinade is a very thick combination of soy sauce, rice wine, cornstarch etc. and it makes ALL the difference between buttery tender beef and okay beef. Here's how it works:
soy sauce: the salt in the soy sauce helps break down the proteins for a more tender texture and infuses the steak with flavor.
rice wine: is an acidic ingredient that breaks down lean muscle fibers on the surface meat.
cornstarch: acts as a binder and helps our soy sauce bind to the meat for more flavorful beef. Cornstarch also provides a light coating that helps protect it from the intense heat when cooking.
To elevate the Szechuan Beef marinade even more so the beef is bursting with flavor through and through, we add:
1 teaspoon Asian chili sauce
1 teaspoon sesame oil
1/2 teaspoon garlic powder
1/2 teaspoon ginger powder
Now the Szechuan Beef is undeniably the most tender, flavorful beef you've ever encountered – now just wait for the INSANELY delicious Szechuan sauce!
What is in Szechuan sauce?
The BEST Szechuan Beef needs the best Szechuan sauce! Here's what you'll need:
Oyster sauce: is the primary ingredient in many stir fries. It is a thick, brown sauce with a balance between sweet and salty with an earthy undertone due to the oyster extracts. I HIGHLY recommend high quality oyster sauce like Lee Kum Kee or Kikkoman because it will affect the taste of your dish – not all oyster sauce is created equal!
soy sauce: use reduced sodium soy sauce so we can control the salt level.
brown sugar: use light brown sugar. It adds sweetness to balance the oyster sauce, soy, rice wine and heat. You can more or less depending on personal preferences.
Japanese rice wine: Rice wine adds a sweetness and depth of flavor. I use "Kikkoman Aji-Mirin: Sweet Cooking Rice Seasoning" which is commonly found in the Asian section of most grocery stores or you can Amazon it. I highly suggest you google image before you head off to the grocery store so you know exactly what you are looking for. The best substitute for rice wine is pale dry sherry. Do NOT substitute rice wine with rice vinegar, they are NOT the same. Rice vinegar will add an acidic flavor without the sweetness.
sesame oil: adds a wonderful subtle nutty flavor. You skip it if you don't have it on hand.
cornstarch: thickens the sauce so it's rich instead of watery.
Szechuan peppercorn: For this recipe, you will need 1 teaspoon ground Szechuan peppercorn. You can purchase whole ones and toast and grind them yourself, although I find it easier to just purchase ground Szechuan powder.
Chinese 5 spice: is thought to have come from ancient Chinese who were attempting to produce a "wonder powder" that encompasses all five tastes: sweet, sour, bitter, salty and a spicy. It contains Szechuan peppercorn, ground cloves, fennel, star anise and cinnamon. Chinese 5 Spice can be found with the rest of the seasonings in your grocery store. I also use it in my phenomenal Chinese Chicken Wings.
Asian Chili Sauce: if you feel like your Szechuan Beef is missing something, it is probably heat! I recommend adding more to taste at the end of cooking if you would like it spicier instead of red pepper flakes, because it distributes more evenly. I use Sambal Oelek with the green lid but you can also use your favorite chili sauce and adjust accordingly.
red pepper flakes: you can add more or less to taste. It adds another dimension of heat instead of just chili sauce.
Ginger, Onions and Garlic: (added with the stir fry) add warm spicy, almost pepper taste. These aromatics awaken and elevate the entire Szechuan Beef recipe. If you're looking to save time and skip some chopping, you can substitute the fresh onions, garlic and ginger with powders. The typical rule of thumb is 3:1, so one part dried to three parts fresh.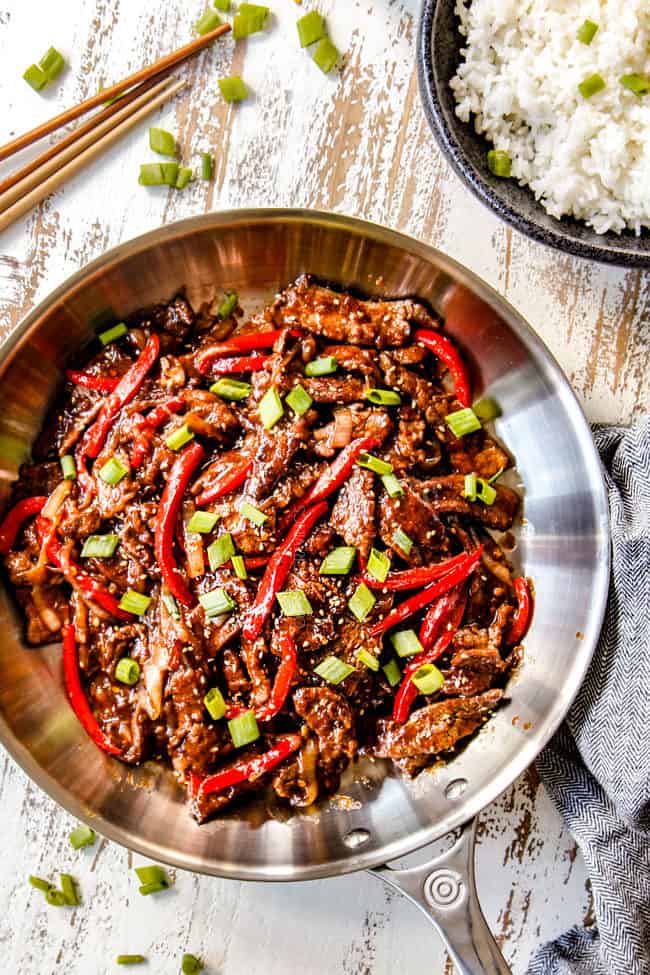 How spicy is Szechuan Beef?
Beef Szechuan style is MEANT to be spicy! The zip and heat in this dish come from the Szechuan peppercorn, Asian chili paste, red pepper flakes, ginger and garlic. That being said, it is very EASY to customize the heat of this Szechuan Beef recipe.
In my Szechuan Beef recipe, I have given a range of 1-2 tablespoons Asian chili paste and assigned the other "spicy" ingredients a measurement. If you use 1 tablespoon Asian chili paste and the rest of the ingredients as outlined, it should be medium spicy. If you use the full 2 tablespoons, it should be on the spicier side, but not crazy spicy.
If you know you don't like very spicy food, then I would only use 1 tablespoon Asian chili sauce and eliminate the crushed red pepper flakes. From there, you can add back a small pinch of red pepper flakes or Asian chili sauce to taste.
If you are going to use less spicy elements, be aware your Szechuan Beef will taste sweeter because you aren't balancing the heat, so you may want tot start with less brown sugar.
HOW DO YOU MAKE SZECHUAN BEEF?
Thinly slice beef. You will want to slice your beef into ¼" slices – no thicker. It is much easier to thinly slice your steak if you freeze it for 60 minutes or so; however long it takes so it doesn't slide when cutting. The frozen beef defrosts quickly, so I will slice the beef in thirds and work with one third at a time while the rest of the beef stays in the freezer. The beef will continue to completely defrost in the marinade.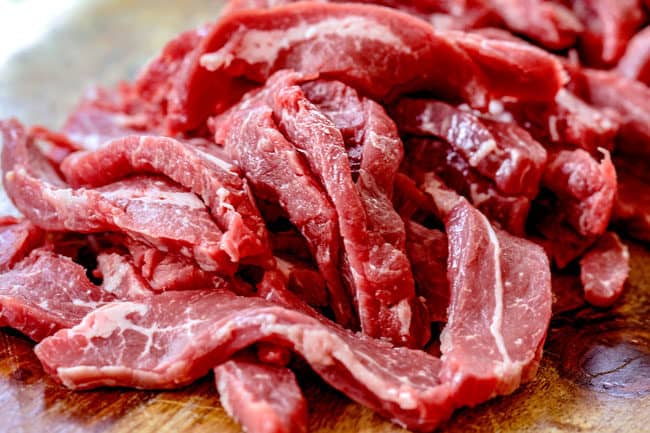 Slice your beef ACROSS the grain. You can marinate your beef and slice it thinly, but if you slice it the wrong way, your meat will be chewy. When you look at your steak, you can see the muscle fibers "grain" running through the meat in one direction. You want to cut perpendicular to the muscle fibers so they become as short as possible, as opposed to parallel which will result in long muscle fibers and chewy, rubbery meat.
Marinate beef. A marinade is crucial when using less expensive cuts of beef such as flank steak in order to break down the muscle fibers and tenderize the beef. Our Szechuan marinade will be thick and not your typical runny marinade. Let the beef sit at room temperature 30-60 minutes or even better, marinate in the refrigerator for up to 8 hours. If you do refrigerate your beef, make sure to let it come to room temperature, about 30 minutes before cooking. This will ensure it cooks evenly.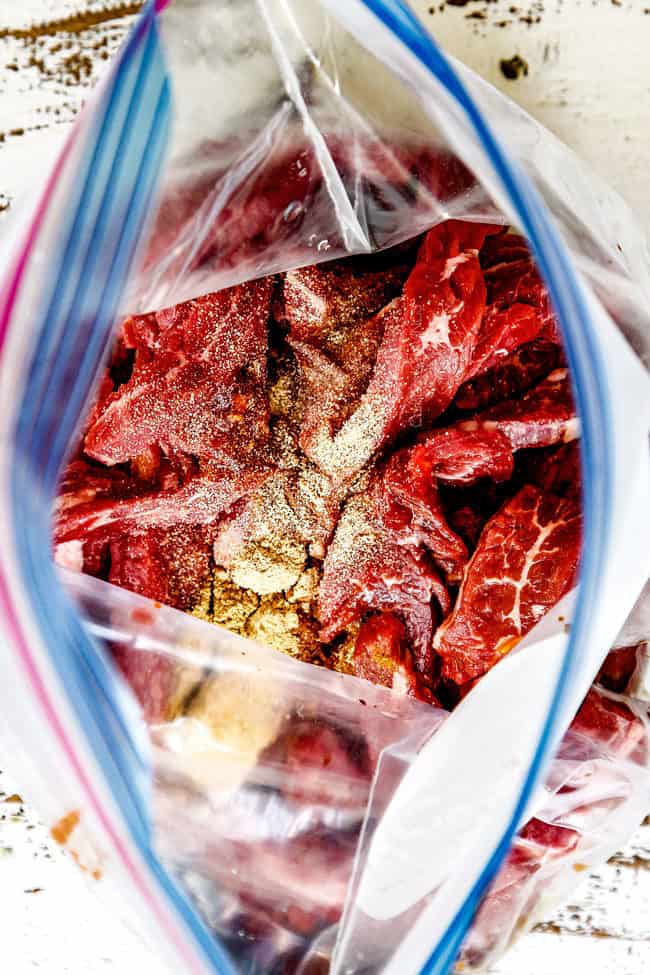 Make Szechuan Sauce. Whisk the Szechuan Sauce ingredients together consisting of oyster soy sauce, water, brown sugar, Asian chili sauce, rice wine, ground Szechuan peppercorns, red pepper flakes, Chinese 5 Spice and cornstarch.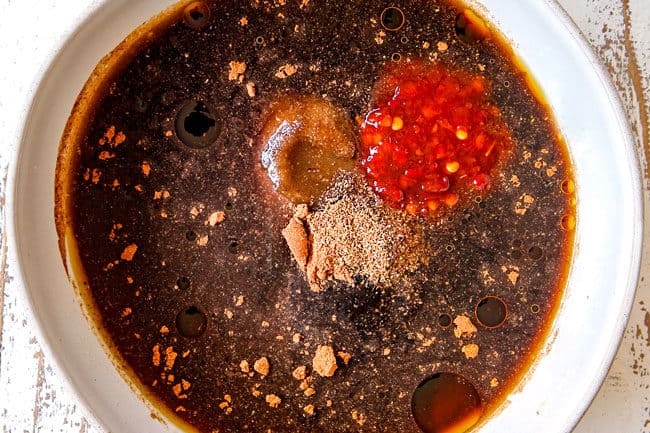 Stir Fry Beef. Heat 1-2 tablespoons peanut or vegetable oil a large skillet over high heat until very hot and sizzling. It is important that the skillet be smoking hot so that the beef will sear and not steam. Working in 2-3 batches (depending on the size of your skillet) add beef to the skillet and line in a single layer and sear for 1 minute, flip over and sear the other side. Don't worry about the beef cooking completely because it will cook more in the sauce. Don't overcook or it won't be as tender! Transfer beef to a large plate and cover.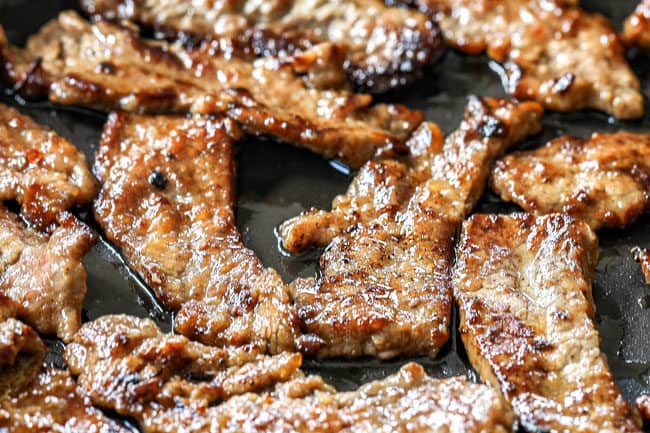 Stir Fry Vegetables. To the now empty skillet, add 1 tablespoon oil and heat over medium high heat. Add onions and sauté two minutes; add bell peppers, garlic and ginger and sauté one additional minute. You don't want to overcook your bell peppers because they will continue to soften once we add the Szechuan beef and sauce.
Combine. Whisk the sauce to recombine then add to the skillet along with the beef. Cook, stirring constantly, until the sauce is thickened, the beef is cooked and vegetables are crisp tender, about 1-2 minutes. Taste and add additional chili sauce if desired for spicier Szechuan Beef.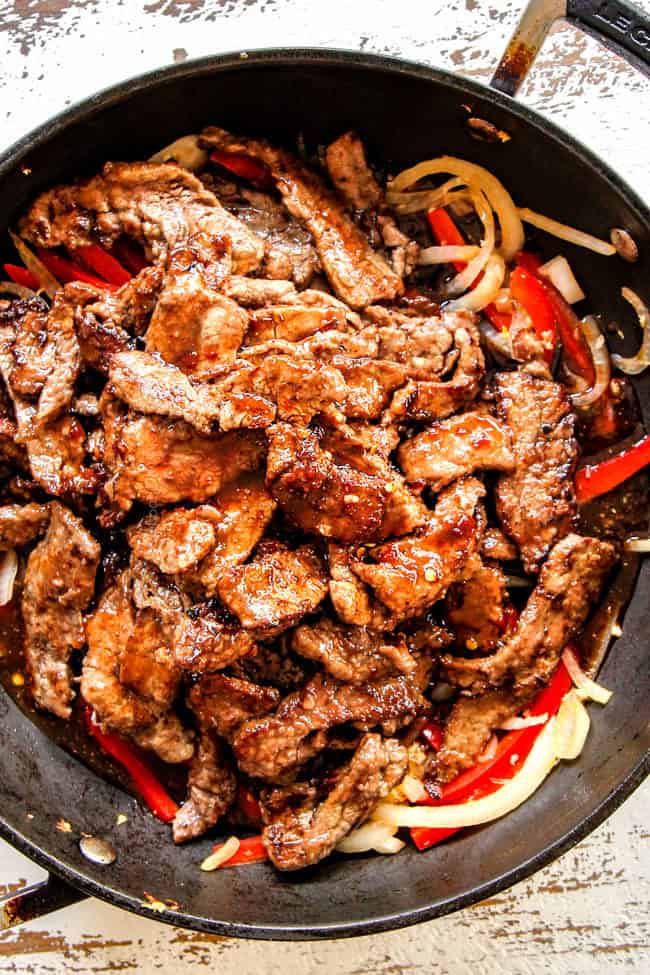 HOW DO I MAKE CRISPY SZECHUAN BEEF?
This Szechuan Beef is more tender than crispy because it is sautéed verses fried. To fry your Szechuan Beef:
Toss beef in an additional 2 tablespoons cornstarch right before cooking.
Fill the bottom of a heavy bottom pan completely with vegetable oil or other high smoking point oil.
Heat oil over medium high heat until it very hot and smoking – the oil should sizzle if you flick water on it.
Add beef in a single layer using tongs.
Fry for 1 minute or until deeply golden.
Flip beef strips over and fry another 1 minute or until deeply golden.
Remove to a cooling rack set over paper towels to drain.
TIPS AND TRICKS FOR SZECHUAN BEEF RECIPE
Szechuan Beef is pretty straightforward, but here are some tips and tricks to make it a sizzling success:
sharpen your knife before slicing the beef
freeze your beef for 60 minutes to make it easier to slice thinly
slice your beef in thirds, then freeze what you're not working with so the rest stays frozen
slice your beef across the grain
slice your beef into thin 1/4″ slices
make sure your skillet is smoking hot before adding your beef so it will sear on the outside and remain tender on the inside
add beef in a single layer to sear otherwise it will steam
cook your beef in multiple batches
don't overcook your beef initially because you will add it back to the skillet with your sauce
you can substitute vegetable oil but NOT olive oil for the peanut oil because olive oil has a lower smoking point
use QUALITY oyster sauce like Lee Kum Kee or Kikkoman (you can TASTE the difference!)
use rice wine and NOT rice wine vinegar
you can substitute rice wine with pale dry sherry
recipe variations
In addition to customizing the, heat, you can also add different vegetables, nuts and even fruits to the stir fry albeit untraditional. Here are some ideas to mix up this Szechuan Beef recipe:
Swap the veggies: You can swap the veggies ad mix and match with your favorite vegetables. Snow peas, mushrooms, zucchini, celery, asparagus, edamame and bok choy would all be tasty.
Omit the veggies: Omit the veggies altogether and use additional beef.
Water chestnuts: Add a tantalizing crunch. Water chestnuts are easy to find in a can so you can keep them stocked and ready to go.
Sesame seeds: Add a nutty sesame flavor. Take care to use toasted sesame seeds or toast them yourself.
Nuts: Peanuts or cashews add a deeply satisfying crunch. Take care to purchase raw, unsalted nuts or our beef teriyaki will be too salty. To elevate your cashews or peanuts, dry roast them in a nonstick skillet until toasted- YUM!
Use another protein: I know this is a Szechuan Beef recipe, but you can use this same stir fry on chicken, pork or tofu as well.
How to Prep Beef Szechuan style Ahead of Time
Szechuan Beef has a few steps, but you can prep EVERYTHING ahead of time so all that's left to do at dinnertime is cook! Here's how:
Slice Beef: you can do this at any time before marinating or just before marinating then store in an airtight container in the refrigerator.
Marinate Beef: marinate your beef 30 minutes up to 8 hours before cooking.
Make Szechuan Sauce: whisk the ingredients together up tot 24 hours in advance and store, covered in the refrigerator.
Chop veggies: you can chop your garlic, grate your ginger and slice your onions and bell peppers 24 hours in advance and store in separate air tight containers in the refrigerator.
Cook! Now all that's left to do is stir fry and dinner is served in less than 10 minutes!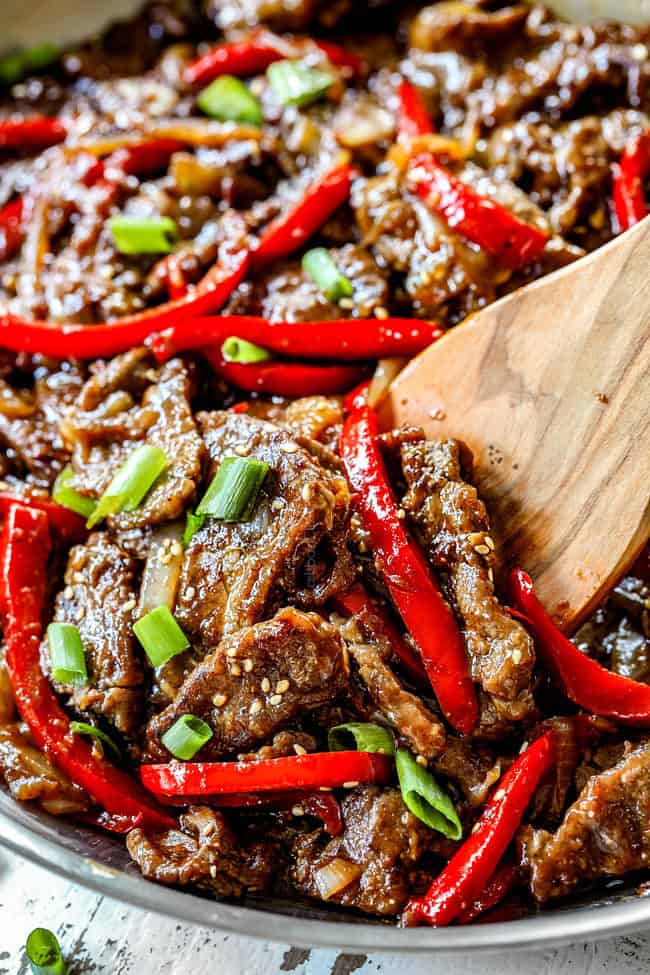 WHAT SHOULD I SERVE WITH SZECHUAN BEEF?
Szechuan Beef is explosively flavorful so it pairs well with plain white or brown rice, quinoa and even cauliflower or zucchini rice. It is also good with different Asian Noodles such as rice noodles.
If want to make your Szechuan Beef part of an Asian feast, it pairs nicely with Chicken Lettuce Wraps, Wontons, Asian Salad, Potstickers, Wonton Soup and Chinese Chicken Egg Rolls.
HOW TO STORE AND REHEAT
This Szechuan Beef reheats wonderfully for lunches or dinners, just take care to not overcook the bell peppers initially.
How to store: Store leftovers in an airtight container in the refrigerator for up to 5 days.
How to reheat in microwave: transfer small portions to a microwave safe dish, heat for one minute, stir then continue to heat at 30 second intervals.
How to reheat on the stove: For larger portions, rewarm gently in a large skillet, stirring often.
CAN YOU FREEZE Beef Szechuan style?
Yes, Szechuan Beef freezes very well, except for the bell peppers. If using bell peppers, you may want to pick them out or they will get mushy. Also, take care not to overcook the beef or it won't be as tender when reheated.
To freeze:
Let Szechuan Beef cool completely in the refrigerator.
Transfer to an airtight container. If using a freezer bag, squeeze out any excess air to prevent freezer burn.
Label and freeze for up to 3 months.
When ready to eat, let Szechuan Beef defrost overnight in the refrigerator.
Reheat in the microwave for 60 seconds then at 30 second intervals or gently on the stove.
Looking for more Asian recipes?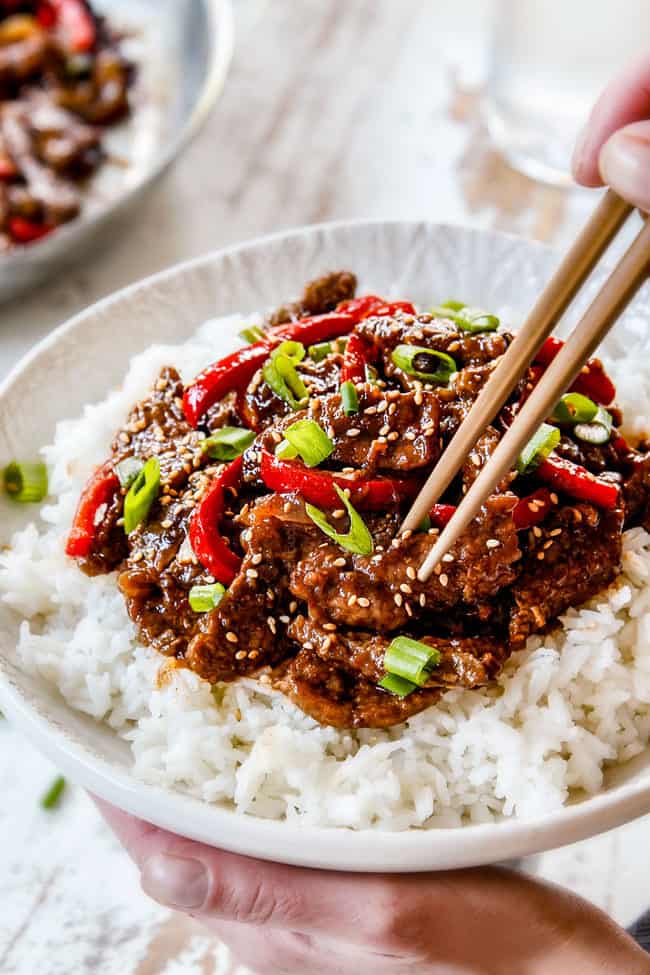 WANT TO TRY THIS SZECHUAN BEEF RECIPE?
PIN IT TO YOUR ASIAN, DINNER OR BEEF BOARD TO SAVE FOR LATER!
FIND ME ON PINTEREST FOR MORE GREAT RECIPES! I AM ALWAYS PINNING :)!
©Carlsbad Cravings by CarlsbadCravings.com
More Favorites from Carlsbad Cravings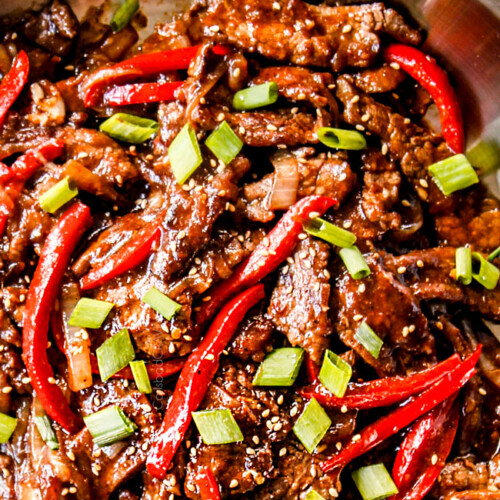 SZECHUAN BEEF
Szechuan Beef that is easy to make but better than any restaurant! This Szechuan Beef is so good, you 'll never want to order Chinese takeout again! This Chinese stir fry boasts buttery tender beef enveloped in dynamic spicy sauce made from layers of chiles, garlic, ginger and of course Szechuan peppercorns with just a touch of sweetness. This Szechuan Beef is easy to make with make ahead marinade and multi-dimensional sauce and then it's just a quick stir fry to dinner!
Save This Recipe To Your Recipe Box
You can now create an account on our site and save your favorite recipes all in one place!
Ingredients
Stir Fry
1

red bell pepper

sliced ¼" thick

1

onion

thinly sliced

1

tablespoon

minced ginger

6

medium garlic cloves

minced

vegetable oil or peanut oil
Instructions
Marinade: Pour marinade ingredients directly into freezer bag and mix well. Add beef and massage in marinade. Marinate at room temperature for 30-60 minutes or refrigerate for 2-8 hours.

Sauce: Whisk the sauce ingredients together in a small bowl. You can make at the same time as the marinade, cover and refrigerate OR when ready to cook the beef.

Cook: Heat 1-2 tablespoons vegetable oil or peanut oil a large wok or nonstick skillet over HIGH heat until very hot and sizzling. Add half of the beef to the skillet in a single layer and sear 1 minute, flip over and cook 1 more minute (it will cook more in the sauce). Don't overcook or it won't be as tender! Transfer beef to a large plate and cover. Repeat.

To the now empty skillet, add 1 tablespoon oil and heat over medium high heat. Add onions and sauté two minutes; add bell peppers, garlic and ginger and sauté one additional minute.

Return the beef to the skillet and toss to combine. Whisk the sauce to recombine then add to the skillet. Cook, stirring constantly, until the sauce is thickened and beef is cooked through, about 1-2 minutes. Taste and add additional chili sauce if desired.

Serve with rice and garnish with green onions and sesame seeds if desired.
Did You Make This Recipe?
Tag @CarlsbadCravings and Use #CarlsbadCravngs
Leave a Review, I Always Love Hearing From You!
Carlsbad Cravings© Original