This easy, healthy, Kung Pao Shrimp tastes better than takeout and is on your table in less than 30 minutes! 
This Kung Pao Shrimp recipe is a Chinese Takeout copycat that takes less time to make than driving to the restaurant! It is a simple, quick and easy recipe, perfect for weeknight meals but delicious enough for entertaining. This easy Kung Pao Shrimp is a delectable combination of juicy shrimp and crunchy peanuts in a savory, fiery garlic chili sauce with CUSTOMIZABLE heat! You can add whatever veggies you want from bell peppers, water chestnuts, celery, bok choy or keep it as simple as you want because it is ALL about the sauce!
Kung Pao Shrimp Recipe
It's takeout fakeout time! I love creating my own Asian dishes at home from Beef and Broccoli, Sweet and Sour Chicken, General Tso's Chicken and more. But out of all of these takout fakeout versions, this Kung Pao Shrimp is by far the fastest and easiest – are you in love already?!
This homemade Kung Pao Shrimp recipe is SO easy to make from scratch and seriously takes less time to stir fry than driving to pick it up – and it tastes 1000X better!
What is Kung Pao shrimp?
Kung Pao originated with chicken in the Sichuan province in southwestern China. It is popular today at American-Chinese restaurants.
Kung Pao Shrimp is a shrimp stir fry distinguished by its sweet and savory, spicy garlic sauce and crunchy peanuts. Kung Pao Shrimp is traditionally served with rice but you can serve it with chow mein, zoodles, cauliflower rice, etc..
What does kung po sauce taste like?
The base of Kung Pao Sauce is made with soy sauce, Japanese rice wine, rice vinegar and sugar. It's infused by aromatic garlic, ginger and onions and made spicy by either red peppers, red chili paste or red pepper flakes. The resulting Kung Pao Sauce is earthy, sweet, savory and spicy. If you like it spicier, you can add more chili garlic sauce to make it YOUR perfect Kung Pao Sauce.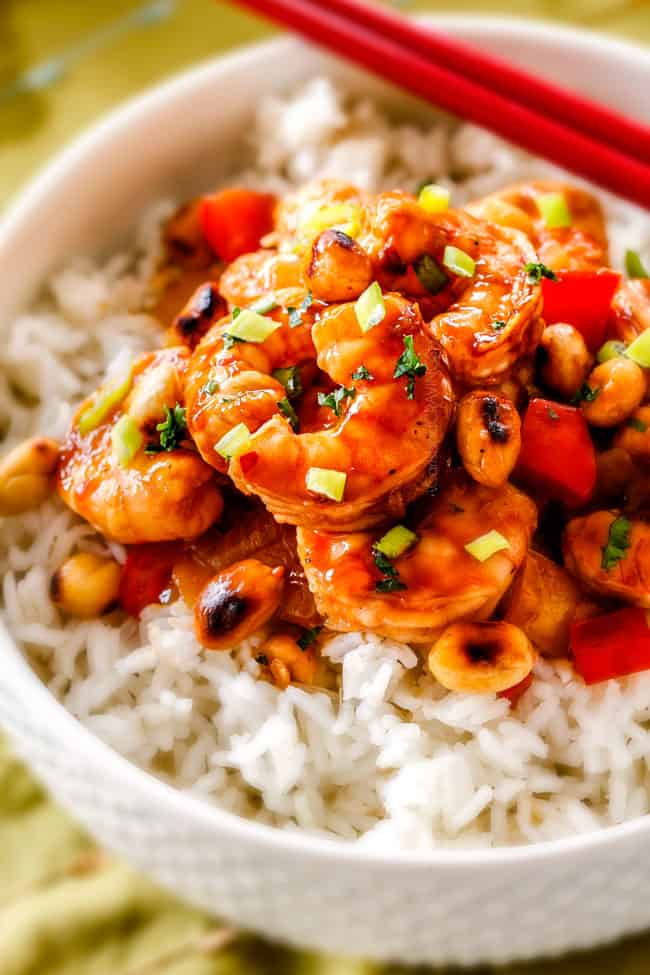 What is in Kung Pao Sauce?
I've come up with a dynamite, fiery Kung Pao Sauce that you should already have all the ingredients for if you make Asian food (or my Asian/Island recipes) somewhat often. If not, all the ingredients can be found in the Asian section of your grocery store, namely hoisin sauce and sweet rice wine. So now, all you need is some Costco freezer shrimp and you can make this Kung Pao Shrimp any time you get a succulent, spicy shrimp craving!
low sodium soy sauce: make sure you use low sodium soy sauce so your Kung Pao Shrimp isn't too salty.

Japanese sweet rice wine/mirin:

Rice wine is NOT rice vinegar- DO NOT switch them out. Rice wine adds a sweetness and depth of flavor. I use "Kikkoman Aji-Mirin: Sweet Cooking Rice Seasoning" which is commonly found in the Asian section of most grocery stores or you can Amazon it. The best substitute for rice wine is pale dry sherry.

rice vinegar:

use unseasoned rice wine vinegar. It adds a tangy acidity to balance the flavor profile.
hoisin sauce: tastes like a rich, savory, sweet and tangy Asian BBQ Sauce. I use hoisin all the time in my recipes so if you are interested in making my Mongolian Beef, Sesame Chicken, etc., then I promise it will not go to waste! Please use only quality brands such as Kikkoman or Lee Kum Kee hoisin because they taste far superior.
brown sugar: adds a depth of sweetness needed to balance the soy sauce. You can use more if you like your Kung Pao Shrimp more sweet vs savory.
red chili paste: I use Sambal Oelek Chili Paste. It is made with chilies (and no other additives like garlic), so you get pure chili flavor.
sesame oil: adds a toasted nuttiness that its sublime.
garlic: you can use more or less depending on your garlic love.
ginger: you can substitute the freshly grated ginger for 1

/2

teaspoon

ginger powder.
Is Kung Po sauce hot?
Kung Pao Shrimp is known for its bold flavors, in particularly the use of garlic, chili peppers and Sichuan peppercorns. In this Kung Pao Shrimp recipe, I've omitted the Sichuan peppercorns for pantry friendly Asian red chili paste.
I prefer using chili paste as opposed to dried chiles because I find the heat is more consistent in measuring and also the heat distributes more evenly throughout the dish instead of pockets of heat from a seed here or there. It is also easier to customize the spice level of your Kung Pao Shrimp by adding more chili sauce to taste at the end of cooking. Individuals can also customize the heat of their own servings.
This Kung Pao Shrimp Recipe with 2 tablespoons chili pastes is medium spicy AKA it has a little kick but not so much that you have to sip water after every bite. If you aren't sure how much chili paste to use, start with less because you can always add more later – but you can't take it away! I personally like 2 ½ tablespoons and Patrick adds more to his own serving- but we like heat.
Is Kung Pao Shrimp Healthy?
YES, Kung Pao Shrimp is healthy! Unlike many Chinese dishes that are deep fried, the shrimp is stir fried in only one tablespoon oil. There is only one tablespoon sugar in the sauce.
The only other carbs in Kung Pao Shrimp comes from whatever you serve it with. If you want to limit the carbs, then instead of rice or healthier brown rice, you can serve your Kung Pao shrimp with cauliflower rice or zoodles.
What goes with Kung Pao Shrimp?
I've kept this Kung Pao Shrimp simple with the addition of bell peppers and onions but you can also add or swap in:
celery
water chestnuts
bok choy
broccoli
mushrooms
carrots
cabbage
snap peas
zucchini
asparagus
To make it a full Chinese buffet, serve your Kung Pao Shrimp with Asian Salad, Potstickers, Chinese Chicken Egg Rolls and/or Asian Chicken Lettuce Wraps.
What shrimp Should I use for Kung Pao Shrimp?
For this Kung Pao Shrimp recipe, and all my shrimp recipes, I like to use shrimp that is already peeled and deveined. By purchase shrimp that is already peeled and deviened, then preparing shrimp recipes can come together in minutes.
I like to purchase frozen shrimp at Costco for budget friendly convenience every time. Alternatively, you can use fresh shrimp or peel and devein your own shrimp.
HOW TO DEFROST SHRIMP
If you are using frozen shrimp, then you will need to thaw it first. There are two options for defrosting your shrimp:
To quickly defrost shrimp: place the frozen shrimp into in a fine-mesh sieve or colander. Place this sieve in a large bowl of cold tap water for 10 minutes. After 10 minutes, replace the water in the bowl with new cold tap water and resubmerge the shrimp. Let shrimp sit an additional 10- 20 minutes. At this point the shrimp should be completely defrosted.
To defrost shrimp overnight: The easier way to defrost your shrimp (if you remember in advance) is to remove your frozen shrimp to a covered bowl and let them defrost in the refrigerator overnight.
Whatever you do, resist the urge to defrost your shrimp using warm tap water (and definitely NOT the microwave) as this will cause the shrimp to defrost and cook unevenly.
HOW TO MAKE KUNG PAO SHRIMP
Step 1:  Make Kung Pao Shrimp Sauce
To make this easy Kung Pao Shrimp, first whisk together the marinade that also doubles as the sauce – my favorite method to eliminate work. The marinade/sauce consists of soy sauce, mirin, rice vinegar, hoisin, red chili paste and a touch of brown sugar. You add some of this sauce to your shrimp for it to soak up the savory heat and reserve the rest.
Step 2 – Marinate Shrimp
Let shrimp marinate at room temperature while you prep your veggies, for 10 minutes up to 30 minutes. You don't want to marinate shrimp for longer than 30 minutes because it can get mealy.

Step 3:  Prep Stir Fry
While your shrimp is marinating, you prep your ginger, garlic, onion, bell peppers and dry roast your already dry roasted peanuts simply by tossing in a heated skillet for an extra roasted crunch.
You want all of your stir fry ingredients prepared before heating up the wok because you will be adding them to the stir fry in rapid succession AND because shrimp cooks very quickly. Once you start cooking, the Kung Pao Shrimp is done cooking in less than 5 minutes.
Step 4:  Stir Fry
Saute onions, then add bell peppers, garlic and ginger and continue to stir fry a few more minutes. Add shrimp and cook just until opaque, about 3 minutes, being careful not to overcook. Add your reserved sauce to the skillet and simmer just until it thickens, approximately 1-2 minutes then pile high with roasted peanuts for your very own homemade Kung Pao Shrimp in under 30 minutes! Happy takeout fakeout!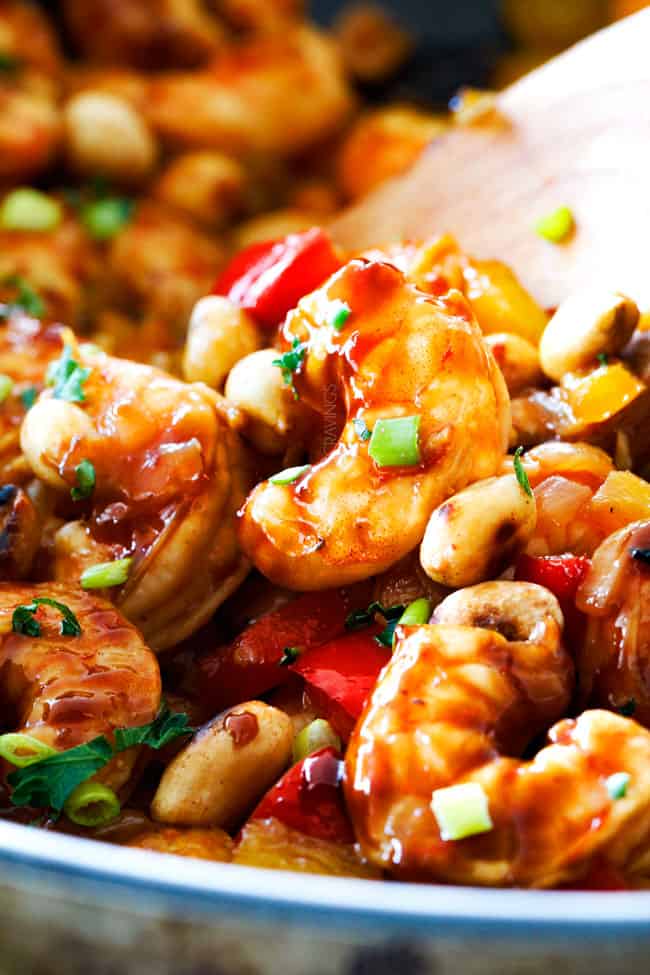 Looking for more shrimp recipes?
Want to try this Kung Pao Shrimp?
Pin it to your ASIAN, SEAFOOD or DINNER Board to SAVE for later!
Find me on Pinterest for more great recipes!  I am always pinning :)!
©Carlsbad Cravings by CarlsbadCravings.com
Kung Pao Shrimp
This easy, healthy, Kung Pao Shrimp tastes better than takeout and is on your table in less than 30 minutes!  You will love combination of juicy shrimp and crunchy peanuts in the savory, fiery garlic chili sauce with CUSTOMIZABLE heat!
Save This Recipe To Your Recipe Box
You can now create an account on our site and save your favorite recipes all in one place!
Ingredients
Instructions
In a medium bowl, whisk together marinade/sauce ingredients EXCEPT water, and cornstarch. Add ⅓ cup of the marinade/sauce to a large freezer bag with shrimp. Let marinate at room temperature while you prep your veggies, or up to 30 minutes. To the remaining sauce, whisk in ¼ cup water and cornstarch.

Meanwhile, in a large skillet, dry roast peanuts until golden, tossing occasionally, approximately 3 minutes. Set aside.

Heat 1 tablespoon olive oil in a large nonstick skillet over medium high heat. Once hot, add onion and sauté 3 minutes. Add bell peppers, garlic and ginger and continue to stir fry 2 additional minutes.

Add shrimp and stir fry just until opaque, about 2-3 minutes (don't overcook!). Add reserved sauce to skillet and simmer until sauce thickens, approximately 1-2 minutes. Taste and season with additional salt and/or pepper, red chili paste for spicier or sugar for sweeter if desired.

Garnish individual servings with peanuts and optional green onions. Serve with rice.
Notes
*If you aren't sure how much to add, I would start with less and add more to taste – you can add more heat but its hard to take it away!
Did You Make This Recipe?
Tag @CarlsbadCravings and Use #CarlsbadCravngs
Leave a Review, I Always Love Hearing From You!
©Carlsbad Cravings Original