This sweet and tangy homemade Pineapple Cranberry Sauce is so much better than canned, incredibly easy, stress free and make ahead! This company rave worthy Pineapple Cranberry Sauce will be your new favorite cranberry sauce for Thanksgiving!

As a child at Thanksgiving, there were always extra mashed potatoes in the place of Cranberry Sauce. My undeveloped taste buds just didn't get the whole cranberry thing but now homemade cranberry sauce is a Thanksgiving must! For me, every single bite of turkey tastes 1000X better slathered with homemade Pineapple Cranberry Sauce. The sweet tangingess compliments and cuts the rich savory turkey while the hints of cinnamon, cloves, pineapple and orange juice enliven every glorious bite.

So whether you have been assigned the cranberry sauce this Thanksgiving or you want to bring something but don't have time or are intimidated by everything else, or you simply want everyone to be singing your praises this Thanksgiving, then this Pineapple Cranberry Sauce is for you! Not only is it deceptively easy to make, it also tastes better 1-2 days after its made, so you can m ake it ahead so on Thanksgiving Day, you are sitting pretty and only have to worry about how to be first in line for seconds.
Cranberries are innately extremely tart, and need sugar to balance their tartness but I also like to round out the tartness with orange juice and instead of water, I use pineapple juice. It enhances the wonderfully sweet tart flavor without upsetting the delicate balance.
To make this Pineapple Cranberry Sauce, you simply combine your sugar, pineapple juice and orange juice and cook until the sugar dissolves, 1-2 minutes.

You then add your beautiful garnet cranberries…

Bring to a boil then reduce to a simmer over medium low for about 10 minutes or until most of the berries burst and the sauce thickens slightly. Cranberries are high in pectin, so you don't need to add cornstarch or any other thickeners but rather they set naturally into a jelly like consistency.

Then stir in your refreshing crushed pineapple, cinnamon and a dash of cloves and you have one of the world's best homemade Cranberry Sauces! If serving with turkey, you will want to chill and serve cold, but this Pineapple Cranberry Sauce is also delectable warm. I could not put my spoon down after shooting this!

Pineapple Cranberry Sauce, one of my favorite and most essential parts of the Thanksgiving feast and hopefully soon to be yours!

Looking more for Thanksgiving recipes?

Want to try this Pineapple Cranberry Sauce?
Pin it to your THANKSGIVING, SIDES or HOLIDAY Board to SAVE for later!
Find me on Pinterest for more great recipes! I am always pinning :)!
©Carlsbad Cravings by CarlsbadCravings.com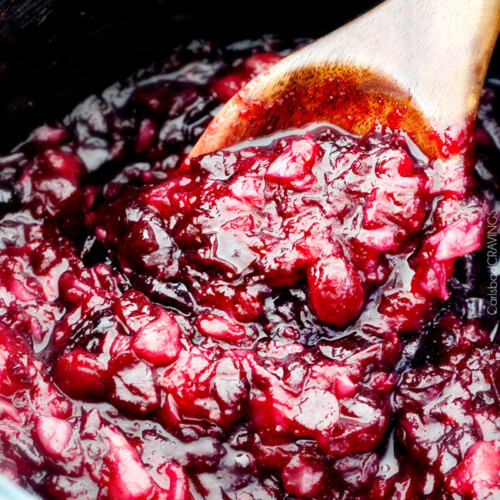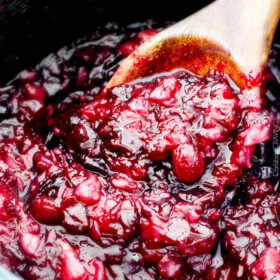 Pineapple Cranberry Sauce
Save This Recipe To Your Recipe Box
You can now create an account on our site and save your favorite recipes all in one place!
Ingredients
1

12 oz.

bag fresh cranberries

1

cup

sugar

1/4

cup

orange juice

1

20 oz. can

crushed pineapple in juice, divided

1/4-1/2

teaspoon

ground cinnamon (to taste)

dash of cloves
Instructions
Add ¾ cup

pineapple juice

, orange juice and sugars to a medium saucepan. Cook over medium high heat, stirring constantly until sugar dissolves, 1-2 minutes.

Stir in cranberries and bring to a boil. Reduce to a simmer over medium low heat until cranberries burst and sauce reduces, about 10-12 minutes. Sauce will thicken more upon standing.

Mash berries to desired consistency (optional) then stir in all of the crushed pineapple, cinnamon and cloves. Add a dash of orange juice for tangier, sugar for sweeter if desired. Serve chilled or room temperature.
Notes
Prep Ahead
This Cranberry Sauce can be made up to two days ahead of time and stored in an airtight container in the refrigerator (tastes even better made ahead!) or frozen for up to two months.  
Did You Make This Recipe?
Tag @CarlsbadCravings and Use #CarlsbadCravngs
Leave a Review, I Always Love Hearing From You!
Carlsbad Cravings© Original