These Hawaiian barbecue Crockpot Baked Beans are the BEST homemade baked beans I've ever made. Perfect for potlucks, cookouts, and more!
Slow Cooker Hawaiian Barbecue Baked Beans simmered in a pineapple infused barbecue bath enlivened with just the right kick of Cajun spices. These beans are a total crowd pleaser and couldn't be any easier!!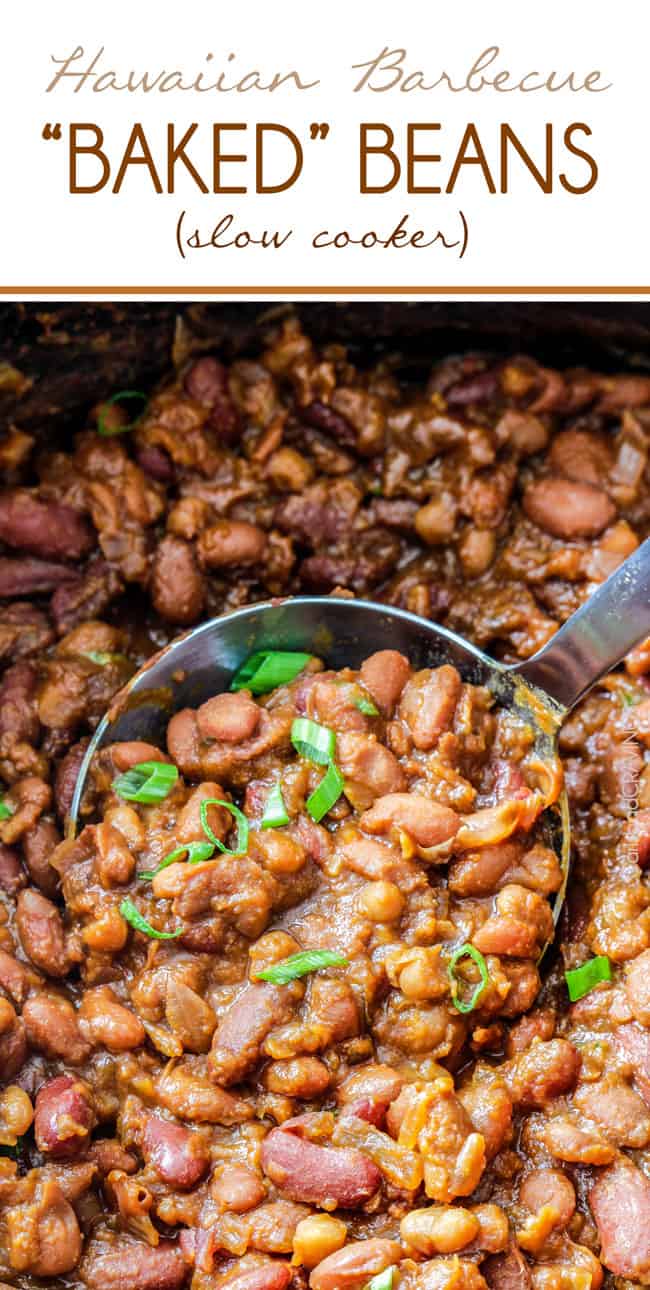 Easy Crockpot Baked Beans Recipe
I have it bad for baked beans.
My foodie crush started years and years ago. First, it was Pork and Beans. Although that was more of a love/hate as I was grossed out every time I had to fish out the soggy piece of bacon. I didn't understand it. Perhaps I never will. But the beans were so good to a seven-year-old dirty blonde, freckle faced girl.
Then it was Bush's Baked Beans. The perfect texture and sweetness, doctored up with cheese, sour cream and onions.
And now its these Slow Cooker Barbecue Baked Beans perfect just the way they are. I am crushing hard.
These beans are perfectly sweet, perfectly spiced, and perfectly brightened by the addition of pineapple juice. The pineapple juice makes these homemade baked beans but is not overpowering. Rather, it perfectly complements the sweet and tangy barbecue mixture of ketchup, molasses, brown sugar, and a heaping spoonful of Cajun spices.
Simply dump the beans, Hawaiian barbecue sauce ingredients, garlic and onion into your crockpot and let it simmer away. As the beans cook and soften, they will drink up all the pineapple, barbecue goodness.
So easy, so delicious, so perfect for crowds, SO ready for you to curl up with a bowl and fall in love with baked beans all over again.
Crockpot Baked Beans Ingredients
This baked beans recipe from scratch is so easy to make thanks to the help of your trusty Crockpot. Here's what you'll need to make Hawaiian barbecue baked beans:
Canned beans: I used a mixture of kidney, white, and pinto beans, but use whatever you'd like (see my notes below on the best types of beans for baked beans).
Sweet onion: Half of a large yellow onion will work.
Garlic: Buy prepared garlic to make your life easier.
Ketchup: Adds a slight tomato flavor and some sweetness.
Brown sugar: I prefer using brown sugar because it has more flavor than plain white sugar.
Molasses: Adds sweetness and a rich flavor.
White vinegar: Balances out the sweetness of the sugar, ketchup, and molasses.
Mustard: I used a blend of Dijon and yellow mustards.
Worcestershire sauce: Adds umami flavor.
Pineapple juice: I buy canned pineapple juice and mix in a little cornstarch to help the sauce thicken up.
Cajun spice: You need a kick of spice to complement the sweetness of the sauce.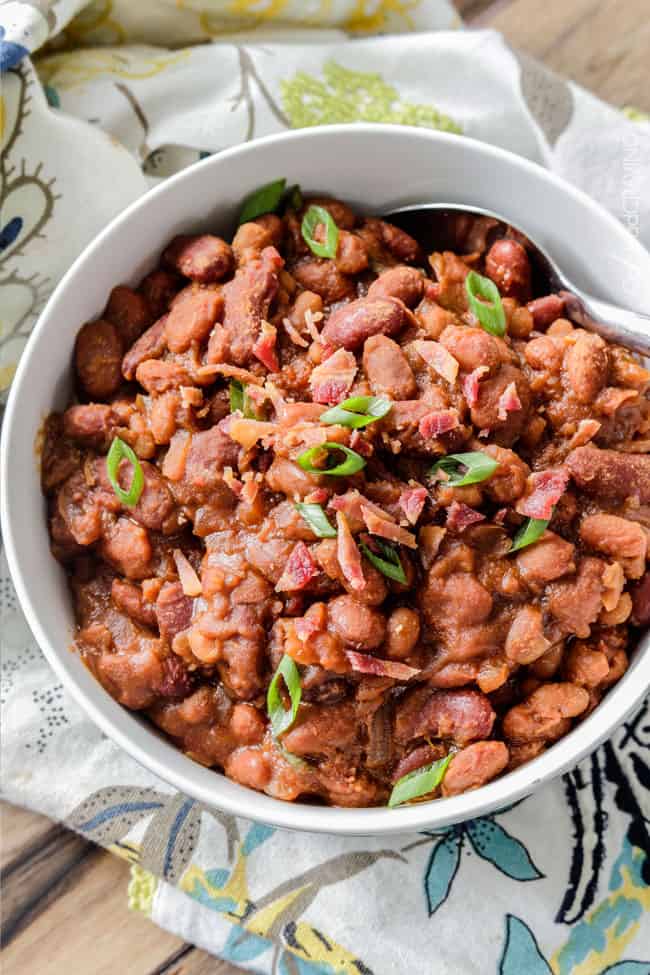 What Are the Best Beans for Baked Beans?
The most popular type of beans for baked beans is navy beans. Navy beans are a white bean also known as:
haricot
pearl haricotbean
Boston bean
white pea bean
pea bean
However, you can essentially use whatever combination of beans you have on hand from navy and pinto to great northern beans and butter beans.
How to Make Crockpot Baked Beans
This may just be the best baked beans recipe EVER. Why? Because it's so tasty and so easy to make!
Add all the ingredients to your Crockpot.
Cook on LOW for 7-9 hours or on HIGH for 3-4 hours, stirring occasionally.
Just before serving, stir in a little bacon, if desired.
Tips for Making Crockpot Baked Beans
Rinse and drain beans. This is a MUST! Rinsing the beans reduces the sodium which in turns reduces your gassiness 😊. To rinse beans, add them all at once to a large colander and gently rinse with cold water. You don't want to use the spray setting or it can break your beans apart. Take care your beans are thoroughly drained before adding to the sauce. You may need to dab them with paper towels to get rid of excess moisture.
Salt to taste. Do to the salty nature of bacon, I didn't find it necessary to salt these beans. If you feel like something is missing at the end of cooking, then you may need to add salt to taste.
Adjust cook time as needed. If you like thicker sauce, cook the beans until the sauce is thickened to your liking. For a thinner sauce, cook for less time, or stir in some extra water.
Homemade Baked Beans Variations to Try
Liquid smoke. I love adding liquid smoke to my Baked Beans because they add a baked-over-an-open-flame taste and smell to our already scrumdiddlyumptious beans. Liquid Smoke can be found next the barbecue sauces at your local grocery store. I prefer Mesquite liquid smoke for these baked beans but you are welcome to use hickory if you prefer.
Adjust the flavors. You can make your barbecue baked beans sweeter by adding additional brown sugar, tangier by adding more apple cider vinegar or spicier by adding hot sauce.
Make vegetarian. If you are looking to make this a vegetarian recipe, you can omit the bacon that's stirred in at the end.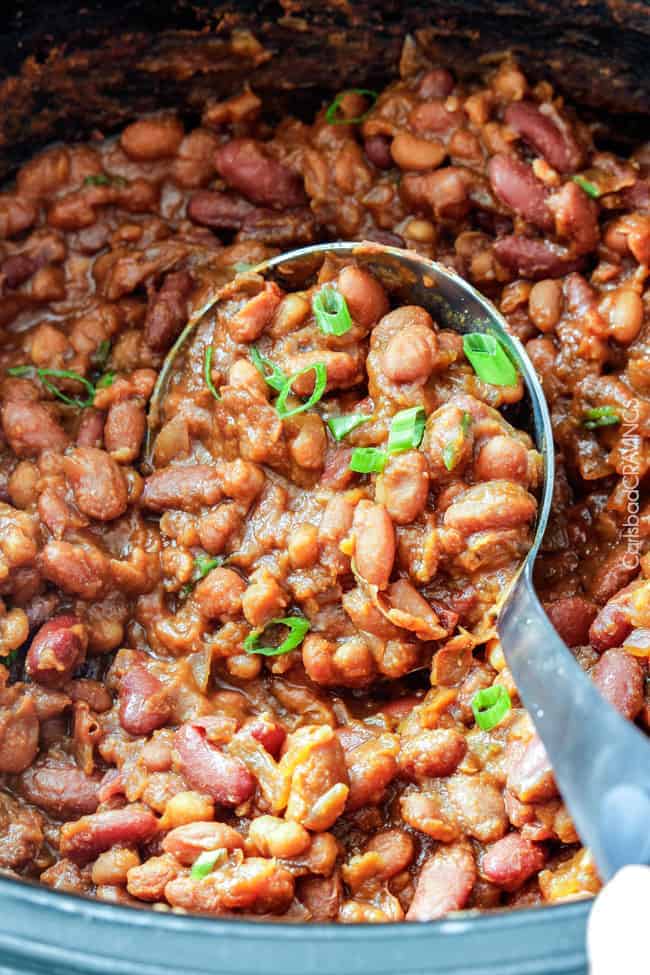 Can I Prep Baked Beans in Advance?
Absolutely! Make the recipe as instructed, then refrigerate until ready to serve. To warm, set slow cooker to low and cook until heated through.
How to Store Baked Beans
Store leftover barbecue baked beans in an airtight container in the fridge. They'll last up to 5 days.
How to Reheat Baked Beans
You can reheat these barbecue baked beans in the microwave, on the stovetop, or in the Crockpot (save the Crockpot for much larger portions).
Can I Freeze Baked Beans?
Yes, homemade baked beans freeze very well. Let cool completely, then transfer to a freezer-safe container and freeze for up to 3 months. To thaw, place in your fridge overnight.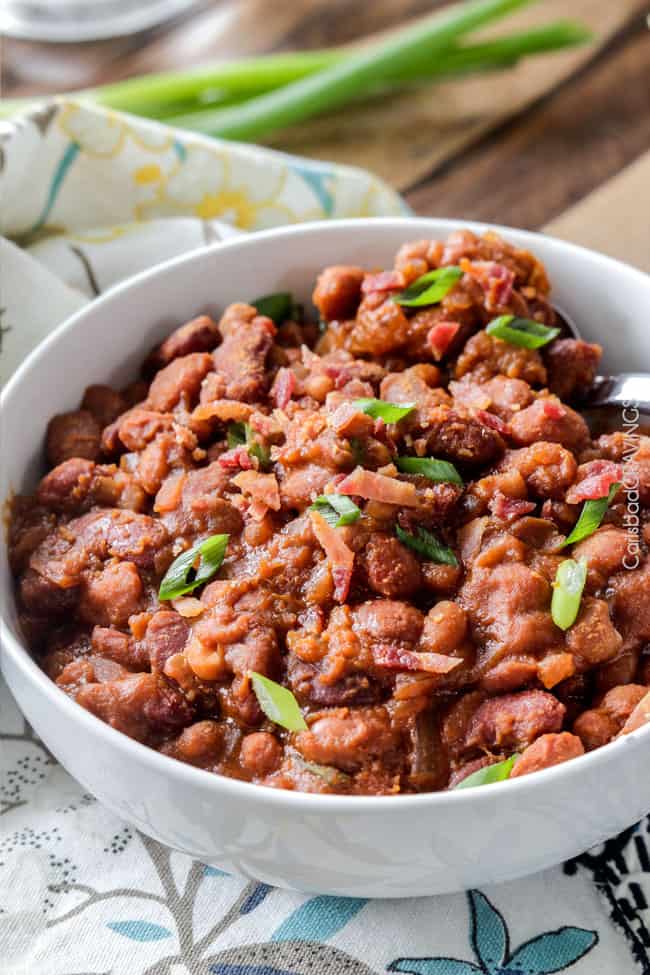 What to Serve with Baked Beans
These easy baked beans pair perfectly with your favorite summer mains! Here are some ideas of what you can serve alongside these baked beans:
Looking for More Potluck Side Dishes?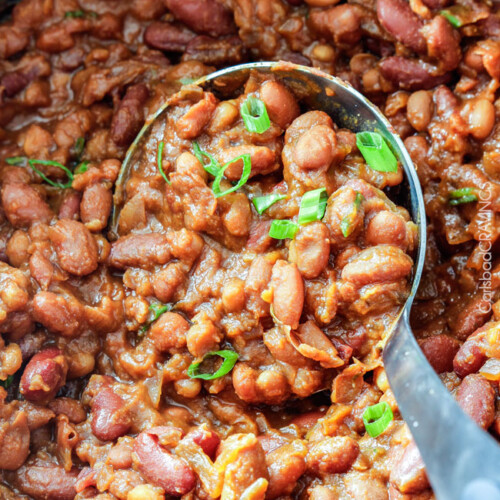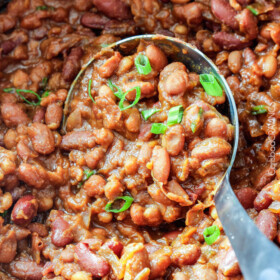 Slow Cooker Hawaiian "Baked" Beans
Total Time:
8

hours
5

minutes
Save This Recipe To Your Recipe Box
You can now create an account on our site and save your favorite recipes all in one place!
Ingredients
Hawaiian Barbecue Baked Beans
1

28 oz. can

pinto beans, rinsed and drained

1

15 oz. can

white beans, rinsed and drained

1

15 oz. can

light kidney beans, rinsed and drained

1/2

large sweet onion, diced

1/2

cup

ketchup

1/3

cup

brown sugar, packed

1/3

cup

molasses

2

tablespoons

white vinegar

2

tablespoons

yellow mustard

2

tablespoons

Dijon mustard

1

tablespoon

Worcestershire sauce

1

6 oz. can

pineapple juice mixed with 1 teaspoon cornstarch

1

tablespoon

Cajun spice
Garnishes (optional)
6-8

slices

bacon, cooked and crumbled

(recommended)

green onions

fresh pineapple

cheese

hot sauce
Instructions
Add all of the Hawaiian Barbecue Baked Beans ingredients to your slow cooker and mix to combine.

Cook on LOW for 7-9 hours or on HIGH for 3-4 hours, stirring occasionally. If the beans are too thick, stir in a little water, if not thick enough, continue to cook.

Just before serving, stir in bacon. Top with desired garnishes. Enjoy!
Did You Make This Recipe?
Tag @CarlsbadCravings and Use #CarlsbadCravngs
Leave a Review, I Always Love Hearing From You!
Carlsbad Cravings© Original