These Pork Tacos are so flavorful, you won't believe how simple they are to make – no marinade required!
These Pork Tacos are a quick and easy explosion of flavor and texture in every bite! They are loaded with spice rubbed pork, sweet crunchy Corn Salsa and creamy Avocado Crema. The pork is seasoned while on the cutting board, cooked for just a few minutes in a skillet, then piled in tortillas with all your favorite toppings! Prepare yourself for healthy, restaurant delicious Mexican Pork Tacos in the comfort of your own home!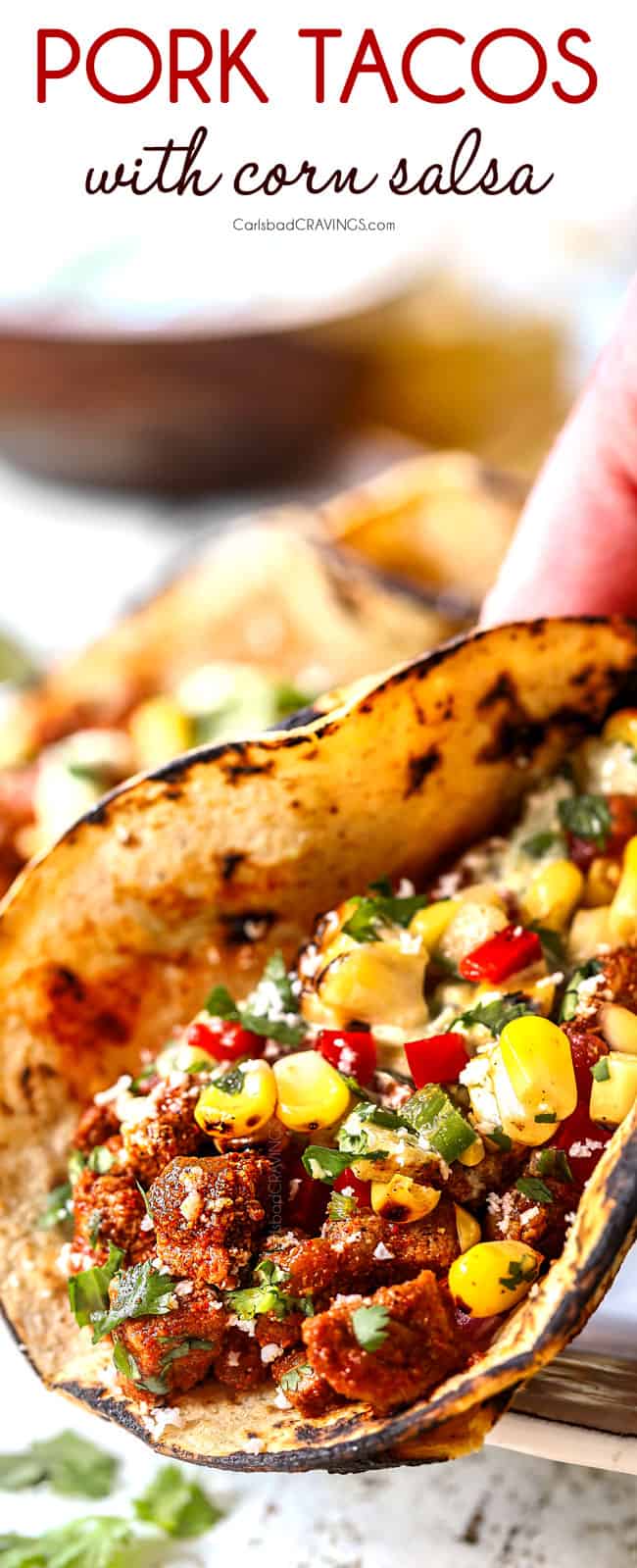 Pork Tacos Recipe
These sensational Mexican Pork Tacos are everything you want in a taco. And in life. They are:
juicy
flavorful
quick
easy
no plan ahead
healthy
pantry friendly
customizable
FABULOUS
In short, I am IN LOVE with these Pork Tacos! They are restaurant delicious without the drive, wait or price, unintentionally healthy and intentionally AMAZING!
They are seeping with a complex depth of robust spices, texture packed between the corn salsa and the crema and still wonderfully light and fresh!
So, prepare yourself for mouthfuls of savory, sweet, tangy, fresh, creamy, crunchy, salty all in one bite after bite after bite…prepare to fall in LOVE with these Pork Tacos!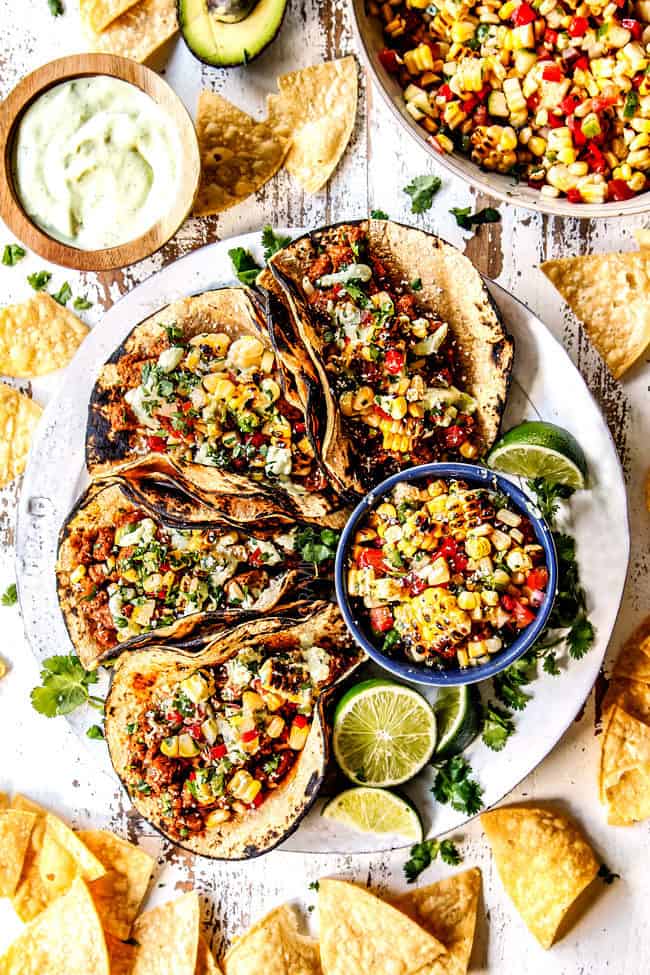 What Pork for Mexican Pork Tacos?
You are probably familiar with cooking pork butt/shoulder in the slow cooker like I do in my pork carnitas, sweet chipotle pork and my salsa verde pork, but for this Pork Tacos recipe, I wanted to use pork that could be cooked in MINUTES and still emerge buttery tender. The answer? Pork tenderloin!
Pork tenderloin is extremely versatile. Hopefully you'll already made my baked pork tenderloin recipe, but have you ever chopped it up and cooked in a skillet? MAGIC! The pork tenderloin emerges beautifully juicy and so tender- thus the name pork tenderloin. I've included a bunch of tips of what to look for in pork tenderloin below.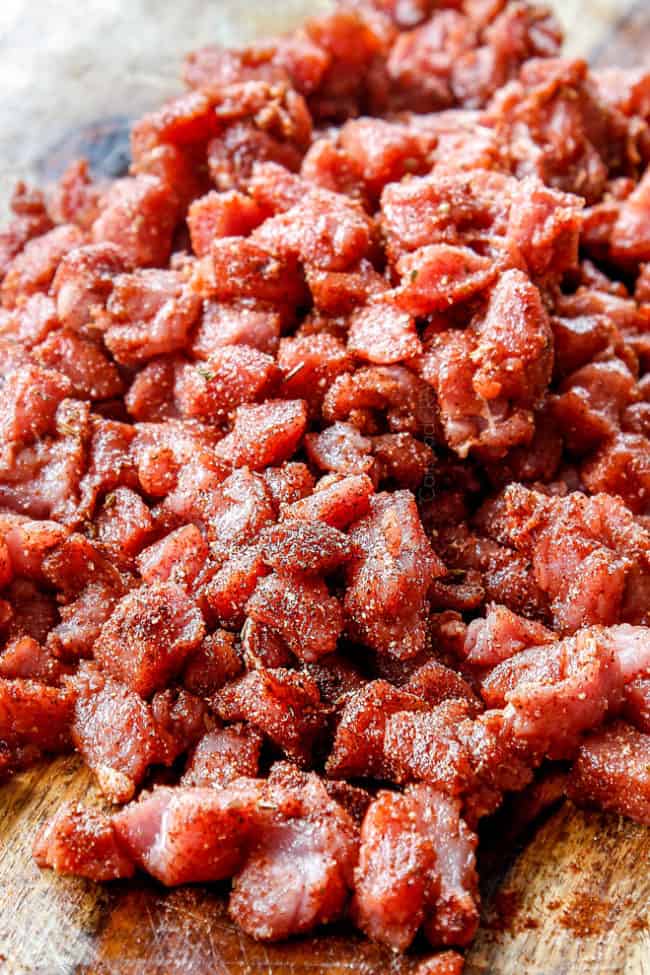 Tips to Make Pork Tacos Recipe
Use pork tenderloin NOT pork loin. You cannot use pork tenderloin and pork loin interchangeably – they are not the same. Pork tenderloin is smaller and thinner (about 1-2 pounds) than pork loin and is unbelievably tender because it comes from a muscle that doesn't get much exercise, whereas pork loin is musclier and therefore requires longer baking time to become tender.
Don't purchase pork tenderloin with a rub, marinade or brine. We are going to season our pork tenderloin with fiesta spices specific for this Pork Tacos recipe, so make sure you purchase plain pork tenderloin.
Where to purchase pork tenderloin. You can purchase pork tenderloin in the meat section of your grocery store or at Costco for less. At Costco, one package of pork tenderloin (which comes with two loins) costs about $15 per package. Although pork tenderloin is pricier than chicken, it is still a very economical price to feed the family or company a restaurant quality dinner.
Use one pork tenderloin. Pork tenderloin almost always is packaged with two tenderloins in one package. Each tenderloin weighs roughly 1-1 ½ pounds. You will need only one of these tenderloins for this Pork Taco recipe. You can freeze the second tenderloin to make this recipe again later OR you can double the recipe (cook in batches), and freeze any leftovers.
Remove silverskin. Many packages of pork tenderloin will come pre-trimmed so you don't need to worry about removing the silverskin before cooking. If your pork comes with the silverskin intact, however, you will need to remove it before cooking or it will become tough and chewy. The silverskin is part of a sinew on one side of the pork and looks like thin, silvery fat. To remove it, slip a sharp knife in between the silver skin and the meat then cut it away until free. Take care to just remove the silverskin and not a big chunk of meat!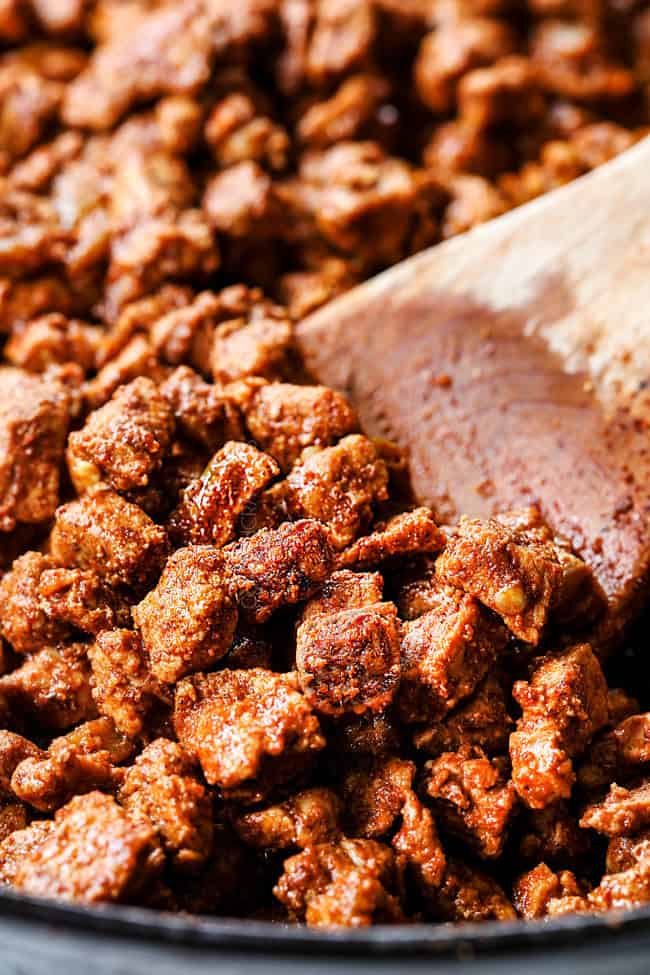 how do you season Mexican pork tacos?
These Pork Tacos are spectacular due to the seasoning. We need to generously season the pork because we are not marinating it.
We are going to create our own custom, robust, smoky "Taco" seasoning with:
chili powder
ancho chili powder
ground cumin
smoked paprika
dried oregano
garlic powder
onion powder
ground coriander
brown sugar
cayenne pepper
salt
pepper
You probably have all of these seasonings stocked except perhaps ancho chili powder – which I highly suggest you add to your spice collection. Ancho chili powder comes from ground dried poblanos and is more mild than cayenne or chipotle powder but still has a deep rich, smoky, mild sweet heat. I use it in several of my recipes such as my Blackened Fish Tacos and my Slow Cooker White Chicken Chili, Baked Ancho Chili Wings, and now these Mexican Pork Tacos, so I promise it will not go to waste!
The pork is further seasoned with:
mild chopped green chiles: you will use half a can of mild chopped green chiles- or add more if you want ;). Make sure you purchase mild green chiles – I have accidentally used the hot chilies before and they are HOT! Mild green chiles, however are more tangy than hot so you don't have to worry about them making your Pork Tacos spicy.
lime juice: fresh or bottled is fine. Use more or less to taste.
apple cider vinegar: both the lime juice and apple cider vinegar add a depth of tanginess to cut through the earthy, robust seasonings. If you don't have apple cider vinegar, you can substitute with lime juice.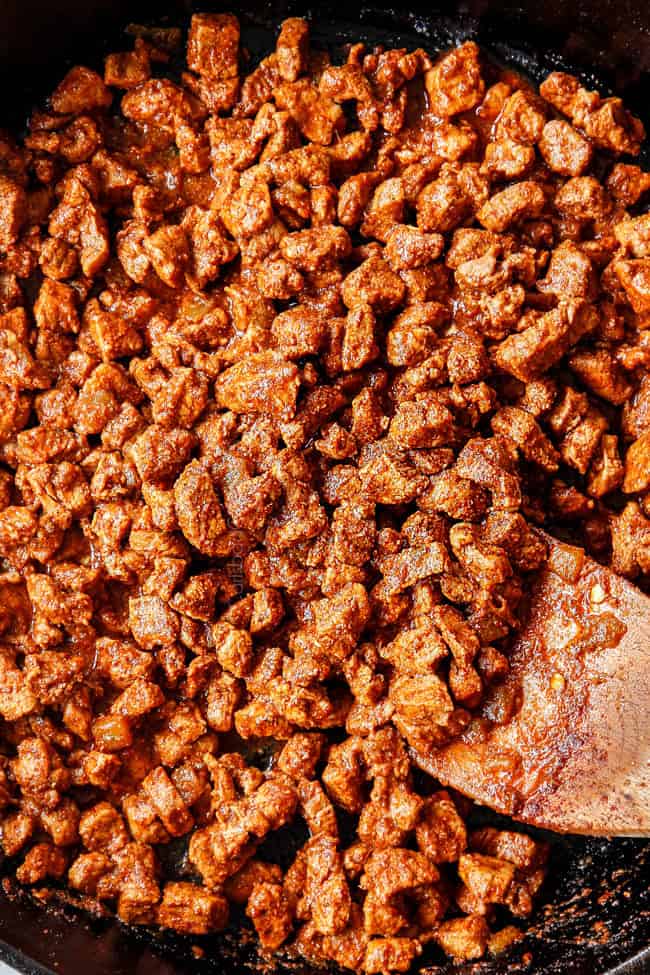 How to Make Pork Tacos
Use a cast iron skillet. A cast iron skillet will give you the best char and seal in the juices of the pork. If you don't own a cast iron skillet, make sure your pan is sizzling hot before you add the pork.
Don't overcook the pork. Pork is safe to consume at 145 degrees F, which means it will be slightly pink in the center which is OKAY. If you overcook your pork it won't be as tender.
Lime. Don't forget the lime! The lime brightens and enlivens the earthy Pork Taco flavors.
Use flour or corn tortillas. I prefer corn tortillas for this Pork Taco recipe because we already get fabulous corn flavor from the corn salsa.
Char tortillas. This is totally optional but readers often ask how I char my tortillas, so here you go! I simply place my tortillas directly over the flame of my gas stovetop for a few seconds and flip using tongs.
Prep Ahead. You can prep your Corn Salsa and Avocado Crema in advance so all that's left to do is cook!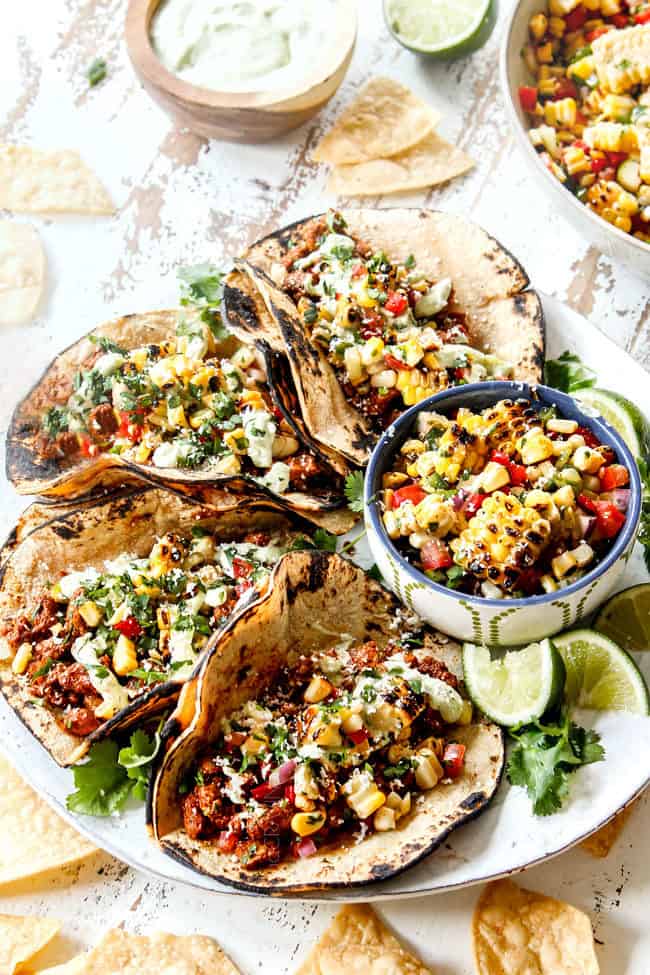 Mexican Pork Taco Variations
This Mexican Pork Taco recipe is super simple because we are getting flirty with the Corn Salsa. If Corn Salsa isn't your thing or you want to mix it up because you've made this favorite recipe 100X already, here are some ideas:
Add beans. Add your favorite beans – black beans, kidney beans, pinto, beans etc.
Add veggies. If you aren't adding the veggies on top of your tacos with corn salsa, you can add them to your pork! Bell peppers, corn, zucchini, sweet potatoes, etc. all work great.
Add tomatoes. I love adding fire roasted tomatoes to my Mexican dishes. They boast a wonderful smoky flavor and are sweeter and less acidic than regular diced tomatoes.
Add cheese. After your pork is browned and mostly cooked, stir in desired amount of cheese to melt.
Add rice or quinoa. Stir in cooked rice or cooked quinoa for added texture. If you do this, you may want to add some salsa.
Add pineapple. Pineapple and smoky, spicy pork are meant for each other – just like in my Tacos Al Pastor. You can caramelize some chopped pineapple in the skillet then remove it before you add the pork, then stir it back into the pork filling or serve it on top. Or you can skip caramelizing it altogether.
Add heat. You can start without any cayenne pepper if you want to make these Pork Tacos very kid friendly then gradually season with up to ½ teaspoon cayenne pepper. Just remember to taste as you go – a little cayenne pepper goes a long way! Alternatively, you can keep the pork filling mild and let individuals add hot sauce to their own tacos.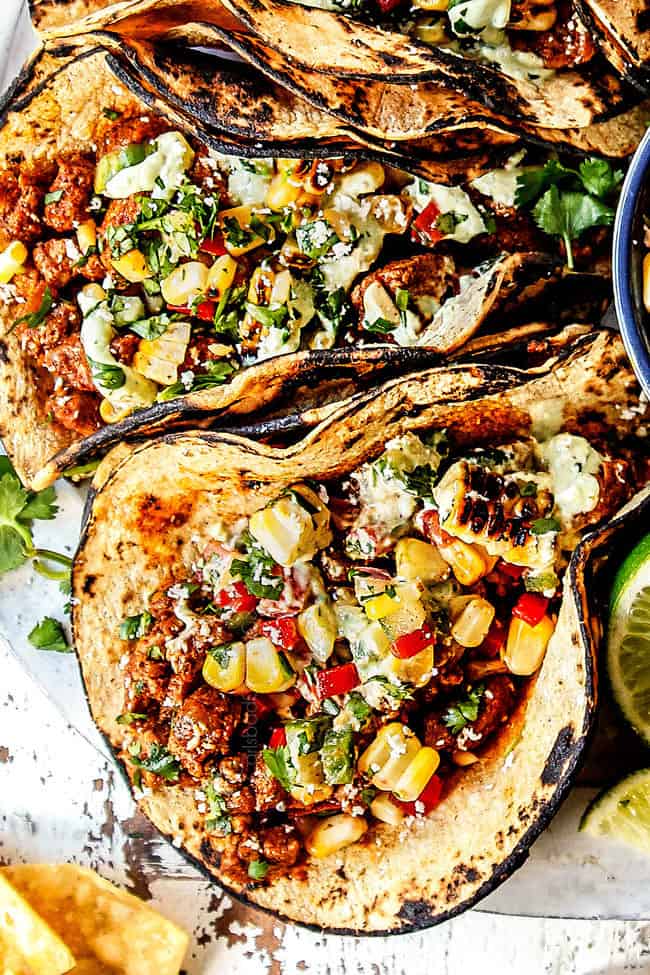 What Toppings for Pork Tacos?
My FAVORITE toppings for Mexican Pork Tacos are Corn Salsa and Avocado Crema although Mango Salsa, Pineapple Salsa or simple chopped pineapple or mangos would also be delicious.
The Corn Salsa is tangy, salty, sweet, spicy all at the same time and adds a delightful fresh, juicy sweet CRUNCH to the Pork Tacos.
This Corn Salsa is made with charred, caramelized sweet corn, crispy bell peppers, crunchy cucumbers, juicy tomatoes, spicy jalapenos, kickin' garlic and zesty cilantro all brightened by fresh lime juice. It is so intoxicatingly delicious I've already given it its very own post – I can't wait for you to try it!
The Corn Salsa is super simple to make, but if you don't have all the ingredients on hand, or are feeling super lazy, you can just use what ingredient you do have. You can even swap the jalapeno, onion and garlic for powders and used canned corn so there is virtually no chopping! Can you tell I really want you to make this corn salsa any way possible? It's just THAT good and the perfect complement to these Pork Tacos!
As far as other Pork Taco Toppings, I don't recommend just lettuce and salsa as these smoky tacos really need something sweet and tangy to balance their richness. If you don't to use corn salsa, mangos or pineapple, make sure you add sour cream or Greek yogurt plus a generous amount of lime.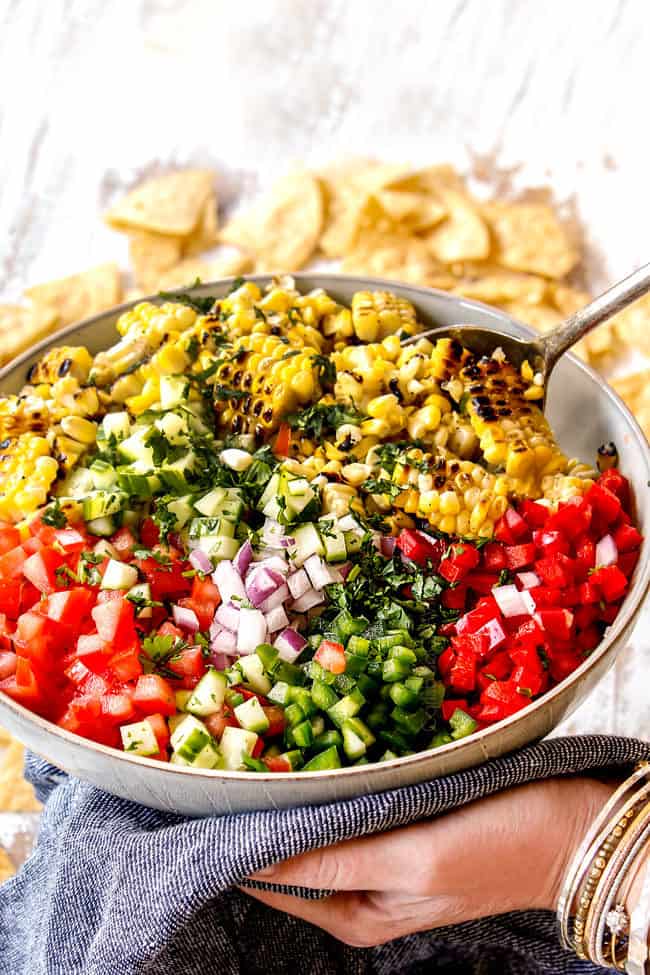 Here's a full list of Pork Taco topping ideas:
Tomatoes
Avocados
Pineapple
Sour cream
Greek yogurt
Lettuce
Cilantro
Hot sauce
What's the Best Taco Sauce?
If you have been following me for long, you know I LOVE my Avocado Crema and serve it with practically every taco recipe. Both Patrick and I prefer it hands down to guacamole or just avocados. It's soooo creamy with just the right hint of lime, cumin, garlic and cilantro.
The cool refreshing creaminess against the robust Mexican seasonings of the Pork Tacos is a must in my book. It's silky texture also marries all the components together.
Right up there with the Avocado Crema are my Tomatillo Avocado Ranch and Cilantro Lime Dressing. They both boast similar flavor profiles but require a few more ingredients. So now you have THREE fabulous taco sauce options!
CAN I PREP PORK TACOS AHEAD OF TIME?
Absolutely! Although the Corn Salsa requires simple charring and chopping, it does take a little time, but is SO worth it. It's nice to make it ahead of time so you don't have any chopping at dinner time. I also like making both the salsa and the crema in advance because I think the flavors get better over time.
There are a few ways you can prep Pork Tacos ahead. Choose all or just some:
Chop and season the pork and refrigerate in an airtight container up to 24 hours before cooking.
Cook pork filling ahead of time and refrigerate or freeze it.
Chop and assemble the Corn Salsa and store in an airtight container up to 3 days ahead of time.
Prepare Avocado Crema up to 6 hours ahead of time and store in an airtight container in the refrigerator. You can make it earlier and store it for longer but you might notice a little discoloration.
HOW TO STORE AND REHEAT leftovers
Storage: transfer cook pork to an airtight container. Store in the refrigerator for up to 4 days. Store salsa in a separate airtight container in the fridge for up to 5 day. Avocado Crema can be made 8 hours ahead of time and refrigerated in an airtight container with plastic wrap pressed directly to the surface of the crema.
Microwave: transfer pork to a microwave safe plate and cover with a damp paper towel to keep it from drying out. Microwave at 30 seconds intervals until warmed through.
Skillet: heat one tablespoon oil or butter in a skillet over medium heat. The fat will help the pork stay tender. Once hot, add pork and cook undisturbed for a couple minutes, then begin to cook and stir until warmed through. Take care not to overcook or it can become dry.
Oven: transfer pork to a baking sheet, cover with foil and reheat at 350 degrees F for 10 minutes or just until warmed through.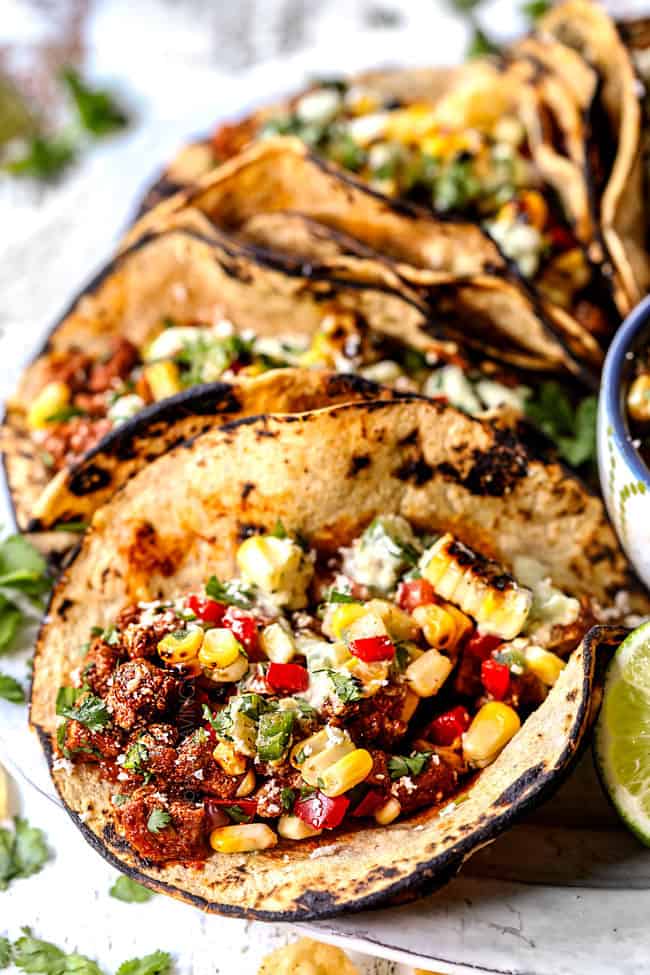 Want to try this Pork Tacos RECIPE?
Pin it to your MEXICAN, 30 MINUTE MEALS or DINNER Board to SAVE for later!
Find me on Pinterest for more great recipes! I am always pinning :)!
©Carlsbad Cravings by CarlsbadCravings.com
More Favorites from Carlsbad Cravings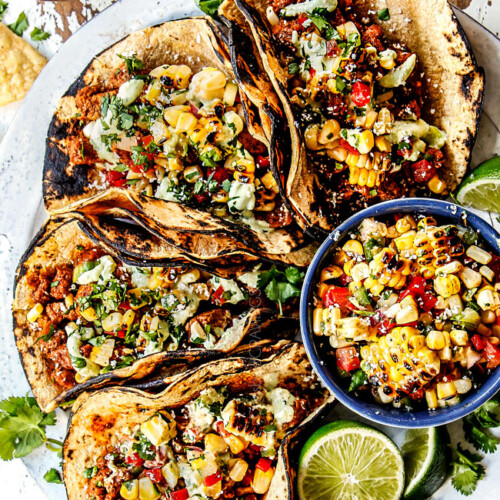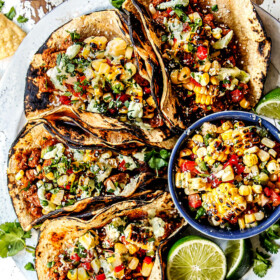 Pork Tacos
These Pork Tacos are a quick and easy explosion of flavor and texture in every bite – no marinade required! They are loaded with spice rubbed pork, sweet crunchy Corn Salsa and creamy Avocado Crema. The pork is seasoned while on the cutting board, cooked for just a few minutes in a skillet, then piled in tortillas with all your favorite toppings! Prepare yourself for healthy, restaurant delicious Mexican Pork Tacos in the comfort of your own home!
Save This Recipe To Your Recipe Box
You can now create an account on our site and save your favorite recipes all in one place!
Ingredients
Pork
1 1/2

lbs.

pork tenderloin

cut into 1/4-inch cubes

1

TBS EACH

chili powder, ancho chili powder

1 1/4

teaspoon

salt

1

tsp EACH

garlic powder, ground cumin, brown sugar

1/2

tsp EACH

dried oregano, smoked paprika, onion powder, ground coriander

1/4

teaspoon

pepper

1/4-1/2

teaspoon

cayenne pepper

optional for more heat

2

tablespoons

olive oil

3

tablespoons

mild chopped green chiles

(half of a 4 oz. can)

1

tablespoon

apple cider vinegar

1

tablespoon

lime juice
Instructions
Avocado Crema: Add all of the Avocado Crema ingredients to your blender and blend until smooth, scraping sides down as needed. May make 6 hours ahead of time and refrigerate in an airtight container.

Corn Salsa: Prepare Corn Salsa anytime before making pork and store in the refrigerator.

Pork: While the pork is still on the cutting board, pat it dry then sprinkle it with all of the seasonings. Toss until evenly coated.

Heat oil in a large cast iron skillet over medium high heat. Add the pork in a single layer and let brown for 1-2 minutes then continue to cook and stir just until cooked through (don't overcook, 145-155 degrees F). When almost cooked through, stir in green chiles, lime juice and vinegar. Taste and season with additional salt or cayenne pepper to taste.

To serve: Top tortillas with pork, Corn Salsa, Avocado Crema, freshly squeezed lime juice, hot sauce to taste and optional Cotija.
Did You Make This Recipe?
Tag @CarlsbadCravings and Use #CarlsbadCravngs
Leave a Review, I Always Love Hearing From You!
Carlsbad Cravings© Original