Chicken in Coconut Mango Verde Sauce – on your table in less than 30 minutes with the most velvety, flavor infused sauce you will be dreaming about for days!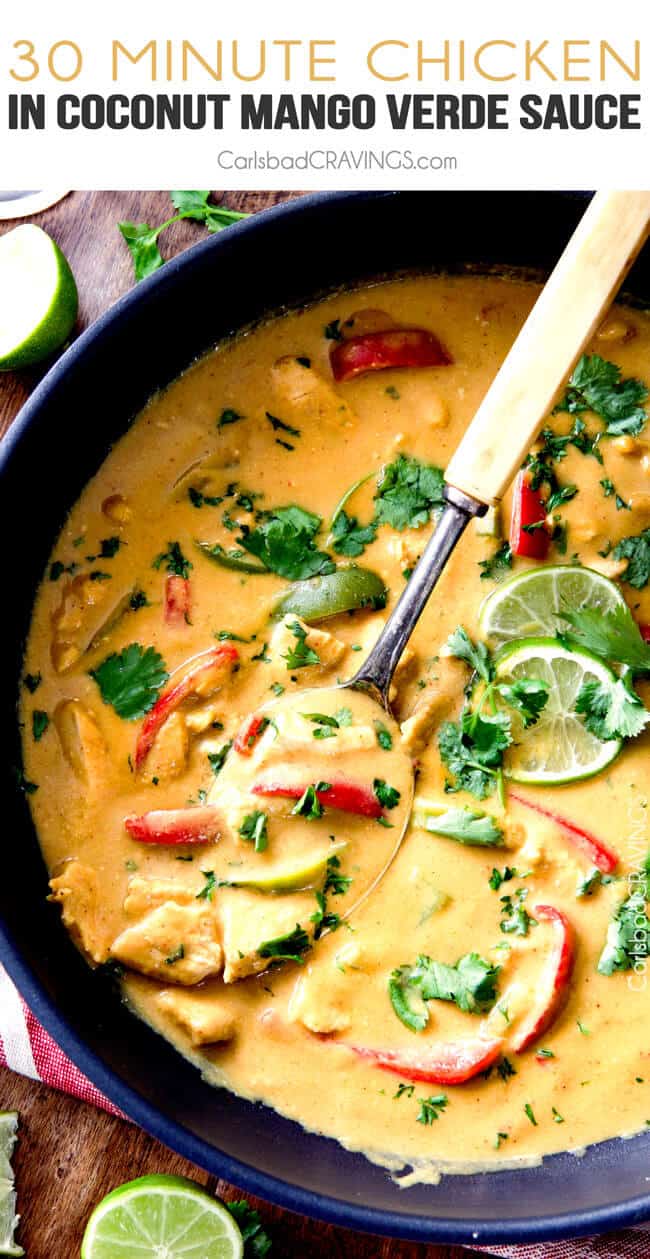 I was talking to my sister the other day (mother of 5 kids, my kidney donor, I share more about her awesomeness here) who loves to cook but said these last two weeks of school are just as busy or even busier than December so quick and easy meals are a must. So I am so excited to share this 30 minute Chicken in Coconut Mango Verde Sauce that is super quick and easy without sacrificing any flavor!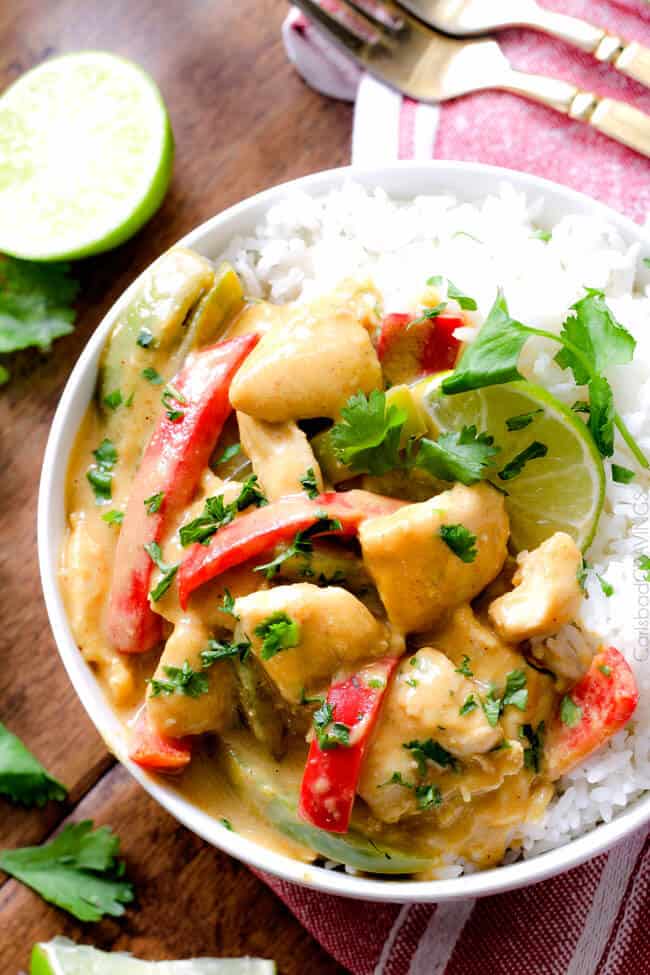 This celebration of flavor starts with a quick stir frying of thinly sliced chicken breasts. I first used thinly sliced chicken in my all time favorite Panang Curry, and love this cooking method! (and btw, made my Panang Curry last week for my little brother and his fiance – SO GOOD! you have to make it if you love Thai food!) The chicken remains so tender and soaks up all the flavor of the sauce so there is no need to marinate the chicken beforehand. I recommend slicing your chicken breasts when they are partially frozen – so much easier. You could even prep your chicken and your veggies beforehand if you want then this meal really would take minutes to throw together!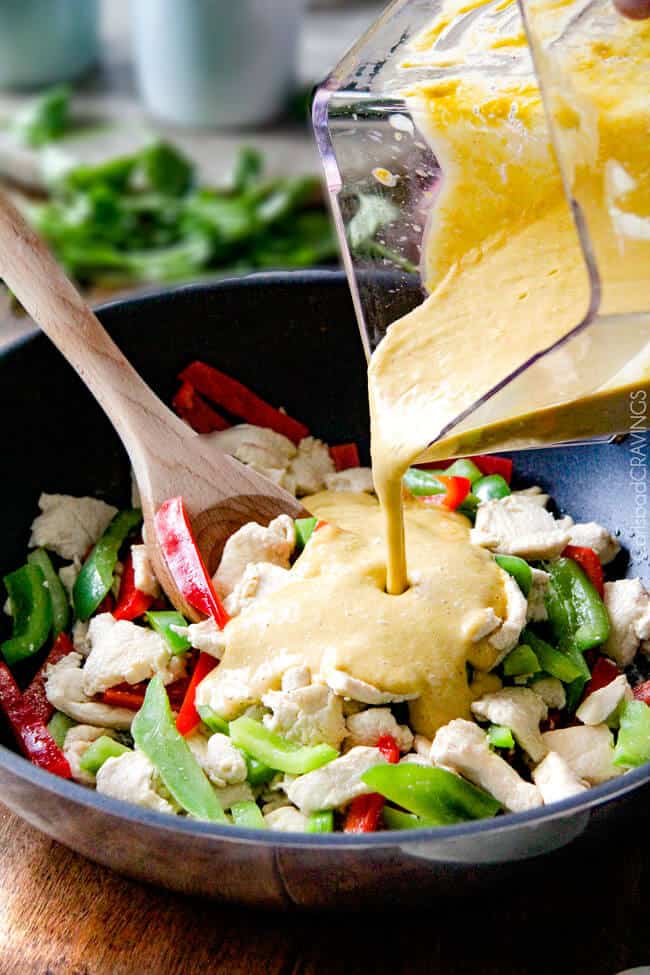 After you stir fry your chicken for a few minutes, then you add in your bell peppers and stir fry for a minute more then comes the smothering in the most intoxicatingly delicious Coconut Mango Verde Sauce. I am obsessed with mangos and have been wanting to make a coconut mango sauce for a while, but instead of taking the traditional route and combining it with red curry paste, I blended it with Salsa Verde Sauce instead – sheer dreamy, creamy addictiveness. And if you are intimidated by cutting mangos – do't be, just check out my How to Cut A Mango Post that teaches everything you could ever want to know about mangos!
So while this dish might appear Thai with the thinly sliced chicken and veggies and the coconut milk, it has more of a Mexican taste with the addition of the salsa verde, cumin, chili powder, smoked paprika and jalapeno to the mega creamy, sweet, tangy, spicy as you want, can't-stop-eating-sauce that I am giddy for you to try. And love. And make. Often.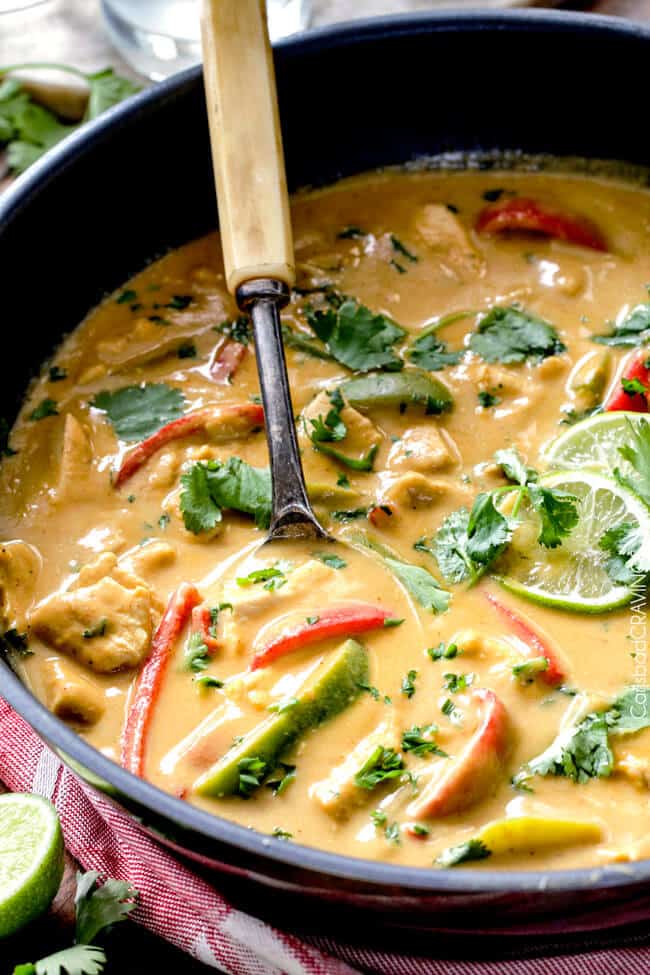 30 Minute Chicken in Coconut Mango Verde Sauce. Quite possibly the dreamiest meal to come out of your kitchen in 30 minutes!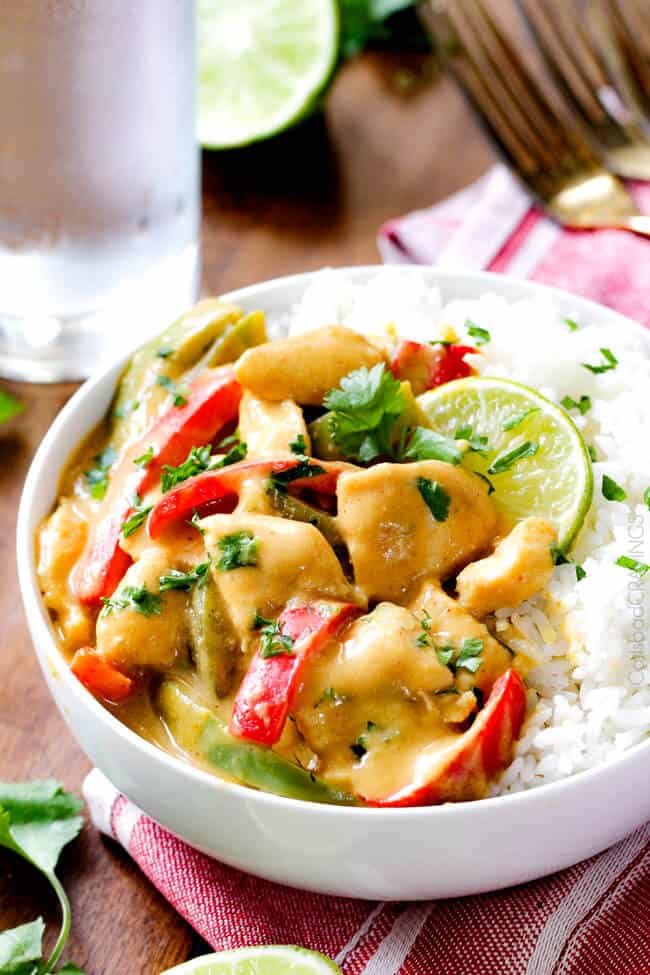 LOOKING FOR MORE SALSA VERDE RECIPES?
Want to try this Chicken in Coconut Mango Verde Sauce?
PIN IT TO YOUR CHICKEN OR 30 MINUTE MEAL BOARD TO SAVE FOR LATER!
FIND ME ON PINTEREST FOR MORE GREAT RECIPES! I AM ALWAYS PINNING :)!
©Carlsbad Cravings by CarlsbadCravings.com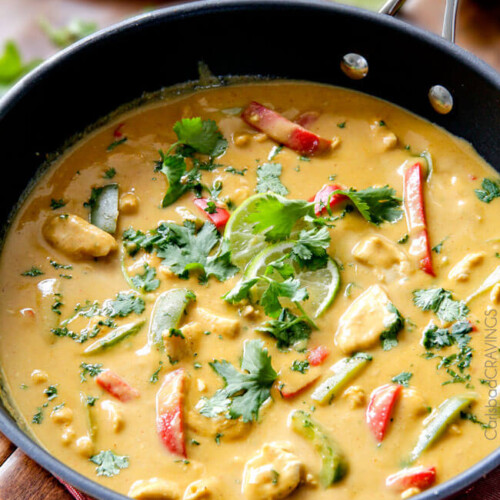 Chicken in Coconut Mango Verde Sauce
Save This Recipe To Your Recipe Box
You can now create an account on our site and save your favorite recipes all in one place!
Ingredients
1

tablespoon

olive oil

1 1/2

pounds

chicken breasts

cut into 1/8" slices against the grain*

1

red bell pepper

sliced then chopped into 2" pieces

1

green bell pepper

sliced then chopped into 2" pieces
Coconut Mango Verde Sauce
1

13.5 oz. can

coconut milk

(I like Chaokoh)

1

cup

mild salsa verde

(I like Herdez in the jar)

1

cup

roughly chopped mango

(or 1 cup jarred mango, drained)

1

jalapeno, seeded, deveined

3-5

tablespoons

brown sugar

**

2

tablespoons

lime juice

1

teaspoon

ground cumin

1/2

teaspoon

chili powder

1/2

teaspoon

smoked paprika

1/2

teaspoon

salt

Sriracha/Asian hot chili sauce to taste

(optional)
Instructions
Add all of the Coconut Mango Verde Sauce ingredients to your blender and blend until smooth. Set aside.

Heat oil over medium high heat in large nonstick skillet until very hot. Add chicken and cook just until most pieces are no longer pink then add bell peppers and continue to cook for 2 minutes.

Stir in Coconut Mango Verde Sauce and cook just until chicken is completely cooked and sauce is heated through. Taste and add additional brown sugar for sweeter,

Sriracha

for spicier or lime for tangier. Garnish with optional fresh cilantro. Serve with rice.
Notes
*Chicken is much easier to slice if partially frozen. It will thaw quickly once sliced. You can slice your chicken and red bell peppers in advance for even quicker meal prep.
**I would start with 3 tablespoons brown sugar and add more to taste at the end -the amount will depend on how sweet your mangoes are, how sweet you want the sauce and how spicy you want it (more brown sugar to balance more sriracha). I use all 5 tablespoons because I make the sauce quite spicy.
Did You Make This Recipe?
Tag @CarlsbadCravings and Use #CarlsbadCravngs
Leave a Review, I Always Love Hearing From You!
Carlsbad Cravings© Original