Chipotle Chicken Enchiladas bursting with spicy chicken, loaded with cheese and smothered in enchilada, sauce all complimented by sweet and juicy mangos!
PLEASE MAKE THESE Chipotle Chicken Enchiladas! And if you think mangos and enchiladas are an odd combo, trust me! More on that later…
Chipotle Chicken Enchiladas
I honestly can't remember the last time I begged you to make a recipe. Was it as long ago as my Skinny General Tso's Chicken? I don't remember. But then again, I don't remember much (as explained by my brain hemorrhage here).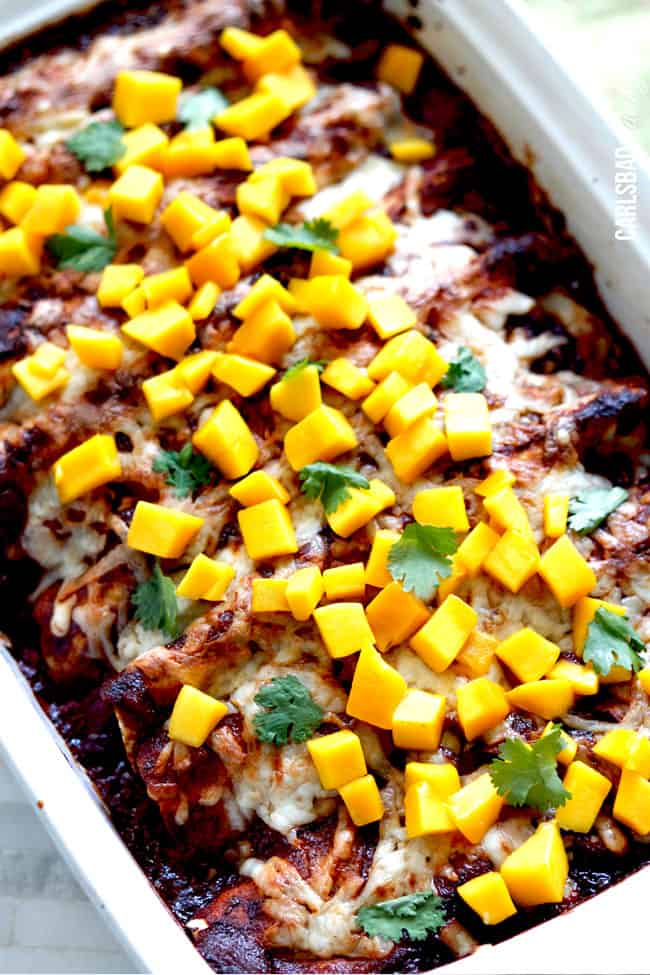 But even if I had just begged you to make a recipe last week because I know it would fill you your belly with pleasure and your soul with joy, I would still beg you again to make these Chipotle Chicken Enchiladas because these are one of the tastiest foods you will eat in your ENTIRE LIFE. No joke. No Lie. No exaggeration.
Looking for more Enchilada Recipes?
As hard as it is to rival my Salsa Verde Honey Lime Pepper Jack Chicken Enchiladas (and for those of you who have tried them, you know exactly what I am talking about), these Chipotle Chicken Enchiladas are just as delicious, in my opinion.
How to Make Chipotle Chicken Enchiladas
To make these Chipotle Chicken Enchiladas:
Make spice mix. First you mix an array of spices (chipotle powder, smoked paprika, cumin, chili powder – YUM!) that will be used throughout the enchiladas (no double measuring!).
Cook chicken. then you rub the chicken with olive oil and spices and cook in Coke and soy sauce so the chicken alone is so tender and flavorful you are going to have to stop yourself from eating it all.
Saute beans and mangos. Then you saute black beans and mangos in the same skillet to soak up all the flavor.
Combine. Add the chipotle chicken, black beans, mangos, Monterrey Jack Cheese and some Chipotle Coke Red Enchilada Sauce to the same pan to become your filling. And if you are intimidated by cutting mangos – do't be, just check out my How to Cut A Mango Post that teaches everything you could ever want to know about mangos!
Assemble. Roll up the filling in the tortillas and place the seam side down in a lightly greased baking dish with a thin layer of enchilada sauce. Top enchiladas with remaining enchilada sauce and cheese.
Bake. Bake chipotle chicken enchiladas uncovered at 350 degrees for 30 minutes then broil until cheese is golden. Top with remaining diced mango.
Just look at that filling. The sweet and savory layers going on here are worth me begging you to eat this!
The Chipotle Red Coke Enchilada Sauce alone is seriously to live for! Its sweet, spicy and smokey – way better than any canned enchilada sauce.
The sweet and spicy enchiladas paired with sweet and refreshing mangos are divine. If you like mangos, I promise you will love the flavor combo! Just think of how delicious mango salsa is (sweet and spicy) or mangos and chili powder (again sweet and spicy).
I fell in love with this mango/coke sweet and spicy flavor combo in my Chipotle Coke Mango Black Bean Chiliand I immediately wanted to create another recipe using the same flavor profile. I actually created these enchiladas immediately after the chili months and months ago, but I have been holding out on you. I apologize.
Please don't be too upset with me, especially after you try these Chipotle Chicken Enchiladas and your mouth drops to the floor in awe.
What Should I serve with Chipotle Chicken Enchiladas?
Serve your Chipotle Chicken Enchiladas with Mexican Rice or Cilantro Lime Rice, a big pile of chips and either homemade salsa, or salsa verde and you have a restaurant quality meal in the comfort of your own home!
Chipotle Chicken, Mango and Black Bean Enchiladas
Save This Recipe To Your Recipe Box
You can now create an account on our site and save your favorite recipes all in one place!
Ingredients
1 1/2

pounds

chicken, pounded thin

8-10

flour tortillas
Spice Mix
2

TBS EACH

chili pwdr, brown sugar

1

tablespoon

garlic powder

2

tsp EACH

ground cumin, onion pwdr

1 1/2

teaspoons

smoked paprika

1-2

teaspoons

chipotle chili powder (2 for more spicy)

1/2

teaspoon

oregano

1

tsp EACH

salt, pepper
Chipotle Coke Enchilada Sauce
Remaining above Spice Mix

(in directions)

Remaining Coke

1

teaspoon

cornstarch

1

15 oz. can

tomato sauce

1/4

cup

brown sugar, packed
Enchilada Filling
1

15 oz. can

black beans,, drained and rinsed

1 1/2

mangoes, diced

1 1/2

cups

shredded Monterrey Jack cheese
Topping
1 1/2

cups

shredded Monterry Jack Cheese

1 1/2

mangoes, diced
Instructions
Mix spices all together. In a small bowl, add 1 tablespoon of Spice Mix and 2 tablespoons olive oil. Rub olive oil and the 1 tablespoon spices all over chicken.

Heat a large nonstick skillet over medium-high heat. Add spiced chicken and cook for 3-5 minutes, or until golden brown on one side. Flip the chicken over, then add ¾ cup Coke and ¼ cup soy sauce to the skillet. Cover and reduce heat to medium and simmer 10 minutes, then flip chicken and continue to cook 5-10 minutes or until chicken is cooked though and tender enough to shred. Remove chicken from skillet and let rest 5 minutes before shredding.

Meanwhile, prepare Chipotle Coke

Enchilada Sauce

by adding the remaining Coke, remaining spices, 1 teaspoon cornstarch,1 15 oz. can tomato sauce and ¼ cup brown sugar to a medium saucepan. Bring to a boil while stirring constantly, then reduce to a gentle simmer for 20 minutes, stirring occasionally.

To the same skillet the chicken was cooked in (don't wash out), add add black beans, and 1 ½ diced mangos, and saute for 5 minutes over medium heat. Turn off heat, add shredded chicken, ⅓ cup

enchilada sauce

and 1 ½ cups cheese.

Preheat oven to 350 degrees. Spread ⅓ cup of the Chipotle Coke

Enchilada Sauce

on the bottom of a 9×13 baking dish (layer will be very thin). Add the enchilada filling to the center of each tortilla and roll them tightly, then line them in the dish. Top enchiladas with remaining enchilada sauce and cheese. Bake uncovered at 350 degrees for 30 minutes then broil until cheese is golden. Top with remaining diced mango.
Did You Make This Recipe?
Tag @CarlsbadCravings and Use #CarlsbadCravngs
Leave a Review, I Always Love Hearing From You!