Honey Lemon Chicken Stir Fry boasts the most tantalizing, sweet, refreshing lemon sauce bursting with crisp tender asparagus, red bell peppers and sweet mangos (may sub pineapple) on your table in 30 minutes!
This Honey Lemon Chicken Stir Fry recipe is bright and fresh spring on a plate! You can customize the Honey Lemon Stir Fry with your favorite veggies for a an easy palate pleasing dinner any night of the week!
Honey Lemon Chicken Stir Fry Recipe
This Honey Lemon Chick Stir Fry is bursting with everything I love about spring. Well almost everything. We'll save the raspberries and strawberries for dessert time.
Lemon. I'm obsessed, if you couldn't tell by my recent Facebook shares. Its refreshing, bright, tangy and makes practically everything taste better especially when combined with the sweetness of honey. A ying and yang match made in heaven.
The Honey Lemon sauce is the perfect balance of honey and lemon juice with a splash of soy and apple cider vinegar with a base of chicken broth, enlivened by garlic, ginger and Sriracha. Simply mix them in a bowl and throw them into the stir fry with the rest of the ingredients for a sweet citrus sauce you'll want to drink. Try and contain yourself.
Asparagus. It's crisp and tender, hearty and light and like I mentioned in my 15 Minute Roasted Balsamic Brown Butter Asparagus – it's just so awkward yet happy. And you'll be happy with the fresh crispness it adds to this Honey Lemon Chick Stir Fry recipe, especially when smothered in Honey Lemon Sauce.
Mangos. I love mangos all year but their bright freshness just screams spring and their sweetness compliments the tang of the honey lemon sauce like they have been searching for each other all year long. Happy to reunite them.
My new floor. You don't think the flooring place will mind that I took all my pictures on my flooring sample do you? I don't want to give it back. But pretty soon my place will be covered with it. Happy spring indeed!
But seriously, you really need to make this Honey Lemon Chicken Stir Fry recipe. The chicken is lightly breaded in cornstarch, ginger, garlic, onion and paprika to create light texture and more flavor packed morsels AND there is no messy egg involved. Simply toss your chicken in the bag with the spices and you are ready to stir fry for a couple minutes That's it.
The most time consuming part of a stir fry is always the chopping, but when it comes time to stir fry, this Honey Lemon Chick Stir Fry meal comes together in 10 minutes! If you are looking for a 10-minute meal, then simply have all your ingredients ready to go beforehand and store in the refrigerator until "Go" time.
Light Honey Lemon Chicken Stir Fry. Waiting for you at the corner of Spring and and 30 Minutes to bliss.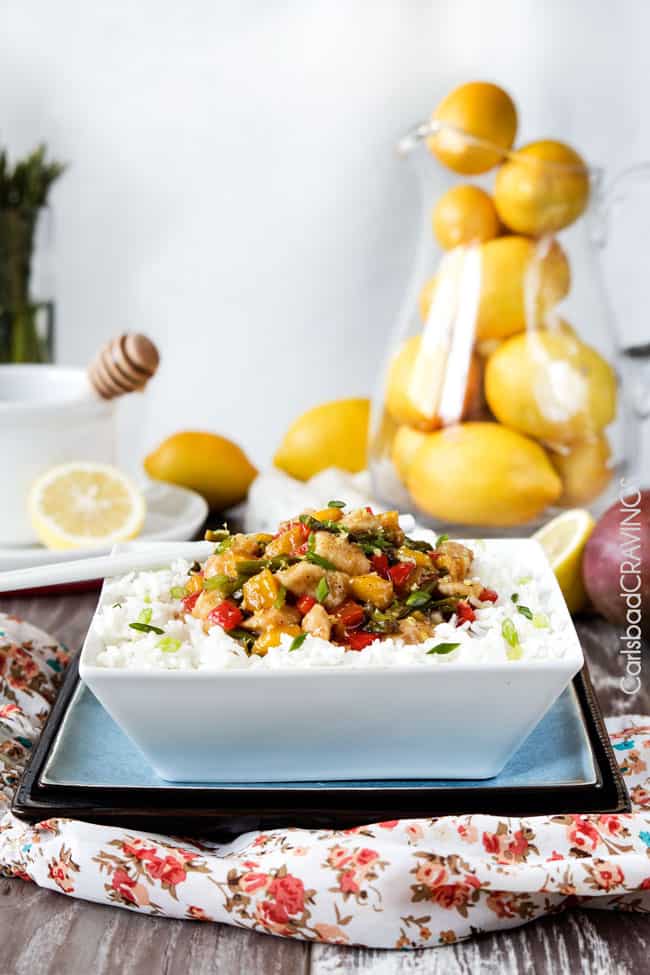 Honey Lemon Chicken Stir Fry Ingredients
This easy chicken stir fry recipe is comprised of three main components: the chicken and veggies, the breading that coats the chicken, and the delicious honey lemon stir fry sauce.
Here's what you'll need to make this honey lemon mango chicken:
Chicken breasts: Looking beyond poultry, you can also try out cubed tofu, pork or shrimp. If using shrimp, add it at the end of cooking because shrimp will get rubbery if overcooked.
Shallot: Milder than an onion, with a hint of garlic flavor.
Red bell pepper: I prefer using red bell peppers since they're the sweetest, but use another color if desired.
Asparagus: Other veggies can be substituted if asparagus isn't in season.
Mango: If you are intimidated by cutting mangos – don't be, just check out my How to Cut A Mango Post that teaches everything you could ever want to know about mangos!
Ginger: I like to freeze ginger so it's always at my fingertips. To freeze ginger: grate it, spread it by the teaspoon or tablespoon on parchment paper and flash freeze until solid, about 1 hour. Transfer to an airtight container or plastic bag for up to 6 months. You can add frozen ginger directly to your stir fry.
Garlic: Purchase the pre-bagged, already peeled garlic to save time. They are actually less expensive than whole garlic cloves (at least when I did the math).
Cornstarch: Helps thicken the sauce to a glossy, luscious consistency without a raw flour taste.
Herbs and spices: I used a blend of onion powder, garlic powder, ginger powder, paprika, salt and pepper.
Chicken broth: Use low sodium chicken broth so you can control the salt level. You can also use vegetable broth but chicken broth is more flavorful.
Honey: Adds a slightly floral flavor, plus some sweetness.
Lemon juice: Freshly squeezed will deliver the best flavor.
Soy sauce: Use reduced sodium soy sauce or your chicken stir fry will be too salty.
Apple cider vinegar: Adds an extra oompf of acidic flavor to balance out the other ingredients in this honey soy sauce chicken stir fry.
Sriracha: Use as much or as little as you like.
How to Make Honey Lemon Chicken Stir Fry
This honey lemon chicken vegetable stir fry is about as easy as it gets!
Add the stir fry sauce ingredients to a medium bowl and whisk to combine.
Add chicken and breading ingredients to a freezer bag and shake to coat.
Sauté breaded chicken in an oiled skillet until cooked through. Remove to a plate.
Add oil to the same skillet and sauté the red bell pepper and shallot. Then, add in the asparagus, garlic and ginger.
Add the stir fry sauce, mangoes, and chicken to the skillet. Cook until the sauce is thickened and vegetables are crisp tender.
Serve over rice or your grain of choice!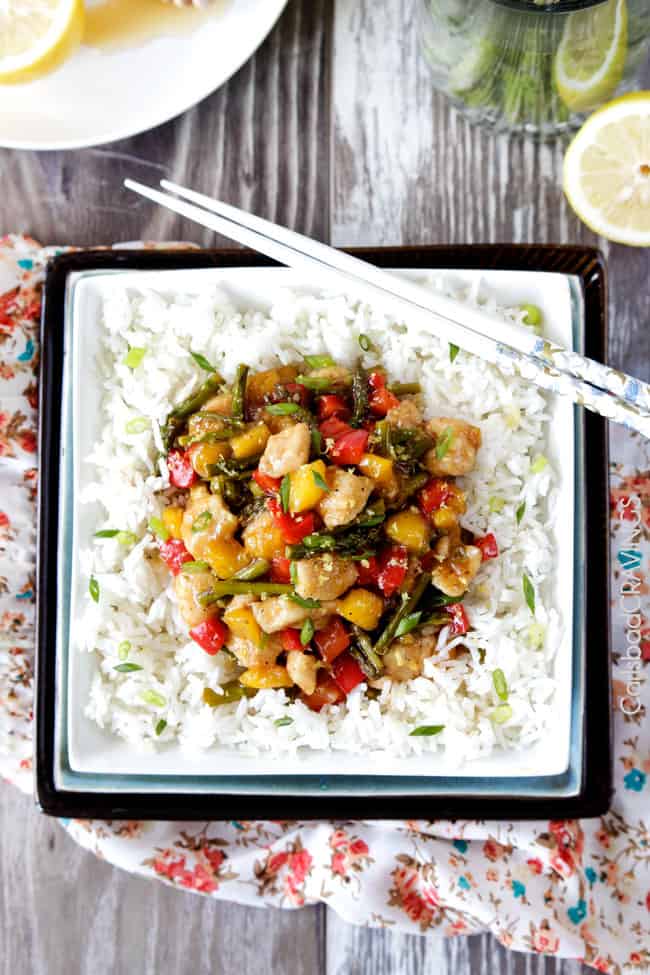 Tips for Making Honey Lemon Chicken Stir Fry
Dry the vegetables. It is important that the vegetables are very dry or they will steam and not get the characteristic stir-fry texture. To dry vegetables, pat them thoroughly with a kitchen towel or use a salad spinner.
Cook chicken first. Don't cook the chicken and veggies together because we want to brown the chicken (color + flavor) which can't happen with all the veggies in the pan. The chicken will also leave behind yummy brown bits which will give the chicken flavor.
Hot but not too hot skillet. Your pan should be hot enough so that the chicken and veggies sizzle when they touch the pan and continue to sizzle but the pan shouldn't be so hot that it smokes excessively once you add the oil. If the pan is smoking hot, remove it from heat, let it cool slightly then return to heat. To determine if the wok is hot enough, flick a few droplets of water onto the skillet or wok. The beads of water should evaporate within 2 seconds.
Don't overcook chicken. For the juiciest chicken, don't overcook! Brown it in the skillet but let it finish cooking in the sauce.
Don't overcook veggies. I suggest setting the timer for 3 minutes for the initial stir frying of your veggies – it can go fast and you don't want to overcook them initially. It is better to under-cook them when stir frying then allow them to reach desired-crisp tenderness once you add the stir fry sauce.
Add sauce to the sides of the pan. Pour the stir fry sauce around and down the sides of the pan instead of directly into the center. This will prevent the pan from cooling down too much.
Chicken Vegetable Stir Fry Variations to Try
Stir fries don't have to be limited to just protein and veggies. I always like to add nuts to my stir fries. Here are some ideas:
Nuts: peanuts or cashews add a deeply satisfying crunch that you will CRAVE in every bite! Take care to purchase raw, unsalted nuts. To elevate your cashews or peanuts, dry roast them in a nonstick skillet until toasted- YUM!
Water chestnuts: also add a tantalizing crunch. Water chestnuts are easy to find in a can so you can keep them stocked and ready to go.
Sesame seeds: add the nutty sesame flavor. Take care to use toasted sesame seeds or toast them yourself.
Pineapple: always a welcome addition – just think teriyaki chicken and pineapple. Can be used in place of the mango in this honey lemon chicken stir fry.
Ramen: use less veggies so your stir fry is saucier and add some cooked ramen.
Can I Prep Honey Soy Sauce Chicken Stir Fry in Advance?
Yes! You can prep all of the ingredients ahead of time so this stir fry can literally comes together in minutes:
Whisk the sauce ingredients together and store it in an airtight container in the refrigerator. Let the sauce sit at room temperature while preparing the stir-fry; whisk again before using.
Add the breading ingredients to a large Ziploc bag.
Chop chicken and store in a separate container in the refrigerator.
Chop the veggies, garlic and ginger and store in separate baggies/containers in the refrigerator.
Within the next 48 hours, proceed with the recipe without any of the prep!
How to Store Chicken Stir Fry
Store leftovers in an airtight container in the refrigerator for up to 5 days.
How to Reheat Chicken Vegetable Stir Fry
How to reheat in microwave: transfer small portions to a microwave safe dish, heat for 1 minute, stir then continue to heat at 30 second intervals.
How to reheat on the stove: For larger portions, rewarm gently in a large skillet, stirring often. You may need to add a splash of water (better yet chicken broth if you have it) to thin the sauce as needed.
Can I Freeze Honey Lemon Chicken Stir Fry?
I do not recommend freezing the chicken stir fry once assembled because the veggies can become a mushy texture, but you can freeze the chicken and stir fry sauce separately.
Stir Fry Sauce: Whisk together, add to a freezer bag or freezer safe airtight container, label and freeze for up to 3 months.
Chicken: After you have cooked the chicken, let it cool completely then transfer it to an airtight container or plastic freezer bag and squeeze out any excess air. Freeze for 2 to 3 months. Defrost in the refrigerator before using.
What to Serve with Honey Lemon Chicken Stir Fry
Traditionally, stir fries are served with rice to soak up all the sauce and for a neutral textural component for all that savory stir fry sauce.
Rice. I like jasmine rice or brown rice but any rice will work. Just pop the rice in your rice cooker for a hands off, easy side. You can also use microwave rice pouches if you're making a serving for one or meal prep.
Low carb. Cauliflower rice, quinoa, broccoli rice or a blend of brown rice and any of the aforementioned options. You can also use low carb noodles such as zoodles or spaghetti squash.
Noodles. Ramen, soba noodles, rice noodles or even linguine are a fun way to mix things up!
Side to Serve with Chicken and Veggie Stir Fry
Appetizers: Pineapple Cream Cheese Wontons, Sesame Chicken Egg Rolls or Sweet and Sour Chicken Egg Rolls (my husband is obsessed with all three!).
Salad: the stir fry is packed with veggies, so a salad isn't really necessary, but still delicious. Some of our favorite Asian inspired salads include Crunchy Asian Salad, Chinese Salad, and Asian Pineapple Salad.
Fruit: fresh fruit such as chopped pineapple is always an easy, welcome sweet stir fry side. Grilled Pineapple, Summer Fruit Salad, Perfect Fruit Salad, Creamy Grape Salad, and Pina Colada Fruit Salad are also fantastic.
Looking for More Asian Dinner Recipes?
WANT TO TRY THIS HONEY LEMON CHICKEN STIR FRY RECIPE?
Pin it to your ASIAN, CHICKEN or DINNER BOARD to SAVE for later!
Find me on Pinterest for more great recipes!  I am always pinning :)!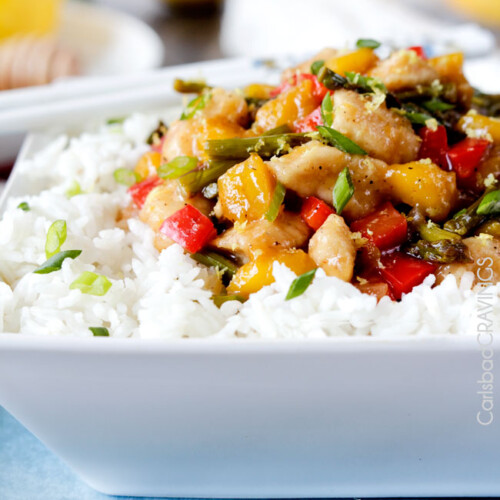 Honey Lemon Chicken Stir Fry with Asparagus and Mangos
Honey Lemon Chicken Stir Fry boasts the most tantalizing, sweet, refreshing lemon sauce bursting with crisp tender asparagus, red bell peppers and sweet mangoes (may sub pineapple) on your table in 30 minutes! This Honey Lemon Chicken Stir Fry recipe is bright and fresh spring on a plate! 
Save This Recipe To Your Recipe Box
You can now create an account on our site and save your favorite recipes all in one place!
Ingredients
1

pound

chicken breasts

pounded thin, cut into 1 inch pieces

1

shallot, chopped

1

red bell pepper, chopped

1/2

pound

asparagus, ends trimmed and chopped into 1" pieces

1

cup

mango, peeled and chopped

(may sub 1 chopped pineapple)*

1

teaspoon

freshly grated ginger
Light Breading
1/2

cup

cornstarch

1

tsp EACH

salt, garlic pwdr

1/2

tsp EACH

onion pwdr, ginger pwdr, paprika

1/4

teaspoon

pepper
Honey Lemon Sauce
1/2

cup

low sodium chicken broth

1/3

cup

honey

1/4

cup

fresh lemon juice

(about 2 lemons)

2

tablespoons

reduced sodium soy sauce

1

tablespoon

apple cider vinegar

1

tablespoon

cornstarch

2-3

teaspoons

Sriracha/ Asian hot chili sauce

(more or less to taste)
Instructions
Add Honey Lemon Sauce ingredients to a medium bowl and whisk to combine. Set aside.

Add Light Breading ingredients to a freezer bag and mix to combine. Add chicken and toss until evenly coated.

Heat 1 tablespoon olive/coconut oil over medium high heat in a large nonstick skillet. Remove chicken from bag, shaking off any excess breading and add chicken to skillet; saute 4-6 minutes, or until cooked through. Remove to a plate and wipe out skillet.

Add 1 tablespoon oil to the now empty skillet and heat over medium high heat. Add red bell pepper and shallots and saute for 1 minute. Add asparagus, garlic and ginger and saute 30 seconds.

Stir sauce (to make sure cornstarch has not separated) and add to skillet along with mangoes and chicken. Simmer until sauce is thickened and vegetables are crisp tender, approximately 1-2 minutes depending on thickness of asparagus.

Taste and add additional salt, pepper,

sriracha

, if desired. Add more honey if you would like it sweeter, more lemon for more "sour/tang" to taste.

Garnish individual servings with green onions (optional).
Notes
*Pineapple can be slightly more tart than mangoes sometimes so if substituting pineapple, you might need to add a little honey to taste at the end of cooking.
Did You Make This Recipe?
Tag @CarlsbadCravings and Use #CarlsbadCravngs
Leave a Review, I Always Love Hearing From You!
Carlsbad Cravings© Original