Chimichurri on your table in 5 minutes!
Chimichurri Sauce makes everything better! This Chimichurri Sauce Recipe is made with chopped fresh parsley, cilantro, basil, garlic, olive oil, oregano, red wine vinegar, jalapeno and sweet, refreshing mangos! This fresh, vibrant chimichurri is fabulous as a marinade or condiment to any protein and can also be mixed into grains, salads, etc. for instant gourmet flavor!
Chimichurri Sauce
I have 2 "summery" recipes left for you. Well, really 1 ½ because they both star this sensational Chimichurri Sauce with Mangos. That's how much I love it and that's why I have to share it with you NOW because this favorite sauce of mine ever cannot wait for you to make until next year!
For the longest time I had never tasted chimichurri until I sampled some off my mom's plate at a restaurant and I instantly felt cheated. How had I missed out on this spicy herbed sauce all my life?
If you too have been cheated out of flavorful bliss, cheat yourself no more!
what is chimichurri?
Chimichurri is a sauce, condiment or marinade from South America. There are two main versions of chimichurri sauce, red and green. Both versions boast countless variations. Green chimichurri sauce is the most popular and probably what you are used to or have seen in restaurants before.
Green chimichurri sauce is made with parsley, garlic, olive oil, vinegar and often oregano. Red chimichurri includes the addition of cumin, and adobo peppers. In Uruguay, red pepper flakes are added for some kick. Other variations include adding equal parts cilantro as parsley or even more cilantro than parsley. Authentic Argentinean chimichurri, however, stick with only parsley.
Chimichurri sauce is uncooked – the ingredients are simply pulsed together in a blender or food processor, leaving you with a concentrated flavor of finely chopped herbs in oil. The most dominant flavors of any chimichurri – no matter if it's red or green – are parsley and garlic, or if using cilantro – cilantro and garlic.
To make this chimichurri recipe with mangos, I added cilantro, jalapeno, honey, mango and a dash of chili powder. Its sweet, tangy, spicy and simply packed with flavor all brightened by the sweet, fresh mangoes throughout. It makes a delectable marinade and as a sauce, instantly dresses up everything.
Reasons to love chimichurri sauce recipe:
Healthy. It's practically guilt free, so pile the chimichurri sauce on!
Easy! Kids can help you – just add the ingredients to the blender and pulse.
Fast. You can be indulging in this flavor explosion in 5 minutes!
Versatile. It can be used with essentially any meat.
Flavorful. It makes everything it touches better with it's dynamic concentrated flavor.
Customizable. You can customize this chimichurri sauce recipe to suit our tastes. You can swap some of the parsley for cilantro, basil, mint etc. Want it less sweet? add less honey; spicier? add more jalapenos. You can even add-in anything you can dream up like pineapple and cranberries!
Where does CHIMICHURRI SAUCE come from?
You probably think Argentina when you think chimichurri, but the sauce may not have originated there; but it definitely found roots and fame in South America. There are several possible origins to chimichurri sauce; I'll share a few with you and let you decide!
The oldest claim for chimichurri sauce goes back to the Basque people in Europe. These people left Spain and immigrated to Argentina in the early 19th century. In Basque tximitxurri, is a sauce that translates into: "a mixture of several things in no particular order;" which is a perfect description of chimichurri and its many variations.
Miguel Brasco, a famous Argentine food critic, has his own opinion on the origin of chimichurri. He believes chimichurri came about when Britain was unsuccessful at seizing control of present day Argentina and Uruguay under Spanish colonial rule. The British prisoners are rumored to have requested condiments for their food, in turn, mixing English with Spanish.
Another logical explanation of the origin of chimichurri sauce is from the gauchos, or cowboy. The gauchos would season their meat with herbs and spices (most likely not fresh), which eventually evolved into present day chimichurri.
The most likely etymology to be a myth is the story of Jimmy McCurry. He was an Englishman fighting for Argentine Independence. The story goes that the local people could not pronounce his name, and it came out sounding like "chimichurri."
No matter the origin of chimichurri, I truly hope this flavorful sauce becomes a staple in your home!
Ingredients for Chimichurri Recipe
parsley: use flat leaf parsley because it has more flavor than curly parsley.
cilantro: you don't need to remove the stems as they boast a lot of flavor and are going to be blended anyway. You may substitute cilantro with parsley.
basil: adds a minty, earthy flavor; may substitute additional parsley but you'll miss out on the dimension of flavor.
garlic: use more or less to taste.
jalapeno: you may substitute some red pepper flakes.
shallot: use one medium shallot which is the whole bulb.
olive oil: use more or less to reach desired consistency.
red wine vinegar: may substitute with a little less apple cider vinegar.
seasonings: chili powder, salt and pepper.
mango: add a juicy, complimentary sweetness to the earthy chimichurri recipe. There are 6 varieties of mangos, one of which is always in season. so there are no excuses to procrastinate your sweet, tangy, spicy pleasure. And if you are intimidated by cutting mangos – do't be, just check out my How to Cut A Mango Post that teaches everything you could ever want to know about mangos!
How to Make Chimichurri
Now let's get started with How to make Chimichurri – in 5 minutes!
Add ingredients to blender. Add cilantro, parsley, basil, garlic, jalapeno and shallot to blender.
Chop. Pulse until coarsely chopped, make sure not to puree!
Add liquid. Add honey, oil, and vinegar.
Pulse to desired consistency. Pulse to make a soupy vinaigrette.
Add mangos! Then fold in diced mangoes and you have Mango Honey Jalapeno Chimichurri!
Serve. Smother chimichurri on chicken, steak, fish for instant flavor overload. The best kind of flavor overload. The kind of flavor overload you don't want to cheat yourself out of.
CAN I PREPARE CHIMICHURRI AHEAD OF TIME?
Yes, please do! Chimichurri tastes better as the flavors have time to meld and develop. It is best after sitting one hour at room temperature or overnight in the refrigerator.
You can double the batch, keep what you need in the fridge, and freeze some for later. You will always want some of this yummy chimichurri sauce close at hand.
How to Store Chimichurri
Chimichurri should be stored in an airtight container in the refrigerator for 5-7 days. If you have leftovers after this point, then you can freeze your chimichurri.
CAN I FREEZE CHIMICHURRI?
Yes! You can freeze an entire batch in an airtight container or sealable plastic bags or you can portion it into an ice cube tray, freeze until solid, then transfer to a plastic bag. I love this easy method because then you can grab one serving or as many as you need without having to chip away at a solid block!
I would not recommend adding the mangos if you know you're going to freeze it. Mangos can turn a bit mushy once frozen. Instead, fold mangos into what you are using that day. Freeze chimichurri for up to 3 months.
TIPS FOR MAKING the BEST CHIMICHURRI SAUCE RECIPE
Do I need a food processor? You can chop your ingredients by hand or use your food processor. Original chimichurri recipes are finely chopped but I LOVE making chimichurri in my food processor because it takes minutes!
Don't over-process. If using your food processor, make sure you don't over-process the ingredients – you don't want pureed chimichurri! Only pulse the chimichurri in the food processor.
Finely chop garlic! Whether chopping by hand or using your food processor, make sure there aren't large chunks of garlic. You may need to pick some out of your food processor and chop by hand.
Start small. Start with less jalapeno, garlic and salt then add more to taste. For example, my chimichurri sauce recipe uses four garlic cloves but if garlic is not your thing, or you are unsure about that much raw garlic, start with three cloves and add more to taste at the end if desired. Same with the jalapeno – you can start with half of a jalapeno if you are not into heat then add more if needed.
Use high quality fresh herbs. Chimichurri is all about the herbs, so use quality herbs because you can TASTE the difference. After purchase, I keep mine fresh on the counter in a cup with a little water or in the fridge with a wet paper towel.
Use red wine vinegar. Red wine vinegar is my favorite for this chimichurri sauce recipe. Other recipes use other vinegar, but for the combination with mango, honey and jalapeno, stick with red wine vinegar. Other vinegar just don't meld as well in my opinion.
How to Use Chimichurri
The possibilities are practically endless when it comes to using chimichurri!
I love chimichurri as both a sauce and a marinade.
It enlivens any Mexican entree such as tacos, quesadillas, burritos, tostadas, etc.
It also goes great stirred into any grains such as rice, farro, quinoa or low cab broccoli rice or cauliflower rice.
It can also be thinned out with some olive oil and used as s dressing and stirred into shaved Brussels sprouts, kale, etc.
Looking for more condiment recipes?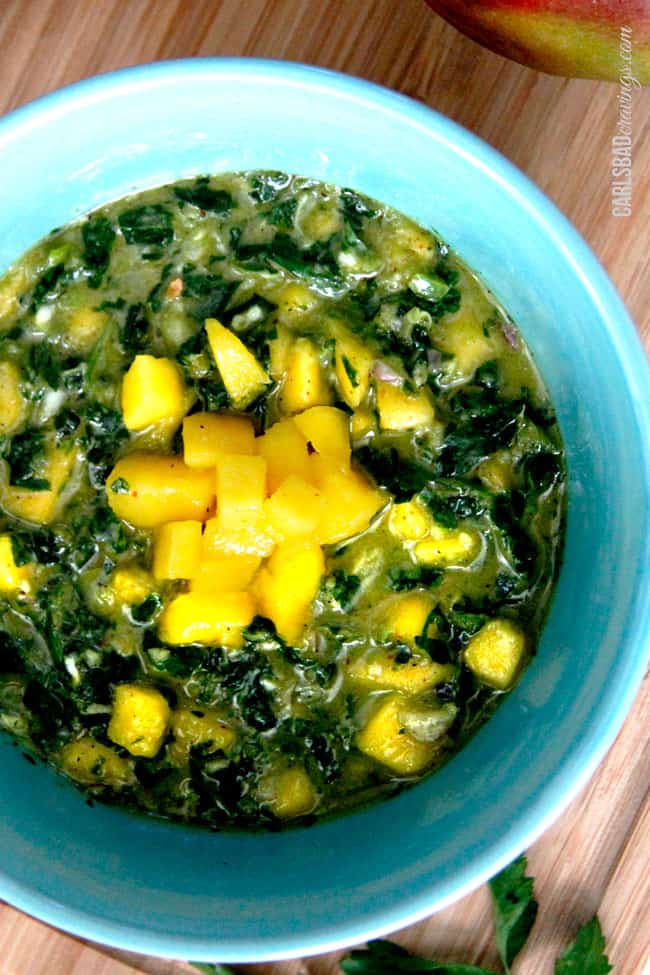 WANT TO TRY THIS CHIMICHURRI RECIPE?
PIN IT TO YOUR HEALTHY, CONDIMENTS GRILLING, OR DINNER BOARD TO SAVE FOR LATER!
FIND ME ON PINTEREST FOR MORE GREAT RECIPES!  I AM ALWAYS PINNING :)!
©Carlsbad Cravings by CarlsbadCravings.com
Mango Chimichurri
Chimichurri Sauce makes everything better! This Chimichurri Sauce Recipe is made with chopped fresh parsley, cilantro, basil, garlic, olive oil, oregano, red wine vinegar, jalapeno and sweet, refreshing mangos! This fresh, vibrant chimichurri is fabulous as a marinade or condiment to any protein and can also be mixed into grains, salads, etc. for instant gourmet flavor!
Save This Recipe To Your Recipe Box
You can now create an account on our site and save your favorite recipes all in one place!
Ingredients
1

cup

fresh cilantro

1

cup

fresh flat-leaf parsley

1/2

cup

fresh basil

4

cloves

garlic, peeled

1

jalapeno, veins removed, seeds divided

1

shallot, peeled

2

tablespoons

honey

1/4

cup

olive oil

plus more if desired

2

tablespoons

red wine vinegar

1/2

tsp EACH

chili powder, dried oregano

1/4

tsp EACH

salt, pepper

1

large mango finely diced
Instructions
Pulse the cilantro, parsley, basil, garlic, jalapeno (without seeds) and shallot in blender until coarsely chopped, pushing sides down as needed.

Add honey, oil, vinegar,

chili powder

, salt and pepper. Continue to pulse to make a soupy vinaigrette, adding additional oil if you prefer a thinner chimichurri.

Taste and add jalapeno seeds, a little at a time, to reach desired heat (optional).

Transfer the chimichurri to a bowl and fold in the diced mango.

Chimichurri is best if allowed to sit, covered, for 2 hours before serving to allow flavors to meld. If not serving for a few hours, chill in refrigerator then allow to return to room temperature before serving.
Did You Make This Recipe?
Tag @CarlsbadCravings and Use #CarlsbadCravngs
Leave a Review, I Always Love Hearing From You!