Chicken Fruit Salad cocooned in crunchy lettuce wraps are sweet, creamy, crispy and PACKED with flavor!
This Chicken Fruit Salad is loaded with chicken, strawberries, mangoes, cucumbers and avocado marinated in sweet, tangy poppy seed dressing topped with toasted coconut and macadamia nuts. It can be served plain or in fresh lettuce wraps, buttery croissants or tender wraps. You can prep the chicken fruit salad ahead of time for a stress free, make ahead lunch or party appetizer that everyone will love!
Chicken Fruit Salad
Guys, this Chicken Fruit Salad is SO good! I feel silly telling you this again so soon because you are going to think I have absolutely no self control, but I was eating this chilled chicken salad straight from the fridge, I just couldn't wait for pictures.
But you can't blame me, right? Because this chicken fruit salad is bright, fresh, colorful, cheery all enveloped in the most delectable sweet, tangy poppy seed dressing to ever grace your lips. With one bite, you'll agree this Chicken Fruit Salad is a deeply satisfying MUST all spring and summer long!
Ingredients for Chicken Salad:
chicken: I recommend chicken breasts because they are leaner and emerge wonderfully juicy with the poppy seed marinade
strawberries: use ripe strawberries for juicy, sweet flavor
mango: I LOVE juicy sweet mangos! If you' are intimidated by choosing or cutting mangos – don't be, just check out my How to Cut A Mango Post that teaches everything you could ever want to know about mangos!
cucumber: you can use an English or slicing cucumber but I prefer English cucumbers as they have less of a tendency to be bitter
avocados: choose ripe avocados but ones that are on the firmer side of ripe so they don't become mushy in the Chicken Fruit Salad
red onion: you can use more or less to taste
macadamia nuts: I LOVE macadamia nuts but if they are too pricey, you can substitute with buttery cashews or almonds
coconut: is optional but it adds a wonderfully sweet tropical flavor; if you like coconut, you will LOVE this addition
Fruit Variations:
If some of the above fruit isn't in season or not your fav, you can swap it out with other fruit such as:
grapes
apples
Mandarin oranges
kiwis
pineapple
blackberries
raspberries
pears
nectarines
Optional Add-ins:
You can also add anything else delicious, because the star of this Chickn Fruit Salad is the marinated chicken. You can also add:
bacon
feta
Gorgonzola
sunflower seeds
craisins
Bests Dressing For Chicken Fruit Salad
My entire inspiration behind this Chicken Fruit Salad is the exquisite poppy seed dressing, all made possible because of my sister. So remember when I told you about my amazing sister in my Baked Sweet and Sour Chicken post? About how she is the most giving and talented sister ever – giving me my first recipe binder full of her tried and true favorite recipes that she personally typed up for Christmas, and how she gave me her kidney last October?
Well, in that binder was a Strawberry Spinach Salad with Poppy Seed Dressing. It quickly became my favorite salad recipe of hers and I would be asked for the salad recipe wherever I brought it, largely due to the dressing.
With a few modifications, this Chicken Fruit Salad Dressing boasts poppy seeds, sesame seeds, minced onion, lemon juice, sugar, cider vinegar, a dash of Worcestershire sauce and paprika for just a kick.
How to Make Chicken Fruit Salad
Step 1: Make Dressing
The dressing serves as the marinade and the dressing – double the flavor without double the work!
To make, simply mix together Poppy Seed Dressing/Marinade ingredients.
Step 2: Marinate Chicken
Add 3 tablespoons of the dressing (reserve the rest) to a large freezer bag or bowl along with chicken.
Refrigerate for one hour up to overnight. Don't marinate any longer or the chicken can get tough.
Step 3: Cook Chicken
Heat a dash of olive oil in a large skillet.
Add chicken, season with 1/2 teaspoon salt and cook until no longer pink.
Step 4: Assemble Salad
Combine cooked chicken, fruit and reserved dressing to a large bowl, gently toss to combine.
Step 5: Chill Chicken Fruit Salad
It is extremely important to chill the Chicken Fruit Salad for at least one hour. This allows the flavors tot build and meld.
Step 6: Serve
When it's time to serve the Chicken Fruit Salad, add toasted coconut and macadamia nuts.
How to Serve Chicken Fruit Salad
Chicken Fruit Salad as Salad: this Chicken Fruit Salad is delectable just with fork! Just take care to let the salad chill first for maximum refreshing flavor. You can also add it to greens such as spinach or kale.
Chicken Fruit Salad as Wraps: I love serving this Chicken Fruit Salad as wraps because my favorite part of any salad is everything except the lettuce! Wrap the chilled filling in a cocoon of fresh, crispy butter lettuce, top with roasted macadamia nuts and top again with toasted coconut if you wish, and you have fresh, sweet, creamy, crunchy flavor PACKED bites of summer. Lettuce wraps are also wonderfully transportable for potlucks or pool parties and wonderfully elegant for brunch or bridal/baby showers.
Chicken Fruit Salad as Wraps: fill flatbread with chicken fruit salad. I recommend using some sort of spread such as avocado crema, yogurt or mayonnaise before filling.
Chicken Fruit Salad as Sandwiches: you can use bread or rolls, but I highly recommend buttery, tender croissants for sandwiches. To make, slice a croissant in half and toast. Spread croissant with mayonnaise, and top with lettuce – this will also help prevent the the chicken fruit salad sandwiches from becoming soggy.
How Long Does Chicken Fruit Salad Last?
In the Refrigerator: Store Chicken Salad in an airtight container in the refrigerator. Chicken Fruit Salad will last for up to two days in the refrigerator due to the avocados. It can last up to 5 days if you omit or remove the avocados or add them to individual servings if you expect leftovers.
At room Temperature: If you are serving Chicken Fruit Salad at a party, it should only be left out for two hours. You can let everyone serve themselves then return the salad to the refrigerator then bring out again.
Warmer Temperatures: If you're serving outdoors at a summer pool party, potluck or picnic and it is above 90 degrees, take care to refrigerate the chicken salad as soon as possible. It should not be left out longer than one hour. If this isn't possible, then keep the Chicken Fruit Salad on ice – you don't want to make anyone sick!
Looking for more Fruit Salad Recipes?
Want to try this Chicken Fruit Salad RECIPE?
Pin it to your Salad, Chicken or Fruit Board to SAVE for later!
Find me on Pinterest for more great recipes! I am always pinning :)!
©Carlsbad Cravings by CarlsbadCravings.com
Carlsbad Cravings© Original
NEVER MISS A CARLSBAD CRAVINGS CREATION:
You might also like:
Chocolate Drizzled Frozen Fruit Kabobs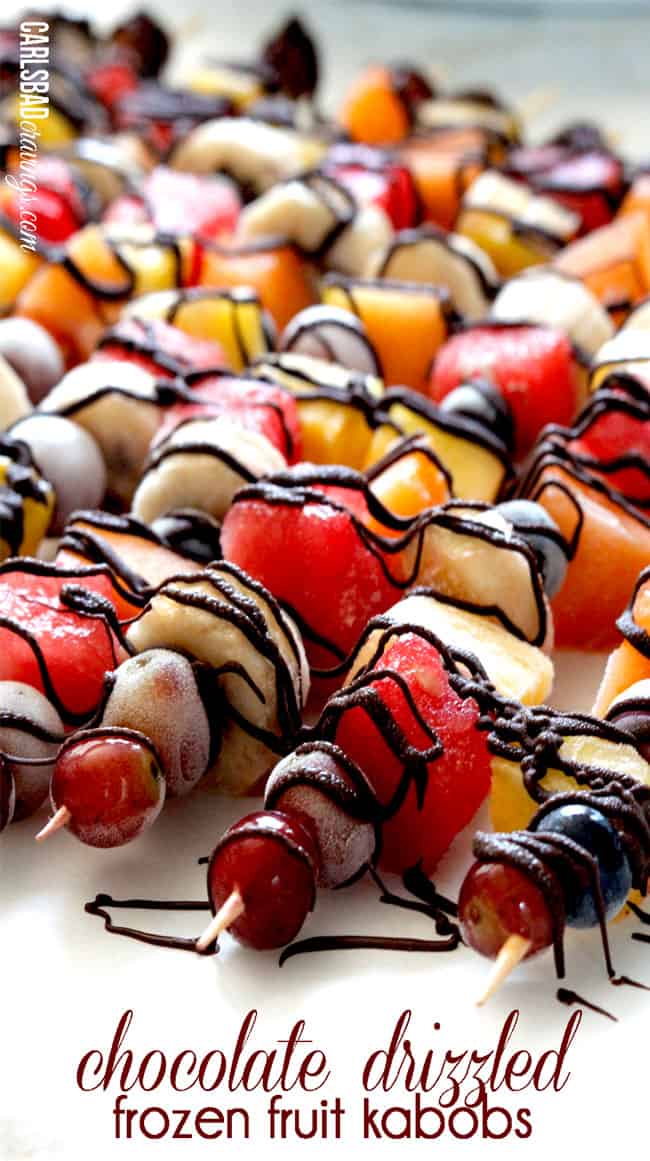 Easy Key Lime Honey Almond Granola Fruit Salad
Tropical Winter Fruit Salad with Caramelized Cashews and Pomegranate Vinaigrette
White Chocolate Chip Berrylicious Cheesecake Dip
Pomegrante, Pear, Pistachio Salad with Creamy Pomegranate Dressing