These Tuna Melt Cups are brought to you by StarKist® Albacore Tuna. All opinions are my own.
20 minute prep crunchy, cheesy Baja Tuna Melt Cups baked in wonton wrappers, stuffed with sautéed Baja spiced StarKist® Albacore Tuna, black beans, sweet corn, green chilies and red bell peppers smothered in melted cheese and topped with refreshing, crunchy Mango Broccoli Slaw with a hint of lime. An easy, flavor, texture packed satisfying appetizer, snack or meal. You won't be able to eat just three.
Growing up, my mom made a lot of tuna fish sandwiches. The good kind with creamy tuna and lots of crunchy celery. And then my husband introduced me to tuna melts. Oh My Yummy. A whole new level of deliciousness. Between cheesy, crunchy tuna fish sandwiches and comforting tuna casserole (the one casserole I can devour in a couple sittings – so good) I didn't think tuna could get much better.
But it can. StarKist®Albacore White Tuna is so much more than sandwiches and casseroles. Its hearty, flavorful, and heart healthy, making it an ideal low-fat protein in any meal or appetizer, like these close your eyes so you can savor its deliciousness Baja Tuna Melt Cups with Mango Broccoli Slaw. These little cups pack a punch of texture, flavor and spice that begins with a quick 5 minute sauté of tuna, black beans, sweet, crunchy corn, fresh red bell peppers, onion, garlic, green chilies and plenty of cumin, chili powder, smoked paprika and cayenne.
This try-not-to-eat-it-all-before-you-stuff-the-cups-filling is then piled into wontons that have been baked for 5 minutes. Can I pause and thank the person who dreamt up baked wonton cups? Every bit as addictingly crunchy as traditional wontons without the filling, folding and sealing. You are going to be seeing a lot more wonton cups over here.
The spicy, flavorful, hearty healthy filling is then topped with sharp cheddar cheese – as thin or as thick as you like depending on your cheesy desires.
The stuffed cups are then baked for 7 minutes until the wontons are crispy and your cheese is oh so melty, cradling every nook and cranny of filling…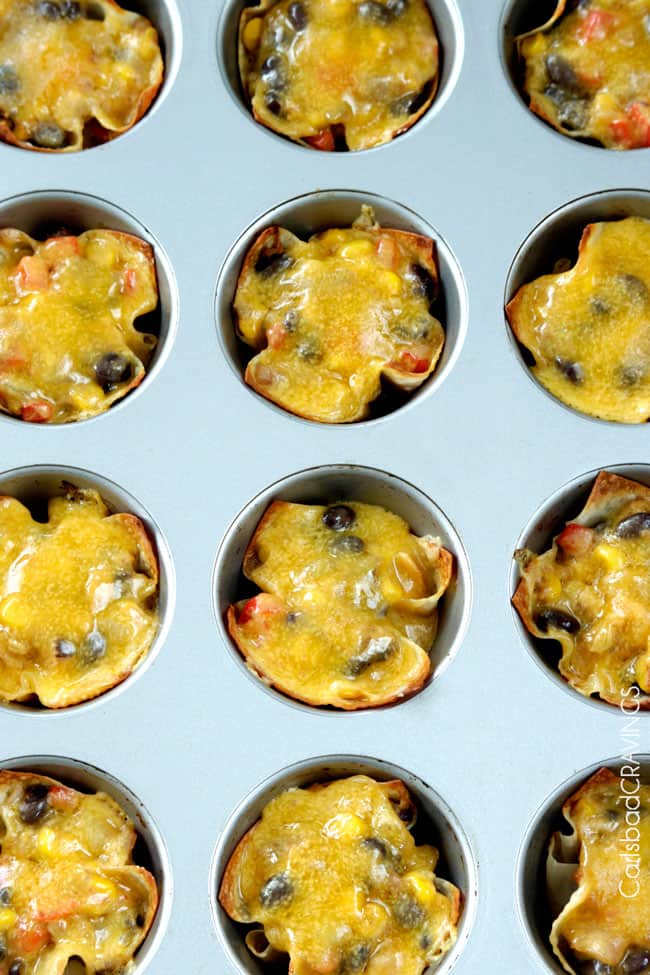 The Baja Tuna Melt Cups are then crowned with a simple mixture of broccoli slaw, mangos, cilantro and lime juice and a touch of sour cream if you like…and I do like…The mangos are a must for me as their sweetness compliments the hearty, robust filling so if you are intimidated by cutting mangos – do't be, just check out my How to Cut A Mango Post that teaches everything you could ever want to know about mangos!
Baja Tuna Melt Cups are not only easy to inhale, but so easy to make for snacks, appetizers or a full meal and are heart healthy thanks to the health benefits from StarKist® Albacore White Tuna.
Baja Tuna Melt Cups, an explosion of texture from the black beans, corn and red bell peppers, packed with protein and flavor from the StarKist® Albacore White Tuna, topped with gooey sharp cheddar cheese and crowned with refreshing broccoli slaw with a dash of sweet from the mango and freshness from the lime.
Heart healthylicious deliciousness in each and every crunchy, cheesylicious bite…after bite…after bite…
Baja Tuna Melt Cups with Mango Broccoli Slaw
Save This Recipe To Your Recipe Box
You can now create an account on our site and save your favorite recipes all in one place!
Ingredients
Instructions
Preheat oven to 375F degrees.

Spray the wells of 2 12-count muffin tins with non-stick spray. Press a wonton wrapper into each well and bake for 5 minutes.

Meanwhile, heat 1 tablespoon olive oil in a large nonstick skillet over medium heat. Add all of the Wonton Filling ingredients EXCEPT the red bell peppers and garlic and cook for 3 minutes then add red bell pepper and garlic and cook an additional 2 minutes. Taste and additional cayenne, salt, pepper to taste.

Scoop about 2 tablespoons of filling into each wrapper and top with a slice of cheese. Bake an additional 5-7 minutes or until cheese is melted and wonton wrappers are crispy.

Meanwhile, add all of the Mango Broccoli Slaw ingredients to a medium bowl and toss to combine.

Top baked Baja Tuna Melt Cups with Mango Broccoli Slaw, sour cream and any additional garnishes.

Best served warm.
Notes
I love the Mango Broccoli Slaw but if you prefer, these cups would also be delicious with your favorite Mexican toppings such a lettuce/cabbage, cilantro, tomatoes, avocado, etc.
Did You Make This Recipe?
Tag @CarlsbadCravings and Use #CarlsbadCravngs
Leave a Review, I Always Love Hearing From You!