15 minute prep Fall-Off-the-Bone Slow Cooker Barbecue Ribs that everyone will go crazy for and are wonderfully easy to make!
These Slow Cooker Ribs are SUPER easy, flavorful, and so touchdown tender you will be making them again and again!  They have tons of rave reviews claiming these slow cooker ribs are better than any restaurant with the best homemade barbecue sauce ever! 
SLOW COOKER RIBS VIDEO
Easy Slow Cooker Ribs Recipe
I keep a running bucket list of different types of food/recipes I want to make from Nashville Hot Chicken – check – to Beef Brisket – check – to Perfect Pot Roast – check – to these Slow Cooker Ribs. After making these Slow Cooker Barbecue Ribs, I am kicking myself for not rushing them to the top of the list sooner!
As in years and years sooner so I could have been chowing down on their juicy, tender, barbecue smothered bliss this whole time. At least I made them three times in one week to partially make up for it. So please don't lose years and year of deliciousness and make these super easy Slow Cooker Barbecue Ribs ASAP!
If you have never made ribs, or never made slow cooker ribs, prepare for your mind to be blown with this easy method for moist, literally falling of the bone BBQ ribs, every single time. Our minds were blow. And our stomachs rejoiced.
Literally fall apart tender.
Slow Cooker BBQ Ribs Ingredients
This Crockpot baby back ribs recipe is so easy to make! It features a homemade rib rub and homemade bbq sauce. Talk about delicious!
Baby back pork ribs: You'll need roughly 4 pounds of ribs to make this recipe.
Dried herbs and spices: The homemade rib rub is made up of paprika, brown sugar, chili powder, garlic powder, ground chipotle pepper, onion powder, dried thyme, cayenne, salt, and pepper. SO much flavor!
Barbecue sauce: I'm hooked on this bbq sauce! It's made with ketchup, molasses, brown sugar, blackberry preserves, apple cider vinegar, and liquid smoke.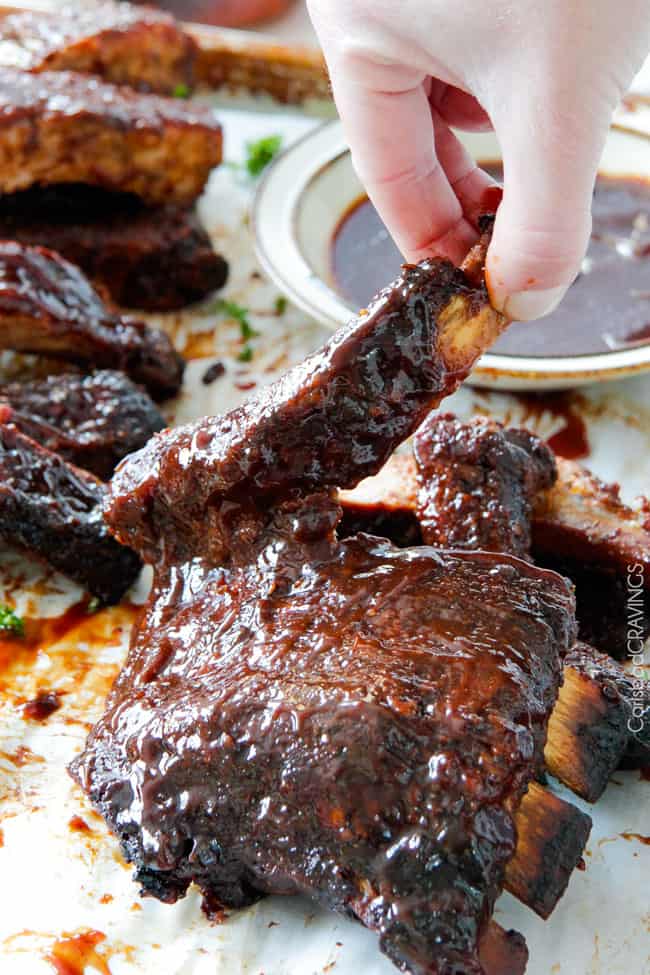 INGREDIENT SUBSTITUTIONS
If you can't find blackberry preserves, I've had readers comment they have also used strawberry preserves, raspberry preserves, fig preserves and apple jam with success.
You can use any brown sugar you have on hand – light, medium or dark.
You can use granulated sugar or honey if that's all you have on hand but, in this case, I would reduce the sugar by a tablespoon or two and add extra molasses in its place. You can also use a blend of sweeteners.
If you're out of ketchup, you could try substituting with tomato sauce, but you will need to add some extra vinegar and sugar to compensate for the flavor of the ketchup.
How to Make Slow Cooker Ribs
Aside from the fall-off-the-bone tender factor, these baby back ribs are heads above the rest because they are slathered in the most incredible rub and barbecue sauce to create layers of restaurant (or better than restaurant says Patrick) flavor.
After you spice rub your ribs, you bake them for 15 minutes on each side to seal in the juices and render some of the fat.
Meanwhile, whisk up your tantalizing barbecue sauce that is sweet and tangy and just right which is a simple mixture of ketchup, molasses, brown sugar and my secret ingredient, blackberry preserves which balances out the acidity with subtle sweetness.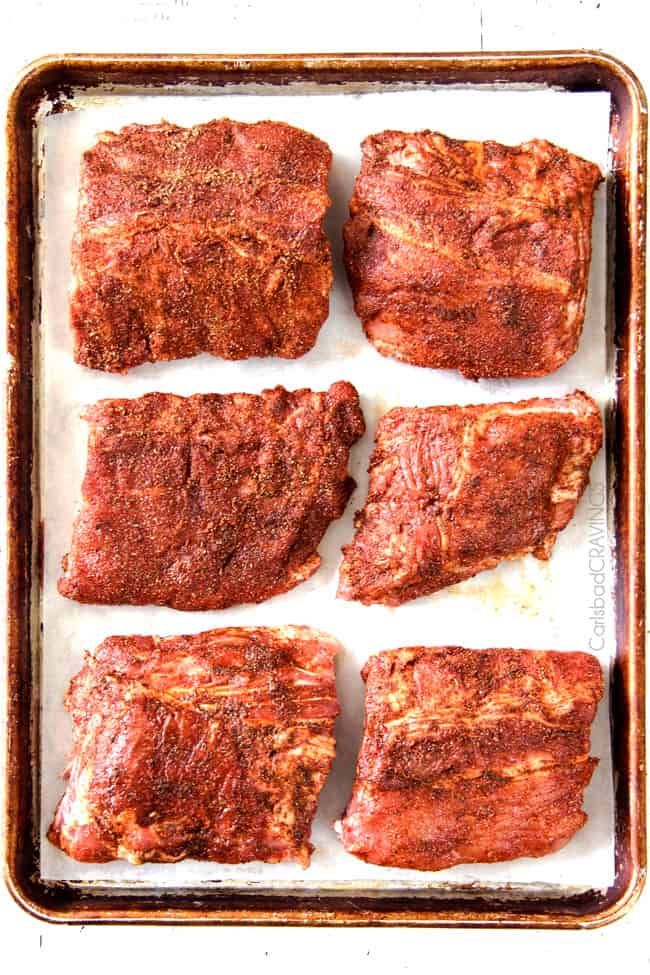 How long to cook ribs in the Crockpot?
Cook the ribs in the slow cooker on low for 7-9 hours or on high for 4-5 hours or until they are fall apart tender.  And they will be fall apart tender.
Slather your crock pot ribs in more of our luscious, tantalizing homemade barbecue sauce.
Serve these Slow Cooker Baby Back Ribs with any or all of these sides: Million Dollar Macaroni and Cheese, Moist Sweet Cornbread, Best Creamy Mashed Potatoes, Hawaiian Baked Beans and Outback's Wedge Salad. Even if your team doesn't win on Sunday, you can still have game winning Fall-Off-the-Bone Slow Cooker Ribs feast that everyone will cheer for! And repeatedly beg for.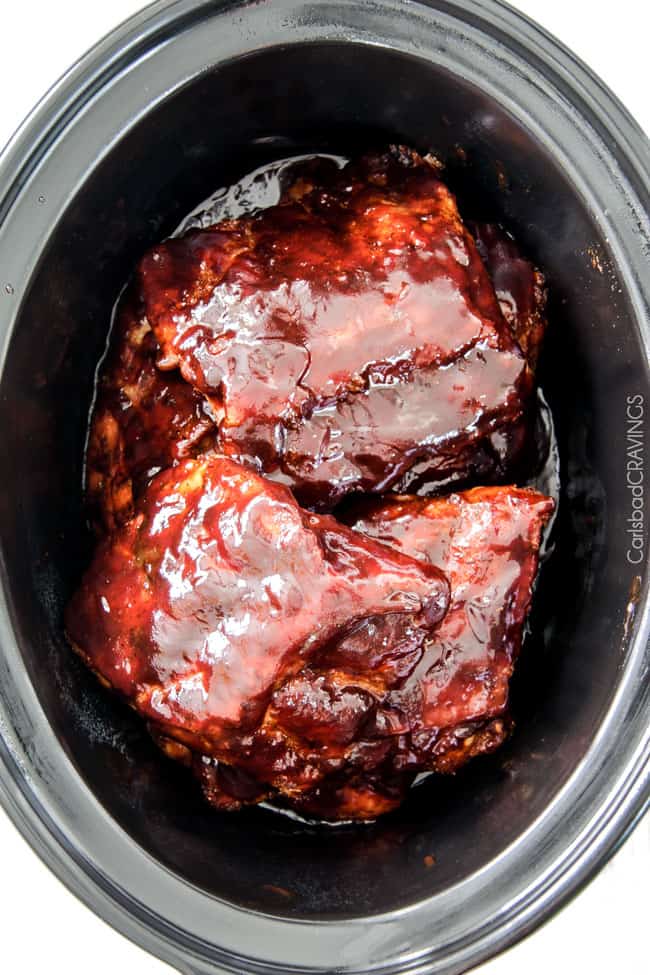 Tips for the Best Slow Cooker Ribs
The slow cooker ribs dry rub recipe makes quite a bit but you are going to want to use all of the blend for perfect flavor packed ribs. Not too spicy, not too sweet, but just right — or so said my parents who dropped by and polished off the leftovers.
I like to dip each rib piece in the spice mix, front and back, then rub the mix all over with my hands.
Many readers have since commented that this is their favorite barbecue sauce ever — so whatever you do, don't skip this barbecue sauce — it truly makes these ribs spectacular! I love it so much I have also used a version of it in my Crockpot BBQ Chicken and my BBQ Beef Brisket Sandwiches – you don' want to miss it!
BBQ SAUCE VARIATIONS
The most important (and best!) part of making homemade barbecue sauce from scratch is how adaptable it is. You can adjust the homemade BBQ sauce in this Crockpot ribs recipe until it's perfect for you. Here's how:
Make it sweeter: add more brown sugar. I suggest you simmer the sauce for 10 minutes, taste and add additional sugar at this time if desired (and not right off the bat); continue to simmer for an additional 5 minutes.
Make it tangier: add additional apple cider vinegar at the end of simmering.
Make it smokier: add additional liquid smoke, ½ teaspoon at a time.
Make the seasonings your own: Like more garlic?Use more garlic. Like more mustard? Use more mustard. You can adjust all of the seasonings to suit your tastes and even add additional seasonings such as oregano or parsley.
Make it thicker: simmer the sauce for upwards of 15 minutes until it reaches your desired consistency, however, it is already gorgeously thick after 15 minutes so I don't think you'll find this necessary.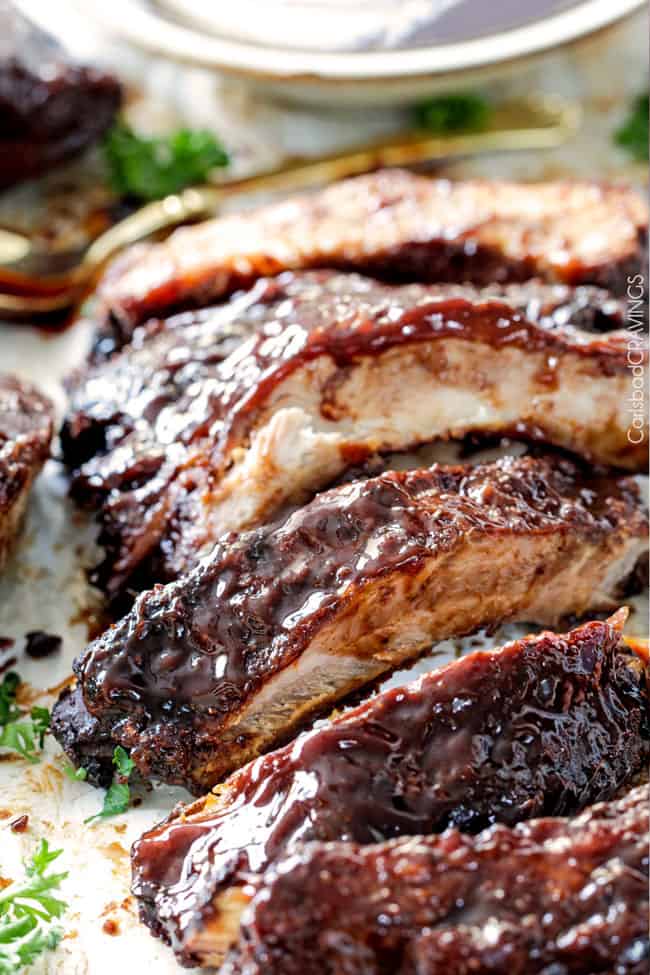 Can I Prep Slow Cooker BBQ Ribs in Advance?
Yes! You can either make the entire recipe as written or simply make the homemade barbecue sauce in advance. If making the entire recipe, you'll then want to refrigerate the ribs (in the slow cooker). Then, reheat them on LOW when ready to enjoy.
How to Store Slow Cooker Pork Ribs
Let cool completely, then store in an airtight container in the fridge. These slow cooker ribs will last up to 5 days.
How to Freeze Barbecue Ribs
Seal cooled ribs inside a freezer-safe container or freezer bag for up to 3 months. To thaw, place in fridge overnight and reheat as desired.
How to Reheat Crockpot Baby Back Ribs
Larger servings of ribs can be reheated in the slow cooker. Individual portions can be reheated in the microwave at 30-second intervals.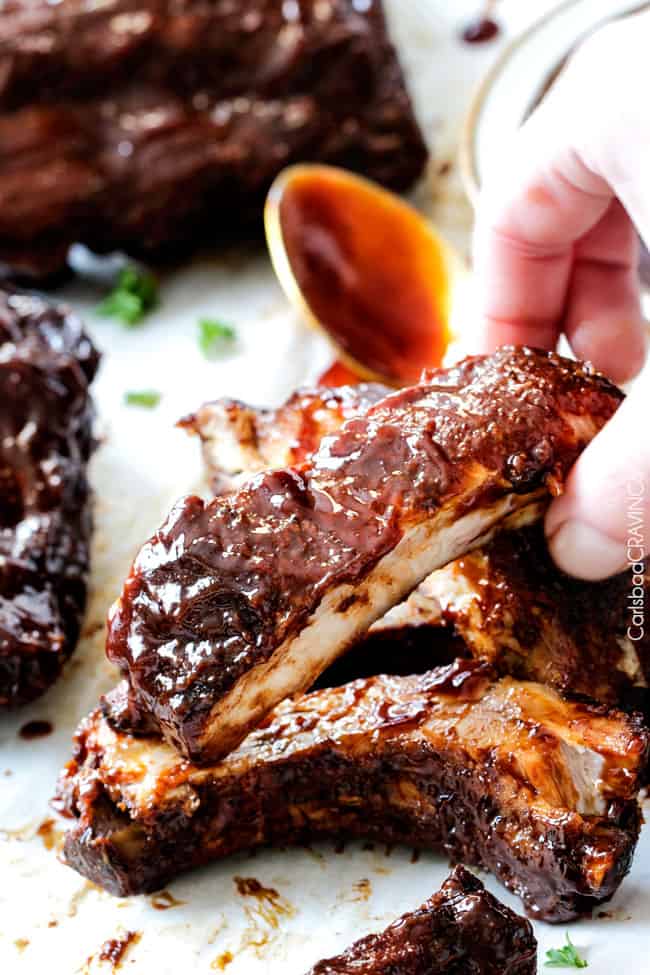 What should I Serve with Slow Cooker Ribs?
More Slow Cooker Dinners:
Want to try these Slow Cooker Ribs Recipe?
Pin them to your Crockpot, Beef or Entertaining Board to SAVE for later!
Find me on Pinterest for more great recipes!  I am always pinning :)!
©Carlsbad Cravings by CarlsbadCravings.com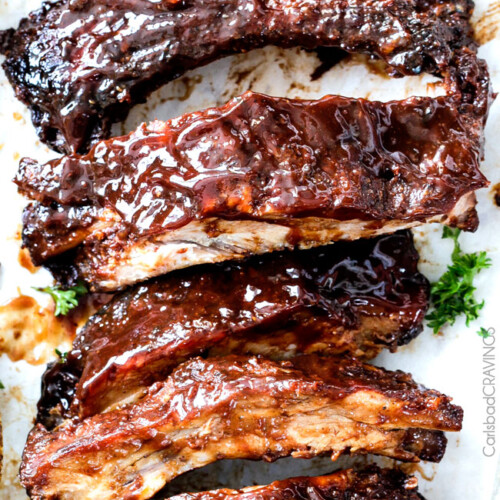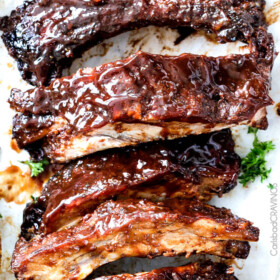 Slow Cooker Barbecue Ribs ( (Video)
15 minute prep Fall-Off-the-Bone Slow Cooker Barbecue Ribs that everyone will go crazy for!  These Slow Cooker Ribs are SUPER easy, flavorful, and so touchdown tender you will be making them again and again!  They have tons of rave reviews claiming these Slow Cooker BBQ Ribs are better than any restaurant with the best homemade barbecue sauce ever! 
Total Time:
5

hours
15

minutes
Save This Recipe To Your Recipe Box
You can now create an account on our site and save your favorite recipes all in one place!
Ingredients
4

pounds

baby back pork ribs
Instructions
Preheat oven to 400 degrees F Line a baking sheet with sides with parchment paper. Set aside.

Cut ribs into 6 sections then rinse and pat dry.

In a medium bowl, whisk together Spice Rub ingredients. Remove 1 tablespoon Spice Rub to use in your barbecue sauce. Rub all remaining Spice Rub evenly all over the meat then place ribs on prepared baking sheet. Bake ribs for 15 minutes ON EACH SIDE (30 minutes total) to sear meat.

Meanwhile, add all of the Barbecue Sauce ingredients to a medium saucepan and gently simmer for 15 minutes, stirring occasionally. Remove 1 ½ cups barbecue sauce and refrigerate to use after ribs are cooked.

Spray slow cooker with nonstick cooking spray then add a thin layer of remaining barbecue sauce, followed by ribs. Layer sauce then ribs until complete, tossing to coat as needed to ensure ribs are evenly coated in barbecue sauce.

Cover and cook on HIGH for 4-5 hours or on LOW for 7-9 hours OR cook until ribs are fall apart tender. Rotate ribs once during cooking so they cook evenly. Cooking time may vary between slow cookers.

When ribs are tender, remove from slow cooker and brush with some Reserved Barbecue Sauce if desired or use sauce for dipping. Enjoy!
Notes
Don't miss the "how to make" recipe video at the top of the post!
*Liquid smoke can be found next to the barbecue sauce in most grocery stores. It adds a wonderfully smoky flavor. **I like to dip each rib piece in the spice mix, front and back, then rub the mix all over with my hands. **It might like seem like a lot of seasoning, but you should use all of the Spice Rub for 4 pounds of meat for optimal flavor.
Did You Make This Recipe?
Tag @CarlsbadCravings and Use #CarlsbadCravngs
Leave a Review, I Always Love Hearing From You!
Carlsbad Cravings© Original