Sweet and Tangy Asian BBQ Salmon dripping with flavor from the most INCREDIBLE glaze but one of the easiest meals to throw together!
This Asian glazed salmon recipe is ready in under 15 minutes! It's flavored with a tangy Asian marinade that also doubles as the glaze. SO Easy and SO flavorful!
Asian BBQ Salmon Recipe
It was a cold, rainy El Nino day as dark as dusk when I made and photographed this Asian salmon. But just like its ease and flavor come through for me every time, so did its caramelized beauty through the cloudy diffused light. Seriously, this salmon never lets me down — it's a wonder in every way, every time.
Every time I make this Asian BBQ Salmon, I feel giddy that I get to savor a restaurant quality dish in my own home that takes just minutes to whip up. So let's get giddy…
Asian BBQ Salmon Ingredients
This Asian glazed salmon recipe comes together with minimal ingredients.
Salmon fillets: Always look for wild caught salmon (preferably Alaskan) and avoid farm-raised Atlantic salmon. Wild caught salmon includes king, coho and sockeye salmon.
Toasted sesame oil: Has a deeper flavor than regular sesame oil.
Asian sweet chili sauce: You will want to add some chili sauce to cut through the sweetness and round out the flavor profile.
Ketchup: Might sound like an odd ingredient but is fairly common in Chinese-American dishes such as Sesame Chicken. I promise you won't be able to detect the ketchup!
Hoisin sauce: Can be found in the Asian section of any grocery store. It tastes like a sweet, salty and tangy, thick Asian BBQ Sauce.
Cider vinegar: I prefer apple cider vinegar here instead of rice vinegar.
Brown sugar: Balances out the heat in this dish.
Soy sauce: Please use only reduced sodium soy sauce or your Asian salmon marinade will be too salty.
Ginger: Adds a warm spicy, almost pepper taste that cuts through the sweetness.
Garlic powder: Fresh garlic may be substituted, if desired.
Sriracha: Just ½ teaspoon is all you need to liven up this dish.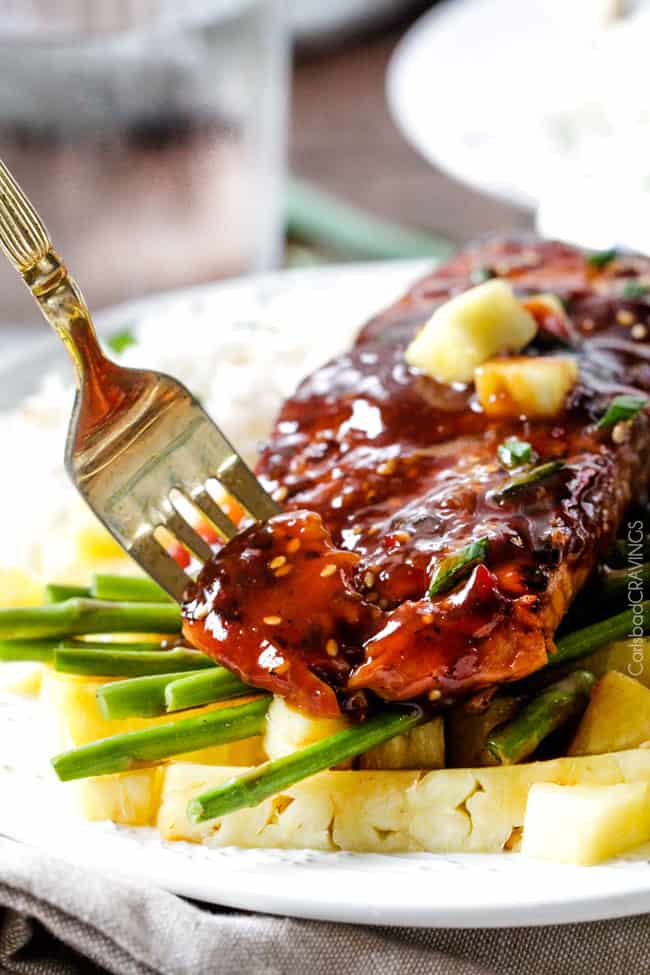 How to Make Asian BBQ Salmon
First, you whip up your marinade that doubles as your delectable glaze in mere minutes by whisking together the dynamic rainbow of flavors of Asian chili sauce, hoisin (like Asian BBQ sauce), ketchup, cider vinegar, brown sugar, soy sauce, ginger and garlic. That is all the prep for this dish. When it comes time to actually "make" dinner, all you do is sizzle away!
Simply cook your salmon on one side until golden, then flip and pour half of your luscious glaze over the salmon to caramelize while the salmon finishes cooking.
That's it! Now, just when you didn't think the tender, flavor effusive salmon could get any better, drizzle with your leftover sweet and tangy Asian BBQ glaze.
Giddy.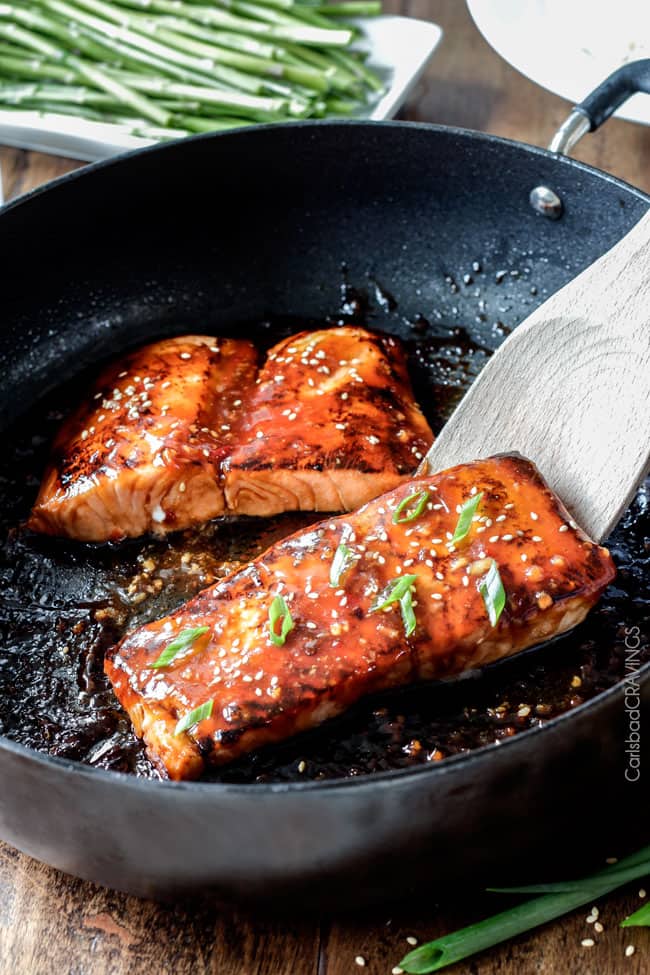 Tips for Making Asian BBQ Salmon
Hoisin sauce: Please use only quality hoisin sauce like Lee Kum Kee or Kikkoman as all hoisin sauces are not created equal – you truly can taste the difference. I use hoisin sauce all the time in my Asian recipes such as Kung Pao Shrimp, Mongolian Chicken, Orange Chicken, etc., so I promise it will not go to waste!
Ginger: I like to freeze fresh ginger so it's always at my fingertips. To freeze ginger: grate it, spread it by the teaspoon or tablespoon on parchment paper and flash freeze until solid, about 1 hour. Transfer to an airtight container or plastic bag for up to 6 months.
To Make Gluten Free: Use gluten free soy sauce or tamari. You will also want to double check that your hoisin and chili sauce are gluten free.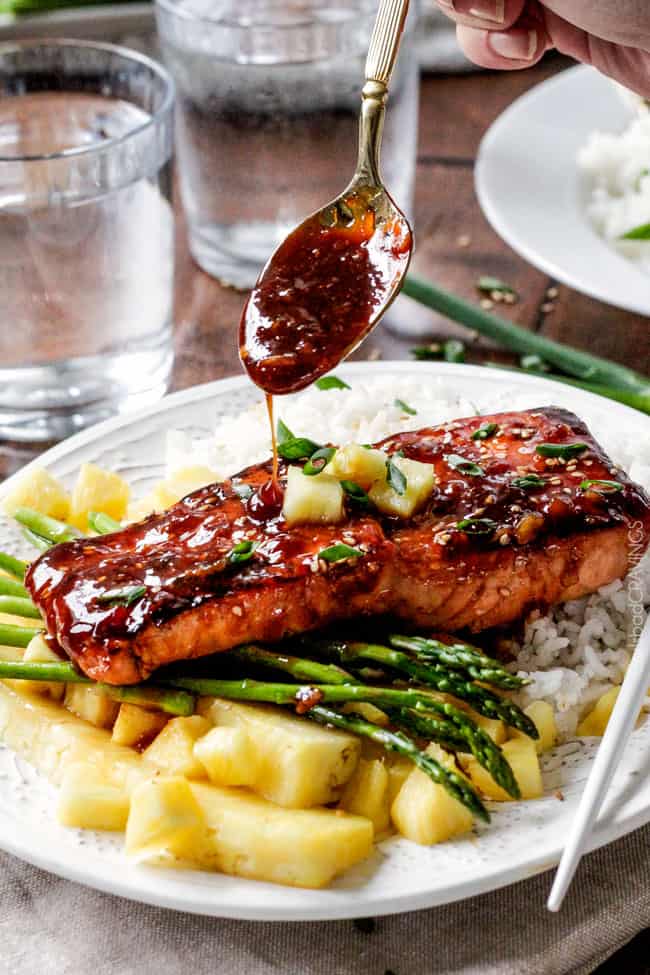 Asian Salmon Recipe Variations To Try
Add herbs: such as Thai basil, coriander or cilantro.
Amp up the garlic and/or ginger: for a stronger punch of flavor.
Add veggies: add vegetables partly through cooking for a meal-in-one.
Add crunch: with peanuts or cashews; take care to purchase raw, unsalted nuts so your Asian salmon isn't too salty.
Water chestnuts: are delightfully crunchy and easy to find at any grocery store.
Sesame seeds: add a nutty sesame flavor. Take care to use toasted sesame seeds or toast them yourself.
Fruit: pineapple, Mandarin oranges or mangos add a juicy, fresh, sweet dimension. They are the sweet ying to the umami yang– just think teriyaki chicken and pineapple. If you're intimidated by choosing or cutting mangos, check out this post here. For the oranges, fresh oranges hold together better but canned or super convenient.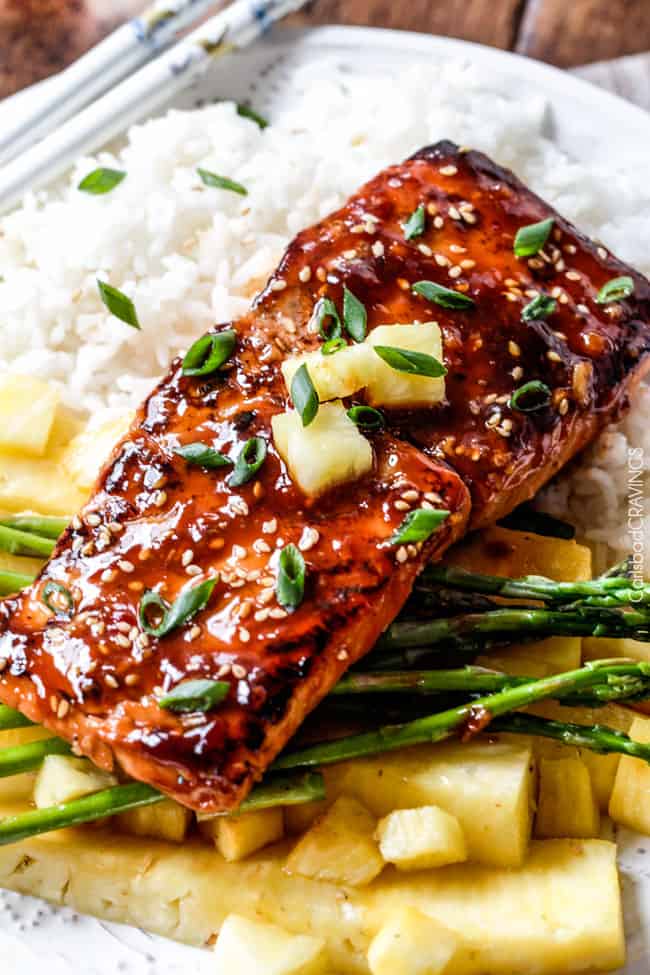 Can I Prep Asian Glazed Salmon in Advance?
The salmon is best enjoyed fresh, but the Asian salmon marinade can be whisked together ahead of time and stored in an airtight container or mason jar in the refrigerator for up to 3 days.
How to Store Asian Glazed Salmon
Asian bbq sauce salmon salmon should be stored in an airtight container in the fridge for up to 3 days. Leftovers can be reheated and served for lunch or dinner the next day and even be chopped up and served in salads, wraps or sandwiches.
How to Reheat Asian Salmon
Microwave: Microwave for 1 minute, then continue to heat at 20-second intervals until warmed through.
Stove: Sizzle a little olive oil in a skillet, add bbq salmon and heat over medium-low until warmed through.
Can I Freeze Asian BBQ Salmon?
To freeze, cool salmon before adding to an airtight container or separate containers for individual servings. If adding to a bag, squeeze out any excess air to prevent freezer burn. Freeze for up to 3 months. Defrost in the refrigerator overnight before reheating in the microwave or skillet.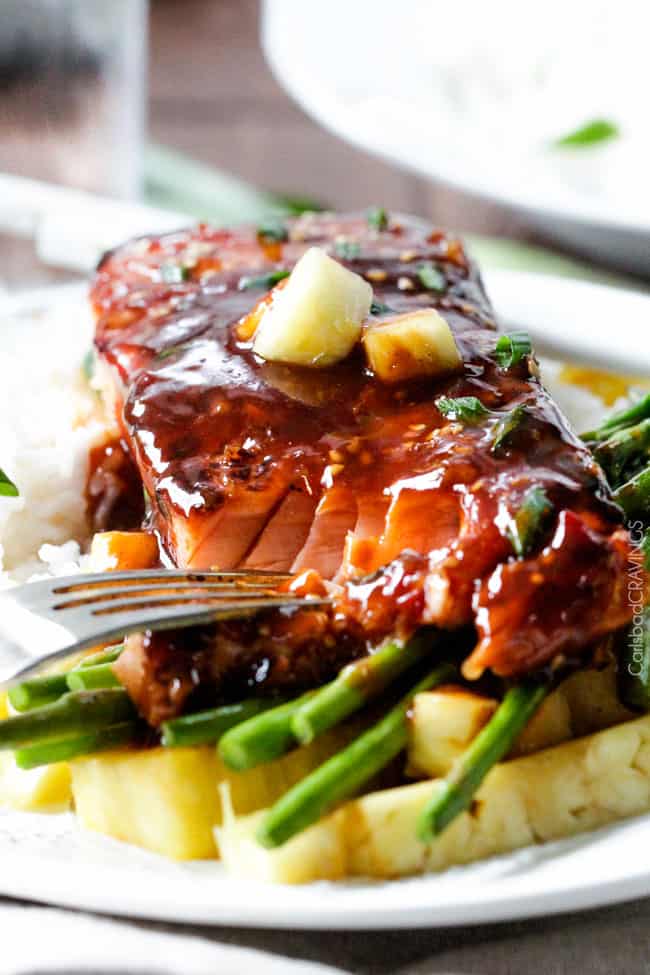 What to Serve with Asian BBQ Glazed Salmon
Serve this Asian salmon recipe with the ridiculously delectable, sticky sweet, savory Asian salmon glaze. This skillet salmon goes well with a variety of side dishes, here are a few of my favorites.
Rice: brown rice, wild rice, long-grain white rice, jasmine rice.
Noodles: any type of Asian noodles from ramen to glass noodles.
Low carb options: cauliflower rice, broccoli rice, spaghetti squash.
Vegetables: a big green salad, stir fried veggies, roasted curry cauliflower, glazed carrots.
Looking for more Salmon Recipes?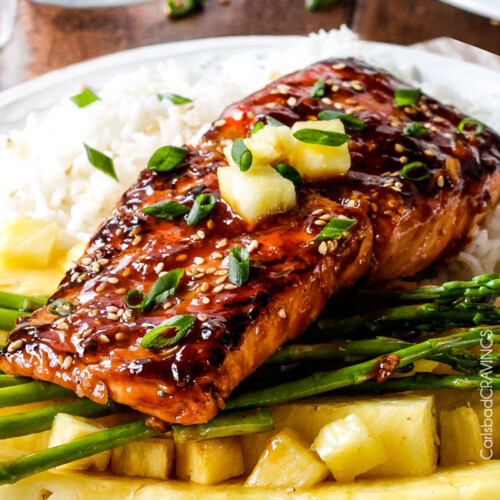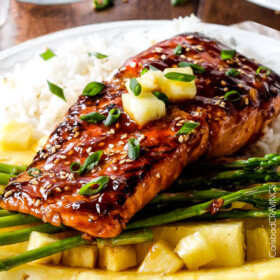 Caramelized Asian BBQ Salmon
Save This Recipe To Your Recipe Box
You can now create an account on our site and save your favorite recipes all in one place!
Ingredients
4

skinless salmon filets

, 4-6 oz. each*

1

tablespoon

toasted sesame oil, divided
Instructions
Whisk together all of the marinade/glaze ingredients plus 2 teaspoon

sesame oil

. Add ⅓ cup of marinade to a freezer bag with salmon. Refrigerate the rest separately. Marinate salmon for one hour up to overnight (longer the better).

SKILLET DIRECTIONS: When ready to cook, let salmon sit at room temperature for 10 minutes. Separate reserved glaze in half. You will use half while cooking salmon and the other half after salmon has cooked.

Heat 1 teaspoon

sesame oil

in a 12-inch nonstick skillet over medium high heat until very hot. Add salmon and turn heat down to medium and sear until side is browned, about 4 minutes.

Flip salmon over and spoon half of the remaining Glaze over salmon. Cook an additional 4-7 minutes depending on thickness and desired doneness (or until salmon reaches an internal temperature of 135° for medium). Spoon desired amount of remaining Glaze over individual servings and season with freshly cracked salt and pepper. Note the Glaze is very strong so you will want to taste before adding too much more Glaze.

GRILL DIRECTIONS: When ready to cook, let salmon sit at room temperature for 10 minutes. Lightly grease grill and heat grill to medium heat. Pat salmon dry. Grill, uncovered, for 4 to 6 minutes per 1/2-inch thickness or until fish begins to flake when tested with a fork, flipping once halfway through grilling. When done, remove from grill and brush with Glaze and season with freshly cracked salt and pepper.
Notes
*You don't have to worry too much about the size of your filets and can even only cook 2 filets, because you spoon desired amount of Glaze on the filets at the end.
**This salmon pairs beautiful with fresh pineapple!
Did You Make This Recipe?
Tag @CarlsbadCravings and Use #CarlsbadCravngs
Leave a Review, I Always Love Hearing From You!
Carlsbad Cravings© Original