French Toast Bake with Pecan Praline is the only French Toast recipe you will want to make!
This French Toast Bake is a heavenly mouthful of warm roasted pecans and brown sugar saturated French toast.  It is made by coating the bread in batter spiked with maple syrup and cinnamon then topped with an easy, decadent mixture of pecans, maple syrup, vanilla, cinnamon, nutmeg, butter, and brown sugar that seeps into the toast as it bakes to create OUT OF THIS WORLD YUM!  This French Toast Bake is easy to make with a prep time of only 15 minutes and then bake it in the morning for an effortless special occasion breakfast!     
French Toast Bake
This French Toast Bake is right up there with my Overnight Creme Brulee French Toast, and I might even give it an edge, because, as you might have noticed, I love pecans:   Toffee Pecan Caramel Pound Cake, Maple Dijon Green Beans with Caramelized Pecans, Bacon and Feta,  Triple Chocolate Turtle Cookies, and on and on and on…and I especially love pecan praline.  Don't even give me a bite of pecan praline ice cream and expect me to eat just one bowl.
This French Toast Bake is perfect for special occasions because it is not only gloriously delicious but is super easy to make and make ahead.  Simply soak the French Toast the night before and make the pecan praline – then all you have to do the next morning is top the bread with the praline and pop it in the oven for a stress free, hands off breakfast dessert that everyone goes crazy for!
WHAT BREAD IS BEST FOR OVERNIGHT FRENCH TOAST BAKE?
The best toast for French Toast Bake is a thick, sturdy bread. I recommend:
French Bread
Brioche
Challah
Texas Toast
I chose French Bread for this French Toast Casserole because every grocery store carries it and it's the most economical but you can use any of the aforementioned breads, just make sure they are toasted or a couple days old so they don't become soggy (more on that below).
INGREDIENTS FOR FRENCH TOAST BAKE
This easy overnight French Toast Casserole recipe uses pantry friendly ingredients so it's easy to throw together.  The only ingredient you will probably have to purchase is bread.   You will need:
bread: a study bread as previously discussed
eggs:  6 large eggs will do the trick
half and half:  please use full fat half and half or your French Toast Bake may be runny
granulated sugar:  is used in the batter; you may also use brown sugar
brown sugar: is used in the topping; you may use light or dark brown sugar
maple syrup: use pure maple syrup and not the imitation breakfast kind
vanilla extract:  use quality extract for the best flavor 
seasonings:  ground cinnamon, nutmeg, salt
pecans: use unsalted pecans
butter: use unsalted butter so we can control the salt level
]HOW DO I MAKE GLUTEN-FREE FRENCH TOAST BAKE?
You can make Gluten-Free French Toast Bake by swapping out the bread for your favorite thick gluten-free bread. Its as easy as that! The remaining ingredients in the recipe are gluten free.
HOW TO PREVENT SOGGY FRENCH TOAST
The trick to the best French Toast Bake is to have saturated French Toast that is tender without being soggy.  To achieve this delicate balance, you will need 2 day old (French) bread that you slice while its fresh and then let it sit for a couple of days on the counter, uncovered, so it becomes a little stale. This way the custard softens the bread but it still retains its structure.
If you don't have time to leave your bread on the counter or simply forgot, you can can make your bread sale by slicing it, spreading it on a baking sheet and baking for about 20 minutes. This will dry out the bread and leave your French Toast Bake perfectly tender without being stale- winning!
HOW TO MAKE BAKED FRENCH TOAST BAKE
Prepare pan.  Line a jelly roll pan (18″x13″x1″) with parchment paper or a nonstick mat. A jelly roll pan is one with sides on it – this will keep the custard batter from spilling over the edges.
Add bread.   Arrange bread slices in a single layer to cover the pan (as many as will fit).
Make eggnog custard.  Whisk eggs, half and half, vanilla, sugar, maple syrup, cinnamon, salt together.
Pour custard over bread.  Pour mixture evenly over bread, then flip each piece, so each side is covered in mixture. It will look like too much liquid, but it will all be absorbed by morning.)
Refrigerate French Toast.  Cover and chill in the refrigerator at least 8 hours, or overnight. This allows the bread to absorb the custard.
Make topping.  The Pecan Praline makes this French Toast Bake so PLEASE don't skip it – and it's easy too! Simply add pecans to a medium bowl and add 2 tablespoons maple syrup and 1 teaspoon vanilla; toss to evenly coat. Add butter, brown sugar, cinnamon and nutmeg to food processor and pulse until it resembles coarse pebbles. Add brown sugar mixture to pecans and toss to evenly combine.
Bake.  Bake French Toast Bake uncovered at 350 degrees F degrees (175 degrees C) for 30 minutes then flip over all the slices of bread. Spoon Praline Topping evenly over each slice of bread and bake for an additional 20 minutes and watch the pecans roast and the buttery brown sugar seep into each slice of heaven.
RECIPE TIPS FOR FRENCH TOAST CASSEROLE
Dry out bread:  I cut my bread into thick slices cubes when I first buy it, then let the bread dry out on my counter for two days.
Quickly dry out bread:  If you don't have time for day old bread, you can buy fresh bread, slice it, spread it out on a baking sheet and bake at 350 degrees F for about 20 minutes or until stale.
Use correct ingredients: sturdy bread (NOT sandwich bread), half and half (NOT MILK), and pure maple syrup (NOT imitation) are required for the best French Toast Bake.
Make ahead:  The Topping can be made the night before then refrigerated separately from the French Toast Bake OR you can make it the morning of.
No food processor:  If you don't have a food processor, add topping ingredients to a mixing bowl and cut butter into brown sugar with pastry cutter, 2 forks, etc.
WHAT WENT WRONG IF MY FRENCH TOAST BAKE IS SOGGY?
If your French Toast Bake is soggy, there could be a few culprits:
you did not use enough bread AKA correct pan size
the bread was too soft to absorb the egg custard
you used milk instead of half and half so the custard was runny
the casserole sat too long
To prevent soggy French Toast Bake:
double check you are using the correct pan size and fill it to capacity with bread
make sure your bread is STALE like croutons
only use half and half
before you bake your French Toast Bake, inspect to see if most of the custard is absorbed, if not, pour off all but about half a cup or so.
WHAT TO TOPPINGS FOR FRENCH TOAST BAKE?
This French Toast Bake is delicious all on its own with the brown sugar, pecan topping BUT I also love pairing it with:
syrup: maple, strawberry, blueberry, raspberry
fresh whipped cream
fruit: blueberries, raspberries, strawberries, peaches
WHAT TO SERVE WITH FRENCH TOAST BAKE?
This French Toast Bake is delicious with just a simple sides of scrambled eggs and fresh fruit.  If you want to make them part of a breakfast feast, serve them with: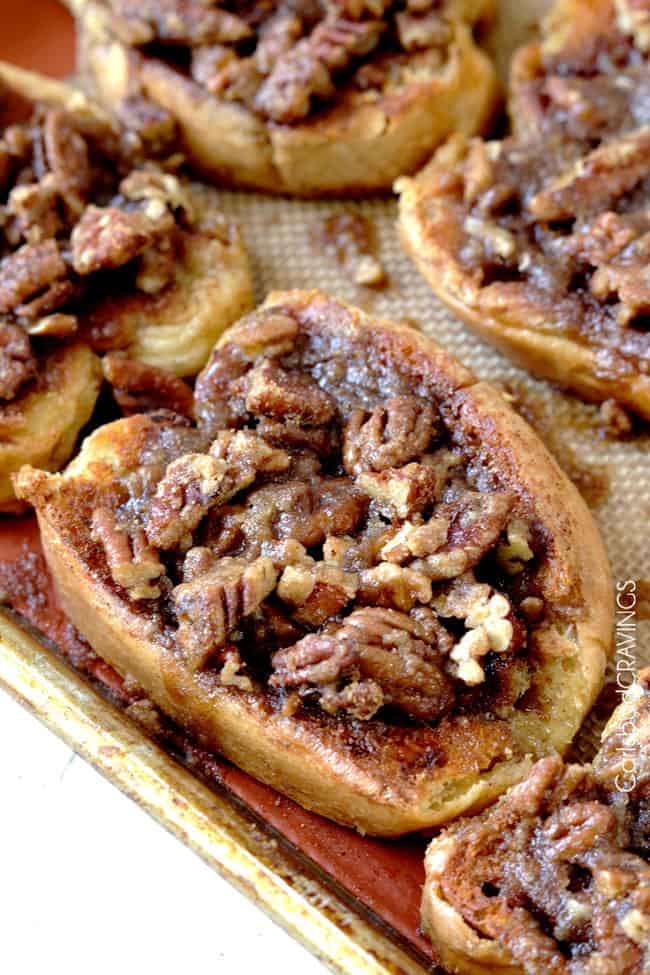 HOW LONG IS FRENCH TOASTS BAKE GOOD FOR?
French Toast Bake should be tightly covered or stored in an aright container.  When properly stored, it is good for up to 5 days.
CAN I MAKE FRENCH TOAST BAKE AHEAD OF TIME?
Absolutely!  This French Toast Bake is meant to be a make ahead casserole OR you may also prep it in stages:
Make All ahead:  French Toast Bake is best if assembled (without topping) and allowed to soak in the fridge overnight. 
Topping: I also make the topping the night before and store in the refrigerator in a separate airtight container. 
French Toast Batter: If you're not ready to make the French Toast Bake, you can still whisk together the batter ingredients, cover and store in an aright container in the refrigerator for up to 5 days.
Everything Else:  while the French Toast Bake is in the oven, you can prep any additional sides such as fruit, eggs, etc.
HOW TO REHEAT FRENCH TOAST BAKE?
You can reheat leftover French Toast Bake two ways:
Microwave:  The microwave is good for instant pleasure and individual pieces but you will loose some of the structural integrity of the French Toast.  To microwave, add individual slices to a microwave safe plate and microwave for 30 seconds.  Continue to microwave at 15 second intervals if needed to heat through.
Oven.  Reheating leftover French Toast Bake in the oven is preferred when rehearing several slices and will will yield the best results.  Cover the baking sheet with foil and bake at 325 degrees F for 20 minutes or until warmed through.
HOW TO FREEZE FRENCH TOAST BAKE
You can freeze your French Toast Bake before or after baking.  Both options work great, and adds to the easiness and flexibility of this tasty recipe.
TO FREEZE BEFORE BAKING:
Assemble your French Toast Bake in a freezer safe dish but do not add topping.
Tightly wrap casserole in plastic wrap a couple times followed by foil.
Make the topping and transfer it to a freezer bag to freeze.
Freeze French Toast Bake and topping separately for up to 2 months.
When ready to cook, thaw casserole and topping completely in the refrigerator, this may take up to 48 hours.
Bake per recipe instructions.
TO FREEZE AFTER BAKING:
Allow casserole to cool completely.
Tightly wrap casserole in plastic wrap a couple times followed by foil.
Freeze French Toast Bake for up to 3 months.
When ready to cook, thaw overnight casserole completely in the refrigerator, this may take up to 48 hours.
Bake per recipe instructions.
Looking for more Breakfast Recipes?
Carlsbad Cravings© Original
NEVER MISS A CARLSBAD CRAVINGS CREATION:
You might also like these Breakfast Recipe Favorites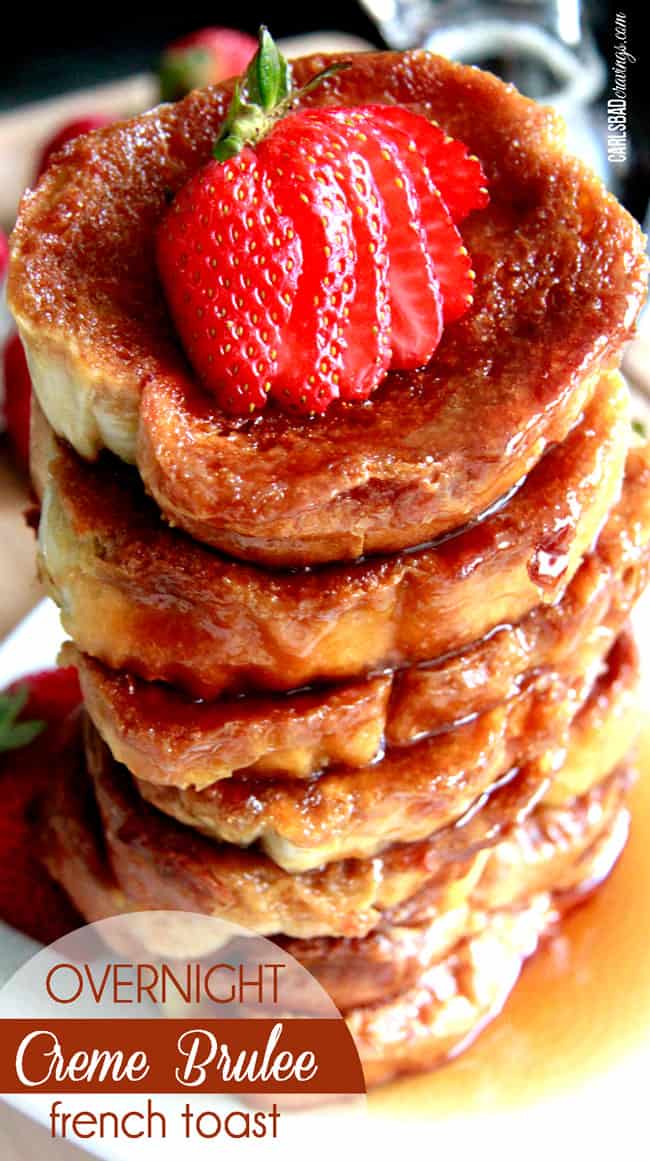 Angel Food Cake French Toast with Cream Cheese and Strawberry Syrup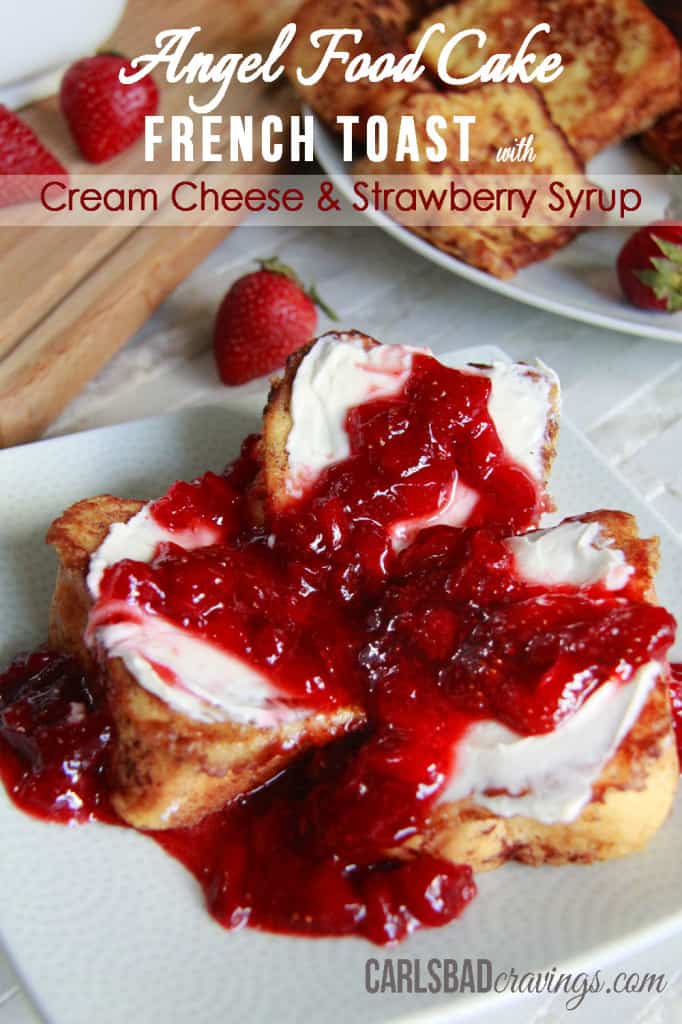 Brown Sugar Carrot Cake Crepes with Cream Cheese Filling and Blueberry Sauce