French Toast Muffins are an irresistible STRESS FREE make-ahead breakfast your whole family will love!
There's French Toast Muffins and then there's these PEACHES AND CREAM French Toast Muffins! These French Toast Muffins are bursting with sweet peaches, crowned with cinnamon streusel, doused with syrup and topped with luscious cream! They may look deceptively gourmet but are super easy to make! All the French Toast Muffin ingredients are combined in one bowl then baked in muffin tins for an easy, "insanely delicious" new breakfast tradition.
French Toast Muffins Recipe
These French Toast Muffins were rated "insane" by my food critic, husband, Patrick.  Even the microwaved leftovers had him repeating, "insane, insane, insane."  And as I explained in my "insane" Scalloped Potatoes and Bacon Au Gratin, "insane" is a very, very good thing.  Its a recipe that is so crazy good that it blows your mind.  You don't want to stop eating after 2 muffins, 3 muffins, 4 muffins…
This French Bread Muffin recipe is also insanely easy to make.  Simply whisk together your batter ingredients, add your glorious peaches and bread and let it drink up all the cinnamon goodness for a couple hours up to overnight – making it the perfect easy make ahead breakfast.  You can even make the streusel topping and cream topping ahead so when you are ready to eat, all you have to do is pop these babies in the oven.  It will be the longest 25 minutes of your life – but SO worth it!
WHAT BREAD IS BEST FOR FRENCH TOAST MUFFINS?
I chose French Bread for these French Toast Muffins because every grocery store carries French bread and it's the most economical.  The general consensus, however, is there are four winners for the BEST bread to use for French Toast Muffins:  French Baguette,  Brioche, Challah and Texas toast. If you want an instant upgrade to your dish, I suggest trying one of the latter – but they are all fabulous.
HOW DO I MAKE GLUTEN-FREE FRENCH TOAST MUFFINS?
You can make Gluten-Free French Toast Muffins by swapping out the bread for your favorite thick gluten-free bread. Its as easy as that!
How to Prevent Soggy FRENCH TOAST MUFFINS
I've seen "French Toast Muffins" around the internet for a while now, but I was kind of wary about them because I don't like soggy French toast – at all. But these little morsels aren't soggy at all but a bundle of French Toast deliciousness!
The trick I discovered is to use 2 day old French bread that you cut up when its fresh and let sit for a couple of days so it becomes a little stale.
Or you can make it stale by spreading your bread cubes on a baking sheet and bake for about 20 minutes to get them nice and dried out. No more soggy French Toast Muffins!
Best Batter for French Toast Muffins
The French Toast Muffin batter is the same batter I  use in my Creme Brulee French Toast (another insane recipe if you haven't tried it) which boasts hints of molasses, orange extract, vanilla and cinnamon so the muffins themselves are seeping with flavor and peaches!  
The sweet, smooth, delicate peach morsels get mixed right into the batter so they bake into the muffins for bursts of sweet peach glory.
French Toast Muffin Variations
If peaches aren't your thing, you make make these French Toast Muffins plain or you can fold in fresh strawberries, raspberries or blueberries. But at some point, I HIGHLY encourage you to try them with peaches – they are my favorite add-in I've tried.
Best Topping for French Toast Muffins
And no insane French Toast Muffin recipe would be complete without a killer Cinnamon Brown Sugar Streusel topping! 
The topping is super easy to make, simply add all the ingredients to your food processor and pulse a couple times – love this 10 second method. If you don't have a food processor, you can cut the butter in with two forks or a pastry cutter – no problem.
What To Serve with French Toast Muffins
Sprinkle the pale streusel over the French Toast Muffins and watch it transform into golden, crystallized brown sugar topping just begging to be drowned in:
syrup
freshly whipped, velvety, fluffy, sweet cream
more silky sweet peaches
You may also top French Toast Muffins with other fruits such as blueberries or strawberries
SIDES
These French Toast Muffins can be a meal in themselves or serve with simple sides of scrambled eggs and fresh fruit. If you want to make them part of a breakfast feast, serve them with:
HOW TO MAKE FRENCH TOAST MUFFINS
Prepare bread. Slice and cube up your 2-day-old bread and place into a large bowl.
Make French Toast Batter. Mix eggs, cream, milk, sugar, syrup, vanilla extract, orange extract and cinnamon together in a bowl.
Fold in bread and peaches. Mix peaches into batter then gently fold bread into mixture with your hands, just until bread is evenly coated.
Chill. Cover and refrigerate for 2 hours up to overnight.
Assemble. Evenly divide bread/peach mixture between greased muffin tins, pushing mixture down into the tins as needed. Set aside.
Make streusel. Combining sugar, flour, cinnamon, and butter, in a medium bowl. Cut in the butter with pastry cutter, 2 forks, OR (my favorite method) place mixture in food processor and pulse until the mixture is crumbly. Spoon topping evenly over muffins.topping spoon over cubed bread in tins.
Bake. Bake muffins for 25-30 minutes until tops are golden.
Serve. Serve with syrup, cream and garnish with additional peaches.
Can I make French Toast Muffins Ahead of Time?
Absolutely! French Toast Muffins are the perfect make ahead breakfast for special occasions or whenever you want a stress free breakfast!
French Toast Batter: French Toast Muffins are best if the batter, bread and peaches are allowed to soak in the fridge overnight.
Streusel: I also make the streusel the night before and store in the refrigerator in a separate airtight container.
Whipped Cream: while the saturated bread cubes are coming to room temperature before baking, you can make the fresh whipped cream in minutes.
Everything Else: while the muffins are baking, you can prep any additional sides.
HOW LONG ARE OVERNIGHT FRENCH TOAST MUFFINS GOOD FOR?
French Toast Muffins should be tightly covered or stored in an aright container. When properly stored, French Toast Muffins are good for up to 5 days.
HOW TO REHEAT FRENCH TOAST MUFFINS?
You can reheat leftover baked French Toast Muffins two ways:
Microwave: The microwave is good for instant pleasure and individual muffins but you will lose some of the crunchiness of the muffins. To microwave, place muffins on a microwave safe plate and microwave for one minute. Continue to microwave at 15-second intervals if needed to heat through.
Oven. Reheating leftover French Toast Muffins in the oven will yield the best results. Cover muffins with foil and bake at 325 degrees F for 10 minutes or until warmed through.
HOW TO FREEZE FRENCH TOAST MUFFINS
You can freeze your French Toast Muffins before or after baking. Both options work great, and adds to the easiness and flexibility of this tasty recipe.
TO FREEZE BEFORE BAKING:
Assemble your French Toast Muffins in the muffin tray but do not add topping.
Tightly wrap tin in plastic wrap a couple times followed by foil.
Make the topping and transfer it to a freezer bag to freeze.
Freeze French Toast Muffins and topping separately for up to 2 months.
When ready to cook, thaw Muffins and topping completely in the refrigerator, this may take up to 12 hours.
Bake per recipe instructions. 25 to 30 minutes at 350 degrees F.
TO FREEZE AFTER BAKING:
Allow French Toast Muffins to cool completely.
Tightly wrap muffins in plastic wrap a couple times then place in a freezer size plastic bag.
Freeze French Toast Muffins for up to 3 months
When ready to eat, thaw muffins completely in the refrigerator, this may take up to 12 hours.
Cover muffins with foil on a baking sheet and bake at 325 degrees F for 10 minutes or until warmed through.
Looking for more French Toast Recipes?
Want to try this French Toast Muffin Recipe?
Pin it to your BREAKFAST, BREAD or DESSERT Board to SAVE for later!
Find me on Pinterest for more great recipes! I am always pinning :)!
©Carlsbad Cravings by CarlsbadCravings.com
 Carlsbad Cravings© Original 
 Never miss a Carlsbad Cravings Creation:
You might also like:
Cream Cheese Stuffed Banana Bread Coffee Cake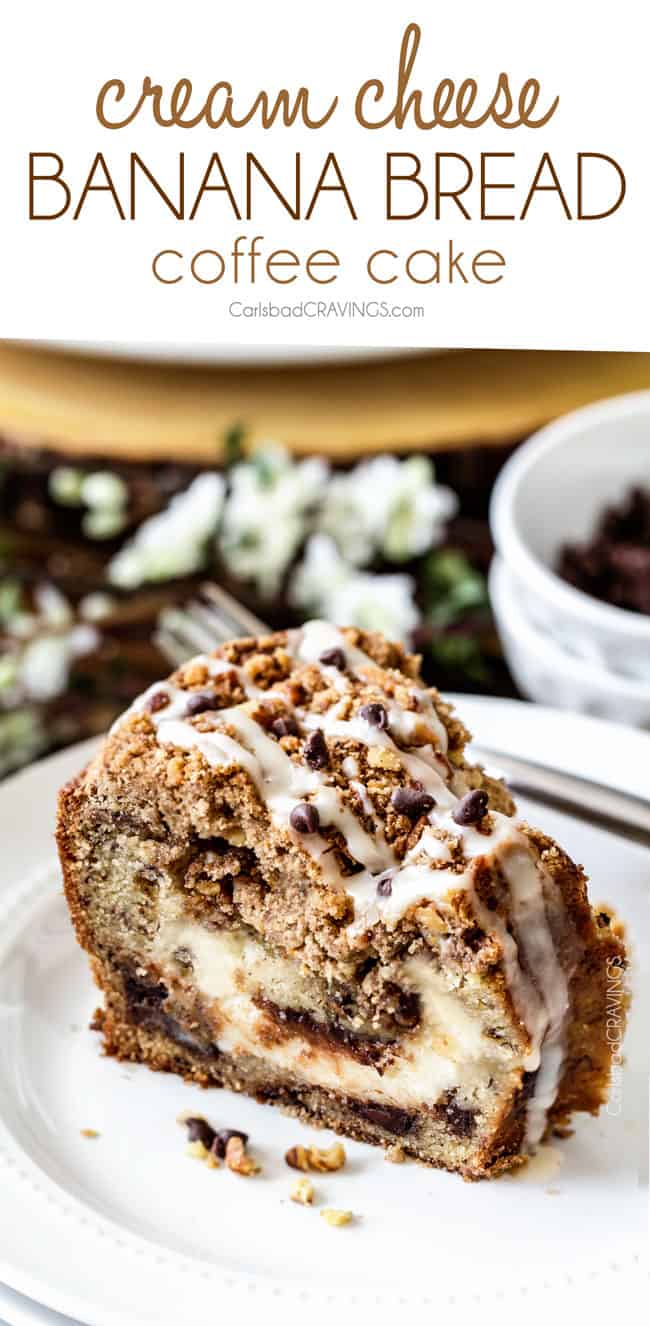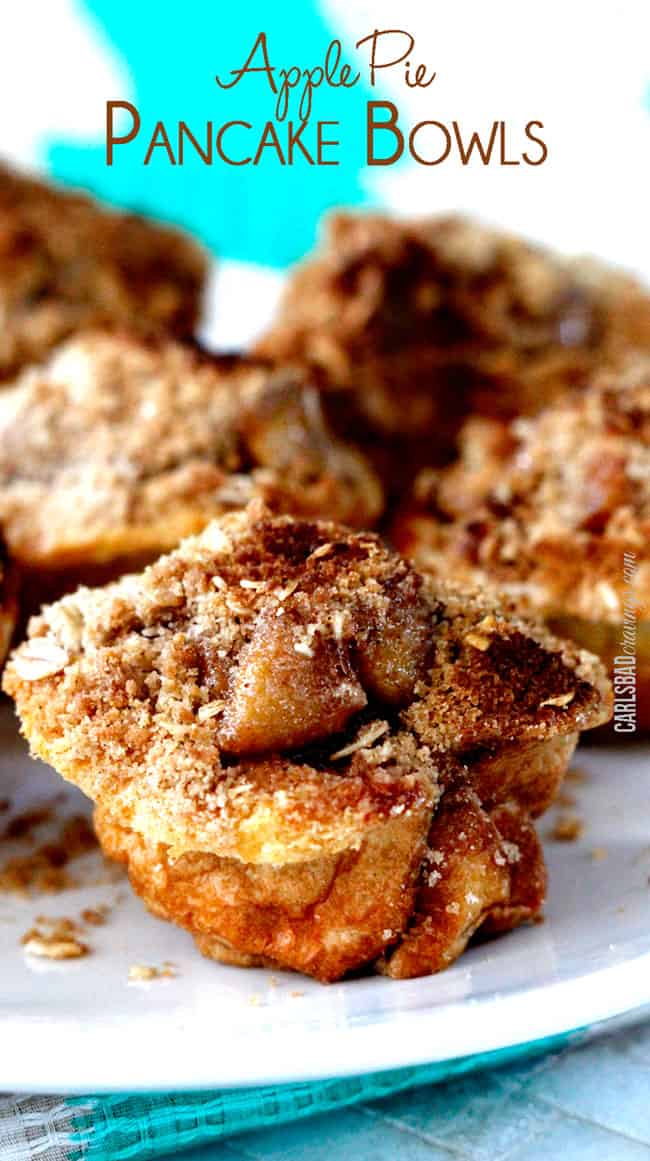 Strawberry Cheesecake Pancakes