Blueberry Sauce made with fresh blueberries on your table in 10 minutes!
This Blueberry Sauce turns everything it touches into foodie gold. Just imagine sweet and Fresh Blueberry Sauce or Syrup drenching your pancakes, cheesecake etc. Drool. Seriously, this recipe is priceless.
How to make Blueberry Sauce Video


What Readers are Saying About this Blueberry Sauce Recipe
"My favorite cheesecake topping!" Via Pinterest
"Sooooo good!" – Lindsey
"My ENTIRE family LOVED this! We joked that it would have been phenomenal, even on a flip flop! I bought a plain cheesecake, invested 10 min into this sauce, and I had a hard time convincing the family that it wasn't all homemade! This was a quick and very easy way to elevate just a store bought cheesecake to be in the same caliber of homemade!… This is a homerun of a recipe and I will be using it forever!!!!" – Becky
"LOVE this blueberry sauce. It's my fave recipe for topping pancakes, or cheesecake as another reviewer said. Today I am topping a simple lemon pound cake I made with this delicious topping." – Joyce
About Blueberry Sauce
Ever since I shared my Strawberry Syrup with you guys, I've been eager to share this incredible Blueberry Sauce with you. Its been a long wait. And although blueberry season doesn't technically start until May, I thought I would give you the chance to plan your Mother's Day breakfasts, desserts, etc. around this blueberry bliss because its kind of like one of the best blueberry anything ever. I'm so obsessed with it, I've already made a Blueberry Cheesecake that is a MUST MAKE recipe using this Blueberry Sauce.
Why you'll love this recipe:
Quick: Blueberry Sauce comes together in less than 10 minutes on the stove top. The sauce reduces, thickens and softens the blueberries to the point some of them burst, releasing their vibrant juices.
Minimal ingredients: Blueberries, orange juice, lemon juice, sugar, and cornstarch are all you need to make your taste buds sing.
Delicious: This Blueberry Sauce is fresh, sweet and simple with a splash of citrus to enhance the blueberry flavor and sugar to enhance the natural sweetness. It's a sweet tangy blueberry explosion in every bite. Even mediocre or not quite ripe blueberries will transform into a thing of beauty in this Fresh Blueberry Syrup recipe.
Easy to scale and store: You can scale this Blueberry Sauce recipe up or down, store it in the freezer and I've given tips and tricks how to customize the consistency and sweetness below.
Quick Dessert Tip:
If you're looking for an effortless dessert, purchase a store bought cheesecake, angel food cake or pound cake and top it with this homemade Blueberry Sauce and you will be the hero of the day!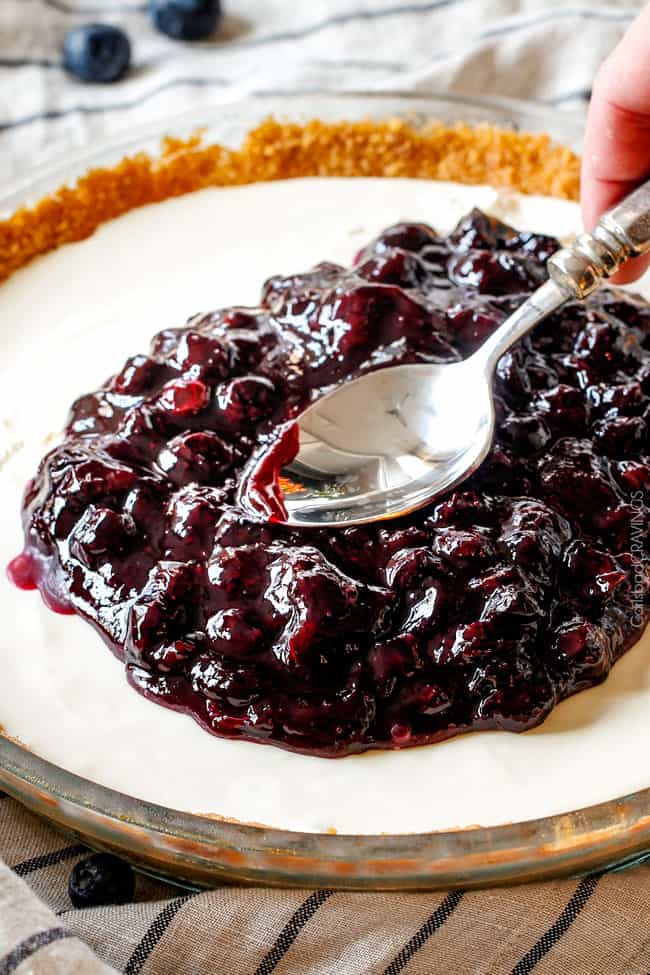 What Can I serve with Blueberry Sauce?
Blueberry Sauce is wonderfully versatile. It can be served as a sauce or not simmered as long and be used as a syrup. If you don't immediately drink this blueberry bliss to oblivion, you can use it as a syrup or sauce to douse cheesecake or any other dessert or pancakes. Some of my favorite foods to serve with Blueberry Sauce are:
ice cream
pound cake
angel food cake
scones
panna cotta
oatmeal
Greek yogurt
cottage cheese
cream cheese
toast
crackers
Blueberry syrup ingredients
Blueberries: Use fresh or frozen (thawed) blueberries. You will need a total of 18 ounces which is three half pint (6 ounce) containers.
Orange juice: Enhances the freshness of the blueberries and is far more flavorful than just using water. Freshly squeezed is always best but you can use premade 100% orange juice.
Lemon juice: Adds the pop of tanginess so the sauce isn't too sweet. After the blueberry sauce simmers, you can add lemon zest as well if you would like it tangier.
Sugar: Granulated sugar is what turns the blueberries into a syrup. It is also needed to balance the tartness in the recipe.
Vanilla: A little vanilla extract rounds out the flavors.
How do I make Blueberry Sauce?
To make this Blueberry Sauce or Syrup all you need is 10 minutes and the patience to let your ingredients simmer.
Step 1:
Add orange juice, lemon juice, sugar and cornstarch to a sauce pan. Whisk until the cornstarch is completely dissolved.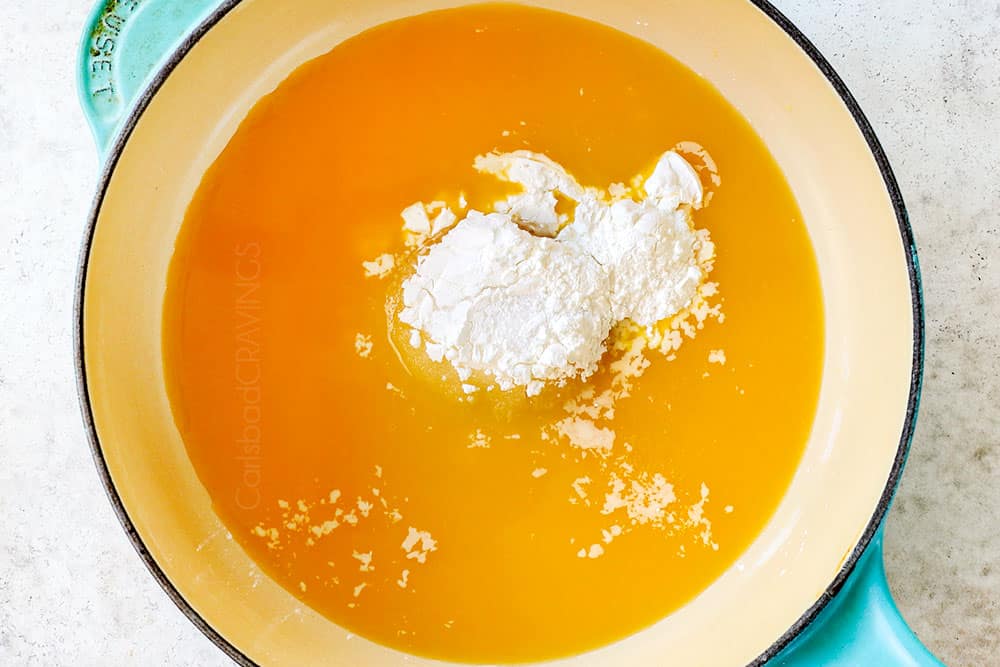 Step 2:
Bring ingredients to a boil for 5 minutes until thickened to a syrup like consistency.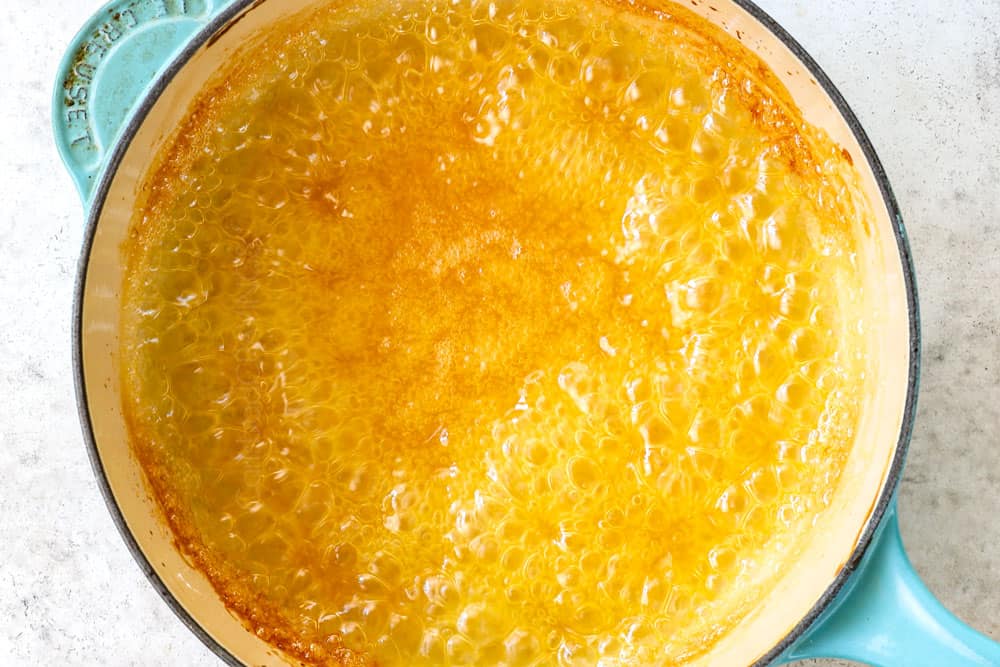 Step 3:
Add blueberries and let them simmer for 5-7 minutes or until a few of them burst.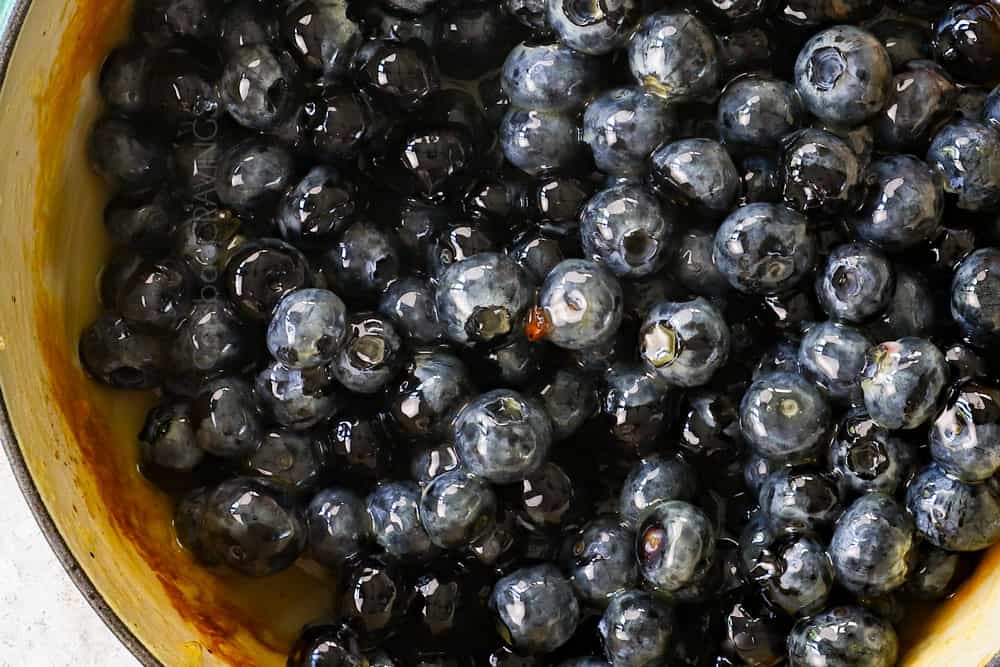 Step 4:
Stir in some lemon zest if you want tangier Blueberry Sauce. The sweetness of the sugary blueberries with the fresh lemon is divine. And that's it!
How do I thicken Blueberry Sauce?
To thicken Blueberry Sauce, continue to simmer until it reduces to your desired consistency.
How do I thin Blueberry Sauce?
After you have simmered your Blueberry Sauce, taste and decide if you would like it tangier or to taste the same. If you would like it tangier, then thin with a little orange juice. If you would like it the same, then thin with a little water. Take care to add additional liquid a little at a time.
How Do I Make Blueberry Sauce Sweeter?
After the Blueberry Sauce has simmered, whisk in additional sugar and simmer a minute or so until it dissolves.
How do you make blueberry sauce less sweet?
After the Blueberry Sauce has simmered, add additional orange or lemon juice, a little at a time.
Can I use Frozen Blueberries?
Yes! Frozen blueberries work fabulously in this recipe! Thaw them first then proceed with the recipe.
Can I use Different Berries in this Blueberry Sauce?
Yes! You can use a combination of berries but if you use raspberries, blackberries, etc. you may wish to strain the seeds with a fine mesh sieve.
Does Blueberry Sauce need to be refrigerated?
Blueberry Syrup and Blueberry Sauce should be stored in an airtight container in your refrigerator.
How long does homemade blueberry syrup last?
Blueberry Syrup and Sauce will last for one week if stored when stored in an airtight container in the refrigerator.
Can blueberry syrup be frozen?
Yes! Transfer Blueberry Syrup to an airtight container and freeze for up to 3 months. Thaw in the refrigerator overnight.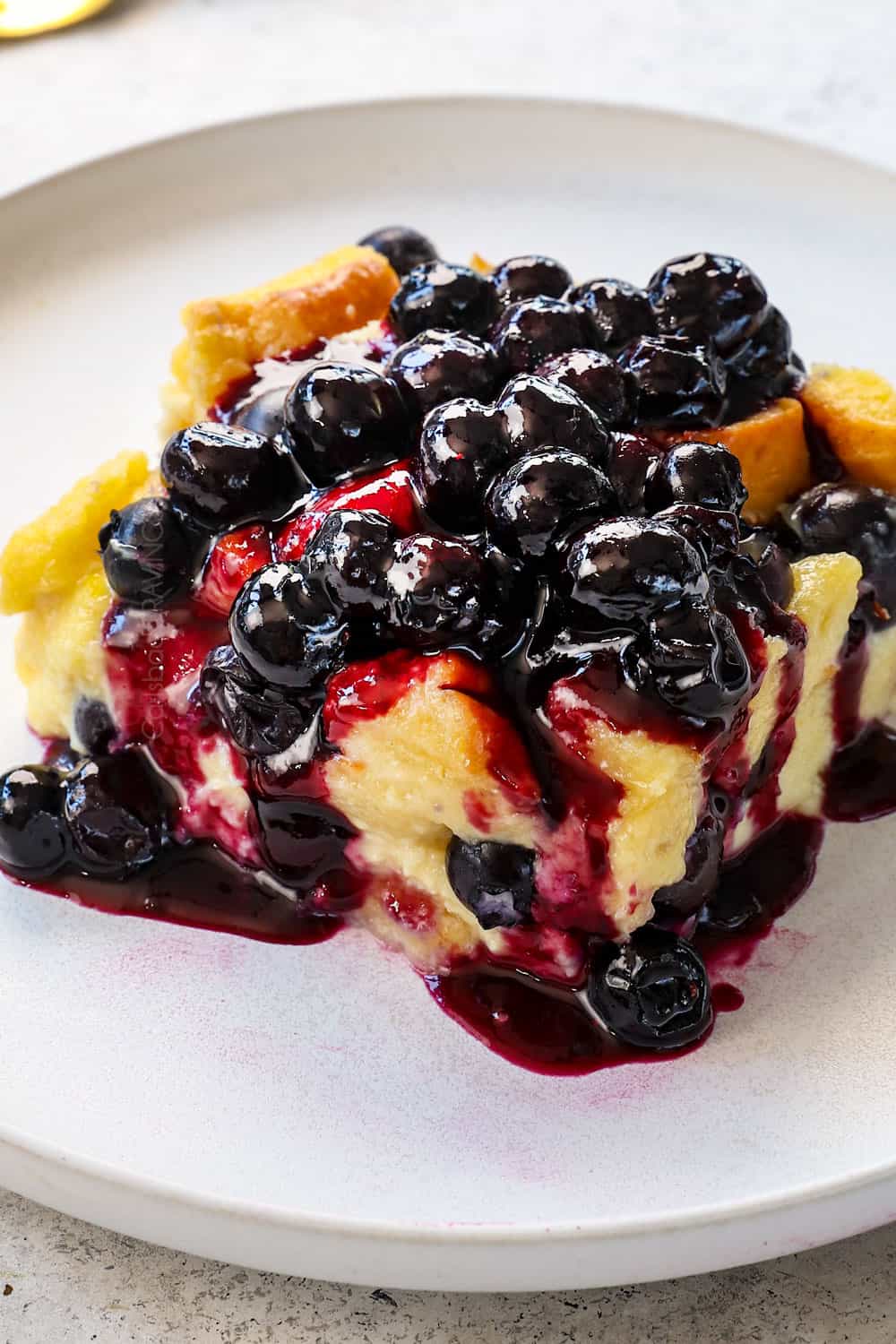 Want to try this Blueberry Sauce Recipe?
Pin it

to your CONDIMENTS or SUMMER Board to SAVE for later!
Find me on Pinterest

for more great recipes! I am always pinning :)!
©Carlsbad Cravings by CarlsbadCravings.com
Looking or More Blueberry Recipes?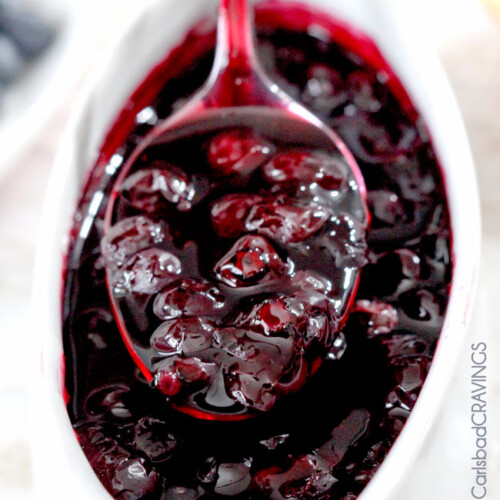 Fresh Blueberry Sauce or Syrup
10 Minutes to the BEST Blueberry Sauce or Syrup ever! Amazing on cheesecake, pancakes, crepes, French Toast, etc. and SO EASY!
Save This Recipe To Your Recipe Box
You can now create an account on our site and save your favorite recipes all in one place!
Ingredients
1/2

cup

freshly squeezed orange juice

(approx. 3 oranges)

2

tablespoons

freshly squeezed lemon juice

2/3

cup

granulated sugar

1

tablespoon +1 teaspoon

cornstarch

3

half-pints fresh blueberries

(6 oz. is a half-pint)

1/2

teaspoon

vanilla extract

lemon zest from 1-2 lemons

(optional)
Instructions
Add orange juice, lemon juice, sugar, and cornstarch to a medium saucepan, whisk until cornstarch is dissolved and bring to a boil, stirring occasionally.

Boil approximately 5 minutes, or until thickened then add blueberries and simmer 5 minutes or until a few berries have burst but most are still whole. Stir in vanilla.

Taste and add lemon zest from 1 lemon if desired for more tang.

Serve immediately for warm syrup/sauce or chill in the refrigerator in an airtight container for cheesecake topping. Blueberry Syrup will thicken as it chills.
Did You Make This Recipe?
Tag @CarlsbadCravings and Use #CarlsbadCravngs
Leave a Review, I Always Love Hearing From You!
Carlsbad Cravings Original