OLD BAY SHRIMP IS IS JUICY, FLAVORFUL AND ON YOUR TABLE IN LESS THAN 30 MINUTES!
This Old Bay Shrimp can be made on the grill or stove top (recipe instructions for both), served hot or cold and is super simple to make! Most of the prep time is marinating then its a quick cook and serve! Old Bay Shrimp can be served as an appetizer with my fabulous homemade Cocktail Sauce or add some sides and call it dinner.
I am sooo in love with shrimp for not only its juicy delish factor but because its the quickest, easiest protein to make on the planet! Some of my favorite shrimp recipes include Sheet Pan Shrimp Scampi, Cilantro Lime Shrimp Tacos with Mango Salsa, Lemon Garlic Shrimp Fettuccine, Kung Pao Shrimp and now this Old Bay Shrimp! All we do is toss shrimp in some Old Bay Seasoning, butter, and garlic and you have fresh, hot, plump, dynamic can't stop-eating shrimp that tastes gourmet with minimal effort!
WHAT IS OLD BAY SHRIMP?
Old Bay Shrimp is shrimp cooked with Old Bay seasoning. If you aren't familiar with Old Bay Seasoning, its a world famous, top secret spice blend of rumored 18 herbs and spices that pairs deliciously well with seafood.
It is produced in the Chesapeake Bay area where it was developed by German immigrant Gustav Brunn in 1939 and was later purchased by McCormick in 1990 (and no, this is not a sponsored post, I just love Old Bay seasoning). It is named for the Old Bay Line, a passenger ship that sailed between Baltimore and Norfolk Virginia at the time.
During the 1930s, crabs were so plentiful in Baltimore, Maryland that bars actually offered them for free! In order to not only season the crabs, but to encourage patrons to purchase more beverages, several salty crab seasonings were created, including Old Bay Seasoning. Old Bay is one of the surviving spice mixes of that era. Who knew?!
Old Bay Shrimp Recipe
Often Old Bay Shrimp is boiled/steamed in its shell along with Old Bay Seasoning, beer and water but I wanted to create a quick stir fried or grilled version to minimize the work and maximize the freshness, and a recipe that doesn't require your family and guests to have to "peel and eat."
Instead, I used large shrimp that has been peeled and deveiened to cut down on prep time. And bonus, by using defrosted frozen shrimp, you can make this Old Bay Shrimp whenever the cravings strike! Or whenever you want a 30 minute dinner, in which only 20 minutes of that time is hands off marinating!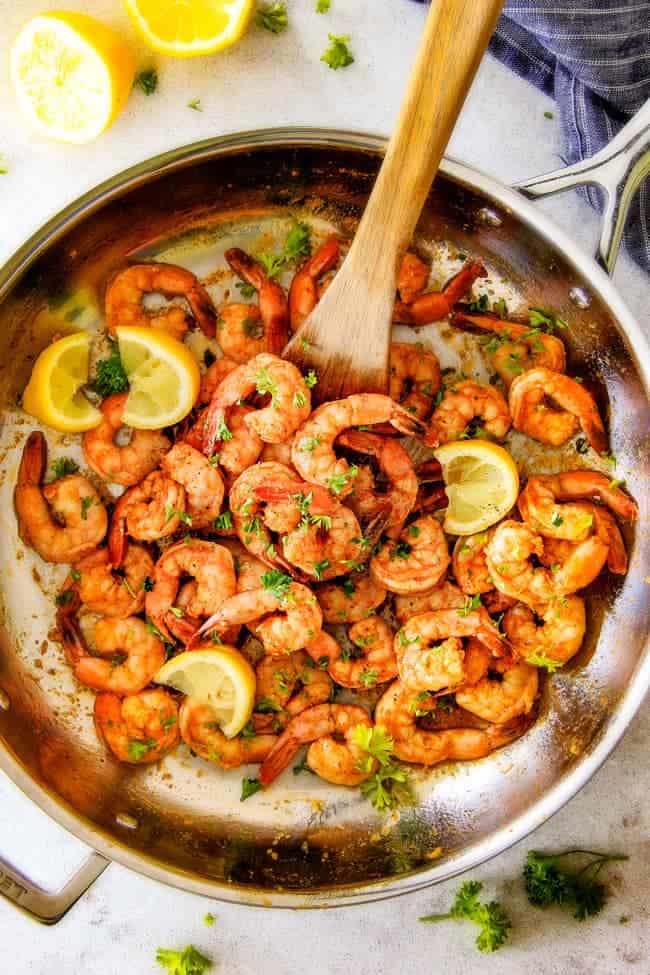 CAN I MAKE MY OWN OLD BAY SEASONING?
This Old Bay Shrimp isn't called Old Bay Shrimp for nothing -it is ALL about the complex spice blend! There are many "copycat, do it yourself" Old Bay seasoning mix recipes out there, but Old Bay survived since 1939 for a reason. In my opinion, Old Bay seasoning isn't like making your own taco seasoning, after all, it does boast 18 different herbs/spices such as paprika, celery salt, bay leaves, thyme, cayenne, dry mustard, nutmeg, cinnamon, cloves, etc.
So if you don't own the bright yellow can with a bold blue stripe, then I suggest investing in some. Not only does it go great with anything seafood and produce stellar Old Bay Shrimp, but add a sprinkle to French fries, chicken, hamburgers and sandwiches, dips, potatoes, veggies, pizza, popcorn, eggs, soups and immediately delishify your plate!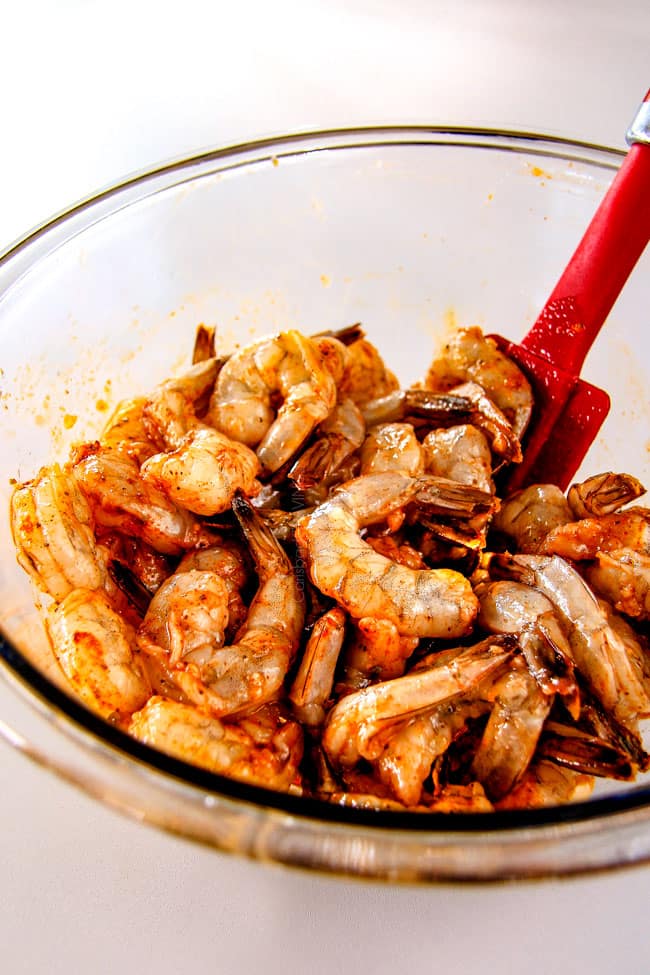 HOW TO DEFROST SHRIMP
For this Old Bay Shrimp recipe, you will want to use defrosted (or fresh), peeled and deveined shrimp. There are two options for defrosting your shrimp:
To quickly defrost shrimp: place the frozen shrimp into in a fine-mesh sieve or colander. Place this sieve in a large bowl of cold tap water for 10 minutes. After 10 minutes, replace the water in the bowl with new cold tap water and resubmerge the shrimp. Let shrimp sit an additional 10- 20 minutes. At this point the shrimp should be completely defrosted.
To defrost shrimp overnight: The easier way to defrost your shrimp (if you remember in advance) is to remove your frozen shrimp to a covered bowl and let them defrost in the refrigerator overnight.
Whatever you do, resist the urge to defrost your shrimp using warm tap water (and definitely NOT the microwave) as this will cause the shrimp to defrost and cook unevenly.
HOW DO YOU COOK OLD BAY SHRIMP?
To make this Old Bay Shrimp on the stove top, it starts with the best ever homemade cocktail sauce that also becomes part of your quick marinade. Once you try this homemade cocktail sauce, you will never be tempted to buy the store version again! Its a quick whisking of chili sauce (NOT the Asian sweet chili sauce I use all the time but the tomato based by Heinz), ketchup horseradish sauce, lemon juice, Worcestershire sauce and hot sauce to taste.
Add one tablespoon of this Cocktail Sauce to your shrimp along with olive oil, fresh garlic and Old Bay seasoning and let marinate 20-30 minutes. Next, saute your shrimp in some butter for literally 3 MINUTES and you have the quickest, easiest, tastiest appetizer in minutes OR add some veggies and rice/potatoes and you have a complete meal. Thank you Old Bay Seasoning, thank you.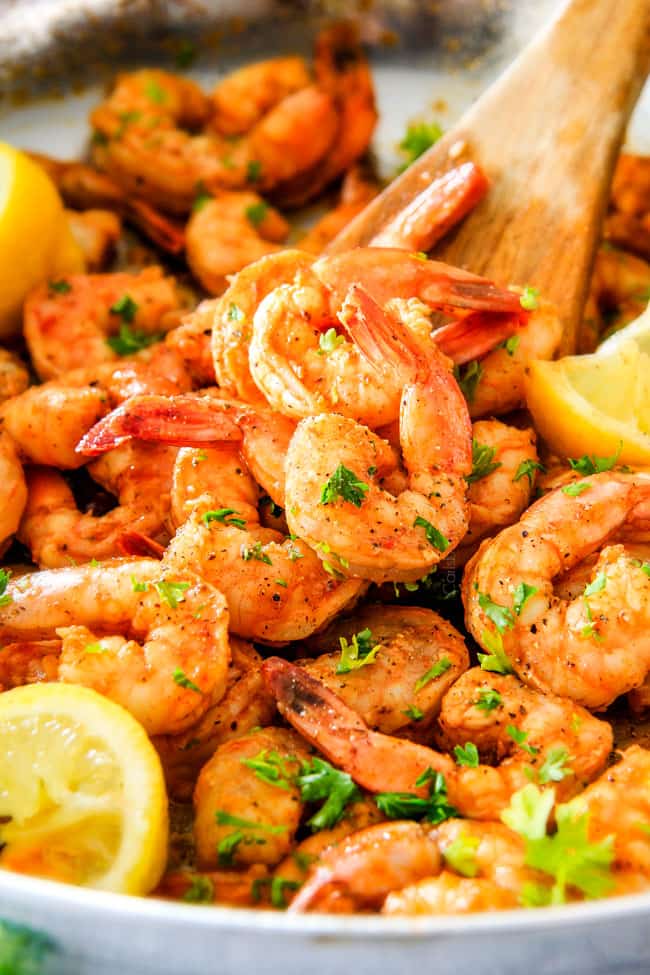 WHAT SHOULD I SERVE WITH OLD BAY SHRIMP?
You can turn this Old Bay Shrimp recipe into a complete meal by serving it with some stir fried veggies and rice or serving it with some of these sides: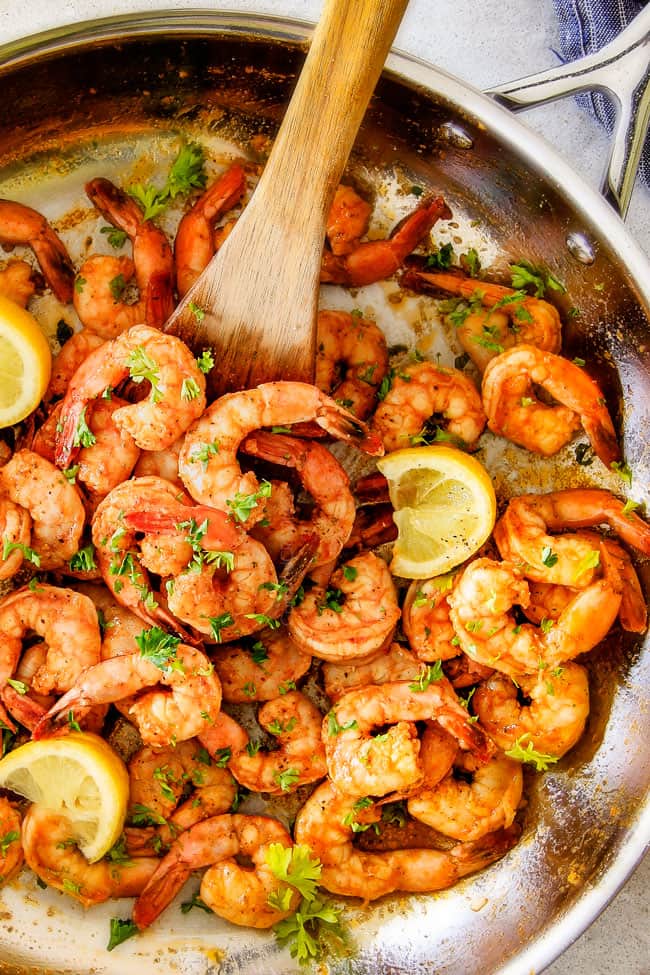 How do you make old bay shrimp salad?
This Old Bay Shrimp can also easily transform into a salad! To Make Old Bay Shrimp Salad, cook shrimp according to directions then cut shrimp into bite size pieces. Mix shrimp with:
¼ cup mayonnaise
2 tablespoons sour cream or Greek yogurt
½ cup diced celery
¼ cup diced red onion
2 tablespoons lemon juice
salt and pepper to tastes
pinch of cayenne
Old bay seasoning to taste
Cover and chill Old Bay Shrimp salad for at least two hours. The chilled salad is perfect for a light lunch or appetizer, It can be served over lettuce, in a lettuce wrap, or scooped onto crackers.
Looking for more shrimp recipes?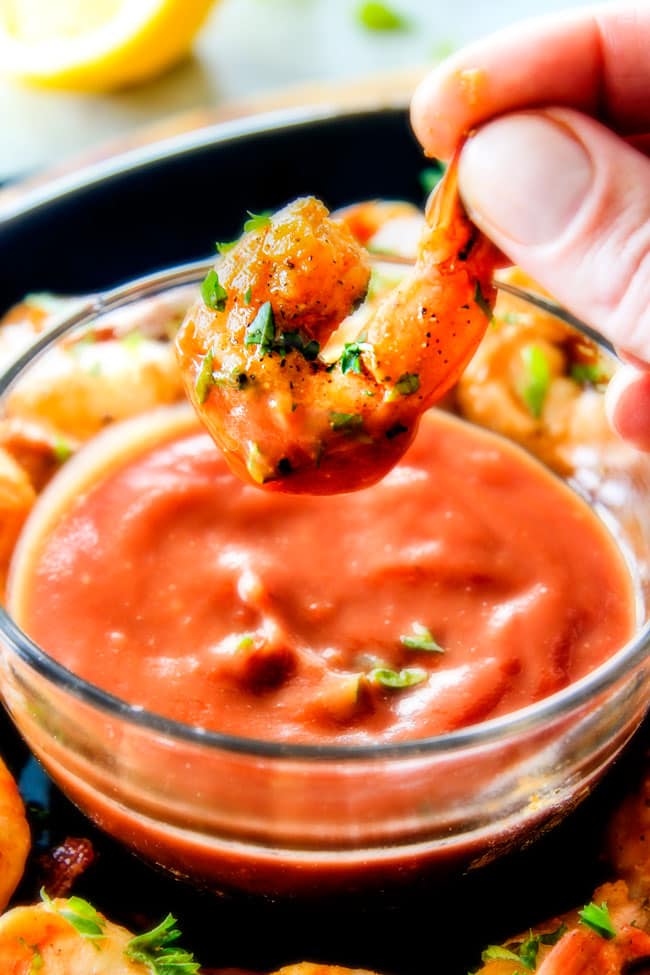 Want to try this Old Bay Shrimp Recipe?
Pin it to your SEAFOOD, GRILL, APPETIZER or 30 MINUTE MEALS Board to SAVE for later!
Find me on Pinterest for more great recipes!  I am always pinning :)!
©Carlsbad Cravings by CarlsbadCravings.com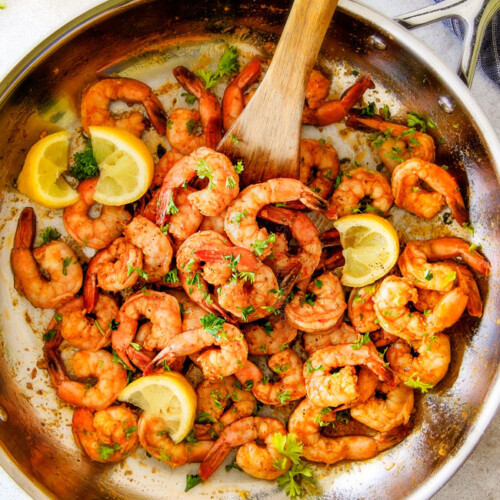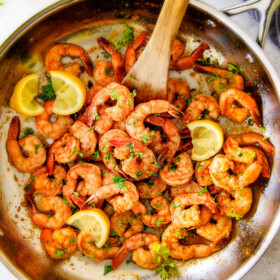 Old Bay Shrimp with Cocktail Sauce (Grill or Stove Top)
Old Bay Shrimp is is juicy, flavorful and on your table in less than 30 minutes! It can be made on the grill or stove top, served hot or cold and is super simple to make!  Old Bay Shrimp can be served as an appetizer with homemade Cocktail Sauce or add some sides and call it dinner!
Save This Recipe To Your Recipe Box
You can now create an account on our site and save your favorite recipes all in one place!
Ingredients
Instructions
Cocktail Sauce
Add all of the Cocktail Sauce ingredients to a medium bowl. Whisk to combine. Remove one tablespoon to a large bowl or freezer bag (for your shrimp marinade). Store the remaining Cocktail Sauce in the refrigerator.
Marinade
Add all marinade ingredients to 1 tablespoon cocktail sauce and whisk to combine. Add shrimp and stir until evenly coated. Marinate at room temperature for 20-30 minutes.
STOVETOP DIRECTIONS:
Melt 1 tablespoon butter over medium-high heat in a large skillet. Add shrimp and cook just until opaque, about 3 minutes. Season with additional salt and pepper if desired. Remove shrimp to a plate. NOTE: You will need to work in 2 batches unless you have an extra large skillet (as pictured in video) or your shrimp will steam instead of sauté.
GRILL DIRECTIONS:
NOTE: Soak wooden skewers for at least 30 minutes in water before grilling or broiling.

Thread shrimp onto skewers.

Grease grill and heat to medium high heat. Grill shrimp for 3-5 minutes on each side or just until shrimp has become pink and firm being careful to not overcook.

Remove shrimp from grill and generously brush with 1-2 tablespoons melted butter. Season with additional salt and pepper to taste if desired.
Did You Make This Recipe?
Tag @CarlsbadCravings and Use #CarlsbadCravngs
Leave a Review, I Always Love Hearing From You!
©Carlsbad Cravings Original