Mega flavorful Buffalo Chicken Dip-Stuffed French Bread is your favorite creamy, cheesy, decadent dip baked right into the loaf with three cheeses all topped with crispy bacon! Crazy delicious EASY crowd pleasing appetizer perfect for parties or game day! Everyone will be begging you to make this!
How to Make Buffalo Chicken Dip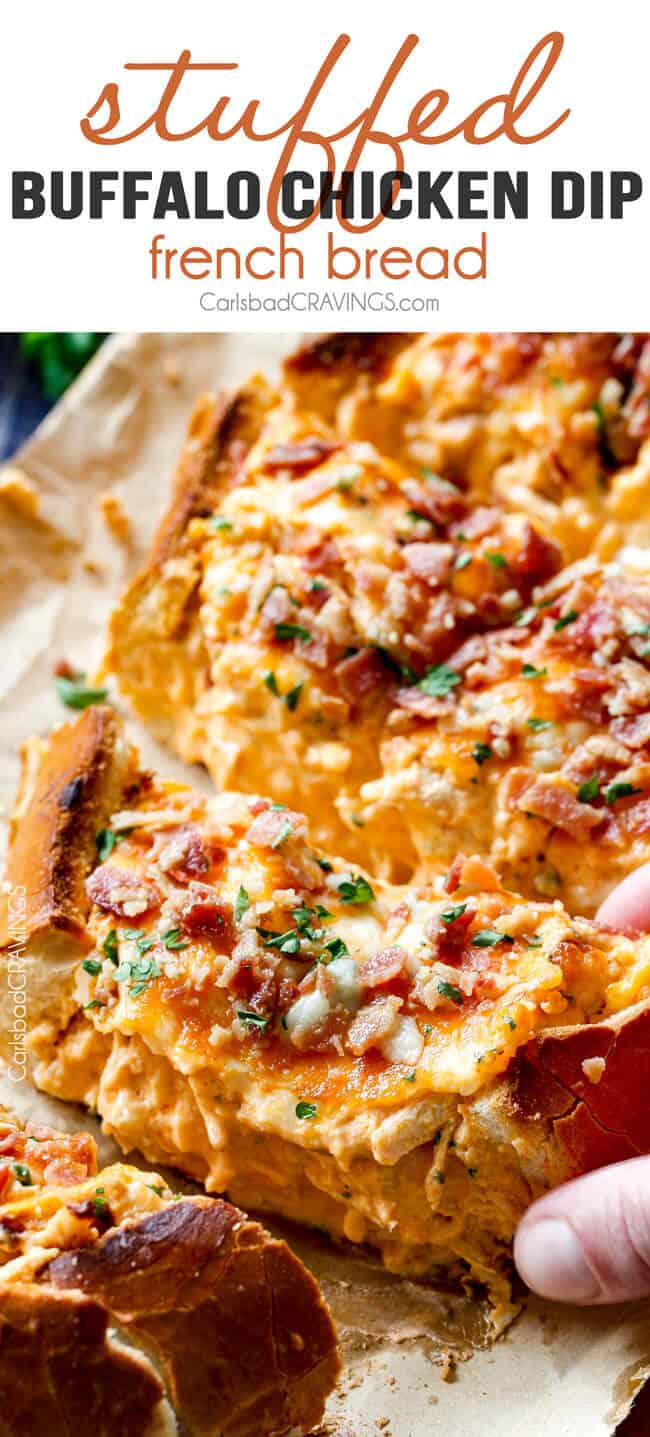 Baked Buffalo Chicken Dip Recipe
I don't know how Buffalo Chicken Dip first came about but I remember in 2004/2005 it seemed to be popping up at every party — with good reason. All variations of Buffalo Chicken Dip are creamy, cheesy and spicy. It kind of reminds me of my Jalapeno Popper Dip but with chicken.
As much as I love the Buffalo Chicken Dip, however, I found the dippers of baguette slices, crackers, celery, etc. were always just a vehicle to shovel this dip into my mouth — and in the meantime get almost as much dip on my hands as on the dippers. So I followed the lead of my Artichoke Dip Bites and Easy Spinach Dip Stuffed French Bread and decided to bake the dip right into the bread for the most delicious Buffalo Chicken Dip ever.
The base of the Buffalo Chicken Dip is the dreamy creamy trio of sour cream, mayonnaise and cream cheese. Instead of just one or the other, they are exponentially better together.
Instead of just a traditional flat buffalo sauce that's creamy and spicy, I replaced some of the hot sauce (I like Frank's RedHot Original for this recipe) with a rainbow of chili powder, cumin, smoked paprika, garlic powder and onion powder to give the dip multidimensional flavor (much like I do in my Baked Honey Buffalo Hot Wings). I also added some ranch seasoning for some tang, blue cheese crumbles for some more tang and freshly grated sharp cheddar and mozzarella for some mega cheesiness.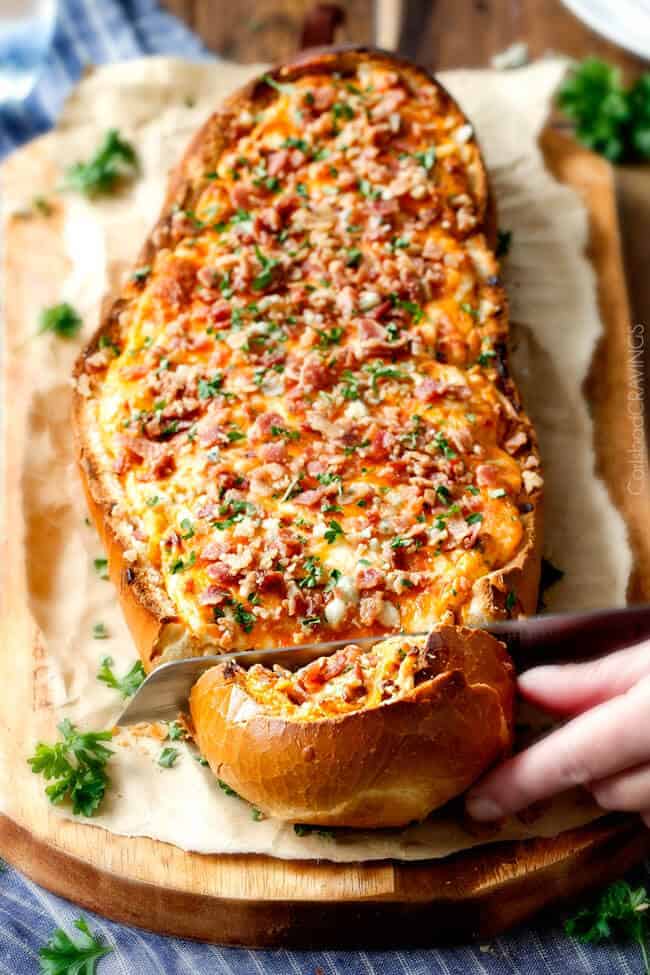 Baked Buffalo Chicken Dip Ingredients
This is a classic buffalo chicken dip with cream cheese, hot sauce, and shredded chicken. Here's everything you'll need to make this easy dip recipe:
French bread: You can use one large loaf or two smaller loaves.
Cream cheese: Make sure you soften your cream cheese well so it mixes easily.
Sour cream: The sour cream adds a wonderful creaminess that can't be beat. Full fat sour cream melts better, but you may use nonfat.
Mayonnaise: Adds a rich tang and melts beautifully.
Frank's Original Hot Sauce: The classic hot sauce to pair with buffalo chicken dip.
Dry ranch dressing mix: You need to buy the seasoning packet, not the prepared dressing that comes in a squeeze bottle.
Dried herbs and spices: Chili powder, smoked paprika, cumin, onion powder, and garlic powder flavor this easy buffalo chicken dip.
Blue cheese crumbles: Add more or less to suit your tastes.
Cheddar cheese: Use a sharp cheddar cheese for the best flavor.
Mozzarella cheese: Use only freshly grated mozzarella cheese because it not only tastes far superior but melts much better.
Shredded chicken: You can cook the chicken yourself, or you can buy a rotisserie chicken at the store to shred.
Ingredient Variations
Full fat cream cheese is creamier and melts better, but you may use less fat cream cheese.
You need to use cream cheese that comes in a brick, not the kind in a tub.
If you are thoroughly opposed to mayonnaise, you may substitute with sour cream.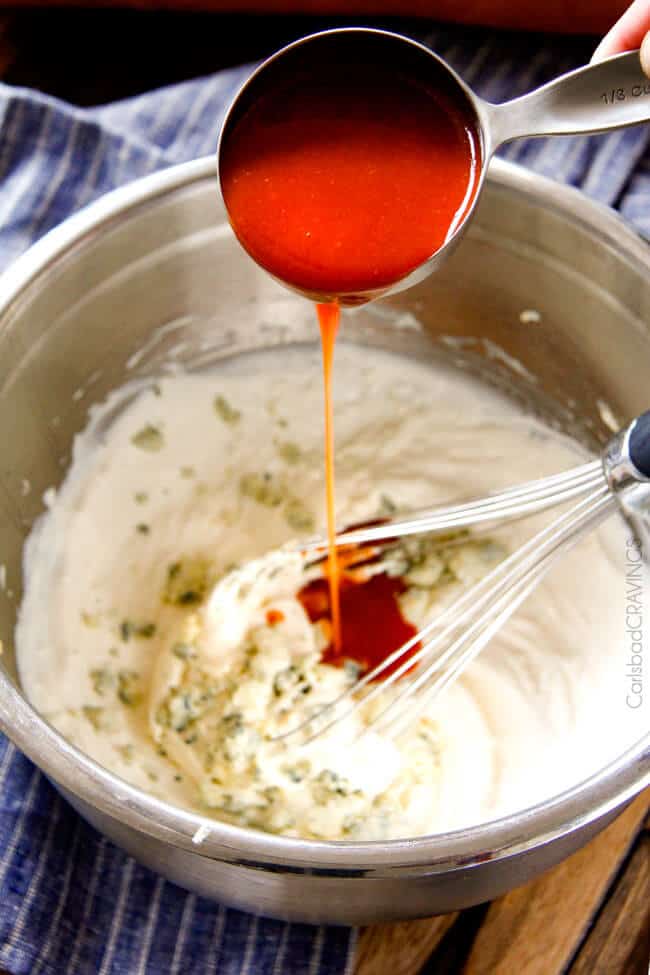 How to Make Buffalo Chicken Dip
Simply add the dip ingredients to a large bowl, stir it all together, and you have Buffalo Chicken Dip that's ready to be cocooned in a French Bread "bread bowl."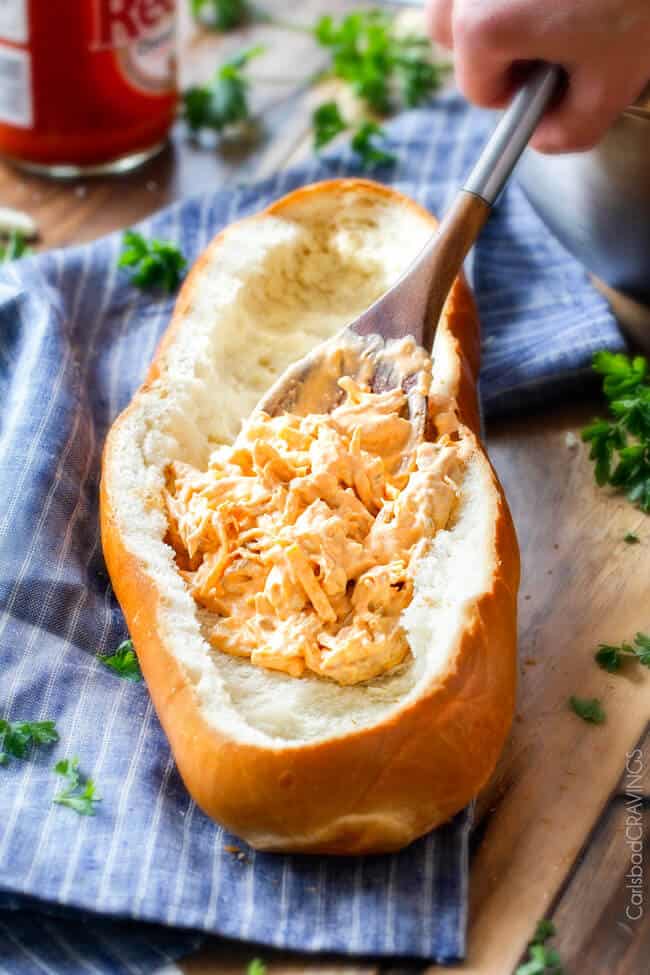 Sprinkle with more cheddar and mozzarella cheese and bake until golden bubbly deliciousness…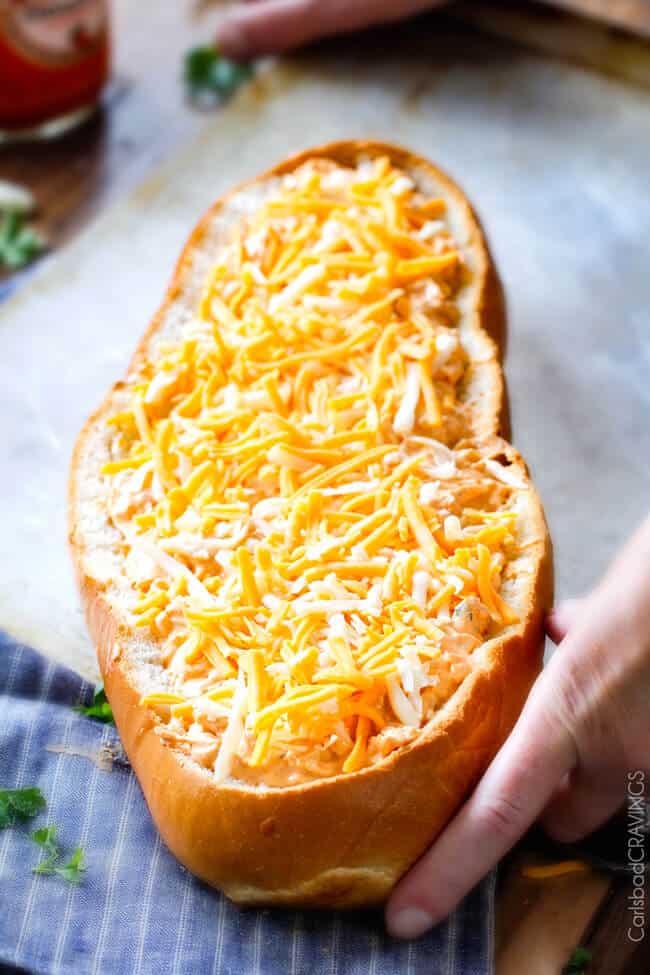 And then top with bacon. Lots and lots of bacon. The bacon's salty crispiness combined with the crusty bread and smooth dip will make your mouth happy.
Then gather around for slices of decadent warm and spicy, cheesy, creamy chicken filled crusty French Bread. And be sure to be quick on the taking because this easy, baked Buffalo Chicken Dip Stuffed French Bread is so addictive it will fly off the plate!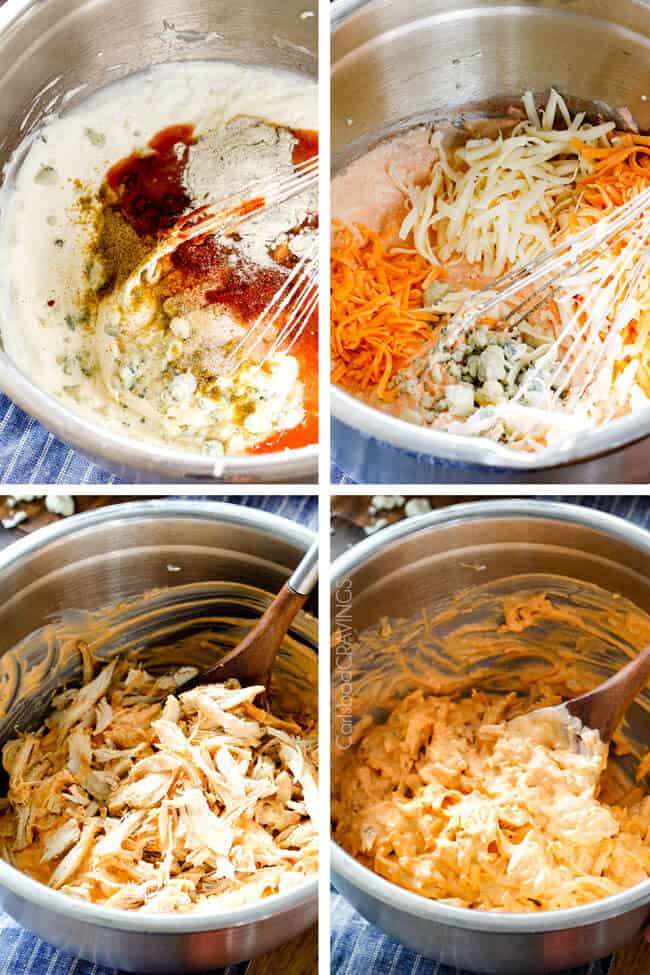 Tips for Making the Best Buffalo Chicken Dip
You can cook and shred the chicken ahead of time, so that when it comes time to assemble the dip it's done in just a few minutes.
You can also save time by buying a cooked rotisserie chicken at the store and shredding it instead. Just be sure to discard the skin.
Buy blocks of cheese and shred them yourself. Pre-shredded cheese is often coated in cornstarch or something similar to prevent it from clumping together, which prevents the buffalo chicken dip from being super creamy.
Recipe Variations to Try
Skip the bread bowl. If you don't want to stuff the bread for one reason or another, you could just make the dip and bake it in a casserole dish, but if you want to get a little crazy, fun and flirty, then I suggest stuffing the French Bread — think cheesy bread on steroids.
Make it cheesier. Add extra blue cheese if you really love the stuff.
Make it spicier. Add up to ½ cup hot sauce if you like your baked buffalo chicken dip extra spicy.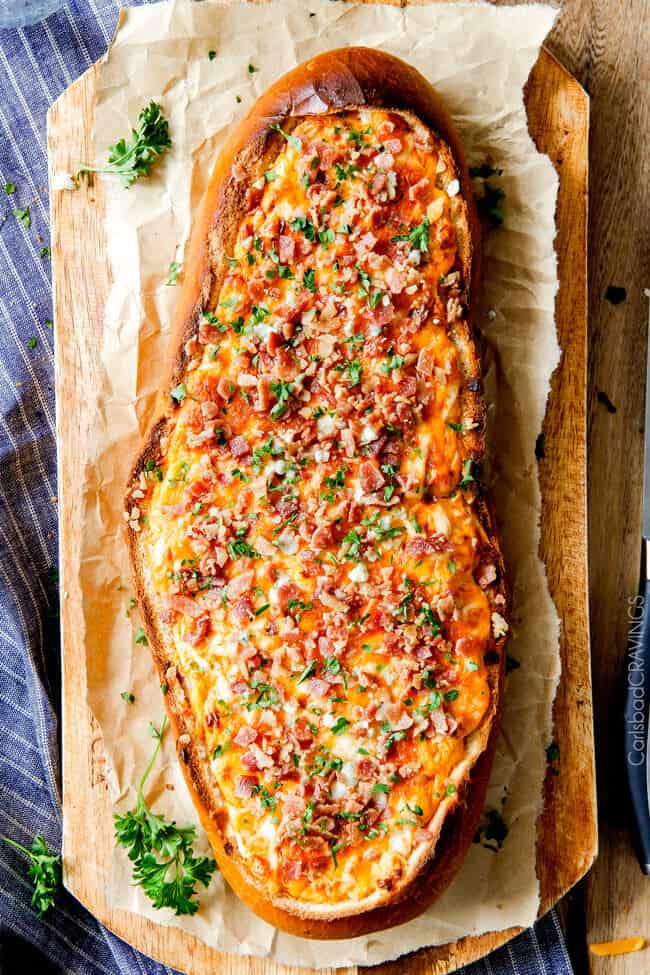 Can I Prep Buffalo Chicken Dip in Advance?
You can prepare baked buffalo chicken dip in advance and store in the refrigerator separate from bread. When ready to bake, heat dip in microwave until warm then spoon into French bread and bake as directed.
How to Store Buffalo Chicken Dip
Baked buffalo chicken dip will last about 4-5 days in the refrigerator.
How to Reheat Baked Buffalo Chicken Dip
You can reheat baked buffalo chicken dip in the oven at 350 degrees F for approximately 25 minutes or until hot and bubbly. You can also microwave smaller portions at 30 second intervals until heated through.
Can You Freeze Buffalo Chicken Dip?
I do not recommend freezing this easy buffalo chicken dip due to the mayonnaise and sour cream. The fat will separate and become a funny texture. Instead, you can prepare your baked buffalo chicken dip in advance and refrigerate or halve the recipe if you are worried about leftovers.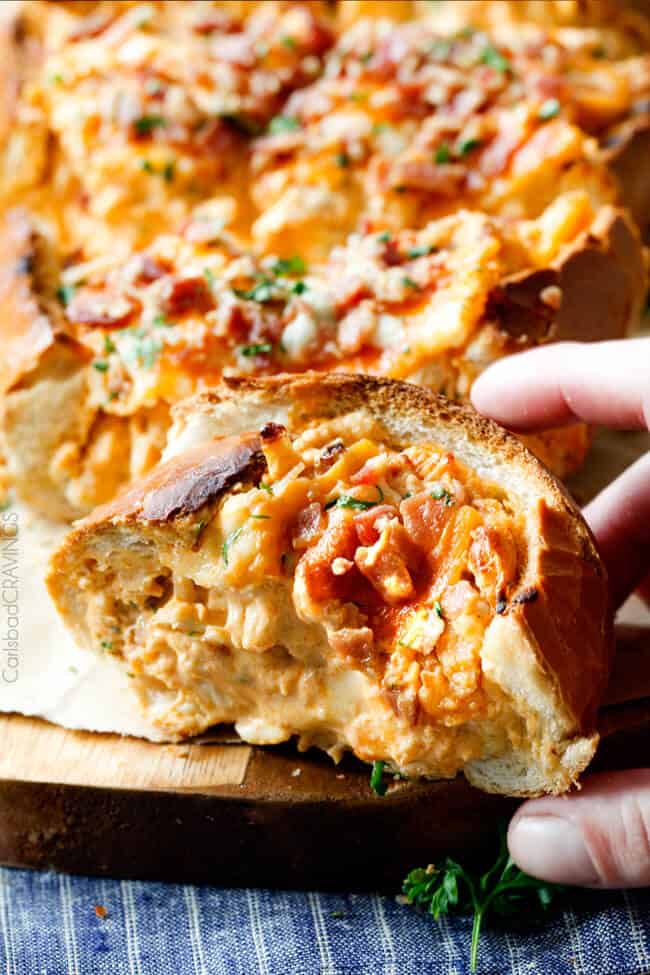 What to Serve with Buffalo Chicken Dip
The beauty of this baked buffalo chicken dip recipe is that you can simply slice the bread and enjoy it as is. However, if you'd rather dunk other things into it, here are some ideas:
French baguette
sourdough
tortilla chips (sturdy tortilla chips are best, otherwise they can break)
crackers
pita chips
carrots
bell peppers
radishes
cucumbers
broccoli
cauliflower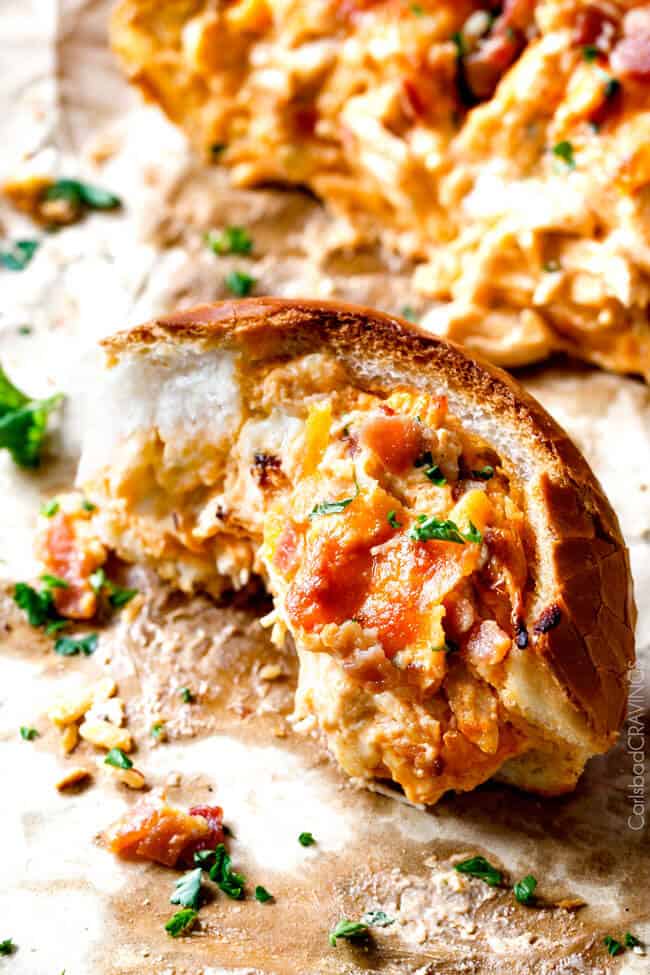 Looking for More Easy Dip Recipes?
Want to try this Buffalo Chicken Dip Stuffed French Bread ?
PIN IT TO YOUR APPETIZERS, OR CHICKEN BOARD TO SAVE FOR LATER!
Find me on Pinterest for more great recipes! I am always pinning :)!
©Carlsbad Cravings by CarlsbadCravings.com
Buffalo Chicken Dip Stuffed French Bread
Servings:
12
– 16 servings
Save This Recipe To Your Recipe Box
You can now create an account on our site and save your favorite recipes all in one place!
Ingredients
1

large loaf French bread or 2 smaller loafs

8

oz.

cream cheese, softened

1/3

cup

sour cream

1/3

cup

mayonnaise

¼ – 1/2

cup

Frank's Original Hot Sauce

(½ for quite spicy)

1 1/2

tablespoons

dry ranch dressing seasoning mix

1/2

tsp EACH

chili pwdr, cumin, smoked paprika, garlic pwdr, onion pwdr

salt to taste

1/4

cup

Blue cheese crumbles

up to ½ cup if you LOVE blue cheese

1

cup

freshly grated sharp cheddar cheese, divided

1

cup

Mozzarella cheese, divided

3

cups

packed shredded chicken

(about 1 ½ pounds)**
Garnish (optional)
6-8

pieces

Cooked and crumbled bacon

blue cheese

(only if you love it because its strong)
Instructions
Preheat oven to 350 degrees F.

Slice about 2 inches deep through the top of the bread, and continue to cut a large rectangle, being careful not to cut through the bottom of the bread. Remove top of bread and hollow out middle to create a rectangular bread bowl. Set aside.

Whisk together cream cheese, sour cream, mayonnaise and hot sauce and all spices/seasonings until well combined.

Stir in blue cheese, ¾ cup cheddar and ¾ cup mozzarella followed by chicken.

Spoon Buffalo Chicken Dip into prepared French bread and top with remaining cheddar and mozzarella cheeses. Bake on a baking tray at 350 degrees F for 25-30 minutes or until cheese is melted and slightly golden.

Let bread sit approximately 10 minutes to set and slightly cool then slice. Best served warm.
Notes
*I suggest using two narrower loaves as the narrower loaves hold together better once sliced.
**TO EASILY COOK AND SHRED CHICKEN: Heat 1 tablespoon olive oil in a large nonstick skillet over medium-high heat until hot and rippling. Add chicken breasts and cook for 5 minutes, or until golden brown on one side. Flip the chicken over, then add 1 ½ cups chicken broth or water to the skillet. Cover and reduce heat to medium and simmer 15-20 minutes or until chicken is cooked though and tender enough to shred, adding additional chicken broth/water if the liquid evaporates too quickly. Remove chicken from skillet and let rest 5 minutes before shredding.
MAKE AHEAD: You can prepare Buffalo Chicken Dip in advance and store in the refrigerator separate from bread. When ready to bake, heat dip in microwave until warm then spoon into French bread and bake as directed.
Did You Make This Recipe?
Tag @CarlsbadCravings and Use #CarlsbadCravngs
Leave a Review, I Always Love Hearing From You!
Carlsbad Cravings© Original