This Boston Baked Bean Dip is sponsored by McCormick. All opinions are my own.
SUPER EASY, SAVORY, SWEET AND SMOKY BOSTON BAKED BEAN DIP PILED WITH BACON, CHEESE, SOUR CREAM AND GREEN ONIONS FOR YOUR FAVORITE BEANS IN EACH BROWN SUGAR, BACON SCOOPFUL!  THIS CROWD PLEASING APPETIZER WILL FLY OFF YOUR TABLE!
This Bean Dip certainly flew off ours.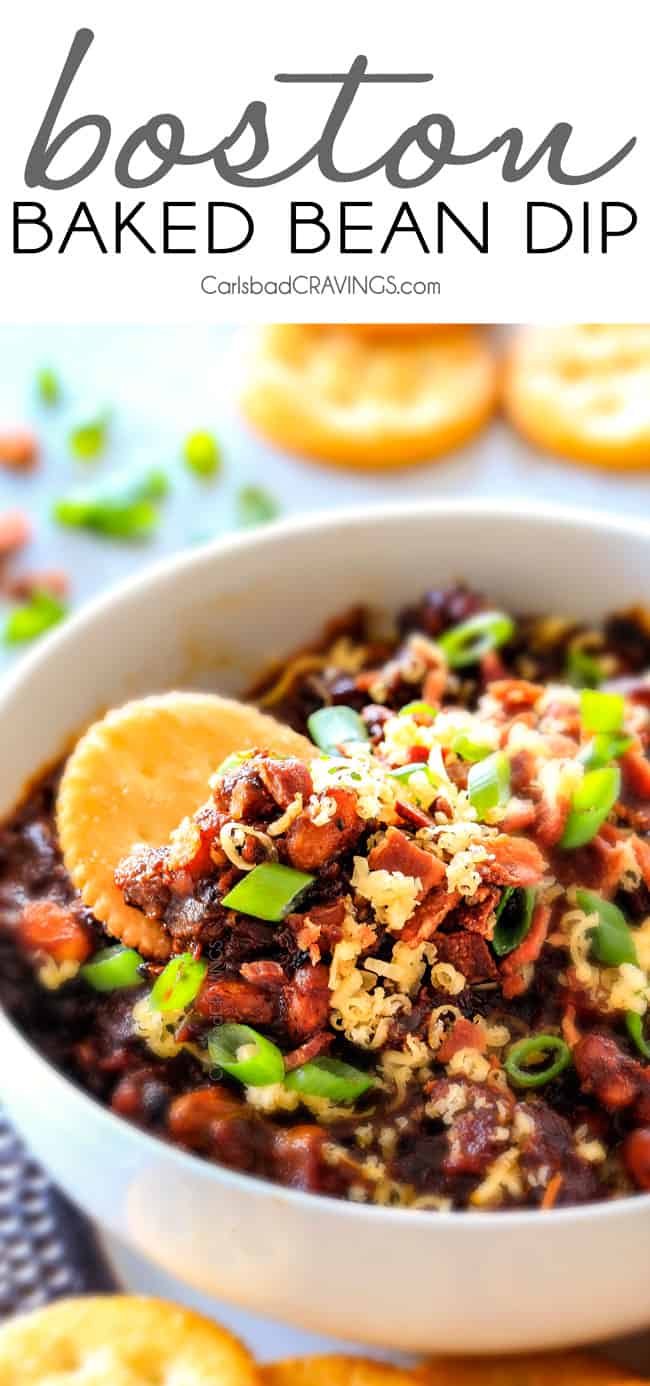 Bean Dip Recipe
Patrick came home just as I was finishing photographing this Boston Baked Bean Dip and immediately started plowing cracker first into this rich, brown sugar, bacon bean dip. "What is this?!" he questioned with an overstuffed, happy mouth, "It's soooooo good!"
And with that, I knew I had a winner.
Or more accurately, McCormick had a winner. This Massachusetts State Bean Dip is based off of McCormick's recipe from their 50 Dips for 50 States. If you read my California Guacamole Dip post, you'll remember that the McCormick kitchen has created a dip for every single state to represent them this football season AKA 50 DROOL WORTHY DIPS all in one place! At the top of my Must Make List are St. Louis Ravioli Dip, Maine Lobster and Spinach Dip, Arizona Cheesy Chimichanga Dip, and Sweet Georgia Peach and Pecan Dip. What's at the top of your list, aside of course, from this Boston Baked Bean Dip?
In last weeks head to head match up, this Boston Baked Bean Dip took out its Houston rival, Texas Trash Dip. For this weekend's match up, I'm hoping this Boston Baked Bean Dip can once again come out on top over over Saturday's playoff's rival, I am Baker's Pittsburgh Sandwich Dip Fries and Recipe Critic's Spicy Kielbasa Chili Dip . Either way, serve these dips together and you have a winning spread for the Pittsburgh vs. Boston game!
How to Make Bean Dip
This Bean Dip is derived from Boston's old-fashioned New England tradition of baked beans, dating back to pilgrim times. Boston Baked Beans are typically made with salted pork, brown sugar and molasses – an ingredient used in the distillation of rum. So although Baked beans were a staple since the 1600s, it wasn't until the 18th century when Boston started producing rum and adding molasses to their beans that the distinctively smoky, brown sugar, salted pork, molasses, flavored Boston Baked Beans were born.
This Boston Baked Bean Dip sticks to the Boston Baked Bean tradition of tender beans coated in a richly caramelized sweet-savory sauce with a slight tang. Traditionally Boston Baked Beans are slow cooked but for this quick and easy Dip we've sped up the process and achieved the same tender beans by using canned Navy Beans then coating them in a rich sauce made by sauteing onions and bacon, then adding ketchup, brown sugar, molasses, Worcestershire, a splash of mustard, cider vinegar, McCormick® Tex Mex Chili Seasoning Mix and Coke. McCormick's original recipe called for Boston beer, which is very fitting, but because I am not an alcohol drinker, I substituted Coke and I love the deepened caramelization it created.
The beans simmer in this spicy bath for about 15 minutes until the sauce is thickened into a glaze.
The sauce ingredients combine for a rich, savory and sweet coating while the McCormick® Tex Mex Chili Seasoning Mix adds an incredible depth of flavor with a nice kick of heat. If you don't love heat, then I suggest using 1/2-¾ of the packet and adding more to taste at the end. As for Patrick and I, it was perfect.

And for your Houston vs. Boston game, or any potluck at all, it will be perfect. Because Bacon + Brown Sugar + Baked Beans = WINNER!
Looking for more Game Day Appetizers?
Want to try this Bean Dip Recipe?
Pin it to your APPETIZER, POTLUCK or GAME DAY Board to SAVE for later!
Find me on Pinterest for more great recipes!  I am always pinning :)!
©Carlsbad Cravings by CarlsbadCravings.com
Boston Baked Bean Dip
Super easy, savory, sweet and smoky Boston Baked Bean Dip piled with bacon, cheese, sour cream and green onions for your favorite beans in each brown sugar, bacon scoopful!  This crowd pleasing appetizer will fly off your table!
Save This Recipe To Your Recipe Box
You can now create an account on our site and save your favorite recipes all in one place!
Ingredients
5

slices

bacon, chopped

1/2

cup

chopped onion

1

pkg.

McCormick® Tex Mex Chili Seasoning Mix*

1

16 oz. can

navy beans

drained and rinsed

1/2

cup

Coke

1/2

cup

ketchup

3

tablespoons

packed brown sugar

1

tablespoon

molasses

(optional)

1

tablespoon

apple cider vinegar

1

tablespoon

Worcestershire sauce

1 1/2

teaspoons

yellow mustard

¼

cup

sour cream
Optional Garnishes
cheese

green onions

bacon

sour cream
Instructions
Cook bacon and onion in large skillet on medium-high heat until bacon is crisp.

Stir in all remaining ingredients except sour cream. Bring to boil. Reduce to a gentle simmer, cover and simmer 15 minutes, or until beans are tender and thickened, stirring occasionally.

Once beans are tender, stir in ¼ cup sour cream for extra creaminess (optional). If beans have become too thick, stir in a few tablespoons water until beans are creamy.

Garnish with toppings of choice: cheese, green onions, bacon, and/or sour cream and serve warm with crackers.
Notes
The seasoning Mix adds a nice kick which I love but if you are sensitive to heat, then only add 1/2- ¾ of a packet.  You can add more to taste at the end.
Did You Make This Recipe?
Tag @CarlsbadCravings and Use #CarlsbadCravngs
Leave a Review, I Always Love Hearing From You!
©Recipe adapted from: McCormick Boston Baked Bean Dip