THIS PHILLY CHEESE STEAK PIZZA IS YOUR FAVORITE SANDWICH IN PIZZA FORM!
This Philly Cheese Steak Pizza is cheesy, meaty, comfort food at it's most addicting. It starts by layering pizza dough with Alfredo Sauce followed by mozzarella cheese, juicy steak, bell peppers, mushrooms and more cheese then baked to golden bubbly perfection. This Philly Cheese Steak Pizza is fabulous game day food, party food, company food or just a fun dinner any night of the week. Prepare to fall in love with your new favorite way to eat Philly Cheese Steak!
Philly Cheesesteak Pizza Recipe
This Philly Steak Pizza recipe is CRAZY GOOD.  Like so crazy good that Patrick and I kept murmuring "crazy good" over and over again in between bites as we stuffed our faces with this crazy good pizza.
This Philly Cheesesteak Pizza is an ode to my absolutely favorite Philly Cheese Steak Sandwich.  I crave this meaty, cheese sandwich so much that I've already made Philly Cheesesteak Egg Rolls and Philly Cheesesteak Soup. The only way to possible make this dining delight even more delicious?!  Make it into Philly Cheesesteak Pizza! 
The sautéing of the steak, onions and peppers only takes about 5 minutes and the layering can be done in a flash, so that makes this Philly Cheesesteak Pizza the ultimate quick, easy and uber delicious dinner – especially if you have made the Perfect Homemade Pizza Crust beforehand and either refrigerated it or frozen it for times like this when the Philly Cheese Steak Pizza craving just won't go away – which for me, is pretty much all the time!
I apologize in advance if you develop a craving "problem" after eating this Philly Cheesesteak Pizza. But then again, its a delicious problem to have.  And your family will love you for it because your "problem" means more of their favorite pizza, because if you all love Philly Cheesesteak sandwiches, this will be your new favorite pizza!
Why You'll Love This Recipe
There are SO many reasons to love this Philly Steak Pizza Recipe:
Comfort food! The combination of creamy Alfredo sauce, juicy marinated steak and bell peppers sandwiched in between melty cheese on soft, chewy pizza crust. It doesn't get any better.
Less expensive. You can make an entire hearty pizza and serve the whole family for less than dining out.
Freezer friendly. This Philly Cheese Steak Pizza is freezer friendly, so you can make ahead or double the recipe for two meals in one!
Crowd friendly. This Philly Cheese Steak Pizza is always a crowd favorite, making it perfect for parties!
Make ahead. You can prepare the dough, marinate and even cook the steak and slice the veggies so it can come together in a flash!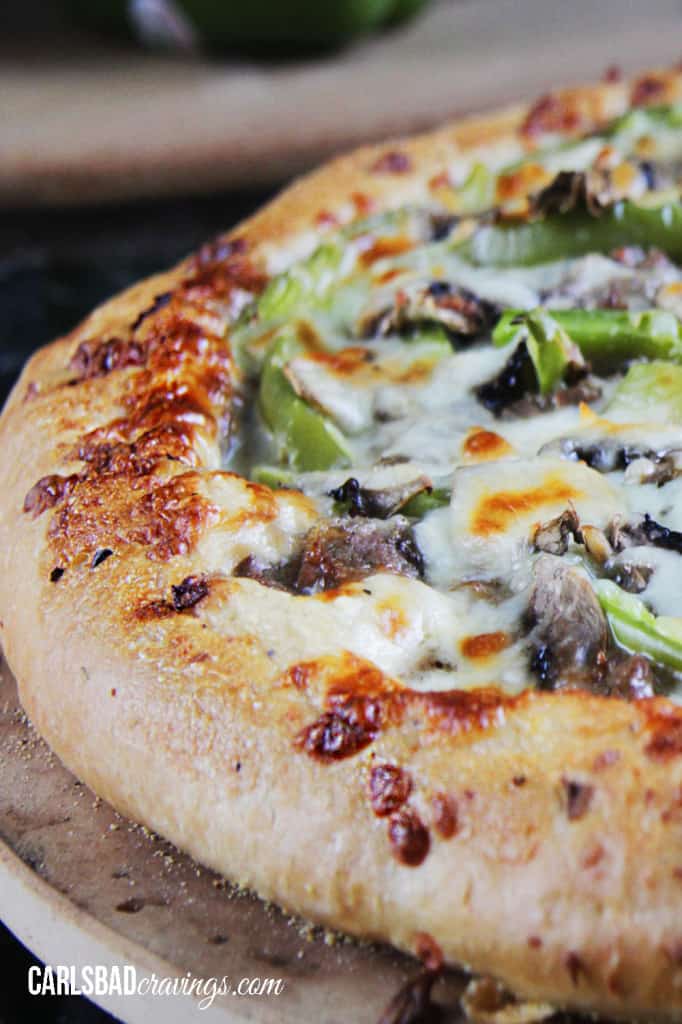 Philly Steak Pizza Ingredients
This cheesesteak pizza comes together so easily! Here's what you'll need to make it:
Steak marinade: The steak marinade is a combination of Italian dressing, Worcestershire sauce, garlic, salt, pepper, and red pepper flakes.
Sirloin or flank steak: Slice the steak very thinly against the grain.
Alfredo sauce: Store-bought or homemade works perfectly!
Mushrooms: Slice the mushrooms thinly so they bake fully in the oven.
Red onion: I prefer red onion as it stands up to the other flavors better.
Green pepper: Green bell peppers are my personal favorite when making Philly cheesesteak anything.
Mozzarella cheese: Makes this alfredo sauce pizza ultra gooey.
Pizza crust: Store-bought or homemade works. Your choice!
What's the Best Pizza Dough for Philly Cheese Steak Pizza?
You use store bought pizza dough, but I HIGHLY recommend my homemade pizza dough recipe. This pizza dough recipe is fool proof, flavorful and has hundreds of rave reviews!
I've included step by step instructions including how to make pizza dough ahead of time and how to freeze. Just be aware this pizza dough recipe makes two pizzas, so you will want to either half the dough recipe or freeze one for later, or if serving a large crowd, you can double the Philly Cheesesteak Pizza recipe.
What Cut of Meat is Best for Philly Cheesesteak Pizza?
While ribeye is the traditional cut of beef for Philly Cheese Steak, I like to use flank steak in this pizza recipe because it has the perfect amount of fat/marbling to emerge wonderfully juicy and flavorful and is less expensive. The flank steak emerges buttery tender by slicing it against the grain and marinating it.
What Type of Cheese is Best for Philly Cheesesteak Pizza?
There are a few different cheeses used for Philly Cheese Steak:  American Cheese, Cheeze Whiz and provolone.  For this Philly Cheese Steak Pizza, I chose to use Alfredo sauce and mozzarella.  The mozzarella melts to buttery cheesy, ooey gooey perfection.  You may also layer the Alfredo sauce with provolone if you prefer.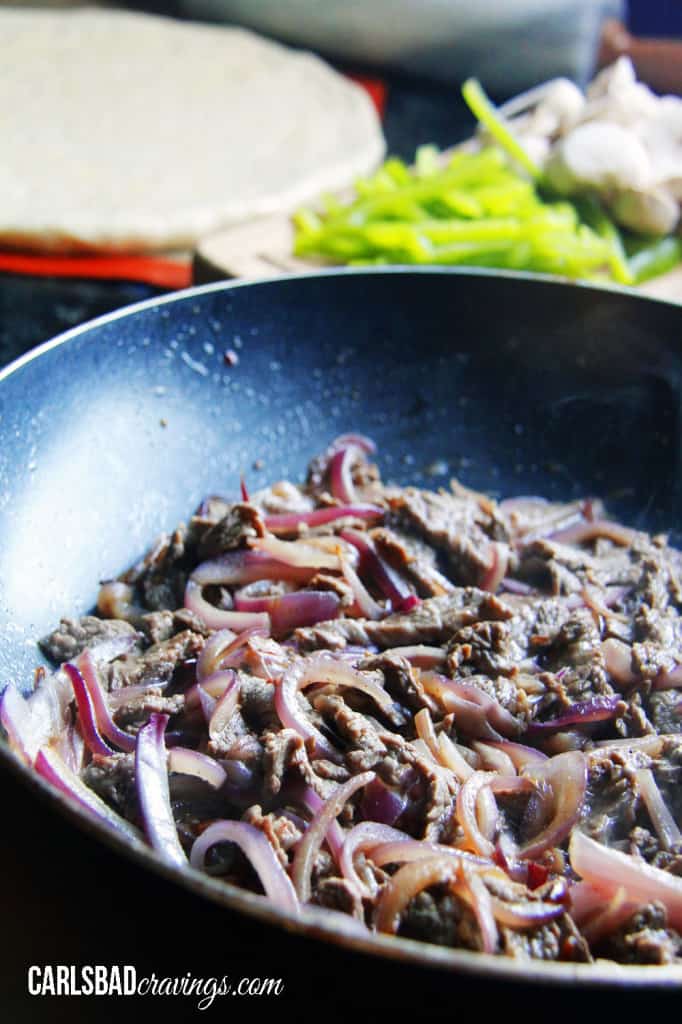 How to Make Philly Cheesesteak Pizza
Step 1:  marinate steak.  Marinating the steak is essential because it is where the characteristic flavor comes from and it tenderizes the beef.  Our marinade consists of a simple mixture Italian dressing,  Worcestershire, garlic and red pepper flakes. 
Step 2:  slice beef thinly.  You want to slice the steak as thinly as possible.  You can also ask your butcher to do this for you on their meat slicer or here are some tips:
sharpen your knife before slicing the beef
freeze your beef for 60 minutes to make it easier to slice thinly
slice your beef as thinly as possible, 1/8″ thickness or less
slice your beef across the grain
make sure your skillet is smoking hot before adding your beef so it will sear on the outside and remain tender on the inside
Step 3:  saute onions and steak.  Heat 1 tablespoon olive oil over medium high heat in a large skillet. Add onions and saute for 3 minutes. Add steak with marinade to the skillet and let cook on one side without disturbing, then proceed to saute for 2 minutes or until meat is barely browned.   You don't want to overcook your steak or it won't be as tender.  Keep in mind the steak will continue to cook in the oven.  
Step 4: add toppings. Spread Alfredo sauce evenly over the pizza dough followed by mozzarella cheese, steak and onions, green peppers, and mushrooms and one more cup cheese.
Step 5:  bake pizza.  Bake for 10-12 minutes or until crust is golden and cheese is melted.  I then like to broil for a couple minutes to toast the cheese. 
And you have created your new crazy good addiction.  An easy addiction no less…
Recipe Variations to Try
This Philly Cheesesteak Pizza boasts the same tantalizing toppings you'll find in cheese steaks: thinly sliced steak, gooey melted cheese, sautéed onions, bell peppers and mushrooms (sometimes in cheese steaks). 
You can also add any of these common toppings :
sweet peppers
hot peppers
banana peppers or pepperoncini,
pimientos
olives
pickles
lettuce
tomatoes
So, while I've kept this Philly Cheese Steak Pizza recipe simple feel free to add whatever toppings your heart – or belly – desires!
Helpful Tools for Making Cheesesteak Pizza
Pizza Stone: The crust begins cooking/searing immediately when dough is placed on the hot stone, which results in a beautify crispy crust on the bottom that's still soft and chewy in the middle AKA perfection.
Instant read thermometer:  allows you to make sure the water is in that tight range of temperature needed to activate yeast.  This way you know that if the yeast doesn't activate then it's not the water – it's the yeast and you don't waste your time trying to get the water right.  It also gives you the peace of mind that once the water is in the right range, you're guaranteed perfect pizza dough. 
Stand mixer:  I use my stand mixer because it saves time, elbow grease and it keeps my hands from getting gooey – but it's not 100% necessary – the dough will just take a few more minutes and elbow grease without one.
Cheese grater: I use this kitchen tool constantly because FRESHLY grated cheese as opposed to bagged shredded cheese is always the way to go.
Cast iron skillet:  A quality cast iron skillet is a must in your cooking arsenal! It is perfect for searing and creating a deeply golden exterior on everything from chicken, to roast, to pork and seamlessly transitions from the stove to the oven. I love my super high quality Staub and Le Creuset. You can also go with a more economical, trusty skillet like this one which  also works very well but it will need to be seasoned and always rubbed with vegetable oil after using.
How to Store Philly Steak Pizza
Leftovers should be stored in an airtight container in the fridge. They'll stay fresh up to 5 days.
How to Reheat Cheesesteak Pizza
To reheat pizza in the oven:
Line a baking sheet with foil.
Place baking sheet in oven and heat at 450 degrees F until hot, about 10 minutes. If you would like a chewier crust, then heat to 375 degrees F.
Transfer pizza (slices) to baking sheet and bake for 10 minutes or until heated through. Once the cheese starts bubbling then you know you're good to go.
To reheat pizza on the stove:
Add slices of pizza to skillet and over loosely with the lid.
Heat over medium high heat for 2-3 minutes until heated through.
To reheat pizza in the microwave:
Microwave at 20 seconds intervals until heated through. Be aware that the crust will loose crunch in the microwave.
Can You Freeze Cheesesteak Pizza?
Yes, you can freeze Philly Cheese Steak Pizza but be aware the bell peppers become a softer, funny texture. I recommend removing the bell pepper and mushrooms before freezing.
To freeze:
Bake pizza according to directions.
Let pizza cool completely to room temperature.
Add pizza slices to a large freezer safe and lay flat to freeze or wrap entire pizza a few times in plastic wrap then in foil.
When ready to eat, bake at 450 degrees F for 20-25 minutes or until heated through.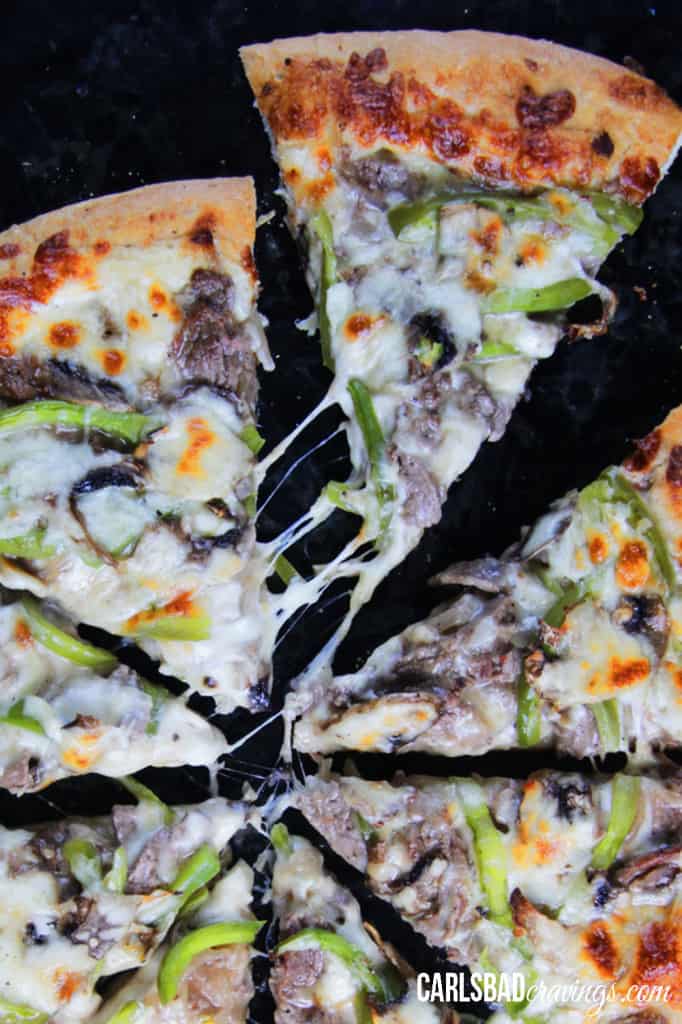 What to Serve with Cheesesteak Pizza
Philly Cheese Steak Pizza is wonderful with a big green salad, fruit and pasta salad. Here are some of my favorites:
More Homemade Pizza Recipes:
WANT TO TRY THIS PHILLLY CHEESE STEAK RECIPE?
PIN IT TO YOUR DINNER, PARTY FOOD OR PIZZA BOARD TO SAVE FOR LATER!
FIND ME ON PINTEREST FOR MORE GREAT RECIPES! I AM ALWAYS PINNING :)!
©Carlsbad Cravings by CarlsbadCravings.com
Carlsbad Cravings Original
NEVER MISS A CARLSBAD CRAVINGS CREATION: