Spicy Ramen Noodles on your table in less than 25 minutes!
This Spicy Ramen recipe is quick, easy, wonderfully versatile and the flavor is out of this world! And don't let the word "spicy" scare you away – you can completely customize the heat simply by using more or less sriracha. You can also use any protein or vegetables you have on hand for a delectable clean-out-the-fridge or last-minute dinner – because this ramen recipe is all about the SAUCE! To make these Spicy Ramen Noodles come together even quicker, you can whisk your sauce up in advance and have all your veggies chopped so its virtually 10 minutes to dinner!
RAMEN RECIPE
Did you grow up on ramen? I have to admit it was a guilty, savory, salty pleasure of mine up through college days but with this Spicy Ramen recipe – guilt no more. We are going to take the super versatile ramen noodles, discard the seasoning packets and create Spicy Ramen, AKA an ace of a dinner that is healthier, budget friendly, unbelievably easy and SO slurp-worthy.
This Spicy Ramen Noodles recipe is inspired by what Patrick and I eat all the time – stir fried ramen with peanuts! It's one of our go-to dinner concoctions that I've never actually written down until now.
The noodles are delectably chewy, the sauce is garlicky, gingery, salty, savory and as spicy as you want it, the veggies add healthy pops of texture and flavor and the peanuts add toasted pockets of nutty crunch you will crave in every bite.
With just a few short minutes, you can create this Spicy Ramen – a new favorite dinner tradition, easy enough for weeknights that tastes even better than your favorite noodle house. The sauce ingredients are a little lengthy, but don't let that scare you – all you do is whisk them together for the best stir fry sauce EVER which in turn makes the best ramen EVER!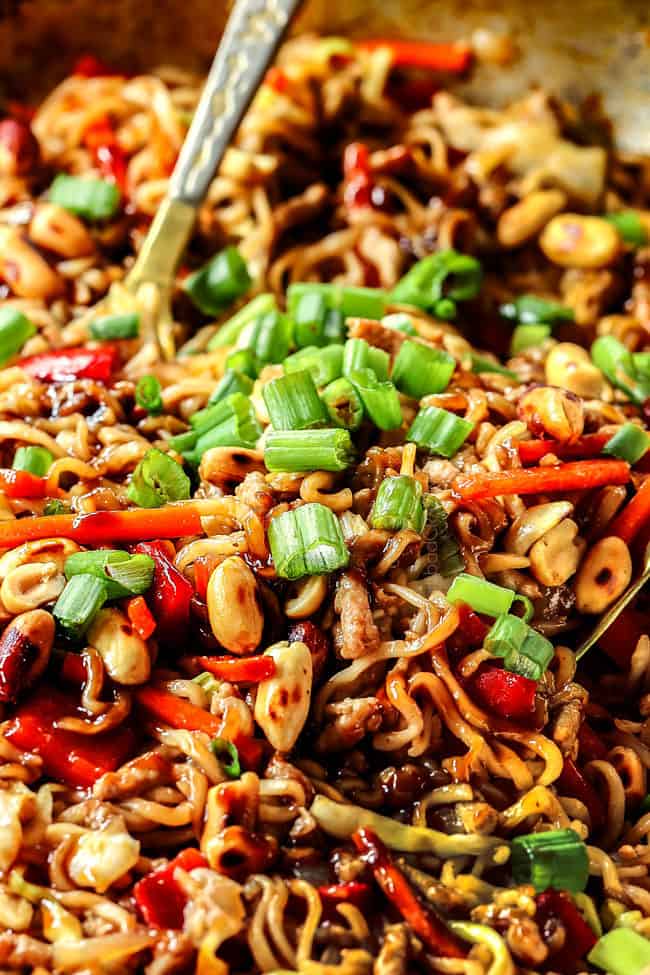 What is Ramen?
Ramen is a Japanese soup actually made with Chinese noodles! It is hugely popular in America both at restaurants/noodles houses and by way of the dry square ramen noodles with the mystery seasoning packets that have become a way of life for college students.
For these Spicy Ramen Noodles, we are not going to create ramen soup, but rather stir-fry noodles. I have ramen soup coming your way, but for today, it's all about ramen noodles smothered in sauce.
Of course, you can turn this ramen recipe into ramen soup if you wish simply by adding additional chicken broth. It won't taste like traditional miso ramen, but will still be plenty tasty!
Ramen Noodles
For this Spicy Ramen recipe, you can use dried packaged ramen or fresh refrigerated ramen. Both dried and fresh ramen are made with wheat flour, salt, and water. Dried ramen noodles are fried and dried before packaged and fresh ramen is treated with an alkaline agent to give the noodles their springy, chewy texture.
Dried Ramen
The dried ramen is easily accessible, so that is what I have listed in the recipe. It also can be stocked in your pantry indefinitely – which means you can make these Spicy Ramen Noodles WHENEVER whereas refrigerated ramen only keeps for a few days.
You will need three 3 oz. dried packets of ramen noodles for this recipe You can either find them at your local grocery store or at Asian markets. The grocery store ramen will include a seasoning packet, which you will want to discard. The seasoning packet is filled with preservatives, sodium, and MSG which we don't need to make our Spicy Ramen mega flavorful.
Gluten Free Ramen
If you are looking for a gluten free option, you can use Brown Rice and Millet Ramen noodles found at Whole Foods. They are healthier, vegan and taste great. If you are looking to make these ramen noodles 100% gluten free, then you will need to use gluten free ingredients for the sauce as well.
Ingredients for Ramen Noodles
The sauce for these Spicy Raman Noodles is made with pantry friendly Asian staples. If you don't have any of them stocked, I HIGHLY suggest adding them to your pantry because I use them all the time in my Asian recipes – so they will not go to waste!
Sesame oil: adds a toasted nuttiness that its sublime. If you don't keep it on hand, you may substitute olive oil.
chicken broth: creates the savory base of the sauce and mellows the other ingredient. If you don't have chicken broth, you can substitute water but you may need to add a pinch more salt. You may also use vegetarian broth for vegetarian ramen but it is not quite as flavorful.
soy sauce: use reduced sodium soy sauce so you can control the salt in the ramen.
oyster sauce: is the main ingredient in many Asian stir fries such as Beef and Broccoli. It is a thick, brown sauce with a balance between sweet and salty with an earthy undertone, due to the oyster extracts. You can find oyster sauce in the Asian aisle of any grocery store. Not all oyster sauce is created equal so use either Lee Kum Kee or Kikkoman.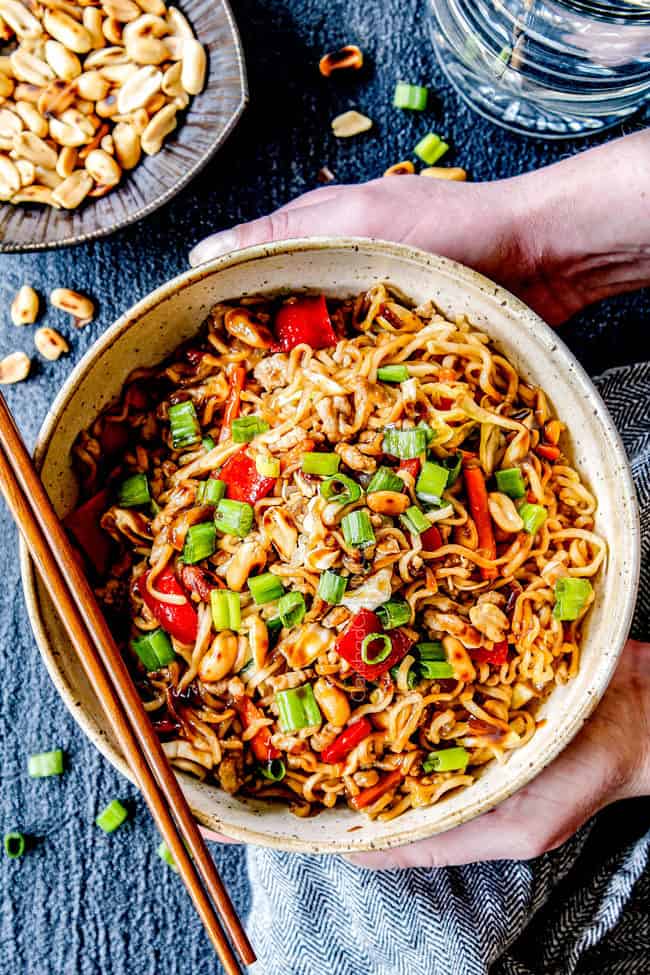 oyster sauce substitute: if you are allergic to shellfish, there are many oyster sauces that don't actually have any shellfish at all. Look for "vegetarian oyster sauce" on the label. If you can't find vegetarian oyster sauce, then you can substitute with one tablespoon soy sauce and one tablespoon hoisin sauce.
hoisin sauce: hoisin sauce is also a staple in Asian cooking. I use it om my Hoisin Chicken Stir Fry, Mongolian Beef, Kung Pao Shrimp, etc., just to name a few. Hoisin sauce tastes like a rich, savory, sweet and tangy Asian BBQ Sauce. Please use only quality brands such as Kikkoman or Lee Kum Kee hoisin because they taste far superior. Hoisin sauce is located in the Asian section of your grocery store.
Asian sweet chili sauce: this sauce makes everything better! It is sweet and spicy and packed with flavor from a combination of red chilies, onion, garlic, brown sugar and fish sauce. I use it in my Mongolian Chicken, Cashew Chicken, Sesame Chicken and more. It can be found in the Asian section of our grocery store.
Rice Wine: Rice wine is NOT rice vinegar. I use "Kikkoman Aji-Mirin: Sweet Cooking Rice Seasoning" which is commonly found in the Asian section of most grocery stores or you can Amazon it. I highly suggest you google image before you head off to the grocery store so you know exactly what you are looking for. The best substitute for rice wine is pale dry sherry.
Sriracha: I use sriracha for the spice factor in these Spicy Ramen Noodles. You can substitute your favorite chili sauce but be aware that you might need more or less due to varying spice levels of different sauces.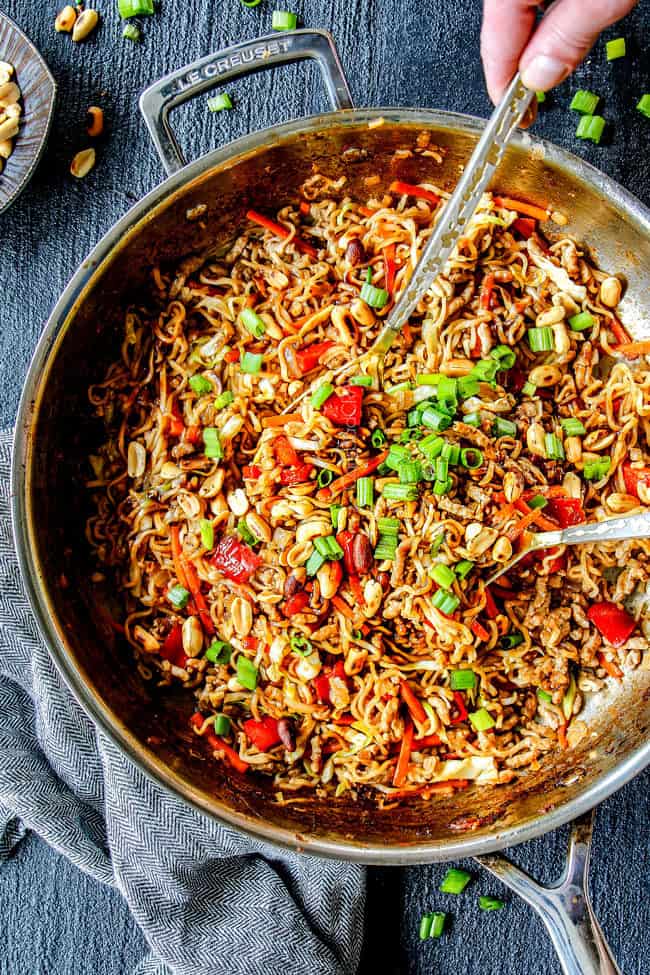 Easy Ramen Substitutes
If you are feeling extra lazy and don't want to do any more chopping than you have to (been there!) then you can substitute the fresh aromatics in this Spicy Ramen recipe with ground seasonings.
These substitutes take your ramen noodles from 20 minutes to 15 minutes with a couple shakes of powder.
Chopped onion: you may substitute the freshly chopped onion with 1 teaspoon onion powder.
freshly grated ginger: you may substitute the freshly grated ginger with 3/4 teaspoon ground ginger.
garlic cloves: you may substitute the garlic cloves with 1 teaspoon garlic powder. You can add more to taste depending on your garlic love.
How spicy are these Spicy Ramen Noodles?
One tablespoon sriracha is medium spicy and should be enjoyable to most everyone who likes a little heat. If you are looking for SPICY Ramen, you will want to add more than one tablespoon. If not everyone wants super spicy ramen, then you can add additional chili sauce to individual servings.
For less spicy ramen, I would start with 2 teaspoons sriracha and add more to taste. For mega kid friendly ramen that is NOT spicy, start with 1 teaspoon sriracha and add more to taste or to individual servings.
What Can I Add to Ramen?
For this Spicy Ramen recipe, I use carrots cut into matchsticks, one red bell pepper and thinly sliced cabbage BUT you can swap them out and use your favorite veggies or whatever you have on hand. Here are some more veggie ideas:
broccoli
mushrooms
celery
bok choy
snap peas
zucchini
asparagus
bean sprouts
spinach
kale
water chestnuts
What Meat for Ramen Recipe?
To make this Spicy Ramen super quick and easy without any chopping of any protein I suggest either ground pork or ground chicken. I have made these ramen noodles with both pork and chicken and they both were fabulous.
If you choose to make spicy chicken ramen, you may want to season it with 1/2 teaspoon beef bouillon powder for an oomph of beefy flavor.
You may swap out the meat for whatever protein you have on hand such as lean ground beef, shrimp or diced chicken.
You may also leave the protein out all together to make vegetarian ramen. If you do this, make sure you add some more vegetables in its place or your ramen will be too saucy.
How to Cook Ramen Noodles
While some Ramen recipes cook the noodles directly in the soup or stir fry, I don't recommend that for these Spicy Ramen Noodles. Ramen noodles should be cooked in boiling water so they can be submerged otherwise you get unevenly cooked, gummy noodles.
Once you cook the noodles for two minutes, drain the noodles and rinse them in cold water to prevent them from continuing to cook. Toss the ramen noodles with a drizzle of sesame oil so the noodles don't clump together.
Also, make sure you set a timer and don't cook the noodles for longer than two minutes. They will finish cooking with the sauce and cabbage to soak up flavor while they finish to the perfect al dente texture.
How to Make Ramen
While the ramen is cooking, dry roast the peanuts by tossing them in a skillet until toasted in some spots. It only takes 2-3 minutes, so keep an eye on them. This might seem like one extra step but it is SO worth it. We make these toasted peanuts without ramen just to munch because they are so good!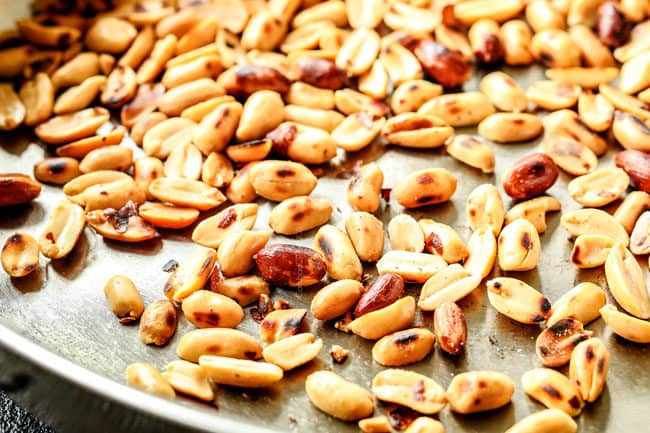 Next, whisk the sauce together made with chicken broth, soy sauce, oyster sauce, rice wine, hoisin, Asian sweet chili sauce and sriracha to taste.
Now it's time to get cooking. You'll want to make sure your veggies are prepped because once you start cooking, everything comes together super quickly. Start by cooking your ground chicken or pork or any protein you like along with onions.
When the meat is almost cooked through, add garlic, ginger, and your favorite veggies. I used carrots and bell peppers this time around but another favorite of mine is zucchini.

Next, stir in your stir fry sauce and evenly coat the noodles. Finally, stir in cabbage and peanuts and turn to coat. Cook just until the noodles are al dente. The cabbage will continue to wilt from the residual heat, so don't worry about it all being done at the same time as the noodles.
If you want to make the Spicy Ramen saucier, you can stir in some reserved water from cooking the noodles. Add additional sriracha to taste and garnish with plenty of green onions then DIG IN!
Can Prep Ramen Ahead of Time?
Absolutely! You can whisk your sauce, chop your veggies and even cook your noodles. You can prep all or some of the following in advance:
Sauce: Whisk together all of the sauce ingredients in a medium bowl, cover and refrigerate. Whisk the sauce again before using.
Noodles: Cook ramen for 2 minutes in boiling water, drain and rinse with cold water; toss with a drizzle of sesame oil to prevent the noodles from clumping together. Store in an airtight container in the refrigerator.
Veggies: chop all your vegetables and store in separate airtight containers or bags in the refrigerator.
Aromatics: chop your onions, garlic, and ginger and store in separate airtight containers or bags in the refrigerator.
Can I Make Ramen Ahead of Time?
Yes! This Spicy Ramen recipes makes fabulous leftovers and meal prep because the noodles taste even better the next day since the flavors have time to meld.
For the best leftovers, take care you don't overcook your ramen initially. You want the noodles to remain al dente so they don't become soggy when reheated.
How long is ramen good for?
Store leftover Spicy Ramen Noodles in an airtight container in the refrigerator. Once properly stored, ramen should last for up to five days.
What Should I Serve With Ramen?
We just serve this Spicy Ramen recipe by itself because it is a complete meal-in-one with protein, veggies and carbs. If you want to make an Asian feast, you can serve with with Wontons, Asian Salad, Potstickers, Wonton Soup and/or Chinese Chicken Egg Rolls.
Looking for more Asian Noodle Recipes?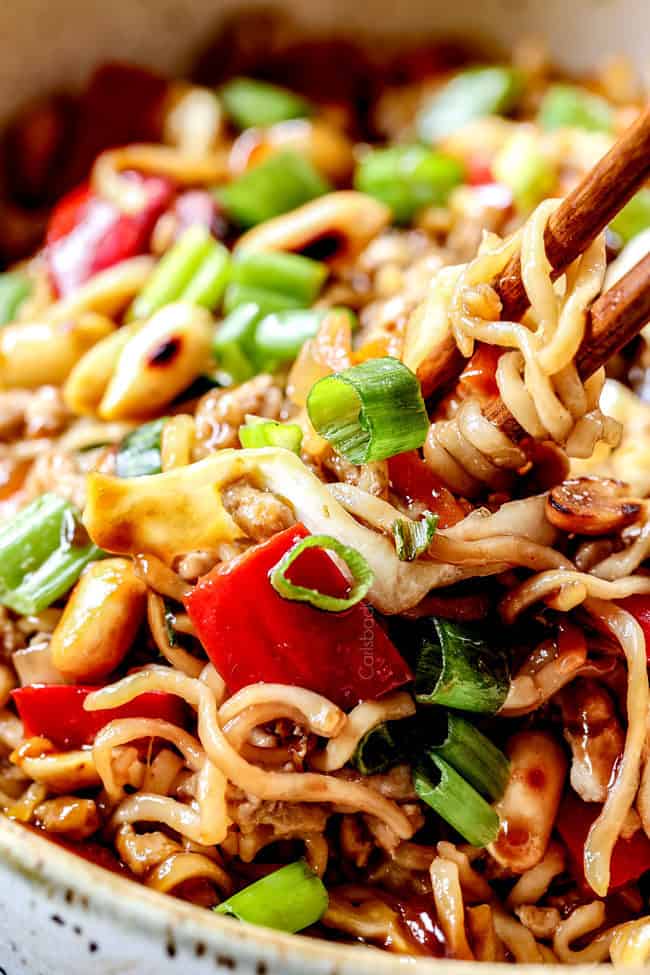 Want to try this Spicy Ramen Recipe?
Pin it to your ASIAN, DINNER, or ONE POT Board to save for later!
Find me on Pinterest for more great recipes! I am always pinning :)!
©Carlsbad Cravings by CarlsbadCravings.com
Carlsbad Cravings Original©
Never miss a Carlsbad Cravings Creation:
You might also like these Asian recipe favorites: