HOISIN CHICKEN STIR FRIED WITH VEGGIES AND SMOTHERED IN A DYNAMIC SAVORY GINGER HOISIN SAUCE  WILL HAVE YOUR FAMILY LICKING THEIR PLATES!
This Hoisin Chicken is some of the best Chinese fakeout takeout you will ever try. It is healthy, packed with layers of flavor, and customizable veggies for a home run dinner every time!

Hoisin Chicken
I am so excited to bring you this Hoisin Chicken that all about the sauce. I adapted it from my Asian BBQ Salmon Recipe which has been a favorite of mine since its inception. I know most of us don't eat salmon every day or even at all, but everyone should have the pleasure of tasting this hoisin ginger sauce, so I made an accessible Hoisin Chicken. Now you can drown your face in its deliciousness on a weekly basis.
This Hoisin Chicken is marinated in a 3 ingredient marinade for as little or as long as you like (10 minutes up to 6 hours) to tenderize the chicken and infuse it with flavor through. It i then lightly breaded in spiced breading then stir fried with veggies. You can swap out the veggies for your favorites or whatever you have on hand. Because remember it is all about the sauce.
And your family will be all about this Hoisin Chicken!

What is hoisin sauce made of?
So what is hoisin sauce anyway? Hoisin sauce tastes like an earthy, sweet-tart, savory Asian Barbecue Sauce – and it is divine.
It is made with select spices, fermented soybeans, sweet potatoes, garlic, red chili peppers, susgar and vinegar. It is excellent for elevating weeknight meals and also makes a fabulous marinade.
Where Can I Buy Hoisin Sauce?
Hoisin sauce can be found in the Asian section of your local grocery stores. Please purchase only quality hoisin sauce like Lee Kum Kee or Kikkoman because not all hoisin sauce is created equal – and you can taste the difference! If you think you don't like hoisin sauce, you probably di not stick with a quality brand.
What do you use hoisin sauce for?
I highly suggest you keep hoisin sauce stocked in your refrigerator for recipes such as this Hoisin Chicken, Mongolian Beef, and Kung Pao Shrimp – I promise it will not go to waste! Hoisin Sauce can be used in many different ways such as:
Dipping Sauce: Use hoisin alone or combine it with other ingredients to create a dipping sauce like my Spring Rolls with Pineapple Hoisin Sauce or Chicken Lettuce Wraps with Pineapple Hoisin peanut Sauce.
Vegetables: Add hoisin sauce to stir fried or roasted vegetables.
Glazes: Add hoisin to jams along with garlic and sriracha like in my Blackberry Hoisin Pork Tenderloin or Sheet Pan Blackberry Hoisin Chicken to create drool worthy flavor profile.
Sauces: Add hoisin to Asian Sauces to infuse it with a sweet, tangy earthiness like in my Mongolian Chicken, and Sesame Chicken.
Dressings: Add hoisin to dressings to add a salty sweet tart element.
Hoisin Condiments: Add hoisin to mayonnaise or ketchup like my Asian Burgers to create an Asian twist.
Marinades: Add hoisin to oil and soy sauce to create an instant marinade like in my Beef and Broccoli.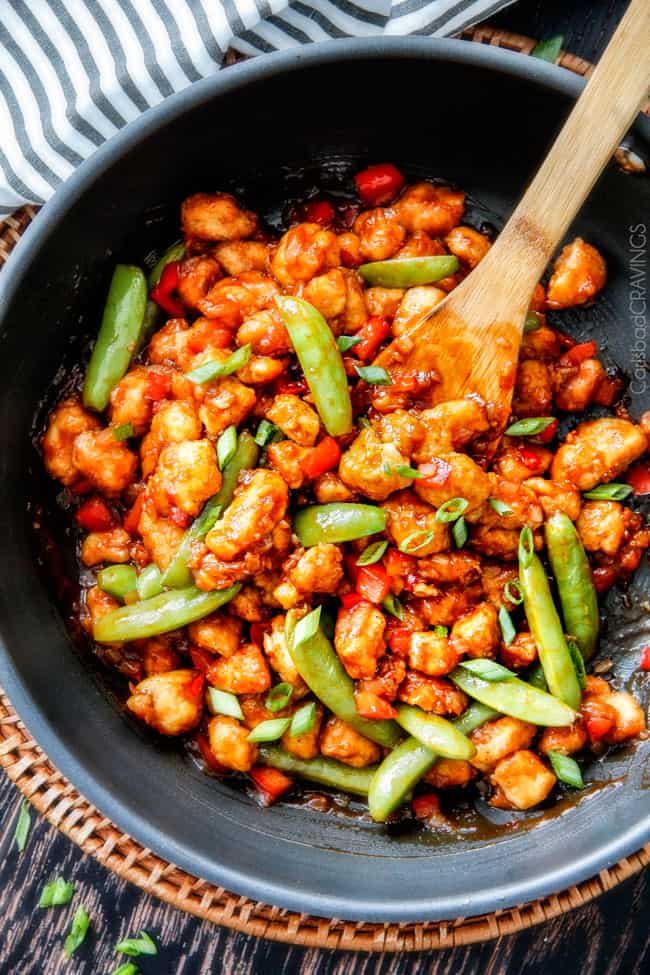 How to Make Hoisin Chicken
Step 1: Marinate Chicken
To make this stir fry, first marinate your chicken in some soy sauce, rice vinegar and brown sugar. This simple step infuses the chicken morsels themselves with tons of flavor instead of flavor just sitting on the outside of the chicken. You can marinate your chicken for whatever amount of time you have – whether its just while prepping your stir fry veggies and sauce or for hours.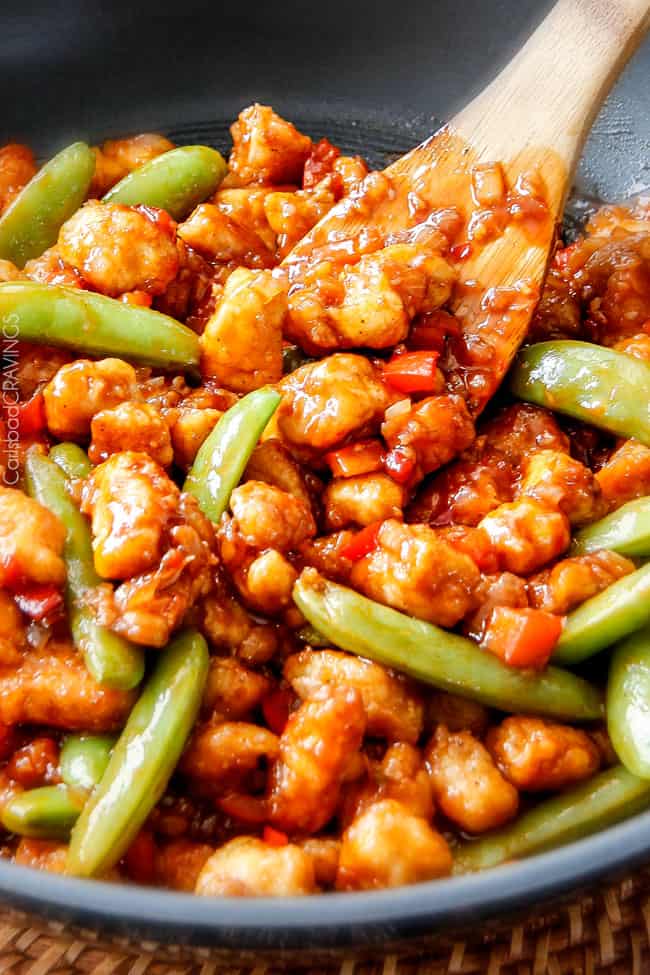 Step 2:  Bread Chicken
Next, the breading. I am always experimenting with the best, most streamlined way to bread Asian chicken and I love how easy this approach is! I've eliminated the extra egg wash bag. Instead, after you marinate your hoisin chicken, you drain your freezer bag of excess marinade then add your egg directly to the bag and toss to coat. Next, add your chicken to a freezer bag with your chicken breading of flour, cornstarch and of course, salt, pepper, ginger, garlic, and cumin and toss to coat – that's it!

Step 3:  Cook Chicken
When it comes to cooking your chicken, you can either use a little or a lot of vegetable oil. A couple tablespoons will work just fine to cook the chicken – it just won't be as crispy. If you want crispier chicken, then heat about ¼ inch up the sides of your pan with oil and pan fry your chicken. Either way, fast and delicious, just one crispier than the other.

Step 4:  Hoisin Sauce
Finally, the delectable hoisin sauce takes mere minutes to whip up by whisking together the dynamic rainbow of flavors of hoisin, ketchup, Asian chili sauce, soy sauce, cider vinegar, brown sugar, ginger and garlic that you add directly to your stir fry vegetables that have also taken you mere minutes to saute.
And there you have savory Hoisin Ginger Chicken Stir Fry with hints of sweet, hints of tangy and a whole lot of yum!
WHAT SHOUULD I SERVE WITH HOISIN CHICKEN?
We like to serve Hoisin Chicken with white or brown rice but you can also serve it in lettuce wraps, with zoodles, or cauliflower rice.
If you're looking to serve this Hoisin Chicken as part of more elaborate meal, it pairs beautifully with Wontons, Asian Salad, Potstickers, Wonton Soup and Chinese Chicken Egg Rolls.

Looking for More Chinese Chicken Recipes?
Want to try this Hoisin Ginger Chicken Stir Fry?
Pin it to your ASIAN,  DINNER or CHICKEN Board to SAVE for later!
Find me on Pinterest for more great recipes!  I am always pinning :)!
©Carlsbad Cravings by CarlsbadCravings.com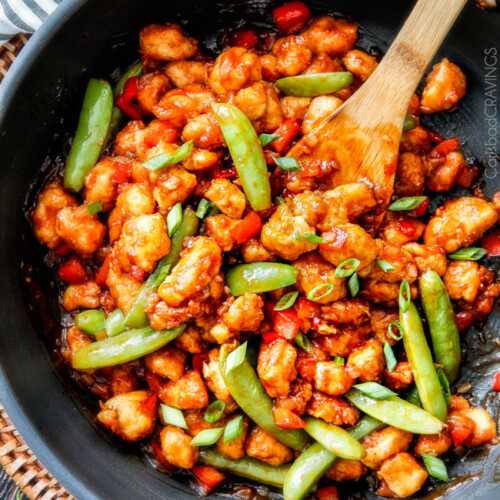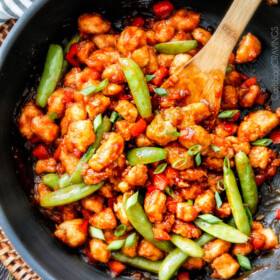 Hoisin Chicken Stir Fry
Hoisin Chicken stir fried with veggies and smothered in a dynamic savor ginger
hoisin sauce
that will have your family licking their plates!  It is some of the best Chinese fakeout takeout you will ever try, packed with layers of flavor, custsomizable veggies and custom heat for a home run dinner every time!
Save This Recipe To Your Recipe Box
You can now create an account on our site and save your favorite recipes all in one place!
Ingredients
Stir Fry
1

pound

chicken breasts cut into ½ – 1-inch pieces

Vegetable oil

1/2

onion, chopped

1

red bell pepper, chopped

2

teaspoons

freshly grated ginger

1

cup

heapingsnap peas, ends trimmed
Chicken Breading
1

cup

flour

3

tablespoons

cornstarch

1/2

teaspoon

salt

1/4

tsp EACH

ground ginger, garlic pwder, cumin, pepper

2

eggs
Hoisin Ginger Sauce
3

tablespoons

quality hoisin sauce

(Lee Kum Kee or Kikkoman)

3

tablespoons

Asian sweet chili sauce

(like Mae Ploy)

3

tablespoons

ketchup

2

tablespoons

cider vinegar

2

tablespoon

soy sauce

2

tablespoons

water

1

tablespoon

brown sugar

1/2

teaspoon

sriracha or more to taste

1

teaspoon

cornstarch
Garnish (optional)
green onions

cashews (SO good!)
Instructions
Whisk together the Marinade ingredients in a freezer bag. Add chicken and marinate 30 minutes at room temperature or up to 6 hours in the refrigerator (or if time is limited, just while you prep your vegetables and sauce).

Whisk together all of the Hoisin Ginger Sauce ingredients in a medium bowl. Set aside.

Whisk together all of the Chicken Breading ingredients in a large freezer bag EXCEPT eggs.

When ready to cook, drain excess marinade from chicken without removing chicken from bag. Add eggs to bag and toss with chicken until evenly coated. Remove coated chicken from bag, letting excess marinade/egg drip off then add chicken to Chicken Breading bag. Seal bag and toss until evenly coated.

Heat 3 tablespoons vegetable oil in a large nonstick skillet OR for crispier chicken, heat enough oil in pan until it reaches ¼ inch up pan over medium high heat.

Once very hot, add chicken in a single layer (working in batches if necessary – crucial for crispier chicken), and cook undisturbed for 1 minute then continue to cook and stir until lightly browned and cooked through. Remove to a paper towel lined plate.

Wipe out skillet. Heat 1 tablespoon oil to the now empty skillet and heat over medium high heat. Add onions and sauté for 2 minutes. Add red bell peppers, snap peas, ginger and garlic and saute for 1 minute.

Stir sauce (to make sure cornstarch has not separated) and add to skillet. Simmer until sauce is warmed through and thickened. Add chicken and toss to coat.

Garnish with green onions and cashews (optional) and serve with rice.
Notes
*Feel free to sub in/out your favorite veggies!
Did You Make This Recipe?
Tag @CarlsbadCravings and Use #CarlsbadCravngs
Leave a Review, I Always Love Hearing From You!
©Carlsbad Cravings Original