This Sheet Pan Chili Dijon Pork Tenderloin is a sponsored post written by me on behalf of Smithfield® Prime Fresh Pork. The opinions and text are all mine.
Company pleasing, holiday worthy Sheet Pan Chili Dijon Pork Tenderloin with Green Beans and Potatoes is melt in your mouth tender and bursting with tangy sweet and spicy flavors you won't be able to get enough of!
I hope you had a fabulous Thanksgiving filled with friends, family and lots of delicious food! Now that turkey season has come and gone, 'tis the season for pork! I typically make pork for Christmas and other special occasions like Mother's Day because it just feels more gourmet than traditional fare, and it is so versatile and melt in your mouth delicious while still being deceptively simple to prepare.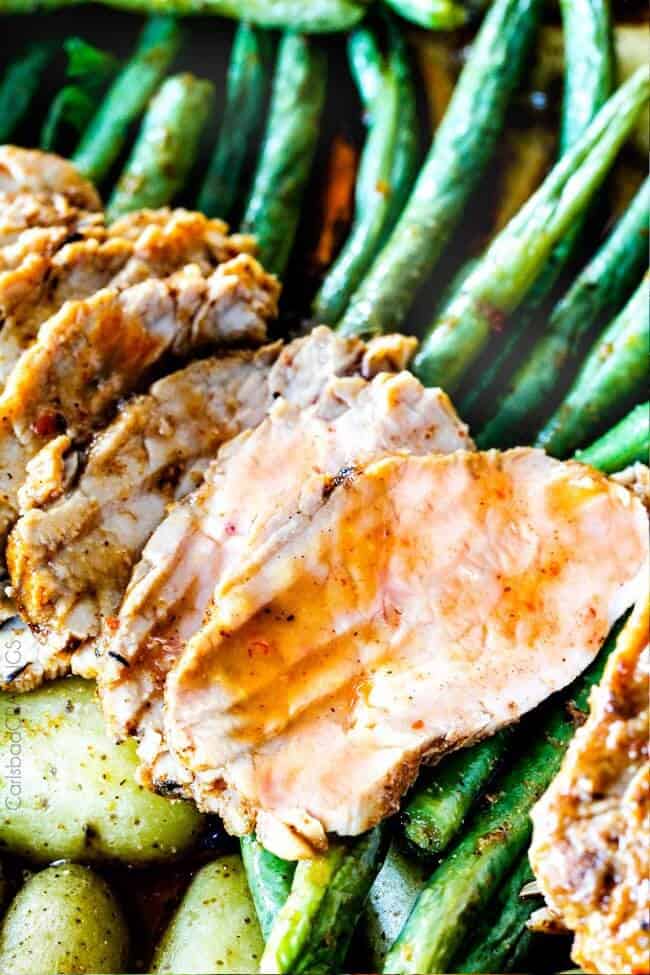 This Christmas, I am excited to serve this company worthy Chili Dijon Pork Tenderloin that is sweet and tangy with just the right kick of heat. And while this Chili Dijon Pork has a few more ingredients (most are spices that take seconds to whip together), it serves as your main course and your sides because the potatoes and the green beans are all baked together! Not only does this make for quicker meal prep, which is SO important during the holidays when you want to spend time with your family instead of slaving away in the kitchen, but but the juices of the Chili Dijon Pork Tenderloin seep onto the green beans and into the potatoes for an added layer of yum.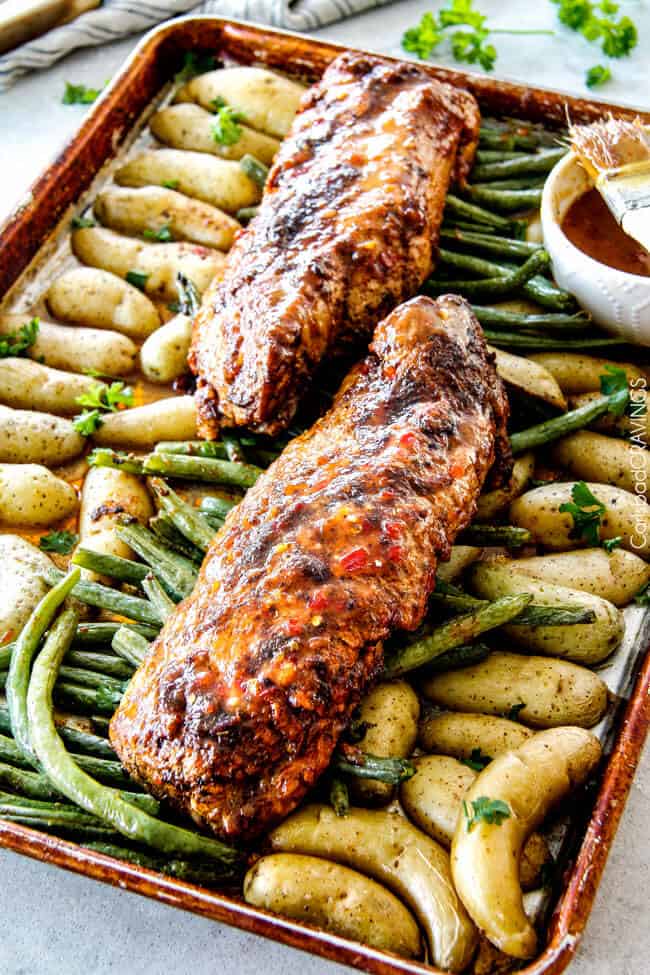 But before I get ahead of myself, let's talk pork. This was honestly the most tender, juicy pork I have ever devoured. Part of that is due to the 20 minute water-salt brine. Brining is like marinating meat as it helps keep the meat moist by increasing the moisture capacity of the meat (and it only takes 20 minutes!)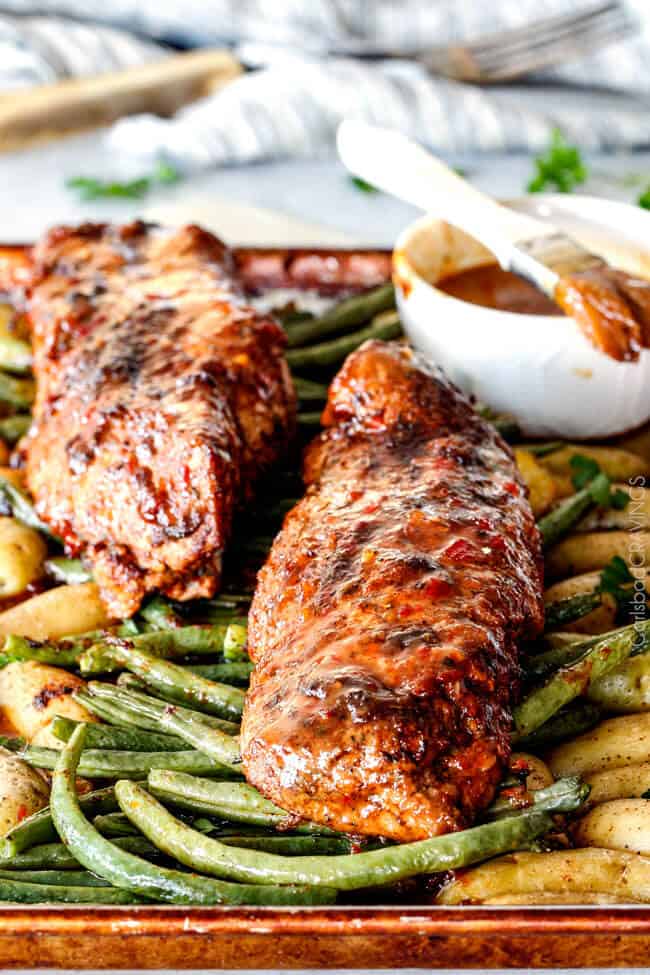 But I use a brine with all my pork tenderloins, and this was by far the juiciest, because this wasn't just any pork, this was Smithfield Prime Fresh Pork Tenderloin from United. Smithfield Prime Fresh Pork Tenderloin is 20% more tender than the other leading brand of natural pork. In addition, it has zero growth promotants, no added hormones or steroids, no artificial ingredients and is a product of the USA. Not all pork is created equal and you can definitely taste the difference with Smithfield Prime Fresh Pork Tenderloin!
While your pork is in the brine, you prep your Chili Rub by whisking together chili powder, ancho chili powder, onion powder, garlic powder, smoked paprika, parsley, thyme, etc. You add a sprinkling of this along with olive oil, salt and pepper to your potatoes and green beans while on the baking sheet and toss to coat. Next, you line the green beans down the middle of the pan and the potatoes along the outside.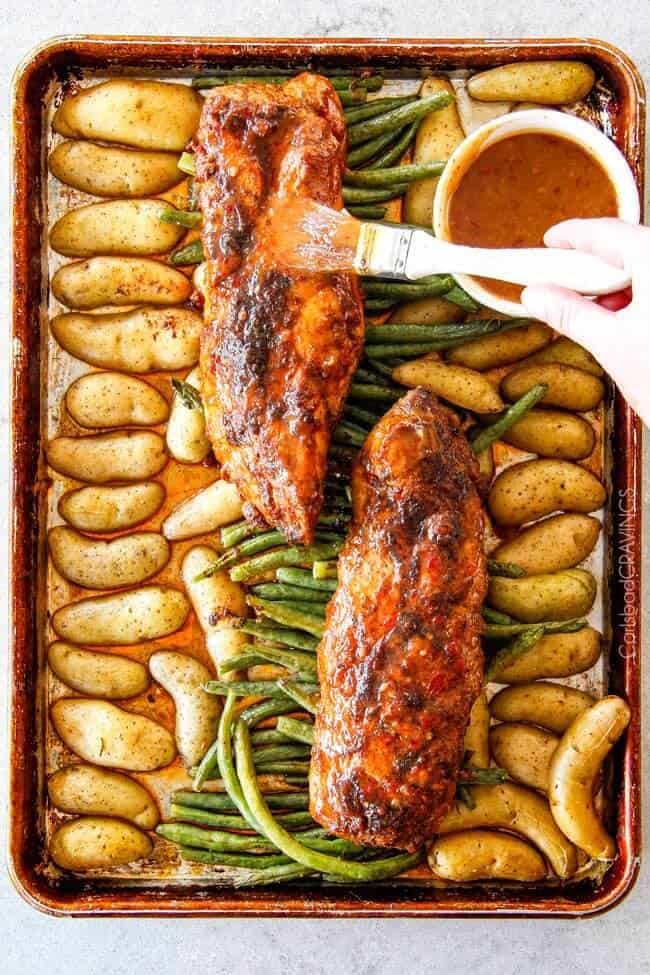 Next, rub your brined pork with the remaining rub mixed with some olive oil and sear on all sides then place the tenderloins directly over the green beans. This creates steam while roasting so the beans cook through without drying out.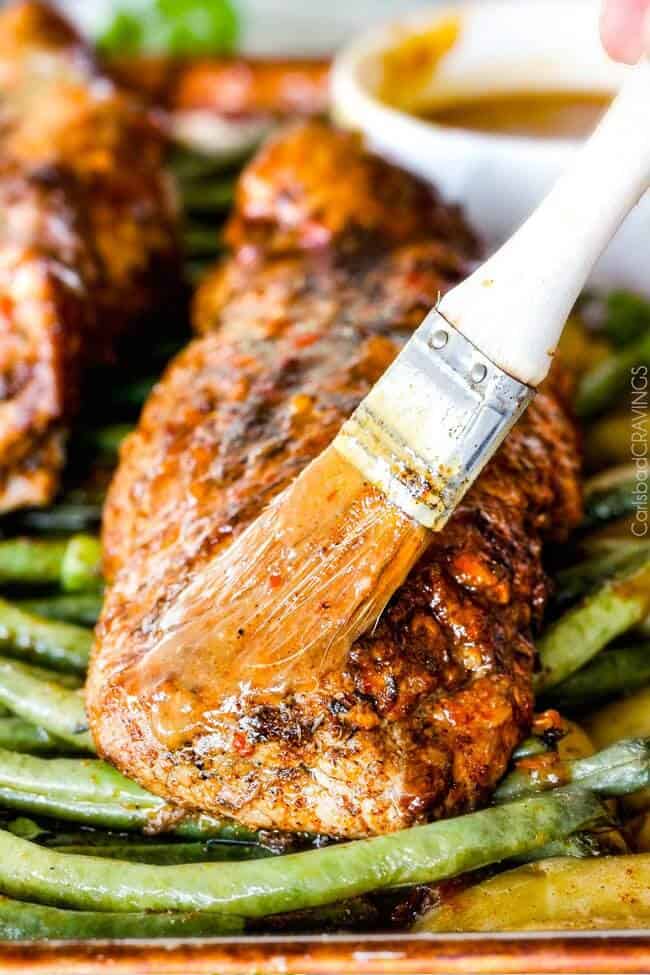 Finally, your Chili Dijon Sauce. This is a simple whisking of Asian sweet chili sauce, Dijon, brown sugar and some reserved Chili Rub spices. It's sweet, tangy, spicy and loaded with flavor. Brush this all over your pork before roasting and a little after, and you have the most tender, juicy, flavor-exploding pork to come out of your kitchen. Christmas Day worthy, every day easy.
LOOKING FOR MORE ONE PAN PAN DINNERS?
Looking for more Pork Tenderloin recipes?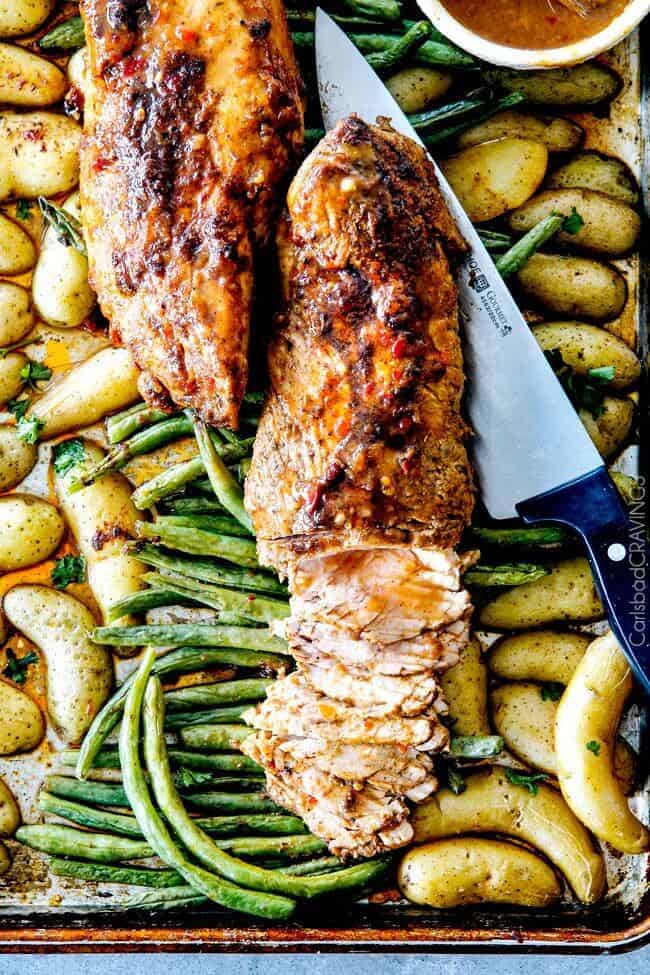 Want to try this Baked Pork Tenderloin? 
Pin it to your DINNER, PORK or HOLIDAY Board to SAVE for later!
Find me on Pinterest for more great recipes!  I am always pinning :)!
©Carlsbad Cravings by CarlsbadCravings.com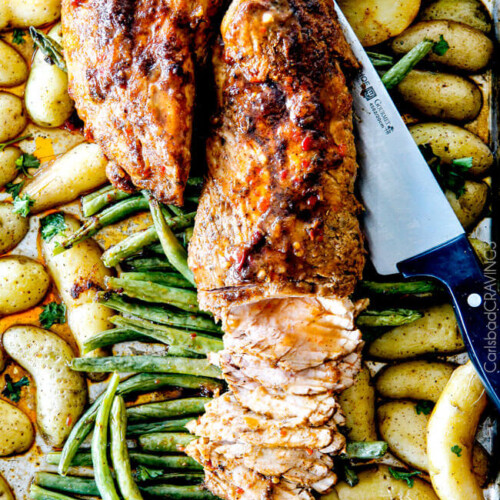 Chili Dijon Pork Tenderloin
Save This Recipe To Your Recipe Box
You can now create an account on our site and save your favorite recipes all in one place!
Ingredients
Instructions
BRINE: In a gallon-size freezer bag, mix salt with warm water. Add the remaining Brine ingredients, followed by pork. Brine for exactly 20 minutes then remove pork from brine, rinse and pat dry. The pork becomes mealy if left in the brine any longer.

CHILI RUB AND GLAZE: Meanwhile, whisk together all of the Chili Rub ingredients in a medium bowl. Remove 1 teaspoon Rub to a separate medium bowl and whisk in the Chili Dijon Glaze ingredients. Set aside.

VEGETABLES: Add green beans to one half of a large rimmed baking sheet and the potatoes to the other. Toss green beans with 1 tablespoon olive oil, ¼ teaspoon Chili Rub, ¼ teaspoon salt, and ⅛ teaspoon pepper. Toss potatoes with 2 tablespoons olive oil, ¼ teaspoon Chili Rub, ¼ teaspoon salt, and ⅛ teaspoon pepper.

Arrange green beans down the center of the baking sheet as pictured, some will overlap. Arrange potatoes, cut side down, on both sides of green beans.

PORK: Preheat oven to 425 degrees F. Whisk together remaining Chili Rub spices with 3 tablespoons olive oil. Rub patted dry pork all over with Rub.

Heat 2 tablespoons olive oil in a large nonstick skillet over medium high heat. When oil is very hot and smoking, add pork tenderloins. Sear each side until browned, approximately 1 minute per side. Place tenderloins lengthwise on top of green beans without touching each other. Separate out ¼ cup Chili Dijon Glaze and brush it evenly over pork.

ROAST: Bake until pork registers 145 and 150 degrees F (63 and 65 degrees C) at the thickest part of the tenderloin, 25-30 minutes. This means the pork will be juicy and slightly pink in the middle. When pork is done, let stand 10 minutes before slicing. Your vegetables should be done at the same time as the pork, but if not, then remove pork to cutting board, tent with foil, and continue roasting vegetables an additional 5-10 minutes or until tender.

SERVE (optional): Transfer vegetables to platter and pour over any accumulated juices. Season with additional salt and pepper if desired. Cut pork into thin slices and place over vegetables. Serve with remaining Chili Dijon Sauce if desired.
Did You Make This Recipe?
Tag @CarlsbadCravings and Use #CarlsbadCravngs
Leave a Review, I Always Love Hearing From You!
Carlsbad Cravings© Original