These Brazilian Steak Kabobs are made with the most incredible marinade! Grill or bake them — either method works perfectly!
These easy Brazilian Steak Kabobs with potatoes, bell peppers and onions are so crazy juicy and exploding with flavor in every mouthwatering bite! Quite possibly the most delectable steak kabobs you will ever eat!
Thank you McCormick® for sponsoring this Brazilian Steak Kabobs post. All opinions are my own.
How to Make Steak Kabobs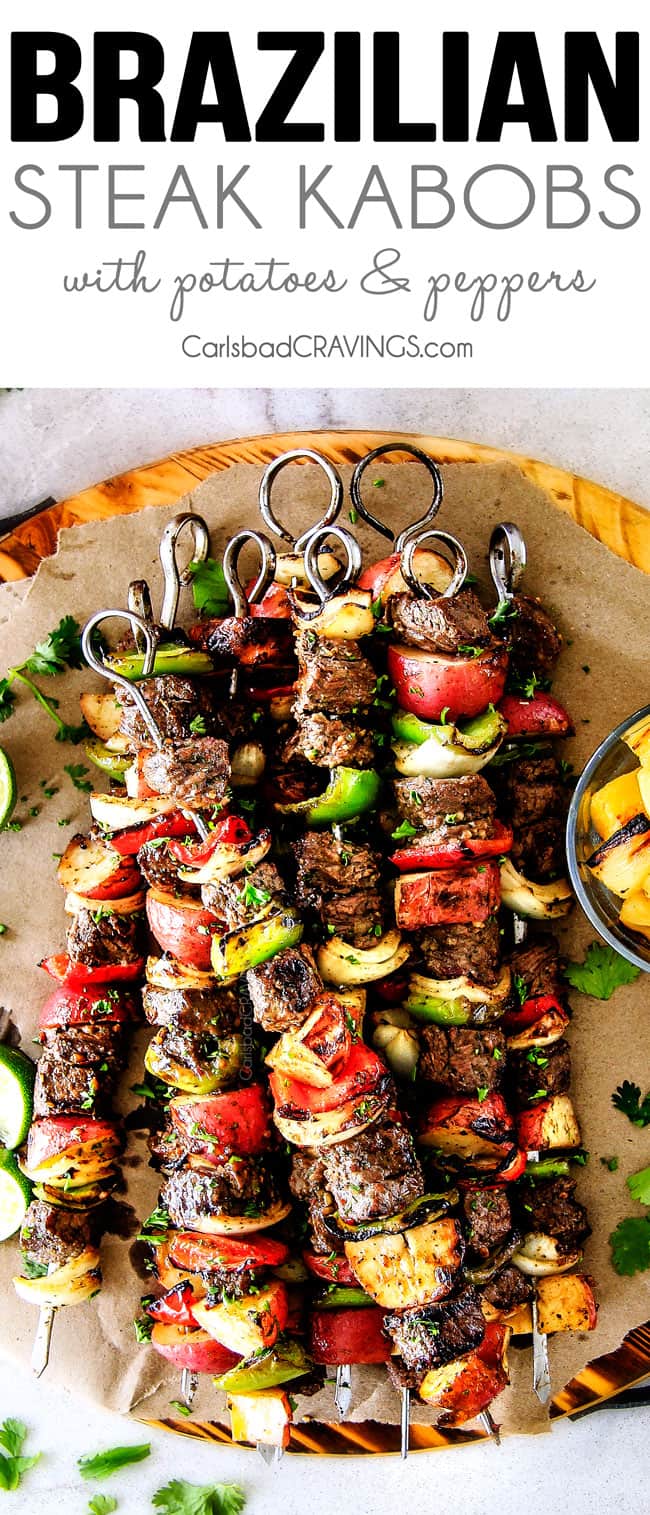 Brazilian Steak Kabobs Recipe
I can still remember the first time I dined at an all you can eat Brazilian Steakhouse, or more appropriately named, a Rodízio. Pure magic.
My eyes were wide and my stomach was giddy at the not only a gourmet salad bar, a hot everything-you can-imagine-bar and decadent dessert bar, but all throughout the night, servers come to your table with diverse towering skewers stuffed with every meat imaginable from filet mignon, sirloin, lamb leg, sausage, chicken legs and sometimes exotic meats. The server slices meat directly off the cooking spit so you get to sample as many juicy, hot of the grill meats as your hungry heart desires.
I wanted to create a melt-in-your-mouth tender, juicy steak kabob infused with the same magical vibrant flavors as a Rodízio. A steak kabob that will transport you to the melting pot of Brazil with its dynamic layers of flavor influenced by Europeans, Africans and native Brazilians. Enter these Brazilian Steak Kabobs. Mission accomplished. And what better occasion to indulge in tasty, tangy and totally delicious steak kabobs than the 4th of July?
These Brazilian Steak Kabobs with Potatoes and Peppers are simply jaw droppingly delicious. An epic explosion of flavor. Or "insane," as Patrick calls them (which you might have learned by now is reserved for only the most delectable morsels earning his highest praises).
What I especially love about these Brazilian Steak Kabobs is that although Brazilian flavored, they are not traditional Rodízio style all meat, but instead boast steak, potatoes, bell peppers and onions for a complete meal-in-one. You can serve them with some Mexican Rice or Cilantro Lime Rice if you are feeling extra fancy and because I think rice is always a good idea.
I also love that these Brazilian Steak Kabobs are completely customizable – skewer them all the same or skewer some all meat, some all veggie, or some with onion, some without, or to make it a fun hands-on meal, diners can make their own Brazilian Steak Kabobs with more or less of whatever they desire. This approach also cuts down on the skewering time for you!

Brazilian Steak Kabobs Ingredients
The ingredients list for the Brazilian steak marinade and the kabobs is fairly short:
Steak: Use quality top sirloin steak. It is less expensive than many cuts of beef but emerges juicy and tender due to cubing and marinating. Select thick cuts of sirloin and try to cut your steak into uniform size pieces.
Veggies: I used a mixture of red potatoes, bell peppers, and onion.
Spices: The star of this recipe is the McCormick Grill Mates® Brazilian Steakhouse Marinade.
Olive oil: The base of the marinade.
Soy sauce: Use reduced sodium soy sauce so you can control the amount of salt in this dish.
Worcestershire sauce: Just 2 tablespoons adds a lovely umami flavor to this dish.
Lime juice: Brightens up the marinade and helps tenderize the steak.
What's the Best Steak for Kabobs?
I recommend top sirloin steak for steak kabobs. Top sirloin is a cut of beef from the primal loin, or the upper ("top") portion of the cow that runs just under the backbone. It provides naturally tender, flavorful cuts of beef, including the top sirloin, T-bone, strip steak, porterhouse steak, and tenderloin. Top sirloin steaks are made by removing the tenderloin and bottom round muscles.
Top sirloin is a favorite for grilling because it's fairly affordable, relatively lean yet tender even without a marinade and boats beefy flavor. It is comprised of exquisite finely marbled fat which results in great flavor, generally second only to the ribeye. Here's the breakdown:
Finely marbled: the finely marbled fat melts during grilling, resulting in superior flavor and juicy tenderness. It is void of thick pockets of fat that won't melt during grilling.
Little connective tissue: this means the muscles have done very little work so they aren't tough. The lack of tough connective tissue keeps your steak melt-in-your-mouth through hand though without chewy pockets.
Affordable: you reap the juicy, beef tenderness of a more expensive cut of beef without paying the extra $$.
When purchasing top sirloin, choose fillets that are nice and thick and avoid petite sirloin steaks as they're too thin and will cook too quickly.
As an alternative to top sirloin, you can certainly use pricier rib eye or New York strip steak but I don't find the extra money worth the payout. Top sirloin when combined with the marinade results in just as tender steak kabobs in my opinion.

How to Make Brazilian Steak Kabobs
Aside from the actually skewering, these Brazilian Steak Kabobs are super quick to throw together. You begin by whisking together all your marinade ingredient consisting of olive oil, soy sauce, Worcestershire sauce, lime juice, and the secret to all that flavor – one package McCormick® Grill Mates® Brazilian Steakhouse Marinade.
This Marinade package is everything. It's a South American inspired blend of cilantro, garlic, onion, thyme and red and black peppers. You reserve ¼ cup for your veggies and basting and bathe your beef in the remaining marinade for 4-6 hours.
Next, we make grilling potatoes not only possible but perfect with a little shortcut. Microwave your chopped potatoes for 4-5 minutes, just until tender. This allows them to grill alongside your steak and everything to be cooked through at the same time. The only real trick is to not overcook your potatoes in the microwave or they will fall off the skewers.

Once cooked and drained, add your peppers, onions, some of the Reserved Marinade, olive oil, salt and pepper to your potatoes and refrigerate until you're ready to grill – so not only will your steak be infused with flavor, but your veggies as well for the best Brazilian Steak Kabobs ever.
Finally, skewer your steak and veggies, being sure to keep a little space between them so that the food grills versus steams, and grill until lightly charred all over, then prepare yourself for an epic explosion of yum.
Pure magic.
How Long to Grill Steak Kabobs
If making grilled steak kabobs, they'll need to cook until lightly charred all over, approximately 2-3 minutes per side.
How Long to Cook Steak Kabobs in the Oven
If making baked steak kabobs, they'll need to cook for 12-16 minutes at 450F.

Tips for the Best Steak Kabobs
Soak the steak skewers: Soak wooden skewers for at least 30 minutes in water before grilling or broiling to prevent them from charring.
Chop steak into 1 ½-inch cubes in order to keep them juicy. To that end, purchase steaks that are nice and thick and avoid petite sirloin steaks as they're too thin. You will also want to cut the cubes as uniformly as possible so they cook evenly.
Marinate the steak kabobs for at least two hours. If you are short on time, then marinate one hour in the refrigerator then finish marinating one hour at room temperature. This will make the marinade more effective.
Don't overcook steak. Steak should be cooked to 140-145 degrees F. The beef is juiciest if cooked to medium-rare 135°F or medium 145°F. I find medium to be perfect so the veggies still have time to char a little, so I go for 140 degrees knowing the temperature will rise a few degrees after being removed from the oven. I recommend an instant read thermometer so you can check the doneness of your steak without any guess work.
Recipe Variations to Try
Swap protein. Literally ANY protein can be used kabobs! You can swap the steak for chicken breasts or thighs, pork tenderloin, shrimp and even salmon.
Mix up the veggies. You're welcome to mix and match the veggies or add more or less of your favorites. Mushrooms, tomatoes, and squash would all be delicious.
Add fruit. You won't want to marinate the fruit, but you can make separate fruit kabobs with pineapple, peaches, nectarines, plums, watermelon, pears and/or grapes.

Can I Prep Brazilian Steak Kabobs in Advance?
Grilled steak kabobs are best if marinated up to the time of grilling, but you can prepare elements of the steak kabobs ahead of time:
Make marinade. Make marinade up to 3 days ahead of time and store in an airtight container in the refrigerator WITHOUT the steak.
Cube steak. Cut steak into cubes up to 24 hours ahead of time and store in airtight container in the refrigerator (not in the marinade).
Cut veggies. You can prep all of your veggies 24 hours ahead of time and store in separate airtight containers in the refrigerator.
Marinate. Marinate steak and veggies up to 6 hours ahead of time.
How to Store Steak Kabobs
Remove the meat and vegetables from the skewers and place in an airtight container. Store in the refrigerator for up to five days.
How to Reheat Brazilian Steak Kabobs
Reheat the steak and veggies in a lightly oiled skillet over medium-low heat.
Can I Freeze Steak Kabobs?
You may freeze the steak but I don't recommend freezing the vegetables because they can become a funny texture. If you are making to freeze, then I recommend making all steak kabobs. You can also make all veggie kabobs to enjoy now.

What to Serve with Brazilian Steak Kabobs
Here are some of our favorite sides to serve with steak kabobs:

Helpful Tools for This Recipe
Metal skewers: I LOVE my stainless steel skewers! They allow you to grill any time without soaking your wooden skewers (AKA no fires!), are reusable, dishwasher safe with an easy-to-use top ring handle. They are definitely worth the $20 for a lifetime of use.
Grill brush: is essential for keeping your grill clean! This grill brush with scrapers cleans stubborn stains deeply and efficiently.
Instant-read thermometer: you need an instant-read thermometer for the juiciest steak kabobs, chicken, pork AND for perfectly fried everything! It allows you to cook any protein to the perfect temperature every time.
Quality Knives: a chef's knife will be your most used kitchen tool by far! Quality knives make prep time much quicker for this Steak Kabob recipe and are important for safety as well. If you're concerned about moola, please remember that your best chef knives, depending on how hard you use them and how well you take care of them, can easily last 25 years or more. I love my Wusthof but there are hundreds of less expensive knives with great reviews such as this one.
Cutting Board: I use my big solid cutting board daily so it's worth the investment. This extra-large cutting board allows you to prep all your veggies on one surface and the bamboo is easier on knives than plastic

More Easy Grilling Recipes:
If you love grilling, you will also love:
See all Grilling recipes HERE.
Want to try these Brazilian Steak Kabobs with Potatoes?
Pin them to your GRILL, STEAK, SUMMER or DINNER Board to SAVE for later!
Find me on Pinterest for more great recipes! I am always pinning :)!
©Carlsbad Cravings by CarlsbadCravings.com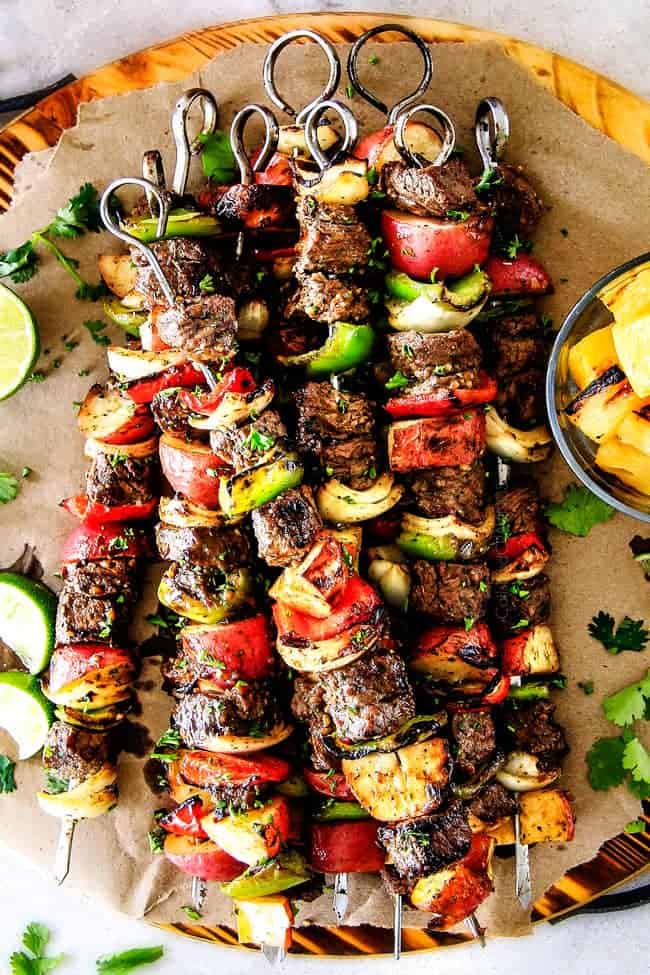 GRILLED OR BAKED Brazilian Steak Kabobs with Potatoes (VIDEO!)
Ingredients
Kabobs
1 1/2

lbs.

top sirloin steak

cut into 1 1/2" cubes

1

lb.

red potatoes

cut into 1/2"-1" cubes

1

red bell pepper

sliced into 1 1/2" chunks

1

green bell pepper

sliced into 1 1/2" chunks

1

large onion

sliced into 1 1/2" chunks

salt and pepper
Instructions
Marinate
Whisk all of the marinade ingredients together in a large bowl or large freezer bag (whatever dish you are going to use to marinate your beef). Remove ¼ cup (to use later for vegetables and basting).

Add beef to remaining marinade and turn to coat. Marinate 4-6 hours in the refrigerator.

Add potatoes to a large microwave safe bowl. Add 2 tablespoons water. Microwave, covered, 4-5 minutes or just until fork tender; drain. Add peppers, onions, 2 tablespoons of Reserved Marinade, 2 tablespoons olive oil, ½ teaspoon salt, ¼ pepper. Toss until evenly coated. Refrigerate.
Assemble
NOTE: Soak wooden skewers for at least 30 minutes in water before grilling or broiling.

When ready to cook, thread beef and veggies onto skewers.
Grilling Instructions
Grease and preheat grill to medium high heat. Grill skewers until lightly charred all over, approximately 2-3 minutes per side, basting with remaining marinade halfway through cooking. You can check a beef cube for doneness if desired.

Let rest 5 minutes before serving. Delicious served with Caramelized Grilled Pineapple and Cilantro Lime Rice (links below).
Baking Instructions
Preheat oven to 450 degrees F. Line a rimmed baking sheet with foil for easy clean up. Lightly spray with nonstick cooking spray.

Evenly space kabobs on baking sheet and bake 12-16 minutes, turning once OR until beef reaches desired doneness (cooking time will vary depending on steak size, so you can check a beef cube for doneness if desired).

Let rest 5 minutes before serving. Delicious served with Caramelized Grilled Pineapple and Cilantro Lime Rice (links below).
Notes
Don't miss the "how to make" recipe video at the top of the post!
Did You Make This Recipe?
Tag @CarlsbadCravings and Use #CarlsbadCravngs
Leave a Review, I Always Love Hearing From You!
©Carlsbad Cravings Original
Delicious with:
NEVER MISS A CARLSBAD CRAVINGS CREATION: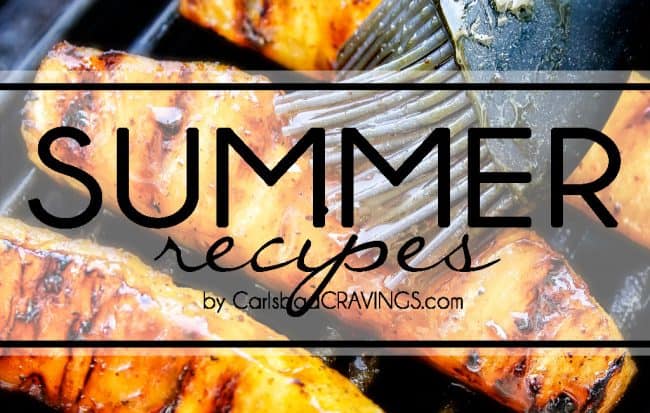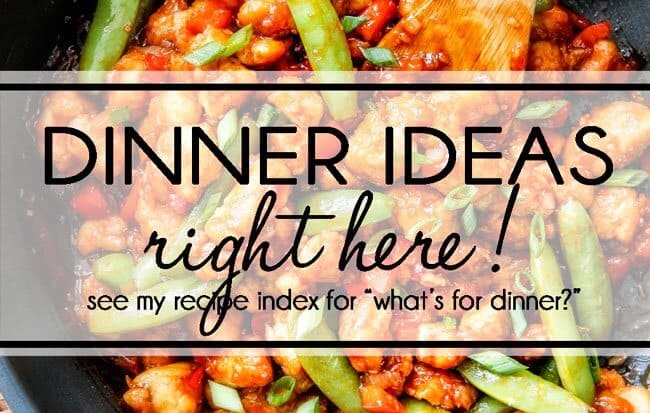 You might also like:

Sweet and Tangy Hawaiian Chicken Kabobs

Cajun Steak with Apricot Orange Glaze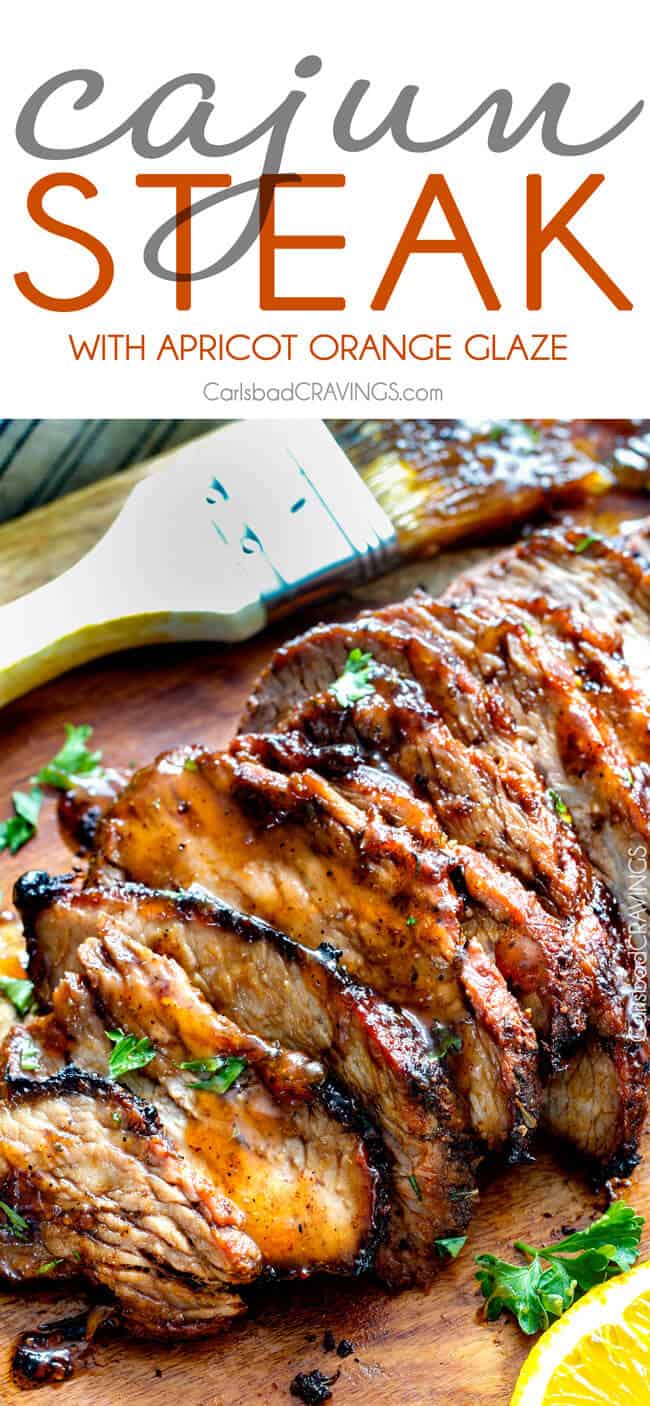 Teriyaki Chicken Tacos with Grilled Pineapple Pear Salsa