Chocolate Raspberry Cheesecake is the perfect dessert all year long!
This Chocolate Raspberry Cheesecake is show stopping delicious and the perfect dessert for any occasion. The decadently rich and creamy cheesecake is cocooned in a buttery Oreo Crust, topped with silky chocolate ganache and crowned with fresh sweetened raspberries. Does it get any better?! I've also included very detailed instructions so even if you have never made a cheesecake before, this Chocolate Raspberry Cheesecake will be jaw dropping success!
Chocolate Raspberry Cheesecake
I dreamt up this Chocolate Raspberry Cheesecake recipe with my dad in mind. I inherit a lot of characteristics from my dad – my love for speed, my work ethic, my looks (as in I look like my dad not as in "I'm so good looking" 🙂 ), my level head but maybe most important of all, I inherited my love for Ghirardelli raspberry filled chocolates. Oh my, they are sooo good!!
I wanted to create a cheesecake that embodied our favorite raspberry filled chocolates which led to this Chocolate Raspberry Cheesecake recipe crusted in buttery oreos, topped with sweet, super creamy cheesecake (seriously, the texture just kills me – its melt in your mouth, savor on your tongue cheesecake!), covered with a thick bittersweet/semisweet chocolate ganache sure to satisfy every chocolate lover! (and don't let the word ganache scare you – its as simple as melting cream and butter in the microwave and adding some chocolate!)…all topped with sweet raspberries chilled with raspberry jelly for the ULTIMATE Chocolate Raspberry Cheesecake experience.
How to make Raspberry Chocolate Cheesecake
If you have never made cheesecake before, they are super easy to make but require a lot of "hands off" time while the cheesecake cools, so you kind of have to be around the house for a while (but its so worth it!). So just DON'T be like me and my first cheesecake experience and start making your cheesecake at 11 at night – because you will be up all night!
Step 1: How to Waterproof Pan
Waterproofing your pan is super important to water doesn't seep into the pan and make your cheesecake soggy. To waterproof your pan, place 2 large 18″ x 18″ pieces of aluminum foil on a flat surface underneath the pan in the form of a "+." Gently fold (to make sure you don't create any holes) up the sides of the foil around the pan.
I then like to place the foil lined springform pan in the center bottom of a slow cooker liner, bring the liner bag up to the top of the pan then gather excess to one side and tie it in a knot. The line is optional but it make sour cheesecake 100% waterproof.
Step 2: How to Make a Water Bath
The term "water bath" simply means baking cheesecake in water. Cheesecakes require a water bath in order to cook evenly so the cheesecake doesn't crack. To make your water bath, fill a roasting pan with about 1 ¼" of warm water then placing your cheesecake in your springform pan in the center.
The hot water insulates the outer edges of the Pecan Pie Cheesecake, so the edges don't bake faster than the middle. This ensures even baking throughout and lessens the likelihood of the Pecan Pie Cheesecake cracking.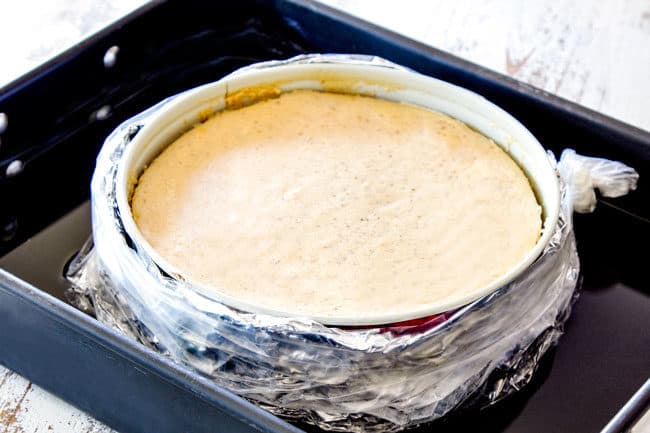 Step 3: How to make Oreo Crust
My favorite crust for this Chocolate Raspberry Cheesecake (and may cheesecakes and pies) is Oreo Crust. You can use Oreos or the store brand. The Oreos provide the structure and sweetness because there isn't any additional sugar in the crust, and then we add butter to bind it all together.
The easiest and quickest way to make your crurst is in the food processor – it literally takes minutes! If you don't have a food processor – on problem! You can place the Oreos in large plastic bag and crush them with a rolling pin or side of a can. The crumbs won't be as fine, but, it will still get the job done. Now all that's left to do is combine the crumbs with melted butter and press firmly into the bottom of your spring form pan.
Step 4: How to Make Cheesecake Filling
The most important part of making your cheesecake filling is to beat the cream cheese and sugar until light and fully with your paddle attachment – about 5 minutes. Five minutes can seem like a long time, so set your timer and don't stop early!
Next, add your eggs, egg yolks and finally the e sour cream, lemon juice and vanilla. Once you add the eggs, beat as LITTLE as possible, beating just until combined after each addition – overbeating eggs can lead to cracking, Also, make sure you use room temperature eggs which will allow them to mix more easily without overbeating.

Step 5: How to Bake Cheesecake
Pour the cheesecake into the prepared spring form pan and add cheesecake to the water bath. Bake for 90-115 minutes OR until the edges are firm and the center of the cheesecake is still wobbly, but not runny. (The baking time can vary due to the differences in ovens, so make sure to check the cheesecake at 90 minutes and cook longer if necessary. The Chocolate Raspberry Cheesecake will continue to cook and firm up while it cools.
STEP 6: How to COOL CHEESECAKE
Cooling the Chocolate Raspberry Cheesecake gradually is important in order to prevent cracks. To cool:
Turn off your oven and crack open the oven door. Allow cheesecake to cool in oven for 60 minutes.
Remove cheesecake to a wire rack and gently run a hot knife along the edges of the cheesecake. This will ensure the edges don't stick to the outside of the pan as the cheesecake pulls inward and shrinks when cooling.
Continue to cool cheesecake until completely cooled, about 2-3 hours.
After a few hours, the cheesecake should be at room temperature and is safe to refrigerator. Create a foil "tent" to cover the top of the cheesecake (so that it doesn't actually touch the cheesecake) and chill in the refrigerator for 1 hour before covering with ganache.
STEP 7: How to make chocolate ganache
Please don't let the word ganache scare you – it is actually SUPER easy to make! Simply add heavy cream and butter to a large microwave safe bowl and heat for 2 minutes, stir to combine. Add chopped chocolate and and stir until chocolate is melted. Let cool for 15 minutes.
Your chocolate ganache is only as tasty as your chocolate – so use quality chocolate! I suggest Bakers or Ghirardelli brand chocolate bars. Quality chocolate chips can also work but ONLY use Guittard or Ghirardelli.
Sep 8: How to Add chocolate to cheesecake
To add the chocolate ganache to your cheesecake, you have two options:
1: Remove the springform pan and allow the ganache to run over the cheesecake edges slightly when you spread it evenly over the cheesecake with a spatula or back of a spoon (like in my coconut cheesecake pictured).
2. Keep the springform on and spread the ganache just to the edges like in my Chocolate Raspberry Cheesecake pictures – entirely personal preference.
Step 9: Chill Cheesecake
Cheesecake is one of those desserts that only gets better with time. I suggest chilling for 24 hours, but if you don't have the time, no less than 4.
Step 10: Make Raspberry Topping
While the Chocolate Raspberry Cheesecake is chilling, make the raspberry topping by gently mixing raspberries with raspberry jelly in a large bowl – that's it! Cover and chill separately in the refrigerator. When ready to serve, top cheesecake evenly with chilled raspberries.
STEP 11: SLICE Chocolate Raspberry CHEESECAKE
Now for the fun part! To slice your Chocolate Raspberry Cheesecake, fill a large glass with hot water, then dip knife in hot water before each cut. Wipe knife clean after each cut.
Tips for Chocolate Raspberry Cheesecake
Use a slow cooker liner: Waterproof your springform pan with both foil and a slow cooker liner for 100% success.
Use a water bath: so the outer edges of the cheesecake don't bake faster than the middle which causes cracking.
Beat until fluffy: Mix your cream cheese and sugar very well until it is light and fluffy because this is the only time we want to add air to the cheesecake.
Use room temperature ingredients:  Room temperature eggs, sour cream and softened cream cheese allow them to mix more easily and evenly and reduces the risk of cracks.
Don't overbeat eggs: overbeating eggs causes instability and results in cracked cheesecake.
Cool cheesecake gradually: cool the Chocolate Raspberry Cheesecake gradually, first with the oven door propped open and then on the counter. If you remove the Cheesecake from the oven immediately, the sudden change in temperature will cause the cheesecake to crack.
Use quality chocolate: I suggest Bakers, Ghirardelli or Guittard for best results.
Use ripe raspberries: make sure your raspberries are ripe so they are sweet but not on the edge and turning soft, otherwise, they can get mushy when chilled.
Extra raspberries! I love to serve my cheesecake with extra raspberries on the side.
Chill cheesecake: for the BEST Chocolate Raspberry Cheesecake, don't rush it. Allow at least 24 hours to chill before servings.
Chocolate Raspberry Cheesecake Variations
In anticipation of Father's Day, I asked my dad what dessert he wanted? He said he wanted this Chocolate Raspberry Cheesecake because it was the "best cheesecake [he] has ever had."
I asked if I could try something different this time around (I have a hard time making exactly the same recipe twice) – and so he said he would love the Oreo crusted chocolate ganache cheesecake with toasted coconut!
So. this perfect cheesecake recipe below is a versatile springboard! After you make the cheesecake, you can proceed to make the super easy ganache and then top it with anything your heart desires (Oreos, crushed Butterfingers, blueberries, raspberries, coconut, etc.) and it will be as delicious as whatever your heart desires!
My personal favorite, however, is the pictured Chocolate Raspberry Cheesecake – absolute perfection!
LOOKING FOR MORE CHEESECAKE RECIPES?
Want to try this Chocolate Raspberry Cheesecake Recipe?
Pin itto your CHRISTMAS, CHEESECAKE or DESSERT BOARD to SAVE for later!
Find me on Pinterest for more great recipes! I am always pinning :)!
©Carlsbad Cravings by CarlsbadCravings.com
Carlsbad Cravings Original with raspberry topping adapted from Raspberry Cheesecake
Never miss a Carlsbad Craving Creation: