Caramel Apple Cheesecake Bars boasting 7 layers of candy apple deliciousness!
These Caramel Apple Cheesecake Bars will make you the HERO of the holidays!  They are the best apple bars/pie/cheesecake anything  – ever!   They are like caramel apple cheesecake bars on steroids (but legal of course) –  bigger, better and more intoxicatingly delicious!  And how could they not be with 7 layers of heaven?  I've included how to make these Caramel Apple Cheesecake Bars ahead of time, how to prep ahead and how to freeze – now there's no reason not o make these bars this season!
WHAT ARE CARAMEL APPLE CHEESECAKE BARS?
Remember when I said you would be the talk of Thanksgiving with my Double Layer Pumpkin Oreo Cheesecake?  Well, these Caramel Apple Cheesecake Bars will also do the trick.
These Caramel Apple Cheesecake Bars begin with a thick and chewy butterscotch toffee crust followed by a layer of buttery caramel, chopped pecans and toffee bits to mimic a candy apple coating. They are then layered with thinly sliced cinnamon, brown sugar apples, luscious cheesecake, a brown sugar streusel and drizzled with more caramel -drool.
There are simply no words to describe the explosion of YUM in each and every bite of these bars! So, if you're looking for a make ahead, stress free dessert, show stopping dessert that everyone LOVES, look no further than these Caramel Apple Cheesecake Bars.
Now, I realize there there is a lot going on in this recipe, but I promise the end result will be worth it!
Caramel Apple Cheesecake Bars Ingredients & Substitutions
THE Crust
The crust needs to be sturdy and thick enough to hold up to all of the layers in the Caramel Apple Cheesecake Bars, that is why it is not just a simple graham cracker crust. It is also not just s shortbread crust because I find those very dull, dry and boring. Instead, we get to enjoy a TOFFEE butterscotch crust!
The sensational crust is comprised of: flour, butterscotch pudding mix, one egg, vanilla, butter, cinnamon, pecans and toffee bits. It's a lot going on which means it creates a whole lot of YUM. Here's just a couple ingredient notes:
flour: I use all-purpose flour but I'm sure any gluten free flour would work because it doesn't need to rise or do anything special.
butterscotch pudding mix: adds butterscotch goodness. Make sure you use INSTANT pudding and not cook and serve
toffee bit:  I use Heath Bits O' Brickle Toffee Bits found in the baking aisle next to the chocolate chips. You will also use the toffee bits sprinkled across the bars and the streusel-so your purchase will not go to waste.
The Cheesecake
cream cheese: I used full fat cream cheese but it will also work with less fat. Please do NOT use nonfat cream cheese.
sour cream:  I use full fat sour cream, but reduced or low fat will also work, just with slightly less indulgent results. 
sugar: use granulated sugar
egg:  one large egg will do the trick.  It binds the cheesecake together.
lemon juice:  bottled or fresh is fine. 
vanilla extract:  use quality extract for best results.
THE APPLES
The apple layer is a simple combination of apples, melted butter, brown sugar and cinnamon.
What Apples Are Best? Please use all Granny Smith apples over sweeter varieties like Honey Crisp or Fuji for these Caramel Apple Cheesecake Bars. You want the contrasting tartness of the Granny Smith Apples otherwise sweet apples will make the bars too sweet.
The Caramel Sauce
I HIGHLY recommend my homemade Caramel Sauce recipe for these Caramel Apple Cheesecake Bars. The sauce is rich, creamy, buttery, sweet and 1000X better than store bought caramel sauce! It is easy, fool proof and ready in 5 MINUTES – so there is no reason to use store bought. It also uses pantry friendly ingredients. You will need:
butter:  use unsalted butter so you can control the amount of salt in your caramel sauce. Do NOT use any substitutes!
brown sugar: do NOT substitute with granulated sugar or you will need a different recipe/cooking method. Make sure the brown sugar is packed for the correct ratio of brown sugar to butter.
evaporated milk: I love using evaporated milk in this Caramel Sauce Recipe because I always have it on hand which means I can make caramel at a seconds notice. It also delivers fool-proof results because it incorporates into the caramel easier. You may also substitute heavy cream if you already have it on hand.
vanilla extract: use pure vanilla extract, the better quality, the better the taste.
salt: you can use more or less salt to taste but I find salt essential otherwise the Caramel Sauce and the Caramel Apple Pie Bars are too sweet.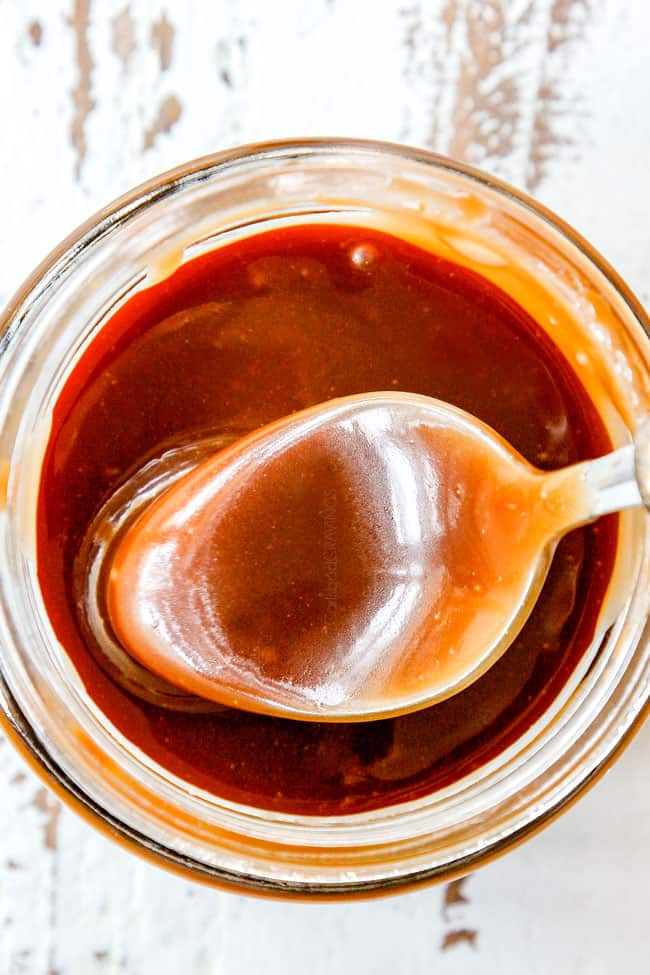 The Streusel
The streusel is a quick pulsing of pantry friendly ingredients in your food processor. You will need:
flour: I use all-purpose flour but any flour will work great.
brown sugar: use light brown sugar for best results.
quick-cooking oats: make sure you use quick cooking oats otherwise the streusel will be too chewy.
butter: cube your butter then chill it so it's nice and cold.
pecans: you can omit if someone has a nut allergy and replace with equal parts flour and oats.
toffee bits: use from the same Heath Bits O' Brickle Toffee Bits package you used for the crust.
How to make Caramel Apple Cheesecake Bars
So let's talk about how to make these Caramel Apple Cheesecake Bars by detailing each layer. Each layer is simple and you can make them at different stages/parts of the day if you wish:
Layer One: CRUST
The Butterscotch Crust is super easy and a MUST MAKE just so you can taste how delicious a crust can be.
Mix all of the ingredients together in a medium bowl.
Press mixture into a lined and greased 9 x 13 baking pan.
Bake for 15-18 minutes or until lightly browned then cool crust (you can place in the refrigerator).
Layer Two: Caramel Sauce
This Easy Creamy Caramel Sauce is addicting in its own right – just read the comments on the recipe!
Add butter, brown sugar, water, and salt to medium saucepan and heat over medium-low heat, stirring until butter melts.
Bring to a boil then reduce to a vigorous simmer, whisking constantly until thickened, approximately 5-7 minutes.
Remove from heat and stir in 1/2 cup evaporated milk (it will bubble a lot) and vanilla.
Spread one cup caramel sauce over cooled crust and reserve the rest to drizzle over the Caramel Apple cheesecake Bars.
Layer Three: Toffee and Pecans
Sprinkle caramel with 1/3 cup toffee bits and 1/2 cup chopped pecans. 
Layer Four: Apples
Peel and thinly slice Granny Smith Apples.
Toss apples in brown sugar, cinnamon, melted butter and lemon juice.
Layer apples over the caramel toffee pecans creating the "Candy  Apple" effect.  Doesn't get much better than cinnamon apples with caramel, toffee and pecans!  Oh, but wait, it does…
Layer Five: Cheesecake
Beat cream cheese and 1/2 cup sugar on medium speed for 3-5 minutes until light and fluffy.
Beat in egg until incorporated, then add sour cream, lemon juice and vanilla.
Pour smooth, velvety cheesecake over apple layer and spread evenly.
Layer Six: Streusel
I LOVE making streusel in my food processor because it literally takes minutes without any elbow grease of cutting in butter BUT I've also included instructions in the recipe on how to make streusel without a food processor.
Add pecans to food processor and pulse a couple times to chop.
Add remaining streusel ingredients except toffee bits and pulse until it resembles coarse pebbles.
Stir in toffee bits.
Sprinkle over cheesecake layer.
Layer Seven: Caramel Drizzle
The Caramel Apple Cheesecake Bars are then baked and cooled then drizzled with Layer Seven – more Caramel Sauce. The resulting Caramel Apple Cheesecake Bars are intoxicatingly delicious with layer upon layer of texture, flavor and deliciousness!
Tips for Caramel Apple Cheesecake Bars
Use a thick-bottomed, sturdy pan for caramel: the sugar needs to cook evenly which is much easier to do in a thick-bottomed, sturdy pan that is made to evenly distribute the heat. A thick bottomed pan will also help your sugar from burning.
Don't cook caramel at too high of heat: don't simmer over too high of heat otherwise your caramel can burn. It is better for your caramel to take longer to thicken over lower heat than for it to thicken quicker and risk burning.
Consistency of caramel: for thicker caramel sauce that we want in this Caramel Apple Cheesecake Bar recipe, simmer the caramel for the full minutes. Caramel will also thicken slightly upon refrigeration.
Line pan: it is much easier to cut the Caramel Apple Cheesecake Bars nicely if you remove them from the pan first. To do this, create a sling by lining the 9×13 pan with parchment paper all the way up the sides before you make the bars. This will also ensure the bars don't stick to the pan.
Thinly slice apples: you wan to slice the apples very thinly so they bake in the required time.
Make sure cream cheese is soft: if your cream cheese isn't soft enough, you will gt lumpy cheesecake. I've outlined 3 methods to soften your cream cheese in my Chocolate Chip Cheesecake Bar recipe.
Beat cream cheese long enough: make sure to beat your cream cheese for at least 3 minutes. This is the time to get your cheesecake light and fluffy because you don't want to overmix after you add the eggs.
You may not want more caramel: if you don't love sweet desserts, you may want to skip the finishing caramel drizzle or steal a taste and decide if you want the added sweetness.
HOW TO STORE CARAMEL APPLE CHEESECAKE BARS 
These Caramel Apple Cheesecake Bars should be tightly covered and stored in the refrigerator.  They are good for about 3-5 days, but the best texture after 24 hours.
Can I Make Caramel Apple Cheesecake Bars Ahead of Time?
Absolutely! You can completely assemble, bake and chill the Caramel Apple Cheesecake Bars 24 hours in advance, or prep different elements of the recipe ahead of time, here's how:
Crust: bake, cool then cover with foil 24 hours ahead of filling
Caramel Sauce: can be made up to three weeks ahead of time, cooled and stored in an airtight container. To reheat, microwave Caramel Sauce for 30-60 seconds, stirring at 30 second intervals, repeat as needed. You may need to stir in additional evaporated milk as the caramel will thicken upon refrigeration.
Pecans: you can chop the 1/2 cup pecans needed in Layer 3 and store in an airtight container.
Apples: you can peel and slice the apples 24 hours ahead of time and use one of the techniques outlined in this recipe to prevent them from browning.
Cheesecake: can be made 24 hours ahead of time and stored in an airtight container in the refrigerator.
Streusel: can be completely chopped 24 hours ahead of time and stored in an airtight container in the refrigerator.
CAN I FREEZE CARAMEL APPLE CHEESECAKE BARS?
Yes!  The apples and streusel will soften slightly but still be delicious.
To freeze whole pan of Caramel Apple Cheesecake Bars:
Cool cheesecake bars completely and refrigerate for at least 8 hours.
Wrap pan twice tightly in plastic wrap followed by heavy duty aluminum foil.
Freeze for 2-3 months.
To thaw, remove Caramel Apple Cheesecake Bars from freezer to the refrigerator.  Let thaw overnight.
To freeze individual Caramel Apple Cheesecake Bars:
Line cut bars on a parchment/nonstick mat lined baking sheet without touching.
Place the baking sheet in the freezer and freeze until solid (about 1 hour); this prevents the bars from freezing together later when stored.  Alternatively, you can skip this step and freeze bars individually in their own plastic bag.
Transfer bars to a freezer safe airtight container, and place parchment paper in between each row.
Freeze for 2-3 months.
When ready to eat, defrost individual Caramel Apple Cheesecake Bars in the microwave at 20 second intervals or place in the refrigerator to defrost overnight.
Looking for more Cheesecake Recipes?
Want to try this Caramel Apple Cheesecake Recipe?
Pin it to your CARAMEL, CHEESECAKE or DESSERT BOARD to SAVE for later!
Find me on 

Pinterest

 for more great recipes!  I am always pinning :)!
©Carlsbad Cravings by CarlsbadCravings.com
---
 Carlsbad Cravings Original