This easy Strawberry cream pie is made in a pie plate rather than a springform pan. Cheesecake doesn't get easier than this!
Strawberry Cream Pie might just be my favorite strawberry dessert of all time! It's a rich and creamy cheesecake made extra easy in pie form and extra delicious with a vanilla wafer crust! Smother the luscious cream cheese layer in the BEST juicy glazed strawberries and everyone won't be able to stop singing your praises…and eating your pie.
about Strawberry cream pie
I made a big mistake with this Strawberry Cream Pie.
I gave half of it away. Normally, I'm okay with sharing blog treats as I have more than enough food to go around, but this time, my belly was very, very sad. It was longing for, dreaming of, more bites of the sweetly glazed strawberries, creamy cheesecake and vanilla wafer crust because, like I said, this Strawberry Cream Cheese PIe might be my favorite strawberry dessert of all time.
But not just strawberry. But favorite dessert. of. all. time. Because we all know strawberries and cream go together but strawberries and cheesecake – a match made in heaven!
This Strawberry Cream Pie is the ideal spring/summer dessert because not only is it cravilicious, it's also make ahead for stress-free entertaining, celebrating, gathering, and eating. Also, because it's cheesecake "pie" it's less intimidating/overwhelming than traditional cheesecake because it does not require a springform pan (which means no water bath leaking!), only 2 instead of 5 blocks of cream cheese (AKA no cracking!), and less baking/cooling time.
The cream cheese filling
The cream portion of this Strawberry Pie is directly from my silky Blueberry Cheesecake Pie, because I don't think it gets any better. After first experimenting with uninspiring NO BAKE versions, I landed on this baked cream cheese pie because there is just something so magical about velvety cheesecake that cannot be replicated without baking. So while there are many tempting no-bake strawberry cheesecake recipes out there that are delicious, I think its so worth baking this stress free Strawberry Cream Pie for an end result that is far more delicious.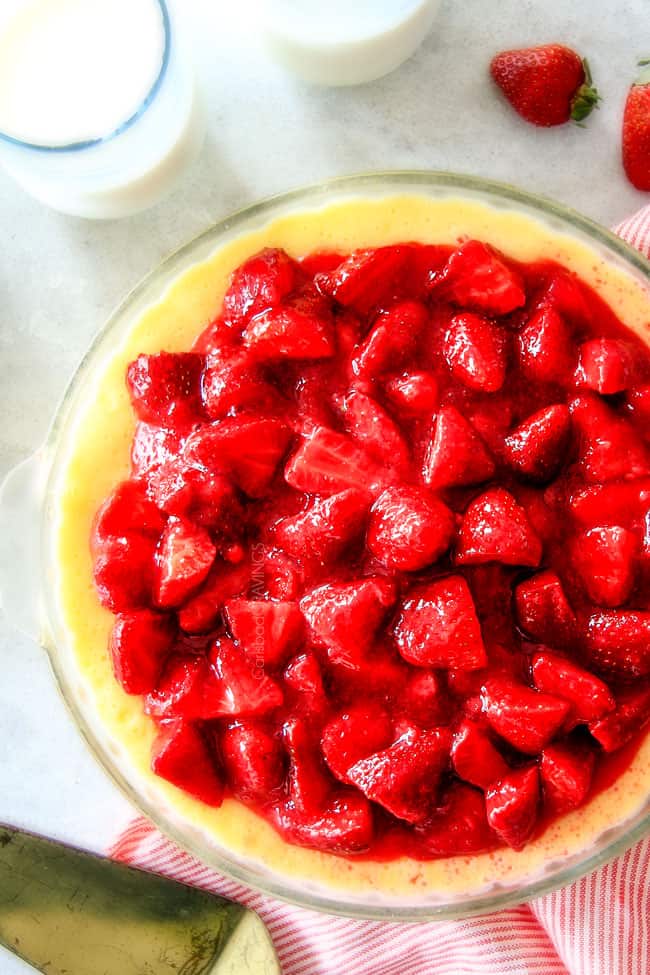 The vanilla wafer crust
And then there is the vanilla wafer crust. It's buttery, vanilla packed, and more delicious than a crust is used to being.
The strawberries
The glazed strawberry topping for the cream cheese pie is based off of my adorably delicious Mini Strawberry Pies. I wanted to create glazed strawberries that were packed full of fresh and sweet strawberry flavor all married with a glaze that wasn't stiff or bouncy or runny.
To create such a Glaze, I pureed some of the strawberries with water then added them to a saucepan along with sugar and cornstarch to thicken – then I added a splash of lemon juice and 3 tablespoons of Strawberry Jell-O – just enough to infuse the glaze with an oomph of strawberry flavor while still keeping the flavor fresh and natural. Perfection, or as Patrick calls them "indescribably delicious."
After you make your cheesecake and strawberries, you let them chill alongside each other for at least 4 hours – but definitely better if overnight for the flavors to develop.
And there you have make-ahead, peace of mind Strawberry Cream Pie. Rich and creamy cheesecake piled high with sweetly glazed fresh, juicy, strawberry deliciousness. May you not be as generous as I was with my pie 😉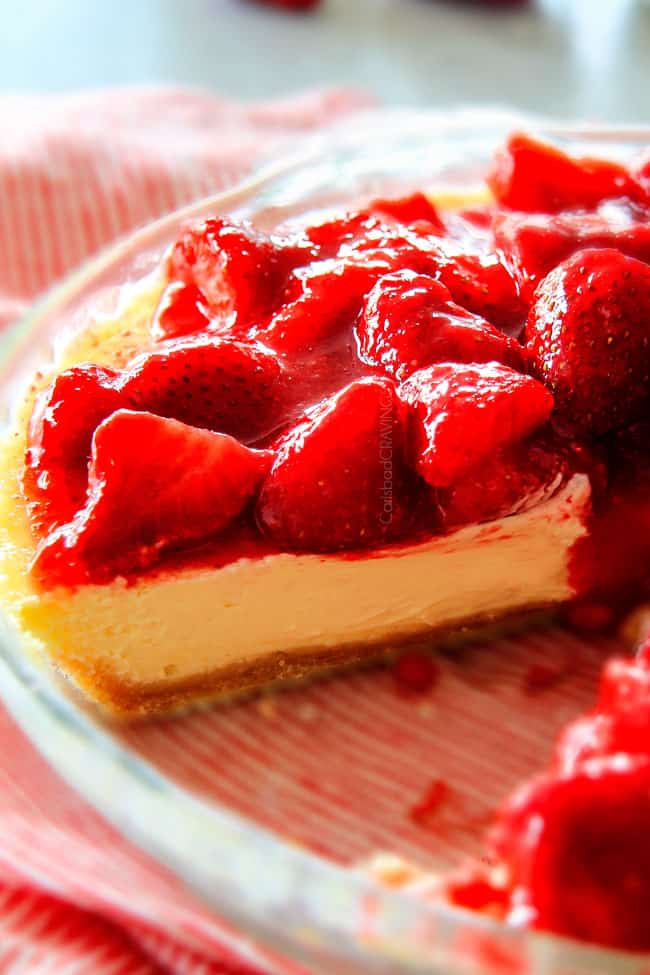 Strawberry Cream pie Ingredients
As I mentioned above, this Strawberry Cream Pie has three components: the Nilla Wafer pie crust, the luxurious cream cheese filling, and the glazed strawberry topping. Here's what you'll need:
Vanilla wafers: You'll need 45 Nilla Wafers, or about 1 ½ cups crushed wafers.
Sugar: You add sugar to the crust, cream cheese filling, and strawberry topping. Don't worry, this strawberry cheesecake doesn't wind up being sickeningly sweet.
Butter: You'll need to use real butter in the vanilla wafer crust so it sets up properly.
Cream cheese: Use regular cream cheese that comes in blocks, not the whipped kind in a tub.
Eggs: Your eggs should be room temperature before adding them to the cheesecake mixture.
Sour cream: Use regular sour cream, not low-fat, for the creamiest cheesecake.
Vanilla extract: I use pure vanilla extract for the best flavor.
Strawberries: You'll want to use fresh strawberries for this recipe.
Water: A little water is added to the strawberry cheesecake topping to create the right consistency.
Cornstarch: Don't skip the cornstarch in the strawberry topping! It helps everything set up nicely.
Salt: A little salt balances out the sweetness of the dish and enhances the strawberry flavor.
Strawberry gelatin: Gives the strawberry topping a wonderful consistency.
Lemon juice: Pairs perfectly with the sweet strawberries and gelatin.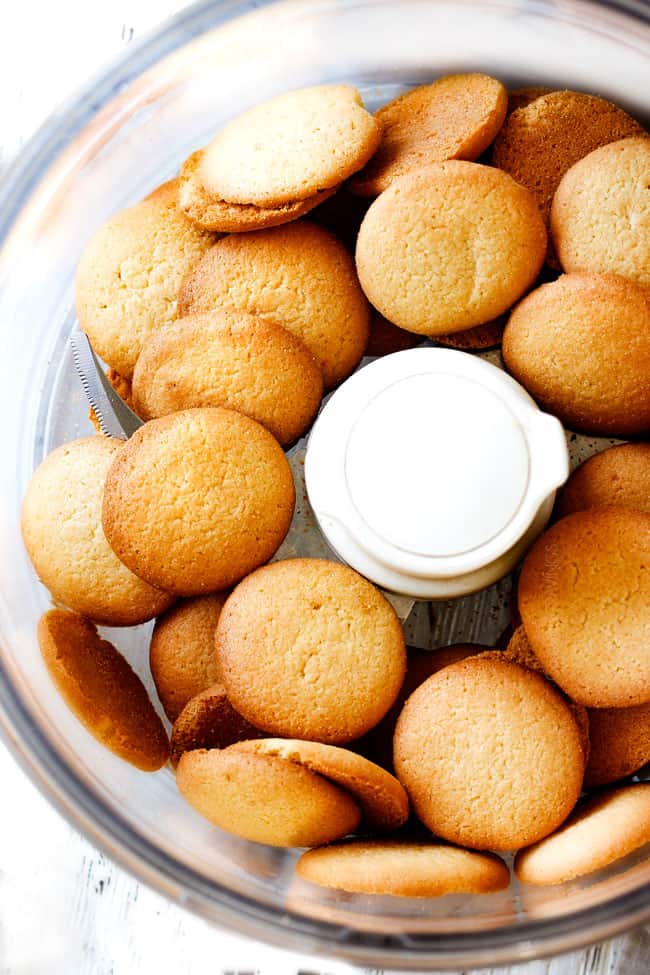 How to Make Strawberry cream cheese pie
Combine vanilla wafers, sugar and butter in medium bowl until crumbs are evenly moistened.
Press evenly onto the bottom and up the sides of an ungreased 9-in. pie pan.
Bake at 350 degrees F for 8-10 minutes or until crust just begins to brown. Cool completely.
Beat cream cheese until very smooth, about 3 minutes.
Beat in sugar and continue to beat for 3 minutes. Don't shortcut beating the eggs and cream cheese because this is what makes a super creamy cheesecake.
Beat in eggs then egg yolk, one at a time just until combined after each addition.
Beat in sour cream and vanilla just until combined.
Pour cheesecake filling over cooled crust.
Place cheesecake pie in a roasting pan and make a water bath (see detailed instructions on how to do so in the recipe card below).
Bake strawberry cheesecake for 45 minutes at 325 degrees F or until the edges are firm and the center 2-3 of the cheesecake is still wobbly but NOT runny.
Let baked cheesecake cool completely on countertop, then chill in fridge for 4 hours before serving.
Just before serving, top with strawberry topping.
Tips for Making Strawberry Cream pie
Use a water bath: The hot water insulates the outer edges of the cream cheese filling, so the edges don't bake faster than the middle.
Use room temperature ingredients: Room temperature eggs, sour cream, and softened cream cheese allow them to mix more easily and evenly and reduces the risk of cracks. Properly softened cream cheese will also be smooth without any lumps.
Mix well: Mix your cream cheese and sugar very well until it is light and fluffy.
Don't peek! It is paramount that you don't open the oven while your strawberry cheesecake pie is baking to prevent cracking. Opening the door dramatically lowers the temperature and causes your cheesecake to sink and crack.
Don't overbake: Over baking the cheesecake causes the filling to shrink and crack. You want the edges to be firm but the center to wobble slightly when shaken.
Cool gently: Sudden changes in temperature can cause cracks so by allowing the cheesecake to cool in the oven and then on the counter before placing it in thee refrigerator lets it gradually adjust to each temperature.
Fix cracks: If your strawberry cheesecake still cracks, then hide them with strawberry sauce!
Recipe Variations to Try
Use a graham cracker crust: I LOVE making a Nilla Wafer pie crust for this recipe, but you can also make a graham cracker crust to switch things up.
Use a different fruit topping: If you're not in the mood for a strawberry cheesecake (what's wrong with you?!), you can make the cheesecake base and top it with Blueberry Sauce, Cherry Pie Filling, Cranberry Sauce, and more!
Top with Strawberry Syrup: For a slightly different take on this strawberry cheesecake, you could try topping it with a runnier Fresh Strawberry Sauce rather than the gelatin-based strawberry topping. If using the strawberry sauce, you'll want to drizzle it over individual slices of cheesecake rather than spread it over the entire thing. The sauce is runny and won't set up on top of the cheesecake fully.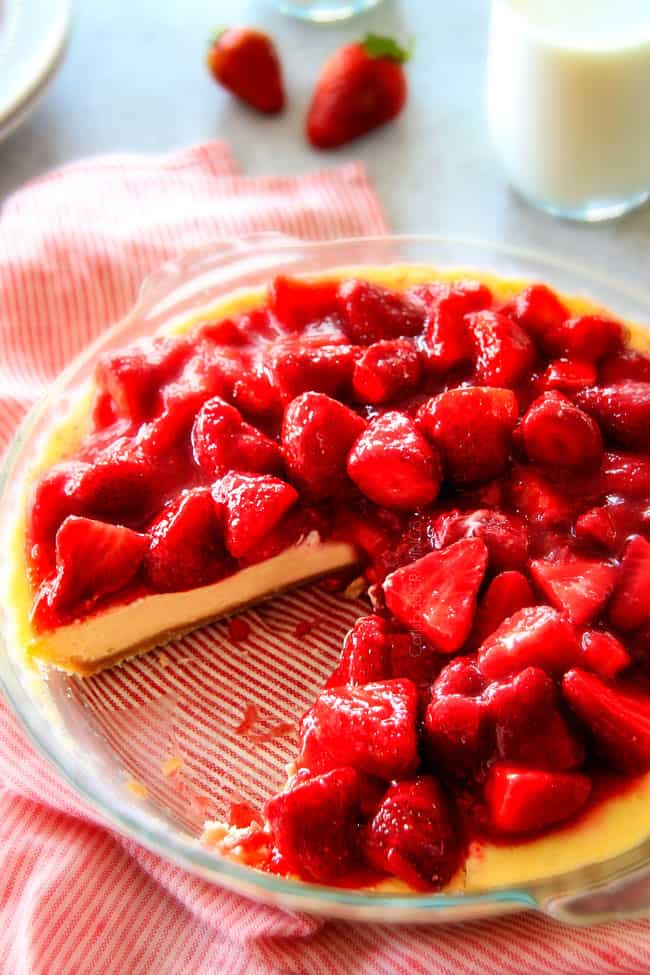 Can I Make Strawberry cream pie in Advance?
Yes! This is the perfect make-ahead dessert. You can make this easy Strawberry Cream Cheese Pie to 24 hours in advance.
How to Store Strawberry Cream pie
Cover this Strawberry Pie loosely with aluminum foil and keep in the refrigerator for up to one week.
Can I Freeze Strawberry Cream pie?
Yes! Both the filling and the strawberry sauce freeze very well.
How to freeze Strawberry Cream Pie:
Cool the cream cheese filling completely and refrigerate for at least 8 hours.
Add strawberry Sauce.
Place chilled cheesecake on a baking pan and place, uncovered, in the freezer. Freeze until firm.
Remove from the freezer, then wrap cream cheese in plastic wrap followed by heavy duty aluminum foil and finally in a large heavy duty freezer bag.
Strawberry Cream Pie can be frozen for 2-3 months.
To thaw, remove the pie from freezer to the refrigerator. Let thaw overnight.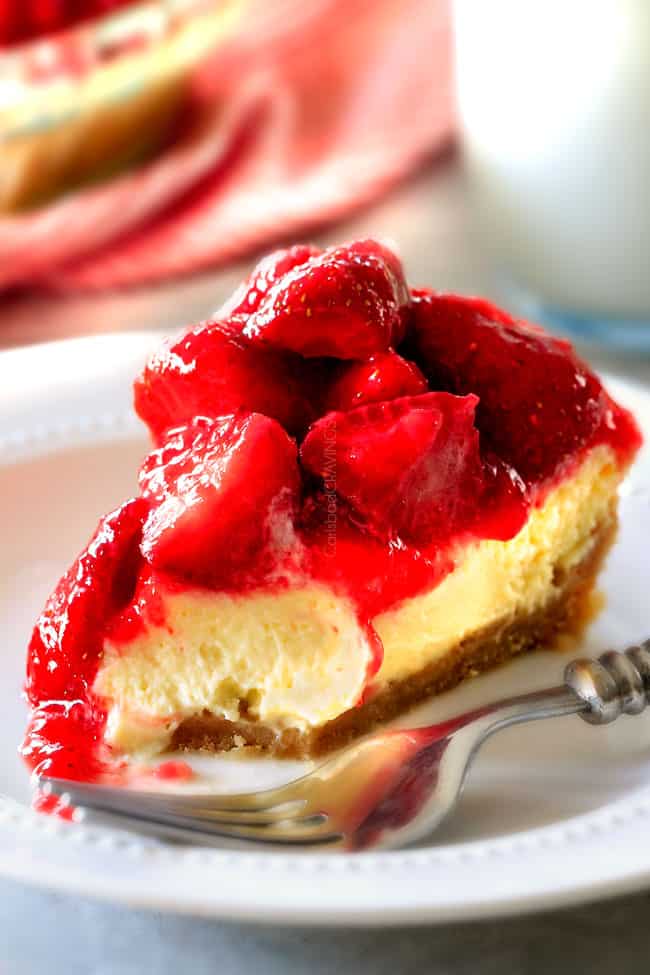 Looking for Delicious Pie Recipes?
Looking for Easy Cheesecake Recipes?
Want to try this Strawberry cream pie?
Pin it to your DESSERT, CHEESECAKE, PIE or SPRING Board to SAVE for later!
Find me on Pinterest for more great recipes! I am always pinning :)!
©Carlsbad Cravings by CarlsbadCravings.com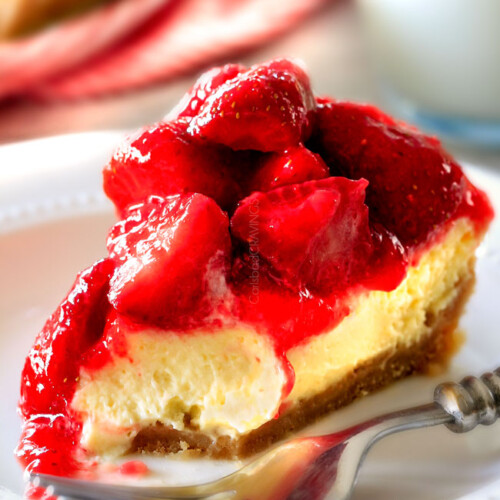 Strawberry Cream Cheese Pie
Servings:
10
-12 servings
Total Time:
1

hour
15

minutes
Save This Recipe To Your Recipe Box
You can now create an account on our site and save your favorite recipes all in one place!
Ingredients
Vanilla Wafer Crust
45

vanilla wafers, crushed

(heaping 1-½ cup crumbs)

2

tablespoons

sugar

6

tablespoons

butter, melted
Cheesecake
2

8 oz.

blocks cream cheese, softened

2

eggs, room temperature

1

egg yolk, room temperature

1

cup

sugar

1

cup

sour cream

1

teaspoon

vanilla extract
Glazed Strawberries
2

pounds

strawberries, hulled

divided

1/2

cup

water

1/3

cup

sugar

1 1/2

tablespoons

cornstarch

1/8

teaspoon

salt

3

tablespoons

strawberry gelatin

(powdered Jell-O)

2

teaspoons

lemon juice
Instructions
Crust
Combine all of the ingredients in a medium bowl until crumbs are evenly moistened. Press evenly onto the bottom and up the sides of an ungreased 9-in. pie pan.

Bake at 350 degrees F for 10 minutes or until crust just begins to brown. Cool completely.
Cheesecake
Preheat oven to 325 degrees F. Beat cream cheese until very smooth, about 1 minute. Beat in sugar followed by eggs then egg yolk, one at a time until combined after each addition. Beat in sour cream and vanilla and beat until very creamy, about 1 minute. Pour filling over cooled crust.

Place the pie pan in a large roasting pan and add water until it reaches half way up the sides of the pie pan. Bake for 45 minutes at 325 degrees F. The cheesecake should still jiggle in the center (it will firm up after chilling), and the edges should be mostly set.

After 45 minutes, turn oven off and crack oven door open. Let cool in cracked oven for 30 minutes. Remove cheesecake from oven and let cool completely on a rack then chill in refrigerator for at least 4 hours, best if overnight.
Strawberries
While Cheesecake is baking, prepare Glazed Strawberries. Add 1 cup roughly chopped strawberries and ½ cup water to a blender and puree until smooth, scraping down sides as needed.

Add puree to a small saucepan along with cornstarch, sugar and a pinch of salt. Cook over medium high heat, stirring constantly, until thick enough to coat the back of a spoon, but not TOO thick or it will turn jello- like later.

Transfer to a large bowl and stir in strawberry gelatin and lemon juice. Let cool to room temperature. This will be your Strawberry Glaze.

Slice any extra large strawberries in half and add all remaining strawberries to cooled Strawberry Glaze and stir until evenly coated. Cover and refrigerate separately from cheesecake until ready to serve.
Assemble and Serve
When ready to serve, stir strawberries then use a slotted spoon (as strawberries will release juices as they chill) and spoon Strawberries over cheesecake and serve. Garnish with whipped cream if desired.
Did You Make This Recipe?
Tag @CarlsbadCravings and Use #CarlsbadCravngs
Leave a Review, I Always Love Hearing From You!
Carlsbad Cravings© Original