---
Chocolate Molten Lava Cakes are decadently rich but wonderfully easy with only 5 ingredients!
---
Molten Lava Cakes look impressive but are super easy to make!  They take less than 10 minutes to whip up and only require one bowl and a whisk to prepare!   You can prep the batter beforehand and bake when ready so your Chocolate Molten Lava Cake emerges perfect every time with a beautiful stream of silky chocolate.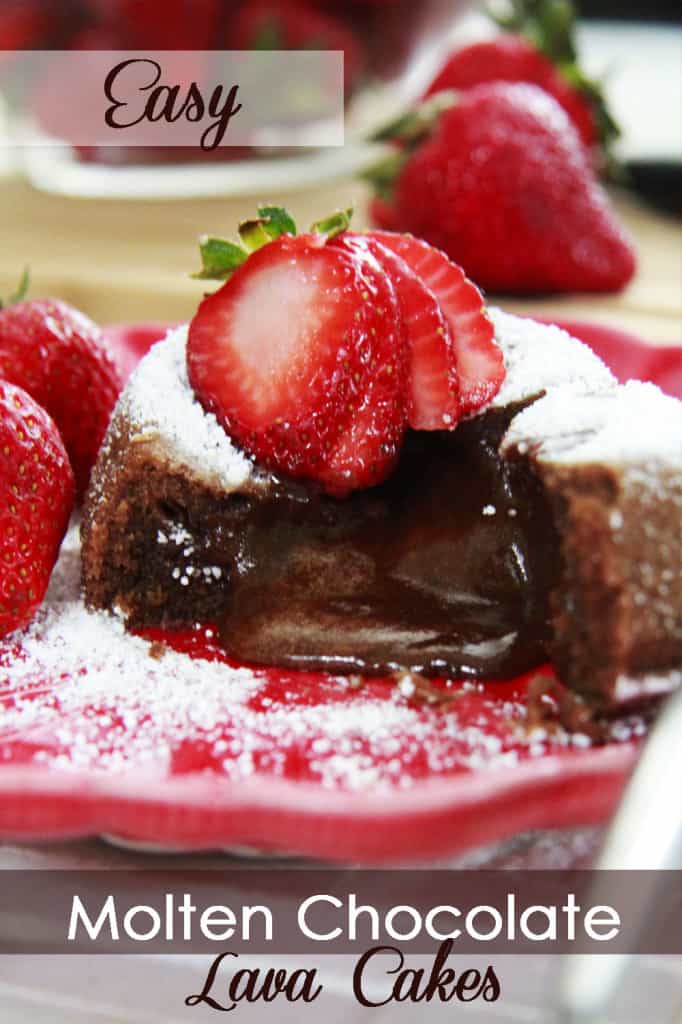 So much that I may or may not have eaten 3 out of the 4 Molten Lava Cakes I made for this post……all in the same day.  I blame the fever I was having so nothing else sounded good to eat that day, but deep down I know the truth – the warm, oozing, liquid chocolate truth.
I wanted to post these individual Molten Lava Cakes of delight in time for Mother's Day, because like the Blackberry Hoisin Ginger Pork Tenderloin I'll be serving, they look and tastes royally gourmet but are actually super simple to make!
I always had assumed Molten Lava Cakes must be difficult to make or master because they taste absolutely heavenly, and it takes effort to get to heaven.
I was so pleasantly surprised to discover that a Molten Lava Cake Recipe only require 5 ingredients (chocolate, butter, sugar, eggs, flour) and less than 10 minutes to whip up!  You don't even have to get out a single pot or electric mixer!  just a good old fashioned bowl and whisk will do the trick.
And now for the big reveal, the moment of anticipation that determines whether or not this is just a pretty little warm chocolate cake, or in fact a Chocolate Molten Lava Cake that is oh, so irresistibly decadent.
Wait for it…
Wait for it…
Ahhhhhhhhhhhhhhhhhhhhhhh,
Heaven.
Soft warm chocolate cake outside giving way to a creamy, smooth stream of liquid chocolate inside, ensuring every forkful of this Chocolate Molten Lava Cake is bathed in its velvety decadence.
I am so excited for you to taste heaven.  Here's a preview…


4

oz

semi-sweet baking chocolate, roughly chopped

1/2

cup

butter

1

cup

Powdered sugar

2

whole eggs

2

egg yolks

6

tablespoons

flour

4

6-8 oz.

custard cups/ramekins
4

oz

semi-sweet baking chocolate, roughly chopped

1/2

cup

butter

1

cup

Powdered sugar

2

whole eggs

2

egg yolks

6

tablespoons

flour

4

6-8 oz.

custard cups/ramekins
Preheat oven to 425 degrees. Generously spray 4 small custard cups with nonstick baking spray then place on a baking sheet.***

Add butter and baking chocolate to a large microwave-safe bowl and microwave for 1 minute, or until butter is melted, then stir until butter and chocolate are completely smooth. Stir in sugar until smooth. Add eggs and egg yolks then then beat for 1 minute. Add flour then stir until just combined.

Evenly spoon batter into prepared cups. Bake for 12-13 minutes, or until the sides are firm but the centers are still soft (but not jiggly). Let cool for 2 minutes, then gently loosen cakes from custard cups by sliding a knife around the edges of each cake; then invert cakes onto serving plates. Dust with powdered sugar (optional) and serve immediately (because the cakes will continue to cook in the center).
**I haven't had to do this, but if want NO FAIL lava cakes, then you can place parchment paper in the bottom of each custard cup (cut to fit) and then spray with nonstick cooking spray.
Recipe Source: Kraft Recipes
Want to try this Chocolate Molten Lava Cakes Recipe?
Pin it to your BAKING, VALENTINES or DESSERT BOARD to SAVE for later!
Find me on 

Pinterest

 for more great recipes!  I am always pinning :)!
©Carlsbad Cravings by CarlsbadCravings.com
 Never miss a Carlsbad Cravings Creation:
You might also like:
Toffee Pecan Caramel Pound Cake
Red Velvet Oreo Swirl Brownies
Chocolate Covered Strawberry Pound Cake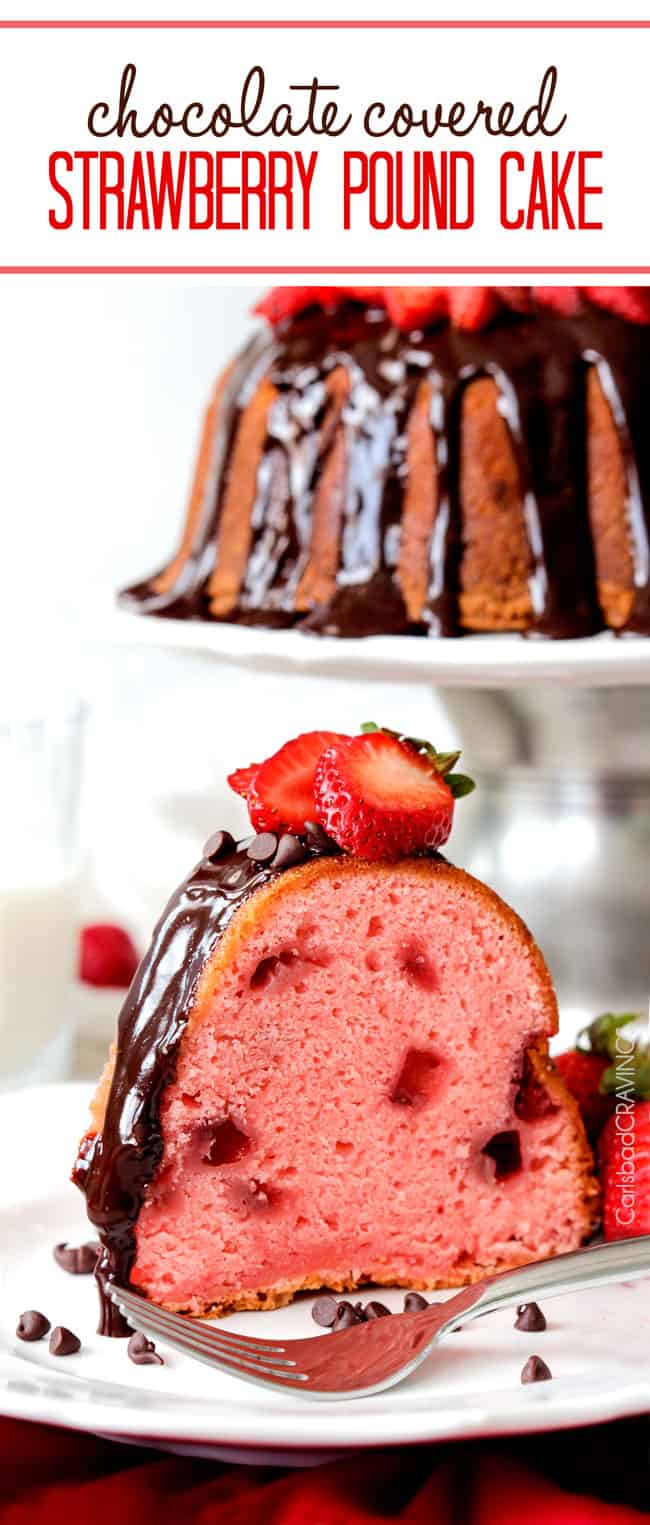 Triple Chocolate Turtle Cookies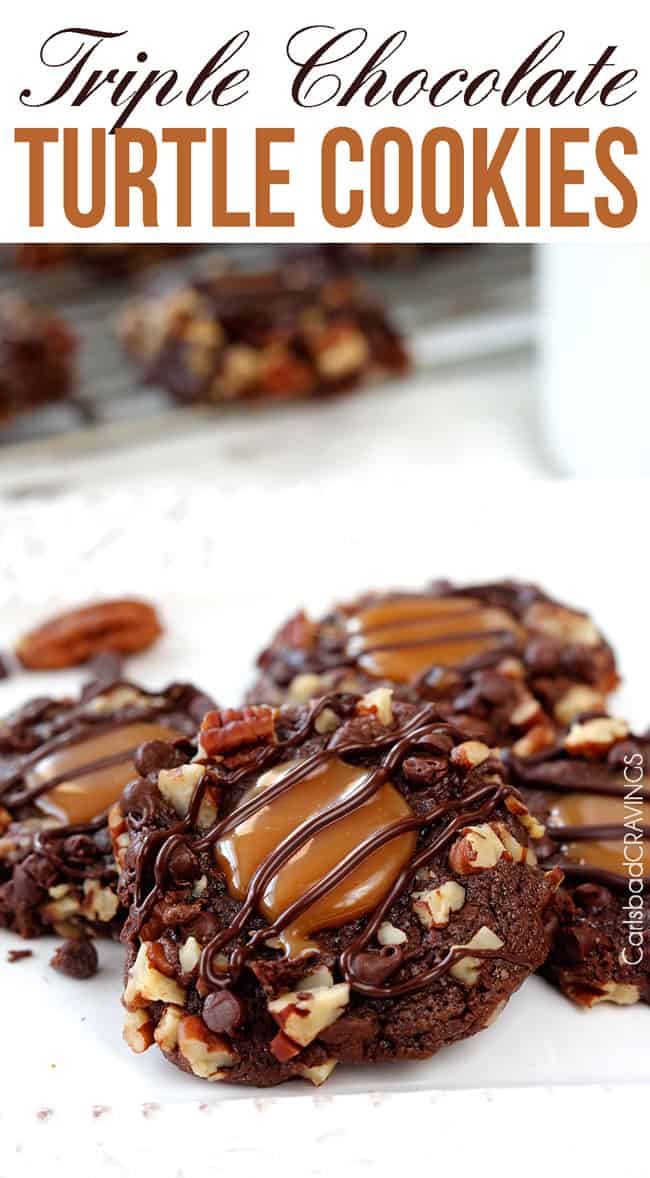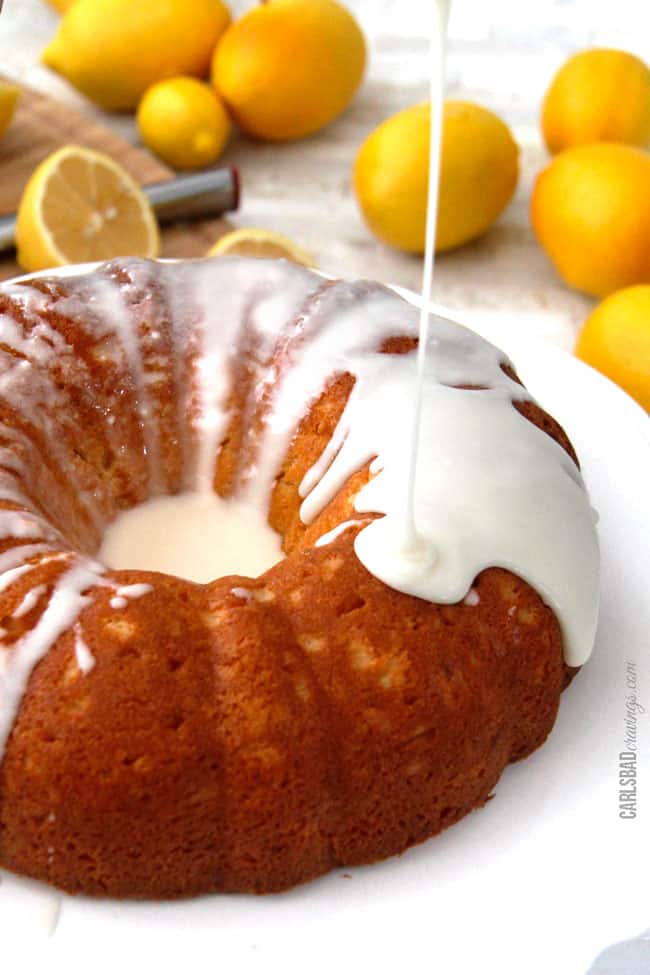 German Chocolate Cake Cupcakes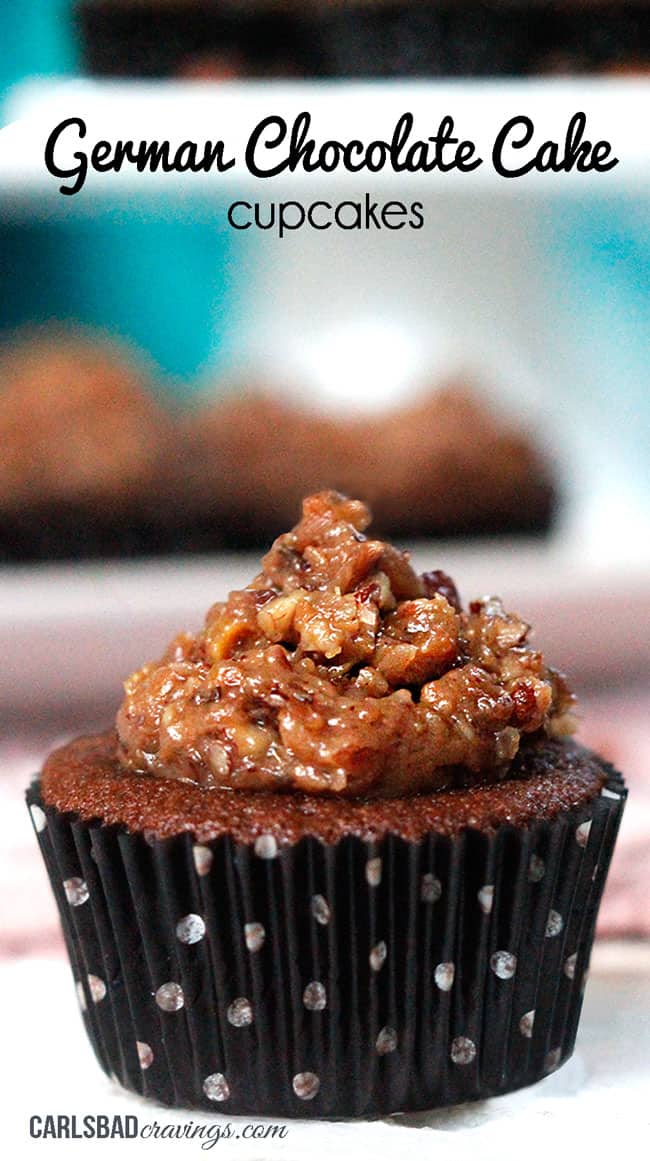 Follow Carlsbad Cravings (Jen)'s board Carlsbad Cravings Recipes on Pinterest.