German Chocolate Cupcakes made 1000X better with ganache filling!
Super moist, rich, chocolaty German Chocolate Cupcakes brimming with Chocolate Ganache all topped with caramel-esque sweet and crunchy Toasted Coconut Pecan Frosting! AKA meet your new obsession. These German Chocolate Cupcakes are a chocolate lovers dream; a coconut lovers dream; a caramel lovers dream and about to become YOUR dreams come true!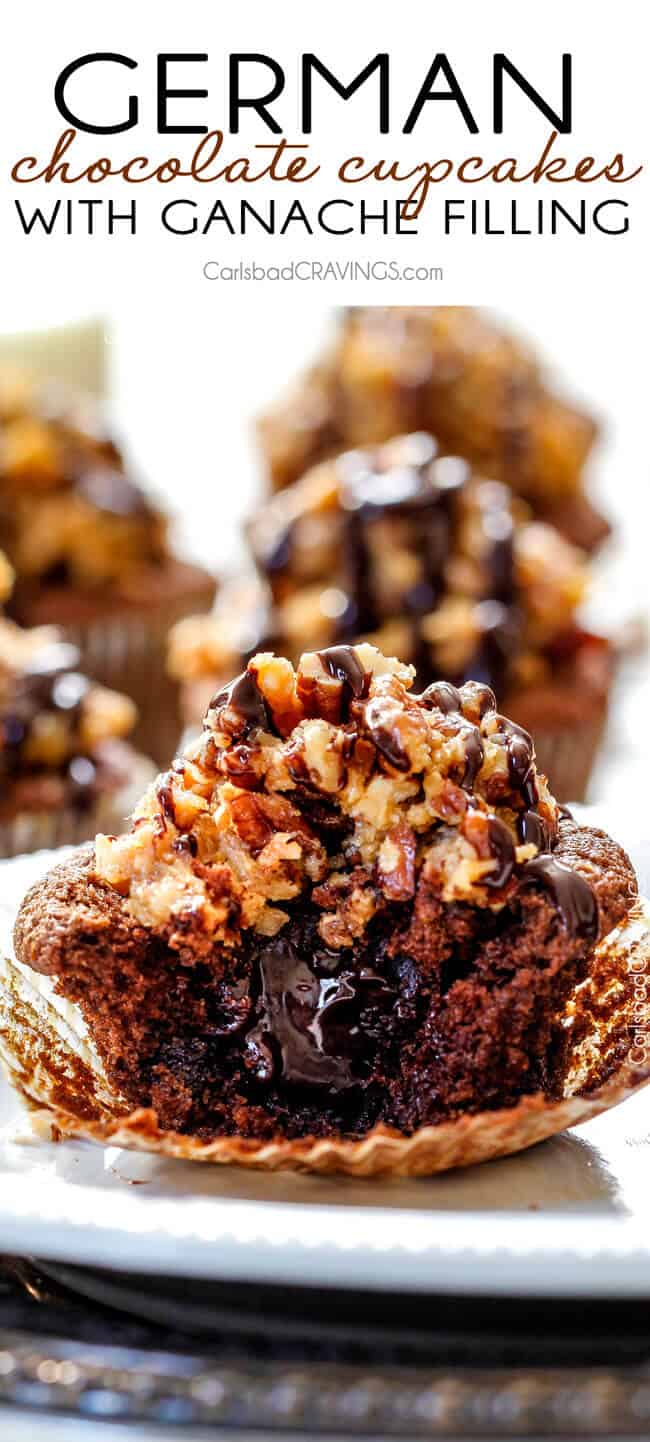 German Chocolate Cupcakes
I am so in love with these German Chocolate Cupcakes with Chocolate Ganache Filling that I moved them up in my editorial calendar so you can all bask in their chocolate divinity ASAP!
Every since I posted my German Chocolate Cake Cupcakes way back when, I have been wanting to do another spin on them because everyone should make them, eat them, love them and dream about them. And these German Chocolate Cupcakes WITH Chocolate Ganache are even better.
What Is German Chocolate?
We know we LOVE German Chocolate Cake and German Chocolate Cupcakes – but what exactly is German Chocolate? First of all, you might be surprised to learn that the chocolate coconut delicacy we all love as German Chocolate Cake has nothing to do with chocolate from Germany but rather is named after Samuel German, a Walter Baker & Company employee (in Dorchester, Massachusetts), who developed the dark baking chocolate used for this dessert in 1852.
Before German's creation, Baker only offered an unsweetened chocolate bar, whereas, German's creation contained a large amount of sugar, making it even sweeter than our modern day semi-sweet chocolate.
Over a century after German's creation of German Chocolate, German Chocolate Cake itself became wildly popular in 1957 when a column of a Dallas newspaper featured, "German Sweet Chocolate Cake" which is almost identical to how we know it today. Within a few weeks, local grocery stores ran out of German chocolate.
When Baker's discovered "German Sweet Chocolate Cake" was the source of the run on their product, they began printing the cake recipe on all of their German Chocolate wrappers and today we not only have every version imaginable of German Chocolate Cake but German Chocolate Cheesecake, German Chocolate Cookies and of course, these German Chocolate Cupcakes! Thank you Samuel German.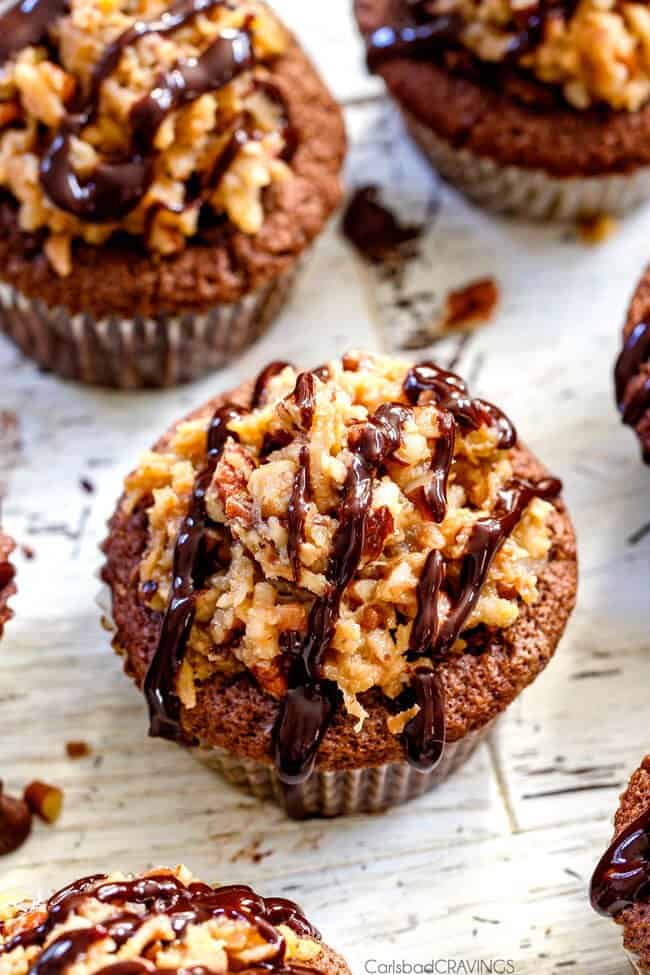 GERMAN CHOCOLATE CUPCAKE INGREDIENTS
These cupcakes have three components: the German chocolate cupcakes, the chocolate ganache and the German chocolate cake frosting for triple the YUM!
German's sweet chocolate: Sweeter than semi-sweet chocolate. A must when making homemade German chocolate cake-inspired desserts!
Semi-sweet chocolate: Adds more chocolaty flavor without making the cupcakes too sugary.
All-purpose flour: Spoon and level the flour when measuring it for best results.
Baking soda and baking powder: Gives the cupcakes a little lift.
Salt: Do not omit! You need some salt to balance out the sweetness of the batter. I also include sea salt in the frosting for the same reason.
Cocoa powder: Use unsweetened cocoa powder.
Granulated sugar: Sweetens the batter without altering the flavor.
Unsalted butter: I prefer using unsalted butter in my baked goods, then add a pinch of table salt to the batter to balance things out.
Eggs: Whole eggs are added to the batter and egg yolks are added to the German chocolate cake icing (don't worry, the icing is cooked!).
Vanilla extract: Use pure vanilla extract for the best flavor.
Buttermilk: Creates a super tender cupcake, and the tanginess balances out the sweetness of the chocolate.
Semi-sweet chocolate chips: Yes, these are chocolate chip German chocolate cupcakes!
Evaporated milk: Not to be confused with sweetened condensed milk!
Brown sugar: I like using brown sugar in the German chocolate cake frosting rather than white sugar since it makes the frosting taste more caramel-y.
Sweetened shredded coconut: Toast the coconut before mixing it into the frosting.
Chopped pecans: Use unsalted raw pecans.
How to Make German Chocolate Cupcakes
Cupcake Batter
This German Chocolate Cupcake recipe is the perfect balance of sweet, nutty, coconut delight. Because German chocolate is on the sweet side, I've paired it with semi-sweet chocolate, unsweetened cocoa powder and tangy buttermilk so we have a rich, multi-dimensional chocolate-buttermilk cake that is not overly sweet – but ready to cocoon our Chocolate Ganache.
Chocolate Ganache
The Chocolate Ganache is s simple whisking of chopped semi-sweet chocolate and German chocolate into very hot heavy cream and butter to create a mega silky, molten chocolate surprise. How easy is that?!
There also is no piping the chocolate into the cupcakes. Simply cut a cone-like shape out of the top of each cupcake, take a bite off the bottom of the cone (or cut it off if you prefer), fill your cupcake with chocolate and replace the top of the cone. This is the same method I used in my Ding Dong Cupcakes, so if you want to see step by step pics, you can see them HERE.
German Chocolate Frosting
Next, create your uber delectable sweet and sticky Coconut Pecan frosting by first toasting your coconut and pecans together in the oven. A lot of recipes don't call for this, but this extra steps makes such a difference! Next, whisk together your brown sugar, evaporated milk, and butter and simmer until thick enough to coat the back of a spoon to create a gooey caramel like frosting base that you lace with your toasted pecans and toasted coconut.
Then its frosting time! And because there really isn't a nice way to frost these German Chocolate Cupcakes because the gooey, crunchy, chewy Coconut Pecan Frosting is so thick, I just use an ice cream scoop – and that means it takes mere minutes to frost these babies. And that is a very, very good thing when this deliciousness awaits…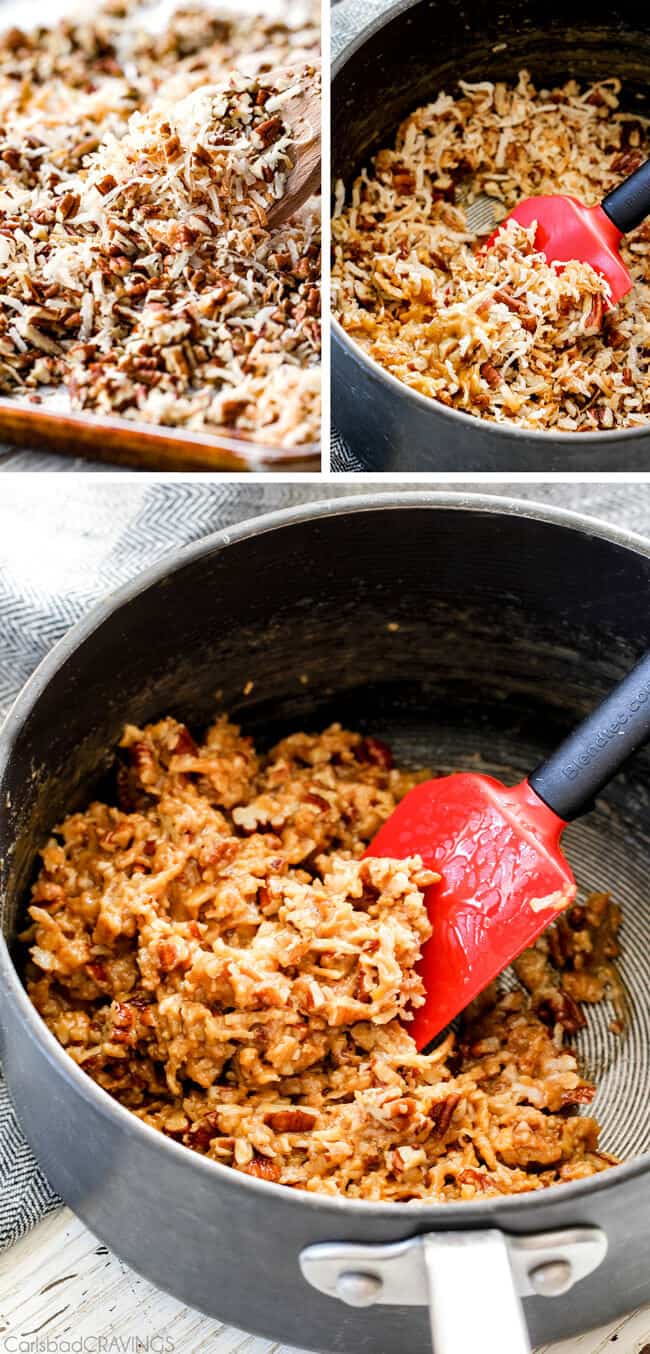 Tips for German Chocolate Cupcakes
USE ROOM TEMPERATURE INGREDIENTS:  Always use room temperature eggs because they trap more air and result in fluffier cakes and cupcakes. Room temperature eggs also mix much easier so you are more likely not to over-mix your batter which can result in dense cupcakes.
CREAM UNTIL FLUFFY:  One of the keys to the softest German Chocolate Cupcakes – or any cupcakes – is to cream your sugar and butter until light and fluffy.  You should beat your butter and sugar at medium – high speed for at least 4 minutes.  I suggest setting a timer because 4 minutes will seem extra-long but you don't want to cut it short.  The bubbles created when beating will expand as the cupcakes bake, resulting in a lighter cupcakes.  If you don't cream them enough, your cupcakes will be denser, not as tender, or rise as high. 
DON'T PEEK!  I know it is going to be hard not to peek, but please don't open the door!  Opening the doors can cause your cupcakes to cook unevenly and to fall.
DON'T OVERBAKE!  One of the main reasons people complain of dry cupcakes is because they overbake them.   You want to remove your cupcakes when there are just a few crumbs clinging to a toothpick.  Check your German Chocolate Cupcakes at about 15 minutes then continue to cook as needed, setting a timer so you don't overbake them.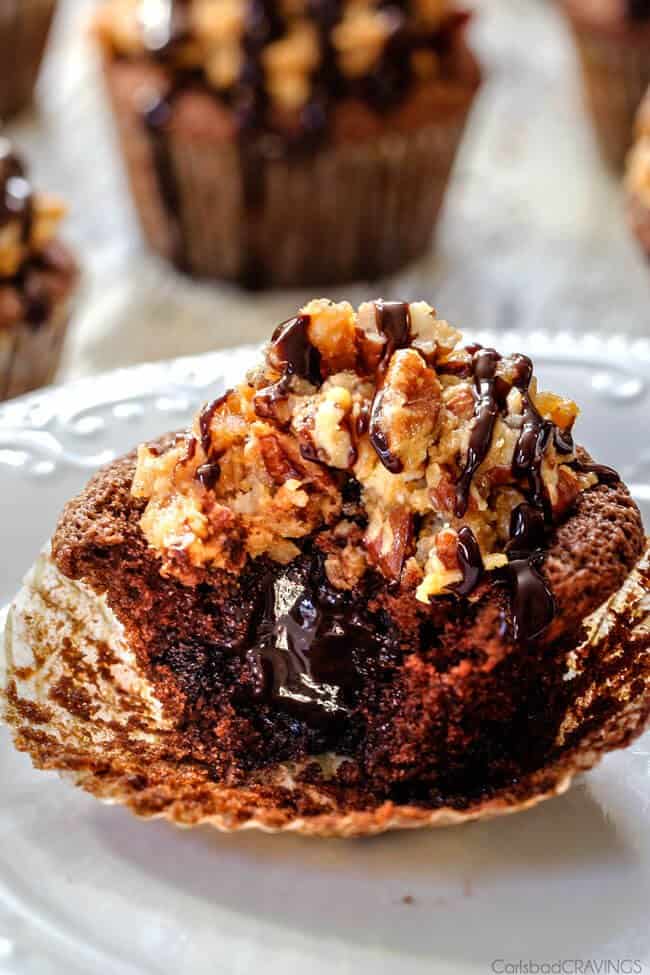 Can I Make German Chocolate Cakes Ahead of time?
You can make the German Cupcakes completely ahead of time and refrigerate until ready to serve, then either let them come to room temperature before serving, or better yet, microwave for 10 seconds or so in order for the ganache to soften into delectable motlen – mmmm.  Alternatively, you can make the cupcakes ahead of time and fill with ganache and frost when ready to serve:
Let baked cupcakes cool to room temperature.
Cut out cones for the chocolate ganache according to recipe directions. 
Transfer cupcakes to an airtight container and store at room temperature for up to two days.   
Meanwhile, you can make the frosting and refrigerate.
Before serving, gently warm German Chocolate Cupcake frosting on the stove to loosen.  
Fill cupcakes with ganache and frost according to recipe directions. 
CAN I FREEZE GERMAN CHOCOLATE CUPCAKES?
Place cupcakes on a baking sheet in the freezer so they are not touching.
Freeze for 1-2 hours or until solid.
Wrap each cupcake tightly in plastic wrap and then place into a zippered bag or airtight container.
Freeze cupcakes and frosting for up to 1 month.   
Allow the cupcakes to thaw overnight in the refrigerator then unwrap and come to room temperature on the counter before serving.
For best results, microwave for 5-10 seconds before serving. 
Looking for more Cake Recipes?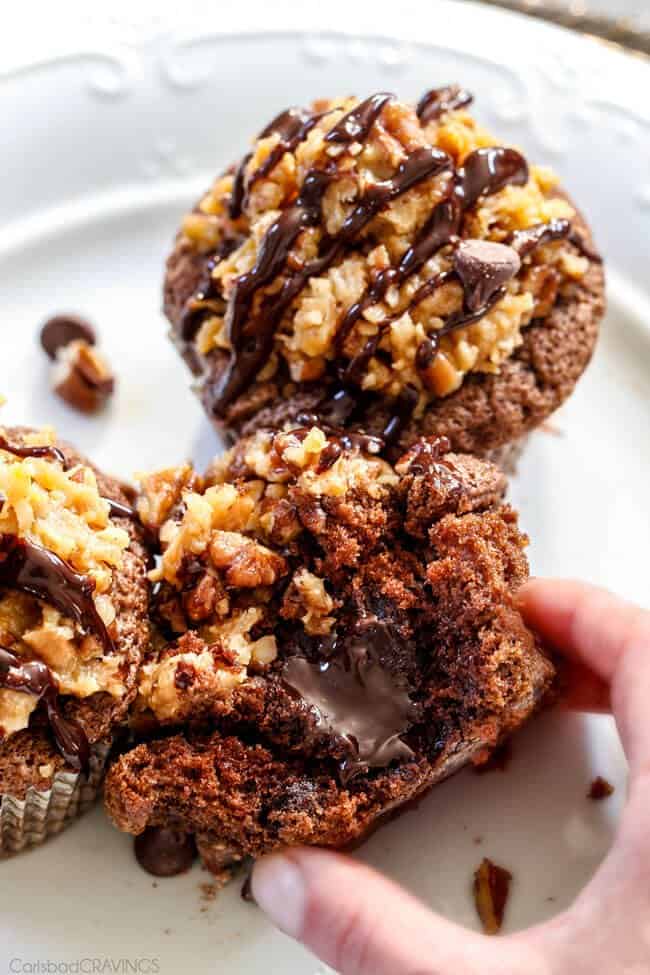 Want to try these German Chocolate Cupcakes Recipe?
Pin it to your DESSERT, CUPCAKE or CHOCOLATE Board to SAVE for later!
Find me on Pinterest for more great recipes!  I am always pinning :)!
©Carlsbad Cravings by CarlsbadCravings.com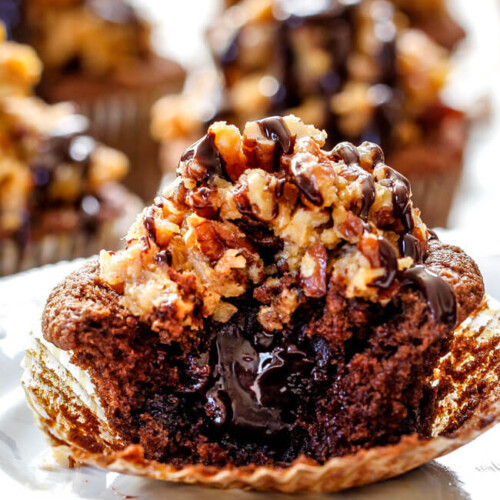 German Chocolate Cupcakes with Ganache Filling
Super moist, rich, chocolaty German Chocolate Cupcakes brimming with Chocolate Ganache all topped with caramel-esque sweet and crunchy Toasted Coconut Pecan Frosting! AKA meet your new obsession. These German Chocolate Cupcakes are a chocolate lovers dream; a coconut lovers dream; a caramel lovers dream and about to become YOUR dreams come true!
Save This Recipe To Your Recipe Box
You can now create an account on our site and save your favorite recipes all in one place!
Ingredients
Cupcakes
1/4

cup

water

2

ounces

German's sweet baker's chocolate, chopped

1

ounce

semi-sweet Baker's chocolate, chopped

1

cup

+ 1 ½ tablespoon AP flour

3/4

teaspoons

baking soda

1/2

teaspoon

baking powder

1/4

teaspoon

salt

1

tablespoon

cocoa powder

1

cup

sugar

1/2

cup

unsalted butter, softened,

(1 stick)

2

large eggs

at room temperature

1

teaspoon

vanilla extract

1/2

cup

buttermilk

1/2

cup

semisweet chocolate chips
Ganache Filling
1/3

cup

heavy whipping cream

2

tablespoons

salted butter, cubed

4

oz.

German's sweet baker's chocolate, chopped

2

oz.

semi-sweet Baker's chocolate, chopped
Coconut Pecan Frosting
1

cup

sweetened shredded coconut

3/4

cup

coarsely chopped pecans

2

egg yolks

1

5 oz. can

evaporated milk

1/2

cup +2 tablespoons

brown sugar, packed

6

tablespoons

unsalted butter, softened,

1/2

teaspoon

vanilla extract

1/8

teaspoon

salt
Chocolate Drizzle (optional):
3

oz.

semi-sweet Baker's chocolate, chopped

(may sub chocolate chips)

1/2

teaspoon

Vegetable oil

1

tablespoon

heavy cream
Instructions
Ganache: Add heavy cream and butter to a large microwave safe bowl and heat for 1 1/2- 2 minutes (until simmering), stir to combine. Add chopped chocolate and vigorously whisk until chocolate is melted. Place in the refrigerator to thicken and cool.

Toast Coconut and Pecans (for frosting): Heat oven to 350 degrees F. Add coconut to one half of a baking sheet and pecans to the other half. Bake for 5-7 minutes, or until coconut is golden, stirring occasionally and watching closely towards the end as coconut turns very quickly. Once golden, remove to a large bowl/platter, or any cool surface.

Cupcakes: Grease 17 cupcake liners in a cupcake/muffin pan. Set aside.

Heat ¼ cup water in a medium microwave safe bowl until simmering (about 1 minute on high). Add chopped German and semi-sweet chocolate; whisk until smooth. Set aside to cool.

Sift flour, baking soda, baking powder, salt, and cocoa powder in a medium bowl. Set aside.

With a hand or electric mixer on medium-high speed, cream butter and sugar together until light and fluffy, approximately 3-4 minutes. Add eggs, 1 at a time, mixing just until incorporated after each egg. Beat in melted chocolate followed by vanilla.

Turn mixer to low and slowly add the dry ingredients, alternating with the buttermilk. Fold in chocolate chips.

Pour batter into greased cupcake liners. Bake at 350 degrees F for 15-20 minutes or until toothpick inserted into center comes out clean. Cool cupcakes in the pan on a wire rack.

Frosting: Meanwhile, whisk the egg yolks, evaporated milk and brown sugar together in a large saucepan. Add butter and cook over medium high heat until the sugar dissolves and the butter melts, stirring constantly. Bring to a gentle simmer then turn heat down to medium. Continue to cook, stirring constantly, until thick enough to coat the back of a spoon, approximately 6-8 minutes. Remove from heat and stir in vanilla, salt, coconut and pecans. Allow to cool before frosting (you can place in the refrigerator to spread up this process.)

Assemble

: Insert a knife at 45 degrees approximately ¼ inch from the edge of each cupcake, and proceed to cut a cone shape. Remove cone and cut away all but the circular top ("Top") – or just eat the bottom of the cone. (see How To Pics

HERE

). Fill each cupcake with a heaping ½ teaspoon Ganache and replace Top.* Scoop the frosting onto the cooled cupcakes with a heaping ½ ounce ice cream scoop.

Chocolate Drizzle (optional): Add chocolate, heavy cream and vegetable oil to a medium microwave safe bowl. Melt chocolate in microwave, mixing at 30 second intervals until melted. Drizzle over cupcakes by placing chocolate in a Ziploc bag, and cutting off the corner.

Store Cupcakes in an airtight container for up to 2 days then refrigerate.

I like to warm my cupcakes for 10 seconds or so before eating- so good!
Notes
*If Ganache has thickened too much, then microwave at 5-10 second intervals, stirring in between until Ganache reaches desired consistency. **Ganache will thicken as cupcakes sit at room temperature and is still delicious but for a "molten" oozing ganache as shown, microwave cupcakes for 5-10 seconds each before devouring.
Did You Make This Recipe?
Tag @CarlsbadCravings and Use #CarlsbadCravngs
Leave a Review, I Always Love Hearing From You!
©Carlsbad Cravings Original