Chicken Souvlaki with melt-in-your mouth zesty, juicy chicken, smoky vegetables and tangy, creamy Feta Yogurt Dip is a meal-in-one and super easy to make at home!
This Greek Chicken Souvlaki can be served straight off the skewers dunked in the refreshing Feta Yogurt Dip with a  side of lemon rice or the chicken can be piled in pitas with your favorite toppings such as hummus and tzatziki with the roasted veggies served on the side. No matter how you serve them, everyone will love these flavor bursting skewers! I've included instructions for both grilling and broiling so you can enjoy this tantalizing Chicken Souvlaki year-round
This post is sponsored by McCormick. All opinions are my own.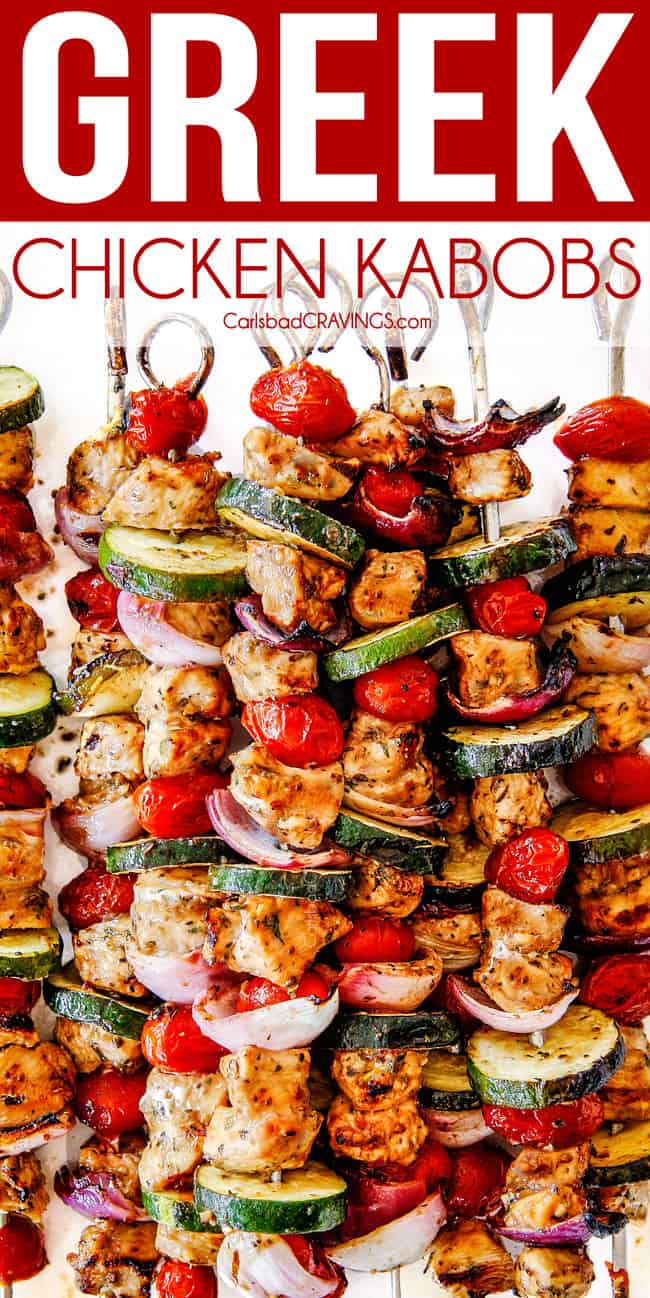 Who is ready for grilling season AKA a summer full of flavor?! I looovee to grill because grilling = cooking OUTSIDE (how cool is that?!), no pots and pans to scrub, and loads of fresh vibrant flavors like this Chicken Souvlaki! The vibrant, fresh, lemon, garlic, oregano combo is taste bud magic and it's fresh and healthy!
I love Greek flavors so much I've already shared my crazy popular Greek Chicken, Chicken Gyros, Beef Souvlaki, Greek Chicken Salad, Greek Pizza which you should definitely check out if you love fresh Mediterranean cuisine.

What is Chicken Souvlaki?
Greek Souvlaki is also known as shish kebabs and kalamaki. Souvlaki is meat cubes, and sometimes vegetables, marinated in oil, lemon juice, oregano and other herbs then grilled on a skewer. In fact, "Souvlaki" is a take on the Greek word souvla which means "skewer" or "spit." Souvlaki is traditionally pork but can be prepared with all sorts of meats from chicken to lamb, beef and even fish.
Chicken Souvlaki is served straight off the skewer with sides of fried potatoes, lemon rice and some sort of sauce. Souvlaki Pitas are when the meat is removed from the skewer and served in a pita along with red onions, tomatoes, sometimes lettuce and tzatziki.
Traditional Chicken Souvlaki isn't roasted with veggies on the same skewer but you will loooove this contemporary twist. The juicy, roasted tomatoes bursting together with the crisp-tender zucchini and juicy herb lemon chicken – gah – I can't get enough – and I guarantee your family and friends will be begging for more.
What is the difference between a gyro and souvlaki?
Although both delicious and boast similar tantalizing flavor profiles, gyros and souvlaki are definitely not the same thing – and that's why I need a recipe for both! While souvlaki is known as Greek "fast food," Gyros, on the other hand, are considered a main dish delicacy. Gyros consist of long strips of thin pork served with red onions, tomatoes and tzatziki sauce served with pita bread. As previously mentioned souvlaki, on the other hand, is marinated cubes of meat grilled on a skewer and does not need to be served with/in pita bread.

Now you know all about this Greek classic – but did you know it is actually super easy to make at home?! All you need is a little chopping prep, McCormick® Grill Mates® Zesty Herb Marinade, a few other pantry staples and it's go time! The best part about these handy marinades is that everything is pre-measured, flavor-packed and ready to roll!

When You're Short on Time – Make Chicken Souvlaki!
This Chicken Souvlaki recipe was born after I had been running around all day for our remodel (we are remodeling our bathrooms – tons of decisions and tons of errands – before and afters coming soon 😊 ), and we were hosting a backyard barbecue with some friends but I hadn't gotten the chicken marinating yet – but never fear, Chicken Souvlaki is here!
One of my favorite tips to grill your best chicken for your friends and family if you are short on time (or just want an amazing meal-in-one) is to make kabobs like this Chicken Souvlaki. The marinade is able to penetrate the small cubed chicken quickly so even if you only have 30 minutes, you still have flavor explosive chicken.

Chicken Souvlaki Marinade
The most important aspect of Greek Chicken Souvlaki is the marinade itself because that is where ALL the flavor comes from! This marinade is more of a wet rub (so the seasoning actually stays on the chicken and doesn't wash away) consisting of McCormick® Grill Mates® Zesty Herb Marinade, lemon juice, balsamic vinegar, olive oil and oregano.
This McCormick marinade packet is everything. It's a blend of garlic, basil, oregano and peppers. It infuses both the chicken and the veggies with flavor and is my secret weapon in sauces, salad dressings and on roasted veggies too! Marinating the chicken also tenderize the chicken and helps keep it juicy and moist while cooking.

How do you make chicken souvlaki?
This Chicken Souvlaki recipe is pretty straightforward, but here are some tips and tricks to make it a dynamic success.
Soak Wooden Skewers: You can use metal or wood skewers but just take care you soak your wood skewers for at least 30 minutes otherwise they can catch fire! For this Chicken Souvlaki recipe, I recommend soaking your skewers when you start marinating your chicken.
Chicken Breast or Thighs: I use boneless, skinless chicken breasts but you are also welcome to use chicken thighs, just keep in mind that light meat will cook faster than dark meat so it isn't a good idea to combine the two on one skewer. Chicken breasts have a bad reputation for being dry but with our marinade, cutting the chicken into 1 1/2″ cubes and not overcooking, you have a winner winner chicken dinner
Don't cut chicken too small: Cut your chicken into 1 ½ inch cubes in order to keep them juicy. Avoid cutting the chicken too small or it can easily overcook. Try and chop the chicken roughly the same size so they cook evenly.
Wet Rub Marinade: We only marinate our chicken for 2 hours or less because the marinade contains lemon juice that can cause small pieces of chicken to get mushy. The key when marinating your chicken for a short amount of time is to use more of a wet rub marinade than a marinade in which the chicken is swimming in liquid. This ensures the seasonings stick to the chicken and actually get grilled with the chicken instead of floating away in excess liquid.

Thread chicken kabobs: Thread the chicken, tomatoes, onions and zucchini onto your skewers in alternating fashion. If you don't want to worry about alternating the ingredients, you can make all chicken skewers, all zucchini skewers, all onions skewers or all tomato skewers. Mushrooms and bell peppers would be fantastic as well.
Many hands make light work: This Chicken Souvlaki can be very quick to assemble IF you get some helping hands to skewer. Involve your kids or even your guests if you want – they can even make their own custom kabobs! We made kabobs in Cabo and the dozens of kabobs were assembled in minutes because we had so many little helping hands.
How much space? As far as spacing, there are two schools of thought. Some like to leave a little space in between the items so heat can circulate evenly while they cook. Others, myself included, like to pack everything pretty close together – not smashed together, but touching. With the cubes this close, the heat isn't reaching all sides of the food at once which helps to prevent overcooking/dried chicken and instead promotes juicier chicken.
I hope these tips and tricks help you grill your best for those you love this summer and this Chicken Souvlaki recipe transports you to the crystal shores of Greece! Happy Memorial Day!
LOOKING FOR MORE SKEWER RECIPES?

What to Serve with Chicken Souvlaki?
This Chicken Souvlaki is practically a meal-in-one. We love to serve it with a big green salad and fruit but it is also delicious with:
You might also like these grilling recipes:
Want to try these Chicken Souvlaki Recipe?
Pin it to your CHICKEN or GRILL Board to SAVE for later!
FIND ME ON PINTEREST FOR MORE GREAT RECIPES! I AM ALWAYS PINNING :)!
©Carlsbad Cravings by CarlsbadCravings.com

Chicken Souvlaki with Feta Yogurt Dip
Save This Recipe To Your Recipe Box
You can now create an account on our site and save your favorite recipes all in one place!
Ingredients
Chicken Kabobs
2

lbs.

chicken breasts

chopped into 1 1/2" cubes

1

pint

cherry/grape tomatoes

2

zucchinis

cut into 1/4" slices

1

large red onion

cut into 1 1/2" chunks

1/4

teaspoon

McCormick® salt
Feta Yogurt Dip
1/2

teaspoon

McCormick® Grill Mates® Zesty Herb Marinade

from above pkg.

1

cup

Greek yogurt

2

tablespoons

feta crumbles

1-2

teaspoons

lemon juice

1

teaspoon

McCormick® Dried Dill

McCormick® freshly cracked Salt and Pepper

to taste
Instructions
Add ½ teaspoon McCormick Zesty Herb Marinade Mix to a medium bowl. Whisk in all o the Feta Yogurt Dip ingredients. Cover and refrigerate.

Whisk all of the Marinade ingredients together in a large bowl or large freezer bag (whatever dish you are going to use to marinate your chicken in). Remove 2 tablespoons Marinade and add to vegetables in a large bowl or freezer bag along with ¼ teaspoon salt. Toss to coat. Refrigerate.

Add chicken to remaining Marinade and toss to coat. Marinate at room temperature for 30 minutes or in the refrigerator for 2 hours – no more or the chicken will get mushy.
GRILLING INSTRUCTIONS
Generously grease grill and heat to medium-high heat. Grill chicken kabobs for approximately 12-15 minutes, rotating every couple minutes until nicely browned and each side and chicken is cooked through.

Serve with chilled Feta Yogurt Dip. Kabobs are also delicious with my Greek Lemon Rice, and pita bread.
OVEN INSTTRUCTIONS
Line a baking sheet with aluminum foil and lightly spray with nonstick cooking spray. Add the chicken kabobs in a single layer and broil, turning every 5 minutes until cooked through, about 10- 15 minutes depending on thickness of chicken.

Serve with chilled Feta Yogurt Dip. Kabobs are also delicious with my Greek Lemon Rice, and pita bread.
Did You Make This Recipe?
Tag @CarlsbadCravings and Use #CarlsbadCravngs
Leave a Review, I Always Love Hearing From You!
©Carlsbad Cravings Original