This Beef Stir Fry can be on your table in less than 30 minutes with tender, thin slices of beef and colorful crisp-tender vegetables all bathed in an easy, dynamic Korean stir fry sauce.
A Beef Stir Fry recipe is essential to every kitchen, and this one is FABULOUS! It's loaded with melt-in-your-mouth beef, onions, mushrooms, zucchini and bell peppers all smothered in a lip smacking Korean soy sesame garlic stir fry sauce. You can prep all your ingredients ahead of time so when it's time to cook your beef stir fry, it comes together in less time than takeout delivery! This Beef Stir Fry recipe uses easy to find ingredients and a large skillet instead of a wok so anyone can make this takeout fakeout any time and YOU get to control the ingredients!
BEEF STIR FRY
I loooove to make quick and easy stir fry recipes for dinner. They are my go-to meal whenever I want something simple, delicious and flavorful or simply when I want to clean out my veggie drawer! I serve my beef, chicken or shrimp stir fry recipes over rice, zoodles, or ramen, and usually add some sort of nut from toasted peanuts to cashews. Stir fry recipes are wonderfully versatile, filling, healthy and satisfyingly delicious.
Beef Stir Fry recipes can be just as as easy chicken stir fry recipes but elevate your takeout fakeout into something truly gourmet. You can marinate your beef for as little as 15 minutes or as long as 8 hours (more on marinating options below).
is stir fry good for you?
This Korean Beef Stir Fry is relatively healthy and definitely better for you than many restaurant versions which use lots of oil. The abundance of veggies in this stir fry provide loads of vitamins and minerals and this version uses a relatively low amount of oil. For a healthier version, you can swap the beef for chicken and serve with zoodles or in a lettuce wrap.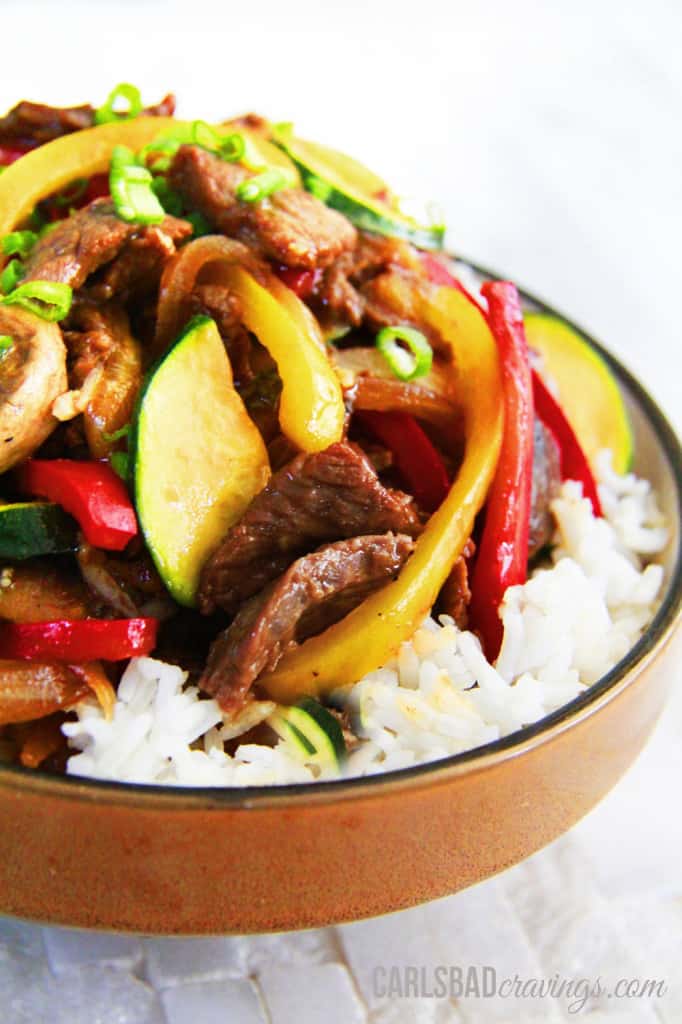 WHAT KIND OF MEAT IS BEST FOR BEEF STIR FRY? 
A beef stir fry is only as good as the beef! You can use either sirloin or flank steak in a beef stir fry BUT I only recommend flank steak if you marinate it longer than 30 minutes.
Flank steak is a more economical cut of beef that starts out tougher than top sirloin because it is leaner. However, you will be astonished just how buttery delicious flank steak can become by slicing it thin, marinating it and not overcooking it.
Top sirloin is ready to be cooked after just marinating for 15 minutes because it is already juicy and we are more trying to infuse it with flavor. That being said, your top sirloin will still benefit from being marinated longer if you have the time.
Whether you choose flank steak or top sirloin, they will both be excellent in this Korean Beef Stir Fry!
How do you make stir fry beef tender?
To make beef more tender, particularly flank steak, we need to marinate it. Our marinade, which also doubles as our sauce (yay for no extra work!), contains three ingredients specific for tenderizing beef.
soy sauce: the salt in the soy sauce helps break down the proteins for a more tender texture.
rice wine: is an acidic ingredient that breaks down lean muscle fibers on the surface meat.
cornstarch: acts as a binder and helps our soy sauce and rice wine come together and bind to the meat. It also provides a light coating that helps protects it from the intense heat when cooking.
You can either marinate you beef at room temperature for 30 minutes or up to 8 hours in the refrigerator.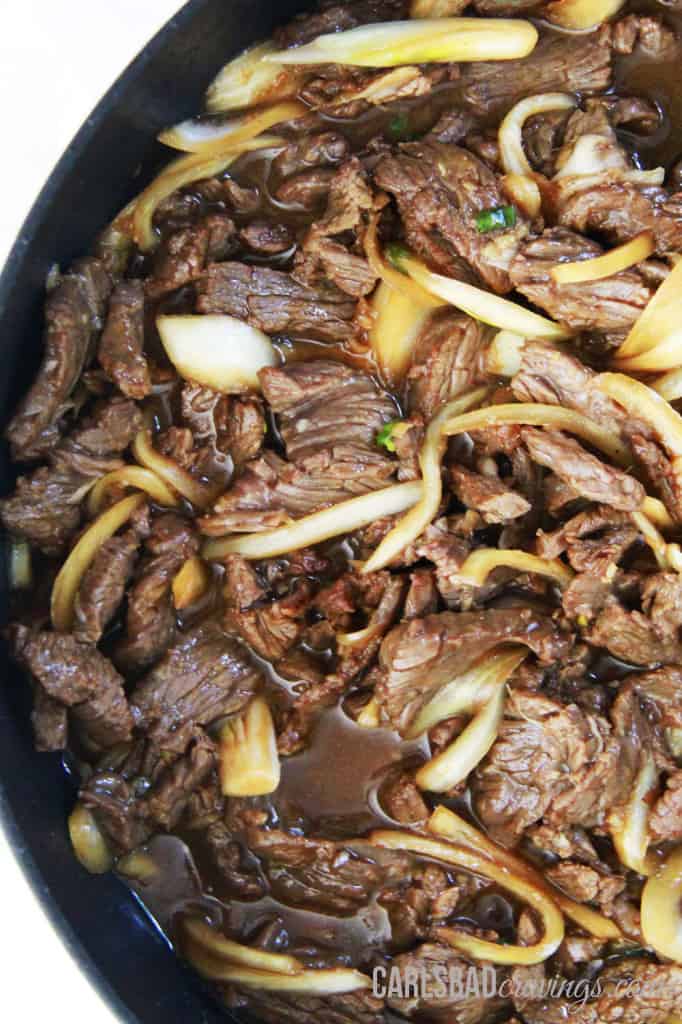 How do I make stir fry sauce?
As far as the "saucy" in the title of this beef stir fry, that is 100% accurate. This Korean Beef Stir Fry doesn't scrimp on the "sauce" – because let's be honest, nothing is worse than a lip-licking stir fry sauce that you don't have enough of!
Our stir fry sauce is comprised of soy sauce, sweet Japanese rice wine, garlic, ginger, Gochujang and sesame oil – mmmm…yes, you will be very happy this is beef stir fry is "saucy!" To make our stir fry sauce, simply whisk all of the ingredients together. You will use ⅓ cup for the marinade and the rest will use in the stir fry.
Here is a breakdown of our stir fry sauce ingredients:
Soy Sauce. Use less sodium soy sauce otherwise your beef stir fry may be too salty. It is better to be use less sodium soy sauce and salt to taste.
Sesame Oil. Sesame oil is made from sesame seeds and adds a fabulous nutty flavor but you may substitute vegetable oil. I don't recommend olive oil because we want an oil with a high smoking point.
Ginger. Ginger and garlic are quintessential to any good stir fry. I use one tablespoon freshly grated ginger in this beef stir fry recipe but you may substitute 1 teaspoon powdered ginger and whisk it directly into the stir fry sauce.
Garlic. This Beef Stir Fry Recipe uses 6 garlic cloves. You may use more or less depending on your love for garlic.
What is Rice Wine? Rice wine should become a pantry staple if you do much Asian cooking. I use it in almost all of my Asian Recipes from my Beef Bulgogi and Beef and Broccoli to my Mongolian Chicken and Sesame Noodles. Rice wine is NOT rice vinegar- DO NOT switch them out. Rice wine adds a sweetness and depth of flavor while also tenderizing the beef. Rice vinegar, on the other hand will add an acidic flavor.
Where do I Buy Rice Wine? I use "Kikkoman Aji-Mirin: Sweet Cooking Rice Seasoning" which is commonly found in the Asian section of most grocery stores or you can Amazon it. I highly suggest you google image before you head off to the grocery store so you know exactly what you are looking for. The best substitute for rice wine is pale dry sherry.
What is Gochujang? Gochuchang is a spicy Korean BBQ Sauce that's savory, sweet and spicy all in one. It's flavor simply can't be beat, in my opinion, and so worth keeping stocked in your refrigerator. If you don't want to purchase Gochuchang just for this recipe, then I suggest adding an alternative Asian hot chili sauce such as sriracha, however, I also use Gochujang in my Korean Tacos, Korean Meatballs, Korean Spicy Noodles and Korean Beef Bowls, so you will have plenty of scrumptious opportunities to use it up!
Where do I Buy Gochujang? I use Annie Chun's Sweet and Spicy Gochujang Sauce located in the Asian section of my grocery store, but you can also easily buy it on Amazon. I do recommend looking to see what Annie Chun's Gochujang Sauce looks like so you can easily spot it at the grocery store (not an affiliate, just will make your life easier).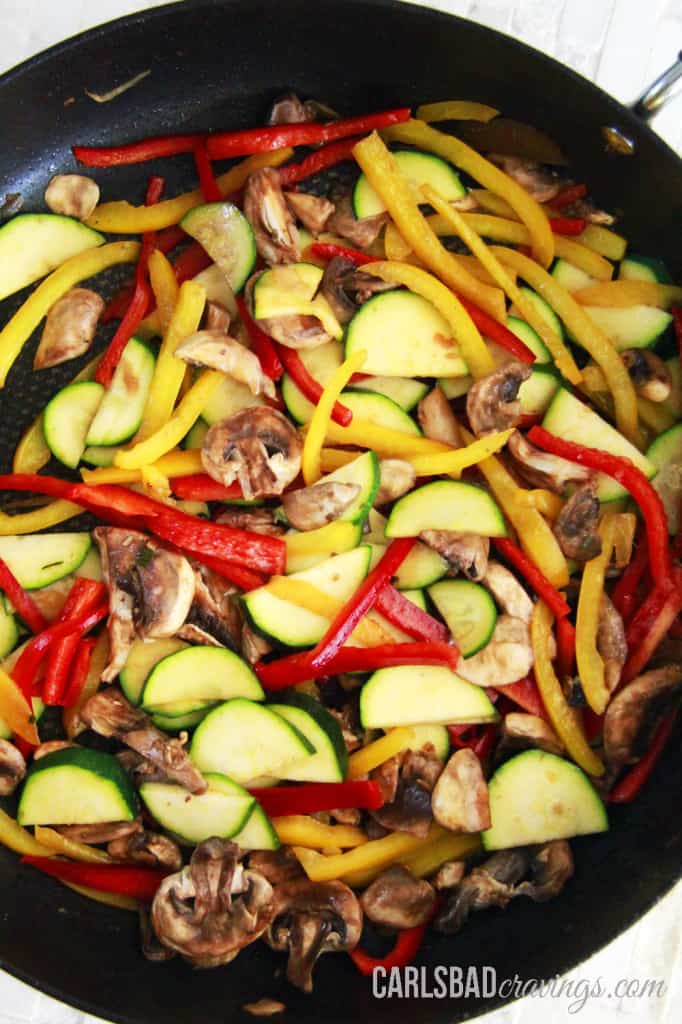 How do I make beef stir fry?
You will be amazed at the flavor coming out of your kitchen in just 30 minutes!
Freeze Beef. We want thin slices of beef in order for them to soak up flavor and become buttery tender. In order to thinly slice beef, place it in the refrigerator for 1-2 hours or until it is firm enough to hold its shape but still soft enough to slice. This will ensure it isn't slipping and sliding underneath your blade.
Slice Beef Thinly. Thinly slice your beef across the grain into 1/8-1/4" thick slices. You can see the "grain" running through the meat in one direction. Take care to cut cut perpendicular to the grain (muscle fibers) so they become as short as possible otherwise the long muscle fibers result in chewy, rubbery meat.
Marinate Beef. Whisk all the marinade/stir fry sauce ingredients together in whatever you are going to marinate your beef in. The leftover marinade will become your sauce – no double measuring/dish dirtying/whisking/ingredient gathering! I love meals where the marinade does all the work for you. Add your steak and let marinate at 30 minutes at room temperature or up to 8 hours in the refrigerator.
Prep Veggies. While your beef is marinating, slice all your veggies. You want everything ready before you start your beef stir fry because the actually cooking just takes a few minutes. For this Beef Stir Fry Recipe I've used onions, zucchini and bell peppers, and mushrooms but you can use any of your favorite veggies.
Cook Beef and Onions. Heat sesame oil (you can substitute vegetable oil) in a large nonstick skillet over high heat until very hot and sizzling. Your pan should be hot enough so that the meat sizzles as soon as it touches the pan. A few notes:

Use tongs to remove the beef and onions from the marinade so that you don't get a bunch of liquid in the pan otherwise the meat won't sear
Don't overcook your beef or it won't be as tender!
You may need to cook your beef in two batches so it sears and doesn't just steam.
Stir Fry Vegetables. Stir Fry vegetables for one minute – you want them crisp tender. They will continue to cook in the sauce.
Combine. Add sauce to vegetables and cook until sauce has thickened. Add beef back to skillet continue to cook until meat is cooked through and vegetables reach desired crisp-tenderness.
EAT! And voila! Dinner is on the table in less than 30 minutes! And not just any dinner – melt in your mouth tender Korean Beef Stir Fry oozing with the Asian spiced marinade – vibrant, fresh, tender-crisp veggies dripping with the savory, slightly sweet, slightly spicy, soy, sesame Gochujang stir fry sauce.
what food goes with a stir fry?
Traditionally, stir fries are served with rice or noodles (like authentic ramen). If you are looking for low carb options the you can serve your beef stir fry with cauliflower or zucchini rice.
For an appetizer, try my Pineapple Cream Cheese Wontons, Sesame Chicken Egg Rolls or Sweet and Sour Chicken Egg Rolls (my husband is obsessed with all three!)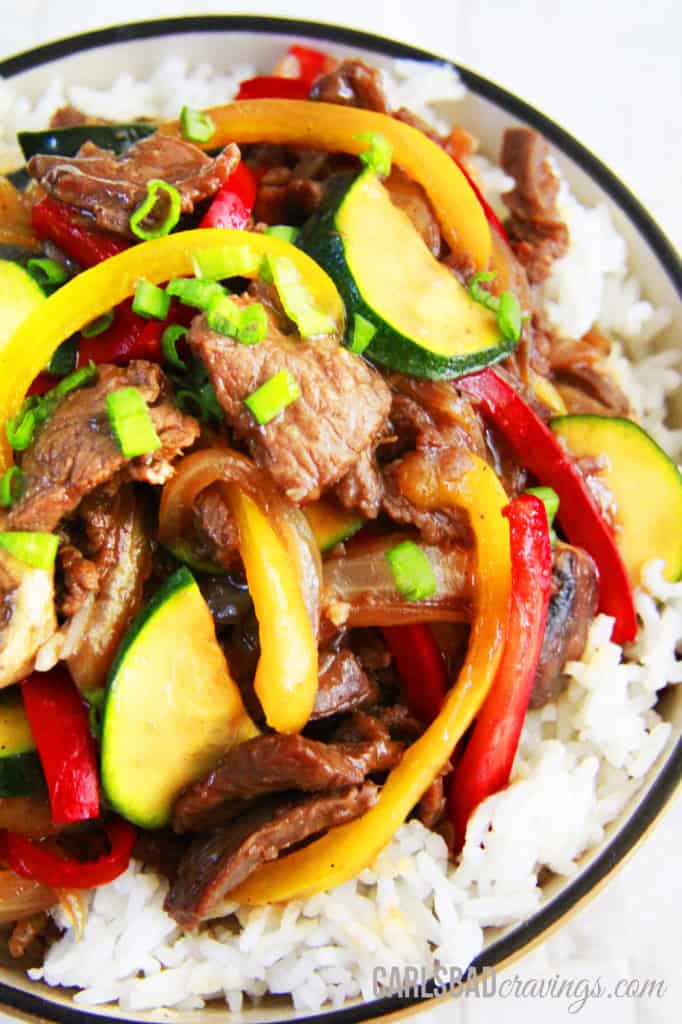 Once you try this Beef Stir fry, you will be so happy this is saucy! because no stir fry should leave you wanting more sauce when it tastes this good!
Looking for More Stir Fry Recipes?
Looking for more Asian Recipes?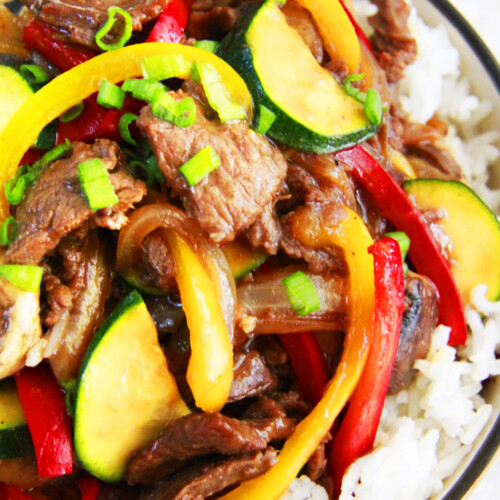 Saucy Korean Beef Stir Fry
This Beef Stir Fry can be on your table in less than 30 minutes with tender, thin slices of beef and colorful crisp-tender vegetables all bathed in an easy, dynamic Korean stir fry sauce. 
Save This Recipe To Your Recipe Box
You can now create an account on our site and save your favorite recipes all in one place!
Ingredients
1

pound

top sirloin or flank steak

sliced as thinly as possible

1

small onion sliced into very thin strips

1

tablespoon

sesame oil

2

tablespoons

cornstarch, divided
Marinade/Sauce
1

tablespoon

freshly grated ginger

3/4

cup

soy sauce

1/4

cup

water

1/2

cup

sweet Japanese rice wine

(may sub mirin or dry sherry)

1/3

cup

granulated sugar

1/4

teaspoon

black pepper

2

tablespoons

Gochujang

(may sub 2 teaspoons Sriracha)
Instructions
In an airtight container, whisk all of the marinade/sauce ingredients together. Spoon ⅓ cup of marinade/sauce into a freezer size Ziploc bag and whisk in 1 tablespoon

sesame oil

and 1 tablespoon cornstarch. Add beef and onions to freezer bag. Refrigerate both the meat/onions and the separate reserved sauce for 15 minutes up to overnight (the longer the better!).

When ready to cook, heat 1 tablespoon

sesame oil

in a very large skillet over high heat. Once very hot and rippling, remove meat and onions from the marinade with tongs and add to pan. You may need to work in two batches.

Break up any clumps in the meat and let cook for 1 minute, without stirring, then stir and cook until beef is browned and almost cooked through, about 1-2 minutes (it will cook more in the sauce). Don't overcook or it won't be as tender! Transfer beef to a large plate and cover. Wipe wok with a paper towel.

Add 1 tablespoon cornstarch to reserved sauce and whisk until smooth.

Heat an additional tablespoon

sesame oil

in the wok over high heat. Add "stir fry" vegetables and saute for 1 minute. Add reserved sauce and bring to a simmer. Season with ½ teaspoon salt and ¼ teaspoon pepper. Cook until sauce has thickened, about 1-2 minutes. Add beef back to skillet with vegetables and sauce and continue to cook until meat is cooked through and vegetables are crisp-tender, about 1 minute. Taste and add additional Gochujang/salt/pepper if desired.

Serve over rice or noodles and garnish with scallions (optional).
Did You Make This Recipe?
Tag @CarlsbadCravings and Use #CarlsbadCravngs
Leave a Review, I Always Love Hearing From You!
Carlsbad Cravings Original