Thank you for joining me my first year of blogging at Carlsbad Cravings! 2014 has been such a fun year, full of foodie adventures accompanied by a huge learning curve. I had never picked up a DSLR camera before my first food "photo shoot" but feel like I am finally getting the hang of it these last couple months. I look back at a lot of my photos and am totally embarrassed, but I have loved every recipe I have shared! Sometimes I can predict what recipes will be well received and sometimes I am totally surprised by what people respond to – or in this post – don't respond to.

As 2014 comes to a close, I thought it would be fun to highlight some of my favorite, incredibly delicious recipes that I love but performed poorly on pinterest. I know you will love them too! (click on the link for the post – not the picture)
14. Pineapple Broccoli Beef in Thai Peanut Sauce
Marinated, tender beef stir fried with my favorite peanut sauce for an explosion of flavor. After marinating the beef, it takes LESS THAN 15 minutes to throw together!
13. Latin Sweetfire Chipotle Chicken
Baked crispy, chipotle, cumin spiced breaded chicken smothered in sweet, spicy, smoky Latin Chipotle Sauce. Think Chinese style breading + Latin spice = out of this world chicken!
12. Cranberry Pecan Waffles with Orange Syrup
Rachel Ray's 5 star recipe made even better! Soft and fluffy Christmas worthy gingerbread waffles with crazy good syrup (also should be on this list) and super easy made in the food processor. LOVE!
11. Caesar Balsamic Cream Cheese Feta Bruschetta
Warm, creamy, melty, toasty, meets cool, crisp and refreshing. Bread smothered in cream cheese, sprinkled with feta and toasted, topped with cucumbers, tomatoes, etc. tossed in Caesar and balsamic – only the best bruschetta of my life.
10. Buttersctoch S'more Pancakes with Marshmallow Syrup
I don't think pancakes get any BETTER than this! Forkfuls of butterscotch, chocolate, graham cracker pancakes smothered in marshmallow syrup. Pancakes amazing. Marshmallow syrup, amazing (and only 2 ingredients). Oh My Yum.
9. Sweet Pulled Pork Taco Pizza with Tomatillo Avocado Dressing
This recipe is comprised of 3 of my top recipes – Perfect Pizza Crust, Chipotle Sweet Pulled Pork and 5 Minute Blender Tomatillo Avocado Ranch but wasn't a homerun. But you should run home to make this pizza. Seriously insane deliciousness inspired by my favorite tostada pizza at CPK.
8. 15 Minute Beefy Buffalo Macaroni and Cheese
Ultimate quick and easy, creamy, cheesy comfort food packed with flavor and poblano peppers and corn. I crave this pasta…all…the…time.
7. Teriyaki Chicken Sandwich with Honey Cotija Avocado Spread
NOT the best picture but this is the BEST chicken sandwich! Honey teriyaki marinated chicken smothered in Jack Cheese and tantalizing Honey Cotija Avocado Spread (also should be on this list). Easy prep for crazy delicious layers of flavors.
6. Sweet and Spicy Asian Salmon with Blueberry Pineapple Salsa
Sweet and spicy sauce and marinade of apricot preserves, soy sauce, rice vinegar, sesame oil, ginger, garlic, brown sugar and sriracha paired with fresh pineapple blueberry salsa. If you love Asian flavors, you will LOVE this!
5. Mango Black Bean Chipotle Coke Chili
MY FAVORITE CHILI EVER! and SO EASY! smoky, sweet and spicy – everything a chili should be and more. My sister-in-law makes this for gifts and has created a mango chili following among everyone who has tried it. You have to try it!
4. Creamy Sundried Tomato Pesto Pasta with Parmesan Chicken
You won't find more flavorful pasta at the finest Italian restaurant and its creamy and cheesy. A MUST if you want to find your new favorite pasta.
3. Raspberry Chocolate Ganache Cheesecake
Buttery oreo crust topped with super creamy cheesecake, covered in thick chocolate ganache topped with raspberries mixed with raspberry jelly – you will be in cheesecake heaven!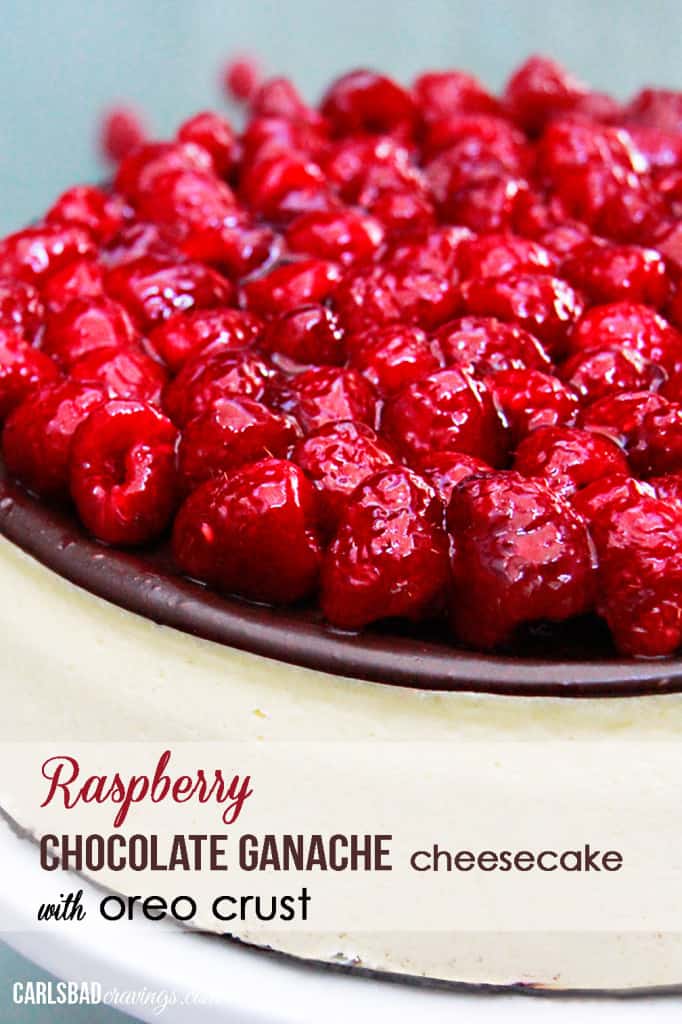 2. Alfredo Philly Cheesesteak Pizza
This is one of my favorite pizzas – homemade or restaurant, and I think you will agree! Thinly sliced tender, marinated steak packed with flavor layered on top of Alfredo sauce and topped with mozzarella cheese.
1. Chipotle Chicken, Mango Black Bean Enchiladas
I love these enchiladas every bit as much as my wildly popular Honey Lime Salsa Verde Chicken Enchiladas. They compete between 5 other recipes or so for my all time favorite recipe so I hope you give them a try! The Red Coke Enchilada Sauce that is out of this world and the mangos add the perfect fresh sweetness to the explosion of spices. When I first posted these I begged my readers to make them because I am so in love them. So I am going to beg you again now. PLEASE MAKE THEM! along with every other recipe on this list.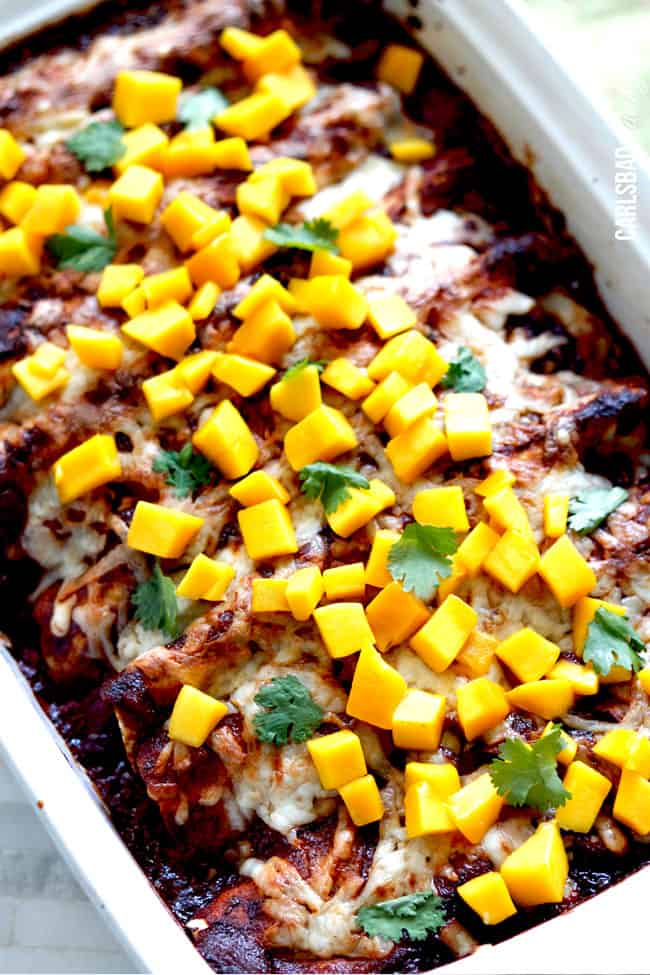 You now have 14 delicious new recipes to try – the best gift I can think to give you to kick off 2015. Happy New Year!
Never miss a Carlsbad Cravings Creation: