East meets West with Sweet Chili Chicken Enchiladas smothered in TO LIVE FOR Sweet Chili Coconut Honey Lime Sauce! One of my favorite recipes to date – you don't want to skip these!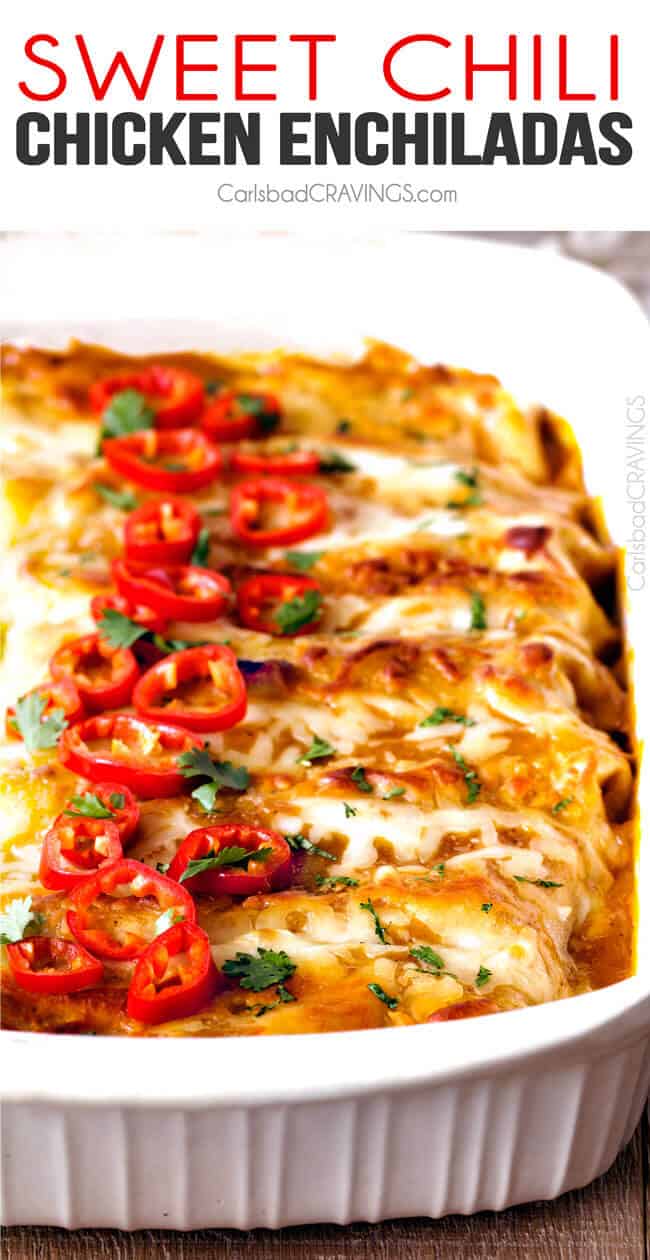 CHILI ENCHILADAS
Asian Mexican fusion has to be one of my most favorite cuisines like my Teriyaki Chicken Tacos and Asian Caramel Pulled Pork Tacos. The two cuisines might appear vastly different but they have strikingly similar flavor profiles (thus my two favs!:), that lend themselves beautifully to intermingling and creating unique, enticing flavor combinations like these delectable chili enchiladas!
So, if you are a little apprehensive about "how good" these chili enchiladas will be – please rest assured that if you like honey lime and coconut, you will go crazy over these enchiladas. In the best kind of crazy way
HOW TO MAKE CHILI ENCHILADAS
The idea for these otherworldy creamy chili enchiladas came from my Salsa Verde Honey Lime Chicken Enchiladas that are tangy, sweet and spicy and still one of Patrick's favorite recipes of all time.
Instead of the Salsa Verde based sauce, I swapped it for Asian Sweet Chili Sauce which is whisked with honey, lime and a rainbow of spices. You then reserve some of this sauce to mix with your chicken filling, and the rest you simmer with coconut milk to create a flavor bursting creamy sauce to smother your chili enchiladas.
The filling itself of tender juicy, pineapple infused sweet chili chicken is created by simmering your chicken with a can of pineapple in its juice and then adding some carrots for a refreshing, textured filling. Sprinkle your filling and your smothered sweet chili enchiladas with Monterrey Jack Cheese and you are 30 minutes away from East meets West meets your mouth.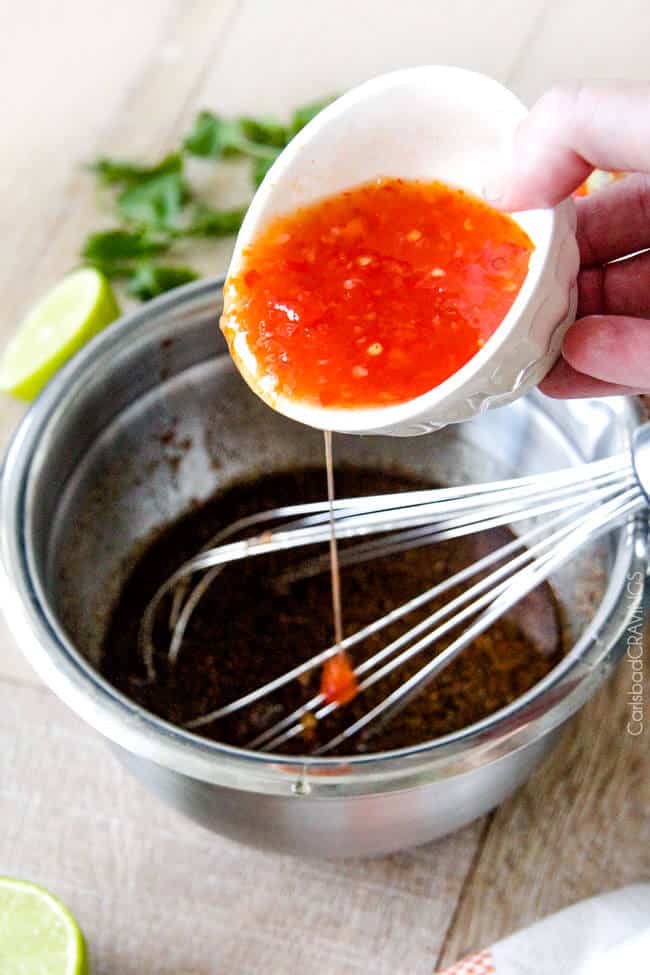 TIPS FOR CHILI ENCHILADAS
corn or flour tortillas? I prefer flour tortillas for this sweet chili chicken enchiladas recipe because we want the Asian flavors to shine and not fight with the nutty corn flavor of the tortillas.
Can I use rotisserie chicken? I usually think rotisserie chicken is a great shortcut in chicken enchilada recipes, but for this chili enchiladas recipe, I recommend making your own shredded chicken because it gets infused with sweet and tangy pineapple juice. That being said, you can still use rotisserie chicken if your short on time -or patience 😉
Where do I find Asian Sweet Chili Sauce? You can find Asian Sweet Chili Sauce in the Asian section of your grocery store. It is sweet and spicy made with red chilies, onion, garlic, sugar and fish sauce and is about to become your new favorite ingredient!
Can I make chili enchiladas ahead of time? Absolutely! You can completely assemble the enchiladas, cover tightly with plastic wrap or foil and refrigerate for up to 24 hours. When ready to eat, bake straight from the refrigerator for an additional 10 minutes or until heated through.
WHAT TO SERVE WITH CHILI ENCHILADAS?
These Chili Enchiladas are the main attraction and so flavorful, we love to serve them just with plain rice and a big green salad. You can also serve them with fresh fruit like pineapple or my Pina Colada Fruit Salad or Perfect Fruit Salad.
CAN I FREEZE CHILI ENCHILADAS?
These Chili Enchiladas freeze great for meal planning made easy! To freeze, assemble enchiladas but do not add the cheese on top – for best results, you will want to add the cheese just when you're ready to bake. Wrap the pan tightly in plastic wrap then cover with foil and freeze for up to three months. To thaw, place the enchiladas in the refrigerator for about 24 hours, then add cheese and bake at 350 for approximately 40 minutest.
OTHER CHICKEN ENCHILADA RECIPES YOU'LL LOVE:
Want to try these Chili Enchiladas Recipe?
Pin them to your DINNER or CHICKEN board to SAVE for later!
Find me on Pinterest for more great recipes! I am always pinning :)!
©Carlsbad Cravings by CarlsbadCravings.com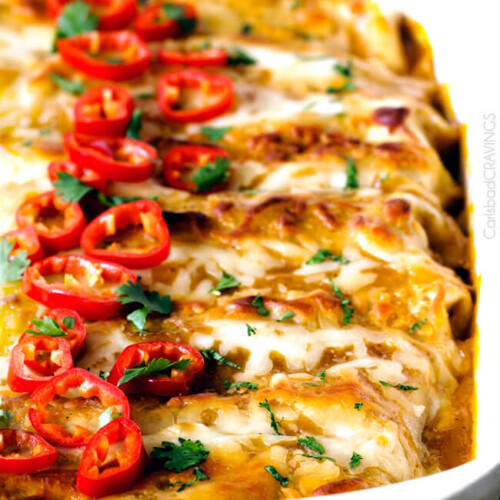 Sweet Chili Chicken Enchiladas
East meets West with Sweet Chili Chicken Enchiladas smothered in TO LIVE FOR Sweet Chili Coconut Honey Lime Sauce!  One of my favorite recipes to date –  you don't want to skip these!  
Save This Recipe To Your Recipe Box
You can now create an account on our site and save your favorite recipes all in one place!
Ingredients
Chicken
1

tablespoon

olive/coconut oil

2

pounds

chicken breasts

(3-4 boneless skinless chicken breasts)

1

20 oz. can

pineapple tidbits in juice

1

cup

Matchstick carrots
Add later:
1

13.5 oz. can

quality coconut milk

(I use Chakoah)

1

tablespoon

cornstarch
Enchiladas
8-10

flour tortillas, toasted in skillet

( optional)

3

cups

shredded Monterey jack cheese, divided
Garnish
chopped green onions

chopped fresh cilantro

roasted peanuts, crushed
Instructions
Chicken: Heat 1 tablespoon olive oil in a large nonstick skillet over medium-high heat. Add chicken and cook 3-5 minutes, or until golden brown on one side. Flip chicken over and add the can of pineapple with juice to the skillet. Cover and reduce heat to medium and simmer 10 minutes, stirring pineapple occasionally, adding additional water if the liquid evaporates too quickly. Add carrots, cover and simmer 5-10 minutes more or until chicken shreds easily. Remove chicken and let rest for 5 minutes before shredding.

Sauce: While chicken is cooking, whisk all of the Sauce ingredients together except for the coconut milk and cornstarch in a large bowl. Add 1 cup of the sauce to a medium saucepan and stir in coconut milk and cornstarch. Bring to a boil and reduce heat to simmer until thickened, 1-2 minutes. To the remaining sauce in the bowl, add shredded chicken/pineapple/carrots and stir until well combined.

Assemble: Lightly spray a 9×13 baking dish with nonstick cooking spray. Add ½ cup of sauce from saucepan and spread over the bottom of the baking dish (it will barely cover bottom).

Add a few spoonfuls of chicken/carrot/pineapple to each tortilla and top with a few spoonfuls of cheese (about 1 ½ cups cheese total). Roll up and place seam side down in prepared baking dish. Pour remaining sauce over tortillas and spread evenly. Sprinkle with remaining cheese.

Bake: Bake for 30 minutes at 350 degrees F. Turn oven to broil and cook until cheese is golden brown (2-3 minutes). Garnish with chopped green onions, cilantro and crushed peanuts as desired.
Did You Make This Recipe?
Tag @CarlsbadCravings and Use #CarlsbadCravngs
Leave a Review, I Always Love Hearing From You!