Greek Chicken Risotto is easy,

delicious

and all made in ONE POT!   
This Chicken Risotto is wonderfully simple to prepare, unbelievably flavorful, fool proof and requires no stove stirring babysitting! Once you make this BAKED chicken risotto once, you will be BLOWN away at how easy is and want to make it again and again! And of course, your entire family will want you to make it again and again! I've also included different creamy chicken risotto variations, so you can mix up the flavor profile because once you learn the technique, the chicken risotto possibilities are endless!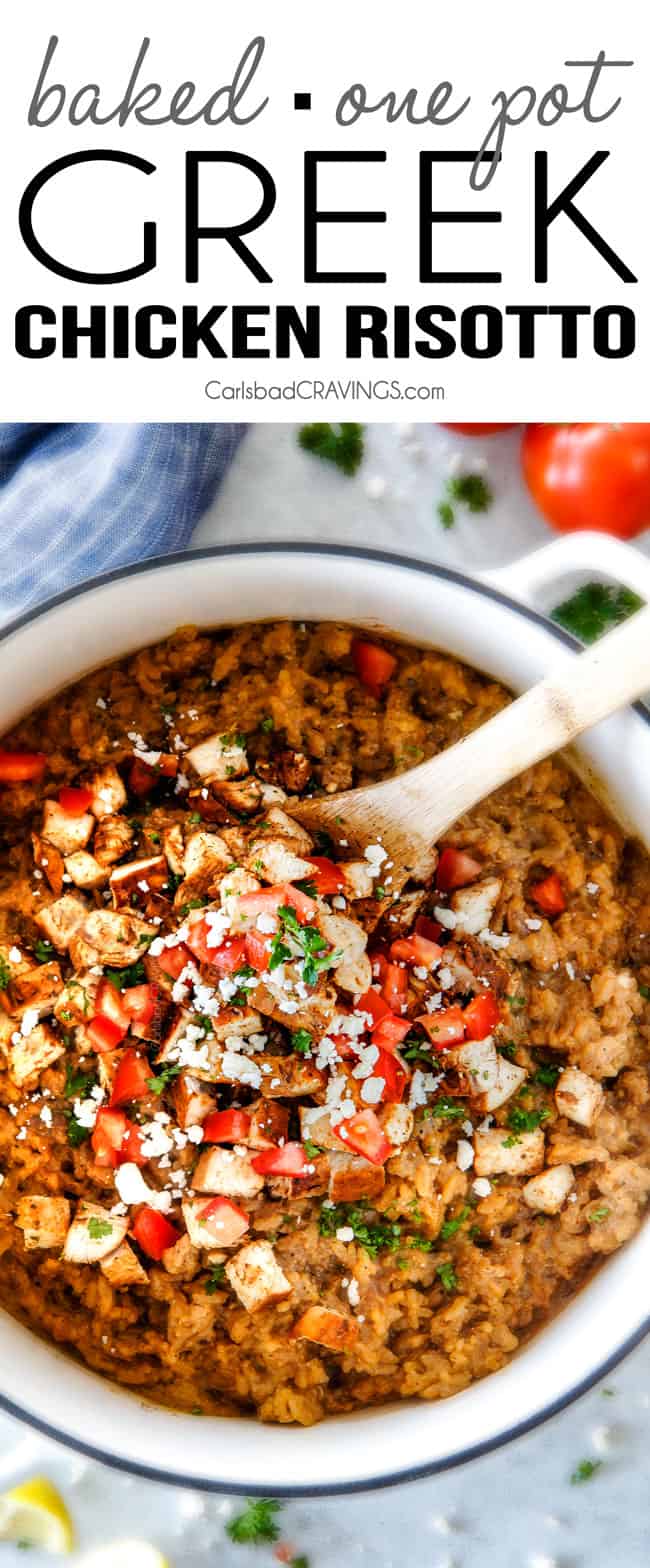 Chicken Risotto
Remember when I posted my Personal Favorite Recipes of 2016? That was a crazy hard list to narrow down, but one recipe that hands down made the cut was my Baked Butternut Squash Risotto with Pepper Jack and Pine Nuts. Have you tried it yet? I could eat it for days. But now the only problem is it has competition – this Greek Chicken Risotto recipe!
But before I go on about how crazy delicious this creamy Chicken Risotto recipe is, let me firsts say that if you have never made risotto before, it's time. The perfect time with this fool proof baked version. You don't need to worry about standing in front of your stove for 30 minutes and ladling in cupful after cupful of chicken broth and stirring to the right consistency. And it's the perfect time because this easy chicken risotto recipe is a complete meal in-one!
What sets this Chicken Risotto apart from other easy chicken risotto recipes, is the outstanding flavor from the marinated Greek chicken that seeps into the rice along with not only Parmesan – but feta! The chicken risotto is then topped with your favorite Greek toppings such as tomatoes, cucumbers, olives, more feta – anything your heart desires! It's a symphony of Greek flavors and creamy, juicy textures in every bite worthy of an encore!
What Rice is Best for Chicken Risotto?
Chicken Risotto is SO easy to make – you just need the correct rice – arborio rice. You can find it at almost every grocery store next to the other rices. When cooked, the rounded grains of the arborio rice become creamy and chewy due to the high starch content without become mushy.
Please do NOT use any other type of rice or the risotto will not work right and you will end up with a big pot of mushy rice. Only arborio rice creates creamy rice every time without becoming mushy.
What Chicken is Best For chicken Risotto?
My Greek Chicken is the star of this Chicken Risotto and is one of my absolute favorite marinades. I first used this chicken in my incredible chicken gyro pizza and have since used it in my chicken gyros, Greek chicken salad, chicken souvlaki and beef souvlaki -because it is AMAZING!.
The marinade is a quick whisking of olive oil, lemon juice, balsamic vinegar and a plethora of handpicked spices. You first whisk the spices together of garlic powder, dried oregano, dried basil, onion powder, paprika etc. and then add some to the marinade and the rest are reserved for your actual risotto. Double the flavor without double the work!
You can use chicken breasts or chicken thighs for this easy Chicken Risotto recipe. I usually use chicken breasts because they are leaner and emerge ridiculously juicy in this preparation, but you can use your favorite or whatever you have on hand.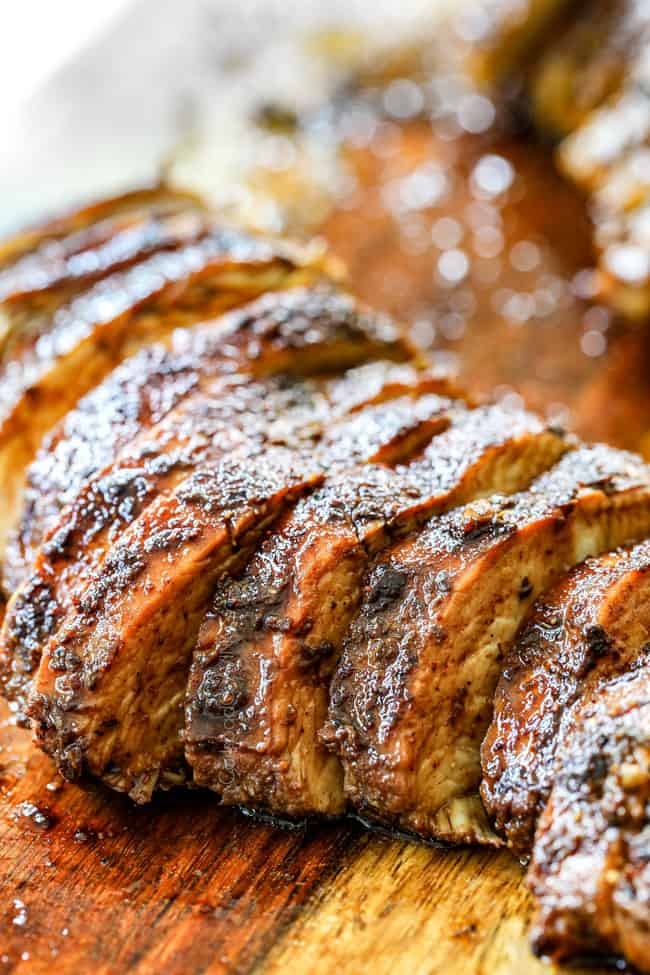 HOW TO MAKE CHICKEN RISOTTO
chicken: first, marinate the chicken for 30-60 minutes up to overnight – whatever is more convenient for you! When it's time to make chicken risotto, cook the chicken in a Dutch oven then remove the chicken without wiping out your pot. The leftover marinated chicken flavors remain – this is why my risotto is brownish in color – from the leftover balsamic marinade – and this color means FLAVOR!
toast rice: Next, saute your red onion in some olive oil and butter, followed by your Arborio rice for two minutes Please don't skip the step of toasting the rice. This unlocks a pleasant nuttiness and creates a protective barrier around each grain which helps the grains absorb moisture slowly.
add broth: Add 4 ½ cups chicken broth and reserved spices. Please use low sodium chicken broth so your chicken risotto isn't too salty. Using reduced sodium chicken broth leaves wiggle room for you to salt to taste.
bake: Now, no more stirring your Chicken Risotto! Simpy cover and bake 20 minutes or until your rice is on the tender side of al dente. If you don' have a tight-fitting lid, then you can use foil, but make sure it is TIGHT otherwise the broth will evaporate before the rice is cooked, leaving you with crunchy rice.
stir: Once your rice is baked to delightful creaminess, you remove from the oven and vigorously stir in your Parmesan and feta and ½ cup more chicken broth. We stir vigorously not just to melt the cheese but more importantly the stirring helps to release the starch that gives risotto its distinctively creamy, rich texture. Then all that's left to do is stir in our chicken and warm through and garnish with plenty of freshly chopped tomatoes and EAT!
garnish: Garnish with freshly chopped tomatoes, additional Feta, freshly grated Parmesan cheese and fresh parsley if desired. You could even top with a dollop of tzatziki!
HOW TO STORE CHICKEN RISOTTO
If you have the pleasure of having Chicken Risotto leftovers, store in an airtight container in the refrigerator for up to five days.
HOW TO REHEAT CHICKEN RISOTTO
Chicken Risotto will thicken in the refrigerator so you will want to thin it out with additional chicken broth or water before reheating. You can reheat risotto easily in the microwave or to reheat larger batches on the stove:
Add risotto and some chicken broth or water to a skillet, about ¼ cup liquid for 1 cup risotto.
Heat over medium heat until warmed through, stirring often.
If the risotto is still thick, stir in additional liquid one tablespoon at a time.
You can also add additional butter and salt to taste as the salt will mellow when refrigerated.
CHICKEN RISOTTO VARIATIONS
You can make ANY type of Chicken Risotto by following the technique of this recipe. Some ideas for chicken Risotto:
seasonings: mix up the flavor profile of Chicken Risotto by seasoning the chicken differently or the risotto itself differently. You can use Cajun, Mexican, Italian, Island, etc. spice combinations.
flavor add ins: in addition to spices, you can mix up the flavor profile with lemon juice, fennel, mint, sage, herbs, etc.
vegetables: add any vegges your heart desires! Asparagus, bell peppers, zucchini, broccoli, mushrooms, spinach, Swiss chard, peas, etc. are all fabulous!
protein: add bacon to the Chicken Risotto or swap the chicken for shrimp, lobster, salmon, pork, ground beef, Italian sausage, ground turkey, etc.
cheese: swap the Parmesan for other cheeses or add additional cheeses such as sharp cheddar, white cheddar, Gouda, Gruyere, Gorgonzola, mozzarella, etc
What to serve with Chicken Risotto?
I like to serve this Greek Chicken Risotto with warm pita bread, tzatziki or hummus, fattoush as well as fruit such as grapes or a big fruit salad for a dazzling Mediterranean feast.
One Pot Baked Greek Chicken Risotto. Swoon worthy cream, no babysitting and absolutely fool proof. It's time.
Looking for more Chicken recipes?
Want to try this Chicken Risotto recipe?
Pin it to your Chicken, Dinner or One Pot Board to SAVE for later!
Find me on Pinterest for more great recipes!  I am always pinning :)!
©Carlsbad Cravings by CarlsbadCravings.com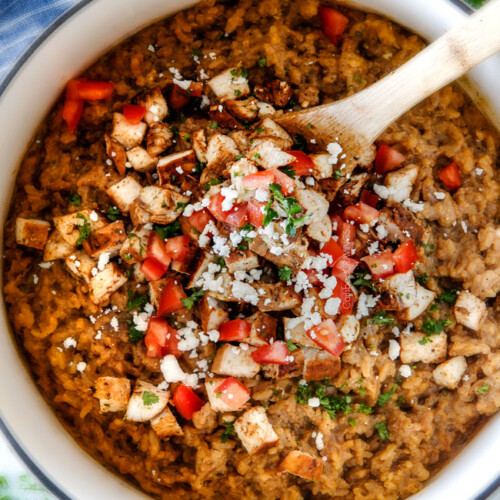 Baked Greek Chicken Risotto
Easy, creamy BAKED Greek Chicken Risotto made in ONE POT!   This simple to prepare risotto is unbelievably flavorful, fool proof and requires no stove stirring babysitting!  Your entire family will love this dinner and you will love how easy it is! 
Save This Recipe To Your Recipe Box
You can now create an account on our site and save your favorite recipes all in one place!
Ingredients
Instructions
Whisk all of the spices together. Separate out 2 tablespoons spices and add to a freezer size plastic bag along with 3 tablespoons olive oil, 1 tablespoon balsamic vinegar and 1 tablespoon lemon juice. Whisk to combine then add chicken. Marinate at room temperature for 30-60 minutes or refrigerate up to overnight. Reserve remaining spices ("Reserved Spices").

Let marinated chicken sit at room temperature 20-30 minutes if it has been refrigerated. Heat one tablespoon olive oil in a Dutch oven (or large oven proof heavy pot with a tight-fitting lid). Once very hot, drain chicken from marinade, pat dry and add to skillet. Cook undisturbed for 3-4 minutes, or until nicely browned on one side. Turn chicken over, cover, and reduce heat to medium. Cook for approximately 4-6 more minutes (depending on thickness of chicken), or until chicken is cooked through. Remove to cutting board and let rest 5 minutes before chopping into bite size pieces. Do not clean pan.

Preheat oven to 400 degrees F.

In the same pot chicken was cooked in, melt 2 tablespoons butter with 1 tablespoon olive oil over medium heat. Turn heat to medium high and add red onions. Saute for 3 minutes. Add rice and continue to cook for 2 minutes while stirring.

Add 4 ½ cups warm chicken broth and Reserved Spices. Bring to a boil, cover, and transfer to oven (do not add chicken). Bake for 18-20 minutes or until rice is tender (but not mushy).

When rice is tender, remove from oven and stir in remaining ½ cup chicken broth, ½ cup Parmesan Cheese and ¼ cup feta cheese. Stir vigorously until smooth. Stir in chicken and heat through. For a runnier risotto, stir in additional chicken broth.

Garnish with freshly chopped tomatoes, additional Feta, freshly grated Parmesan cheese and fresh parsley if desired. Season with salt and pepper to taste.
Did You Make This Recipe?
Tag @CarlsbadCravings and Use #CarlsbadCravngs
Leave a Review, I Always Love Hearing From You!
©Carlsbad Cravings Original