S'mores Bars are everything you love about gooey, chocolate, marshmallow s'mores but with CARAMEL and your favorite nuts (like cashews – mmmm) and bonus – they are SUPER easy AKA great for crowds!
Made with just 8 ingredients and ready in half an hour, these s'mores bars are a delicious treat to enjoy year-round!



Easy S'mores Dessert Recipe
It is my husband's birthday next week — the big 3-7 — wahoo! It's crazy to reminisce of our dating days when he was just a young whipper snapper with not a single gray hair. And then I would tweeze one or two and then 10-20 and then I just gave up — because after all, he earned them! — especially a few years ago when I was waiting for my kidney transplant.
Oh how I love that sweet, hilarious, courageous, man! He is my rock, my soul mate, my everything. So before I get too mushy gushy, because I already did that in Our Love Story (click HERE), I introduce S'mores Bars in honor of Patrick, because S'mores are his favorite!
For Valentine's Day my first year of blogging, I posted his favorite Soft and Chewy S'mores Cookies, made into a giant heart (IG pic HERE), because chocolate + graham crackers + marshmallows = LOVE!
But wait – CARAMEL + NUTS + chocolate + graham crackers + marshmallows = TRUE LOVE!
And once I tell you how easy these S'mores Bars are to make, you will be in ETERNAL LOVE! They literally take just minutes to whip together without any effort. I SO wish I would have made these before Christmas so I could have seen how easy they were instead of rolling cookie after cookie after cookie. Never again. Next year for Christmas its all about bars for gifting, these Smore's Bars. Merry Christmas to me.
Happy S'mores in January and Happy Birthday to my Patrick! I can't wait for s'more AMAZING years together!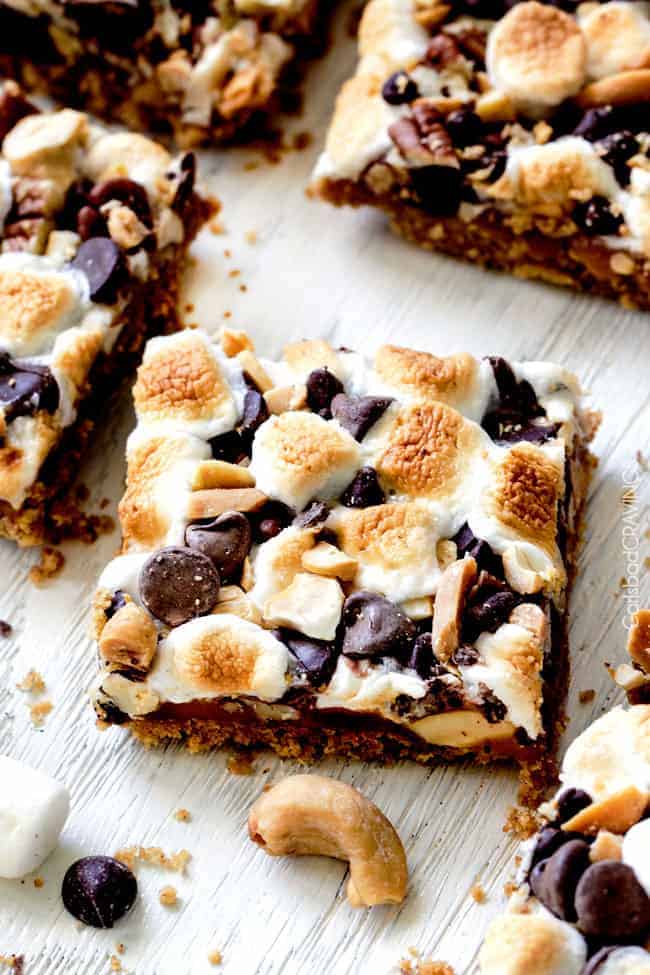 S'mores Bars Ingredients
You're going to LOVE how easy this s'mores dessert is! Here's all you need to make the bars:
Graham crackers: You'll need about 2 cups of finely crushed graham cracker crumbs for this recipe.
Butter: I always use unsalted butter in baked goods to prevent them from being too salty.
Brown sugar: Brown sugar has a subtle molasses-caramel flavor, which I love in these bars.
Caramel candies: You want to buy individually wrapped soft caramel candies.
Heavy cream: Heavy cream is a must! Don't try substituting milk.
Mini marshmallows: If you can only get big marshmallows, cut them into bite-sized pieces before making the recipe.
Nuts: Use any nuts you'd like.
Chocolate chips: I used semi-sweet chocolate chips so these bars weren't too sweet.
How to Make S'mores Bars
To make, simply mix melted butter and graham cracker crumbs to make your crust and bake for 12 minutes, then pour caramel over the top which is simple and divine mixture of pre-made Kraft caramels and heavy cream.
And smear that silky goodness all over – and try not to eat it all.
Then gather your mini marshmallows, chocolate chips and any combination of nuts you like – 100% customizable. I mixed peanuts, pecans and cashews and it was my kind of perfection.
Layer over your caramel and bake for 12-ish minutes.
Just long enough for the chocolate and marshmallows to get a little ooey gooey melty and those marshmallows to roast to golden bonfire-like perfection. Without the burning charred bits part.
And then its time to dive mouth first into these Caramel Nut S'mores Bars.
And every chewy, chocolaty, nutty, caramel toasted marshmallow bite will leave you wanting s'more…
Tips for Making S'mores Bars
Nuts: I used a mixture of cashews, peanuts, and pecans in this s'mores dessert, but any raw unsalted nuts will work.
Chocolate chips: I used a mixture of regular and mini chocolate chips, but use whatever you have on hand. You can also chop up a chocolate bar, if needed!
Caramel candies: Buy soft caramel candies, not the hard kind you suck on. I used Kraft brand caramels.
Recipe Variations to Try
Graham crackers: Try playing around with different flavors of graham crackers! I bet cinnamon or chocolate graham crackers would taste delicious in these bars.
Make it gluten-free: You can easily make this dessert gluten-free by using your favorite gluten-free graham crackers.
Marshmallows: I prefer using regular marshmallows in my s'mores, but there are so many flavors available nowadays! Buy flavored marshmallows and see which you like best in these bars!
Can I Prep S'mores Bars in Advance?
These s'mores bars can be made up to 24 hours before you plan on serving them. After that, the marshmallows tend to dry out and become slightly rubbery.
How to Store These Bars
These s'mores bars should be stored in an airtight container at room temperature. They'll last up to 5 days.
Can I Freeze S'mores Bars?
No, I don't recommend freezing these bars. Marshmallows don't freeze very well.
Looking for More Bars and Brownies?
S'mores Bars with Caramel and Nuts
Save This Recipe To Your Recipe Box
You can now create an account on our site and save your favorite recipes all in one place!
Ingredients
2

cups

graham crackers, finely crushed

1/2

cup

butter, melted

2

tablespoons

brown sugar

1

12 oz. pkg.

soft caramel candies

(I use Kraft)

1/3

cup

heavy cream

2

cups

tiny marshmallows

1 1/2

cups

combination desired nuts

coarsely chopped (I use cashews, peanuts, and pecans)

1

cup

semisweet chocolate chips

(I used a mixture of regular and mini chocolate chips)
Instructions
Preheat oven to 325 degrees F. Line a 13 x 9 inch baking pan with foil extending over the sides. Spray lightly with nonstick cooking spray. Set aside.

In a large bowl, combine Graham Cracker crumbs, melted butter and brown sugar. Stir until evenly combined then press mixture firmly and evenly into the bottom of the prepared pan. Bake for 12 minutes. Cool crust in pan on a wire rack for 5 minutes.

Meanwhile, microwave caramels and heavy cream together in a medium bowl until smooth, stirring every 30 seconds until melted, about 2 minutes. Pour caramel mixture over crust and spread evenly.

Sprinkle caramel with marshmallows, nuts and chocolate, slightly pressing them into the caramel.

Bake at 325 degrees F for 12 minutes then Broil just until marshmallows begin to brown. Cool in pan on a wire rack. Use foil to lift uncut bars out of pan and onto a cutting board. Cut into bars and enjoy!
Did You Make This Recipe?
Tag @CarlsbadCravings and Use #CarlsbadCravngs
Leave a Review, I Always Love Hearing From You!
Carlsbad Cravings© Original