I am writing this post from my hospital bed excited to finally feel well enough to do some blogging! As I mentioned on Instagram, I was admitted to the hospital last Thursday for pneumonia after 3 days of nonstop fevers. I had previously told my husband I felt like a "sitting duck" because I've had a sinus infection since March that no antibiotics could trounce (because I am very immuno suppressed due to both my kidney and lung transplants) and all my past pneumonias have been caused by sinus infections getting into my lungs. Well, this duck was finally shot with high fevers and sent to the ER.
I am so grateful to be responding very well to IV antibiotics and I am continually grateful for modern medicine and all the thoughtful messages and prayers on my behalf. Thank you! I should be released from the hospital in a day or two with my pic line, home IVs and a new hunger for even more delicious food after eating mostly hospital food for days :)!
I wanted to make up for being MIA at the end of last week with an unbelievably delicious appetizer of Baked Chili Lime Nacho Mozzarella Sticks.
Yes, making up for my absence in a big way.
I LOVE nachos. I love them when I feel great and they are one of the only foods I love when I feel not so great. When I was in the hospital this past week, still nauseous and feverish, my sweet in-laws brought me nachos. I couldn't eat anything else, but for some reason, I could eat nachos. The crispy with the cheesy, smothered in salsa or guacamole is so addicting. In fact, I don't know if there is a more addicting food?…
No, I really can't think of one right now. So when I saw the idea for fried mozzarella stick wontons on pinterest, I was inspired to wrap mozzarella sticks in egg roll wrappers instead and bake them Mexican style.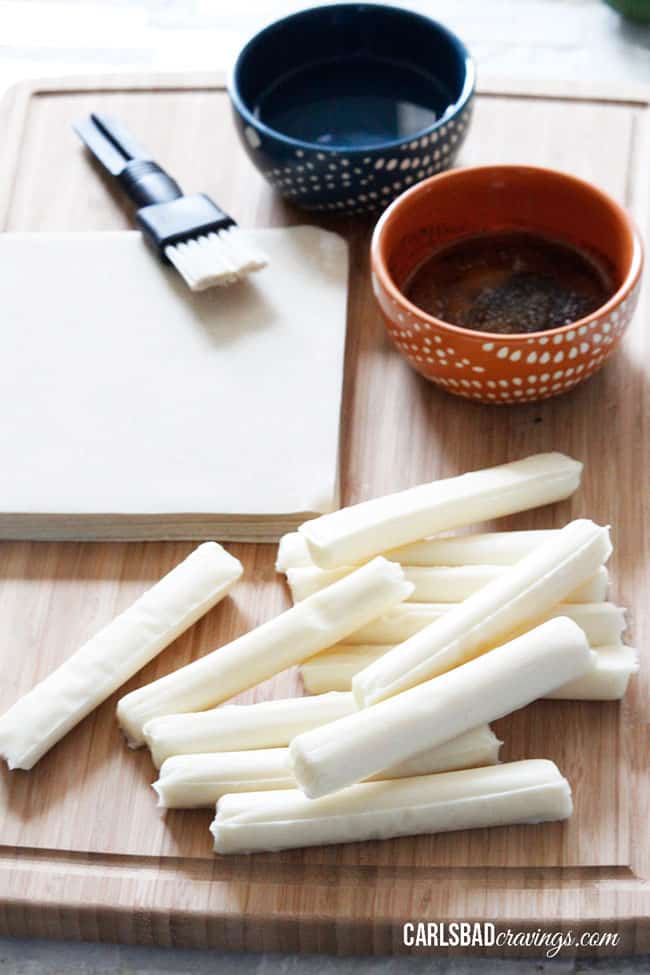 Instead of brushing the wrappers with plain olive oil, I concocted a spiced coating of olive oil, lime juice, chili powder, cumin, onion powder and garlic.
Just look at thes spices baking (not fried) into the crispy wrappers!
The final product?
Mexican spiced crispy, chip-like exterior, with an oozing, gooey mozzarella interior AKA nachos in a stick AKA Chili Lime Mozzarella Nacho Sticks!
Smother the Chili Lime Nacho Mozzarella Sticks with either 5 minute Fire Roasted Restaurant Blender Salsa or Cotija Honey Lime Avocado Dip (highly recommend) and you have a huge fiesta in your mouth!
These Nacho Mozzarella Sticks are the perfect party appetizer, snack or even side. And they are so easy (wrap, brush, bake), that they can be the star of your fiesta any time you please!
And just when you thought nachos were addicting enough?!
Chili Lime Nacho Mozzarella Sticks
Save This Recipe To Your Recipe Box
You can now create an account on our site and save your favorite recipes all in one place!
Ingredients
24

mozzarrella sticks

24

egg roll wrappers

1/4

cup

water

(you won't use it all)
Chili Lime Olive Oil
1

tablespoon

lime juice

1/4

cup

olive oil

1/2

tsp EACH

salt, chili pwdr, ground cumin, garlic pwdr

1/4

tsp EACH

pepper, onion pwdr
Instructions
Freeze mozzarella sticks for 90 minutes.

Whisk together the Chili Lime Olive Oil Ingredients in a small bowl.

Preheat oven to 400 degrees.

*You can also look at the back of your egg roll wrapper for wrapping instructions/pics. Working with one at a time, place mozzarella stick diagonally in the bottom third of the egg roll wrapper. Brush the edges of the wrapper with water. Fold the bottom of the wrapper up tightly over the cheese, then proceed to roll the up the cheese, folding in the edges of the wrapper as you roll. You want the edges to be tightly sealed so the cheese doesn't spill out when cooked. Take care not to tear the wrapper.

Place wrapped mozzarella sticks on a baking rack placed on a foil lined baking sheet. Brush wrapped mozzarella sticks with Chili Lime Olive Oil, stirring to make sure you get the spices that have settled. Note that the mixture will thicken as flour from the wrappers deposits into the oil.

Bake for 15 minutes at 400 degrees. Broil for 3-5 minutes, or until golden, then flip mozzarella sticks and continue to broil until other side is golden.

Serve with Fire Roasted Blender Salsa, Cotija Honey Lime Avocado Dip or Spicy Roasted Red Pepper Feta Dip
Did You Make This Recipe?
Tag @CarlsbadCravings and Use #CarlsbadCravngs
Leave a Review, I Always Love Hearing From You!