Summer Recipes
Summer Salad recipes have to be the quintessential recipes of summer! They are fresh, bright, packed with texture and THESE summer salads recipes are packed with flavor!
This collection of summer salad recipes includes green salads, pasta salads and fruit salads that will be the hit at every potluck (hello 4th!) or delicious for lunch or dinner alongside your favorite burgers, sandwiches, grilled proteins etc., as well as my favorite main dish salads that are packed with everything delicious! I can't wait to hear which ones become your go-to summer favs!
You can see all of my summer salad recipes at a glance HERE and all of my summer recipes at a glance HERE.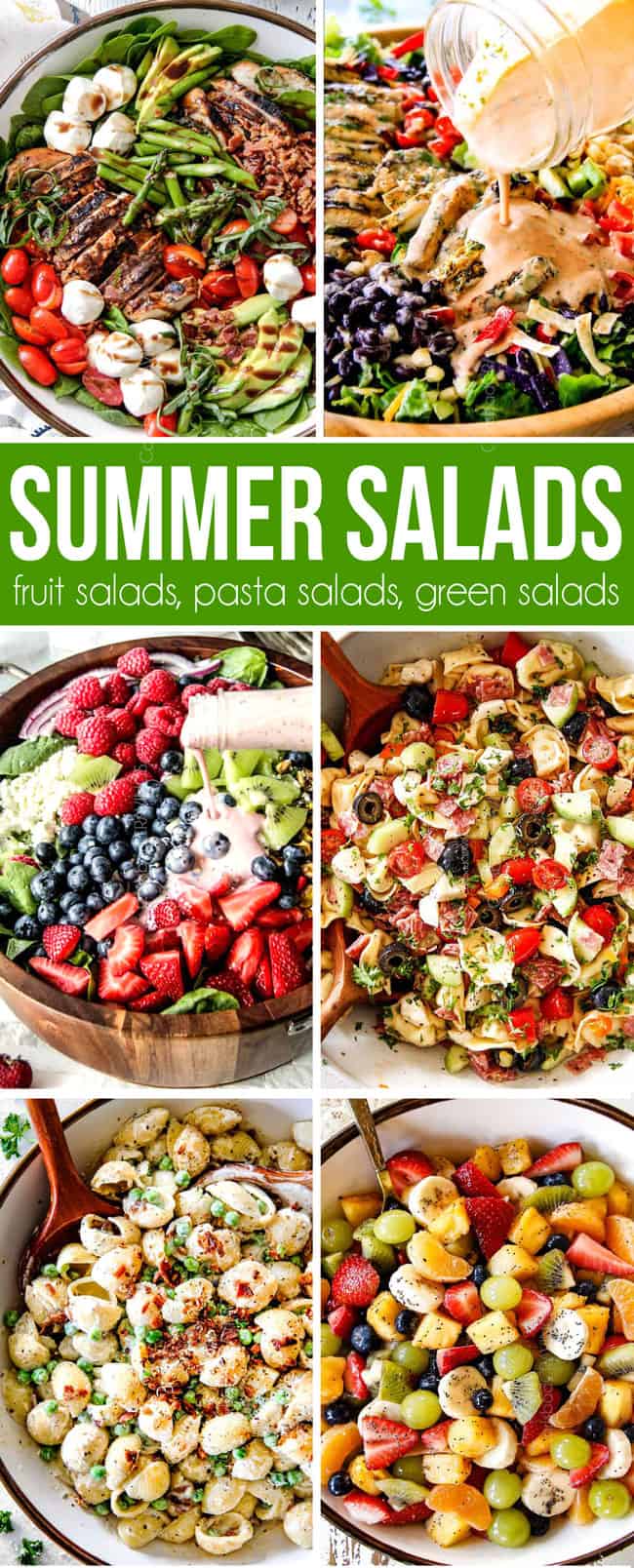 Side Summer Salad Recipes
This Broccoli Salad is one of my favorite summer salad recipes – ever.  It's the perfect easy, make ahead, texture packed summer salad that's crunchy, fresh, sweet and savory!   It's packed with fresh strawberries, creamy avocado, crunchy pears, crisp apples, salty sunflower seeds, sweet dried cranberries and tangy feta! The textures and flavors are out of this world – and so is the dressing!!! 
This Southwest Salad recipe quickly become one of my most popular and most pinned recipes of all time.  It's fresh, filling, flavorful, gluten-free and will have you actually CRAVING salad!  This summer summer salad recipe is bursting with red bell peppers, tomatoes, fresh sweet corn, black beans, pepitas, Pepper Jack cheese, romaine lettuce, and tortilla chips or strips all bathed in Creamy Avocado Salsa Dressing.  You can also add grilled chicken and easily make it a meal!
This Crunchy Asian Salas is dynamically addicting combination of crisp, vibrant veggies with crunchy toasted peanuts and ramen all doused in creamy, irresistible sriracha peanut dressing. This summer salad recipe is so crazy good I was eating it for breakfast the next day AKA it's destined to become one of your favorite Asian salads of all time!  And bonus, it is a FABULOUS make ahead summer recipe without anything to prep last minute and stores beautifully! 
Corn Salad with Cilantro Lime Dressing that's fresh, sweet, tangy, smoky, crunchy and positively addicting!  This summer salad recipe is quick and easy to make and goes with practically everything from chicken to fish to steak to pork!  It's fresh and light, but packed with flavor and one of my all time favorite summer salads!
This Berry Salad is bursting with fresh berries, adorned with candied pistachios, feta and doused in irresistible Creamy Poppy Seed Dressing! This salad recipe is bright and refreshing, beautiful for company, requires hardly any chopping and all the ingredients can be prepped ahead of time for an easy, stress-free potluck summer salad.  You can customize the summer salad recipe with your favorite ingredients or whatever you have in your garden!
This Wedge Salad is one of the best salads on the planet!  It's quick and easy but looks and tastes gourmet with hardly any chopping! This summer salad recipe is smothered in creamy, decadent homemade Blue Cheese Dressing, crispy bacon, juicy tomatoes, crunchy corn, creamy avocado and drizzled with sweet and tangy Balsamic Reduction.   It's a flavor/texture lovers dream and pairs beautifully with any of your other favorite summer recipes.
Strawberry Salad is the summer salad of all salads. It is bursting with juicy strawberries, creamy goat cheese and caramelized pecans with jaw-dropping delicious Strawberry Balsamic Vinaigrette. It is a sweet, salty, tangy creamy, and crunchy crowd favorite perfect for every occasion and all your summer potlucks!
Summer Pasta Salad Recipes
Everyone LOVES pasta salads at summer time! Their loaded with chilled, fresh, crunchy veggies, a sensational dressing and if you're lucky – bacon. The below summer salad recipes can be served as sides and some of them with protein (like Mojo Pasta Salad) are hearty enough to be served as a main course – because with one bite – it's all you're going to want to eat!
Italian Pasta Salad bursting with your favorite Italian fixings with the best Italian dressing all on your table in 25 minutes! This summer salad recipe is an in-demand potluck, picnic and party side made 1000X better with cheesy, pillowy tortellini!  It's a quick chop and throw together that can be made 100% percent ahead of time for the perfect stress-free side!
Creamy Bacon Pea Pasta Salad loaded with petite peas and crispy bacon is super quick and easy to make (with hardly any chopping!), smothered in tantalizing Lemon Parmesan dressing and destined to become a new favorite dinner side or potluck crowd pleaser!  You can make the summer salad ahead of time and just add the bacon before serving for the perfect stress side everyone will love.  You can customize the ingredients with your favorite veggies or leave it perfect – and extra easy – in its sensational simplicity. 
This Cowboy Pasta Salad is TexMex at it's most tantalizing. This summer salad recipe is loaded with juicy ground beef, bacon, sweet corn, black beans, tomatoes and cheese smothered in tangy, creamy southwest barbecue sauce!  It can be served chilled or warmed, for dinner or a side – but no matter how you serve it, everyone will be clamoring for more!
This Greek Tortellini Pasta Salad is the salad you want to be seen with – and stuff your face with.  It's loaded with tender pasta, juicy tomatoes, crunchy bell peppers, crisp cucumbers, sweet zippy red onions, tangy Kalmata, and salty creamy feta all all enveloped in mouthwatering, flavor exploding Sun-Dried Tomato Feta Pesto. This summer salad recipe is always a crowd pleaser for holidays, potlucks and parties or a delicious grab and go lunch or snack.   You can make this pasta salad 100% ahead of time for stress free prep and entertaining.  So please, add it to the menu this week because this will be the BEST Greek Pasta Salad recipe you've ever make – OR tasted! 
BLT Pasta Salad is is America's favorite BLT Sandwich turned into America's favorite summer salad recipe! It is bursting with not only crispy Bacon, crunchy Lettuce and juicy Tomatoes but fresh asparagus, peas and peppers doused in to-live-for bright, tangy, creamy Lemon Chive Dressing for the most irresistible pasta salad ever!  It's hearty, flavorful, super easy, make ahead friendly!
Your favorite Shrimp Po' Boy Sandwich turned into sensational Shrimp Pasta Salad with Creamy Remoulade Dressing!   It simply doesn't get more addicting than this creamy, hearty, spicy, juicy shrimp summer salad recipe!  This Po' Boy Shrimp Pasta Salad is quick and easy to prepare and you can prep the entire salad in advance then simply add the lettuce when it's time to serve!
This Southwest Orzo Salad is flavorful, healthy, refreshing, texture packed  and will actually have you craving salad! It is is loaded with sweet mangoes, hearty black beans, fresh corn, crunchy peppers, creamy avocado, punchy red onions and cilantro all doused with the most incredible tangy sweet heat Chipotle Honey Lime Vinaigrette! This make-ahead summer salad recipe is an ideal side for any occasion or add some chicken and make it dinner!
This Strawberry Avocado Pasta Salad is is like Strawberry Poppy Seed Spinach Salad but 1000X better! It is a fresh and bright medley of textures and flavors in every bite.  This summer salad recipe is bursting with rotini pasta, strawberries, avocados, mandarin oranges, pears, spinach and macadamia nuts all smothered in bright, sweet and tangy Poppy Seed Dressing infused with lemon juice and lemon zest.  This pasta salad makes a fabulous make ahead fresh side for lunch or dinner or the perfect potluck side that goes with practically everything!
This robust, tangy Cubano Tortellini Salad is hearty, comforting and vibrant AKA your favorite Cubano Sandwich turned into a mouthwatering, colorful pasta salad with zesty Mojo Dressing! It's an epic must make recipe, loaded with fixings but is wonderfully simple to make. 
Fruit Summer Salad Recipes
Every juicy burger or grilled chicken kabob needs a fruit salad to cleans the palate and offer pops of juicy, sweet freshness. You can see all of my fruit salads HERE.
Everyone needs the perfect simple, homemade fruit salad recipe, and this is it!  This summer salad is bursting with a rainbow of vibrant, seasonal fruit and drizzled with tantalizing Honey Citrus Poppy Seed Dressing for an easy, fresh side that takes minutes to make and goes with everything! This Fruit salad recipe can be made in advance and you can use your favorite fruits or whatever you have on hand. YAY for a stress free summer recipe!
Grape Salad is the easiest "salad" you will ever make with only 5 minutes of prep! This summer salad recipe is an intoxicating blend of juicy, fresh grapes enveloped in luscious yogurt cream cheese dressing sprinkled with brown sugar and pecans.  It is wonderfully easy and positively addicting.  It's sweet and creamy, cool and refreshing and so good I was eating for breakfast, lunch and dinner because the cravings would.not.stop.  It keeps fabulously well, is make ahead friendly and can be served as a side dish OR dessert – winning!
Pina Colada Fruit Salad is simple, easy and deeeeelicious boasting your favorite flavorings of pina coladas – sans alcohol – but is every bit as intoxicatingly delicious! This favorite summer salad recipe is bursting with pineapple, sweetened coconut, strawberries, mandarin oranges, blueberries and bananas enveloped in a pineapple coconut glaze that's lusciously creamy, sweet and tangy and unbelievably delicious. The fruit in this Pina Colada is completely customizable (except the pineapple) and can be prepped ahead of time for an easy side for every special occasion, potluck or lunch craving.
Watermelon Salad with Creamy Citrus Glaze is a delightful potluck recipe that will be gone in minutes!  It's so cool and refreshing withe the BEST GLAZE and perfect combo of beloved melons, strawberries, bananas, apples and grapes!
Chicken Summer Salad Recipes
Chicken salad for a main course is everything right with summer. These main course summer salad recipes are loaded with flavor and texture and the bonus of grilled or skillet juicy, tender, flavorful chicken. You can prep the chicken, veggies and dressing ahead of time for meal prep or make ahead entertaining. With all these summer salad recipes, you can assemble the salads or serve them salad bar style.
This Cilantro Lime Chicken Salad will be the only taco salad recipe you need! This taco salad recipe is bursting with tender, juicy chicken, all your favorite fiestalicious salad fixings including lettuce, tomatoes, beans, bell peppers, cheese, avocados, crunchy, salty tortilla chips all topped with Creamy Baja Catalina Dressing.  This Chicken Taco Salad ingredients can be prepped in advance and the dressing can be made days ahead of time for a quick and easy lunch or dinner any day of the week – which is  great thing because you won't be able to stop craving this summer salad recipe!
This Caprese Chicken Salad is loaded with the most incredible balsamic marinated chicken, fresh tomatoes, melt in your mouth mozzarella, grilled asparagus, creamy avocado and crispy bacon all drizzled with Creamy Balsamic Reduction Dressing =  Out of this world!  This summer salad recipe will have you craving salad, dreaming about salad and not being able to stop eating salad! 
Buffalo Chicken Salad with flavor bursting chicken and the most intoxicatingly delicious Blue Cheese Cilantro Ranch is out of this world!  It's loaded with crunchy croutons, fresh corn off the cob, crisp bell peppers, carrots and celery, creamy avocados, and tangy blue cheese crumbles.  The salad of my dreams!
This Greek Chicken Salad recipe is like a deconstructed gyro you will crave for days!  It's loaded with juicy Greek chicken, Romaine lettuce, crisp cucumbers, juicy tomatoes, crunchy bell peppers, zippy red onions, tangy Kalmata olives, salty creamy feta, PITA CROUTONS and creamy, healthy TZATZIKI DRESSING!  This summer salad recipe is easy to make, exploding with texture and you can prep all the ingredients ahead of time for a meal you can throw together in minutes!  
Chipotle BBQ Chicken Salad with Tomatillo Avocado Ranch is WAY better than your favorite restaurant salad at a fraction of the cost! This salad is loaded with tender chipotle barbecue chicken, crispy bell peppers, crunchy jicama, sweet corn, hearty black beans, juicy tomatoes, salty sunflower seeds, Mexican cheese, sweet mangos, crunchy tortilla strips and the most intoxicating dressing EVER!  I was going for a CPK Copycat but I think your taste buds will agree this summer salad recipe is even better!
Garden Chicken Caesar Salad bursting with juicy Lemon Basil Chicken, Parmesan cheese, homemade croutons, crispy bacon, fresh corn, avocados, tomatoes, cucumbers etc. and luscious WAY-better-than-store-bought Caesar Dressing.  You can also customize this summer salad recipe with – or without – any salad ingredients your stomach desires!
This Cobb Salad recipe is easy to make and is the ideal hearty yet light, satisfying lunch or dinner.  It's bursting with sweet and tangy honey mustard chicken, crispy lettuce, fresh corn, salty bacon, hearty eggs, creamy avocados, juicy tomatoes, tangy blue cheese, fresh apples and crunchy sunflower seeds all doused in Honey Mustard Dressing.  It is everything you love in one tantalizing summer salad recipe! 
This crunchy Chinese Chicken Salad is quick, refreshing and satisfying! It is a tantalizing combination of tender rotisserie chicken, Napa cabbage, snow peas, carrots, bell peppers, Mandarin oranges, sliced almonds, crunchy wonton strips and sesame seeds all doused in tangy Sesame Ginger Dressing! It makes fabulous prep ahead/portable lunches, light dinners or crowd pleasing potluck sides.  This summer salad recipe stores beautifully, is clean-out-the-fridge customizable and is a texture lover's dream with all that CRUNCH!
I hope you have a wonderful summer full of sensation summer salad recipes!
Want to try these summer salad RECIPE?s
Pin them to your sides, summer or salad Board to SAVE for later!
Find me on Pinterest for more great recipes! I am always pinning :)!
©Carlsbad Cravings by CarlsbadCravings.com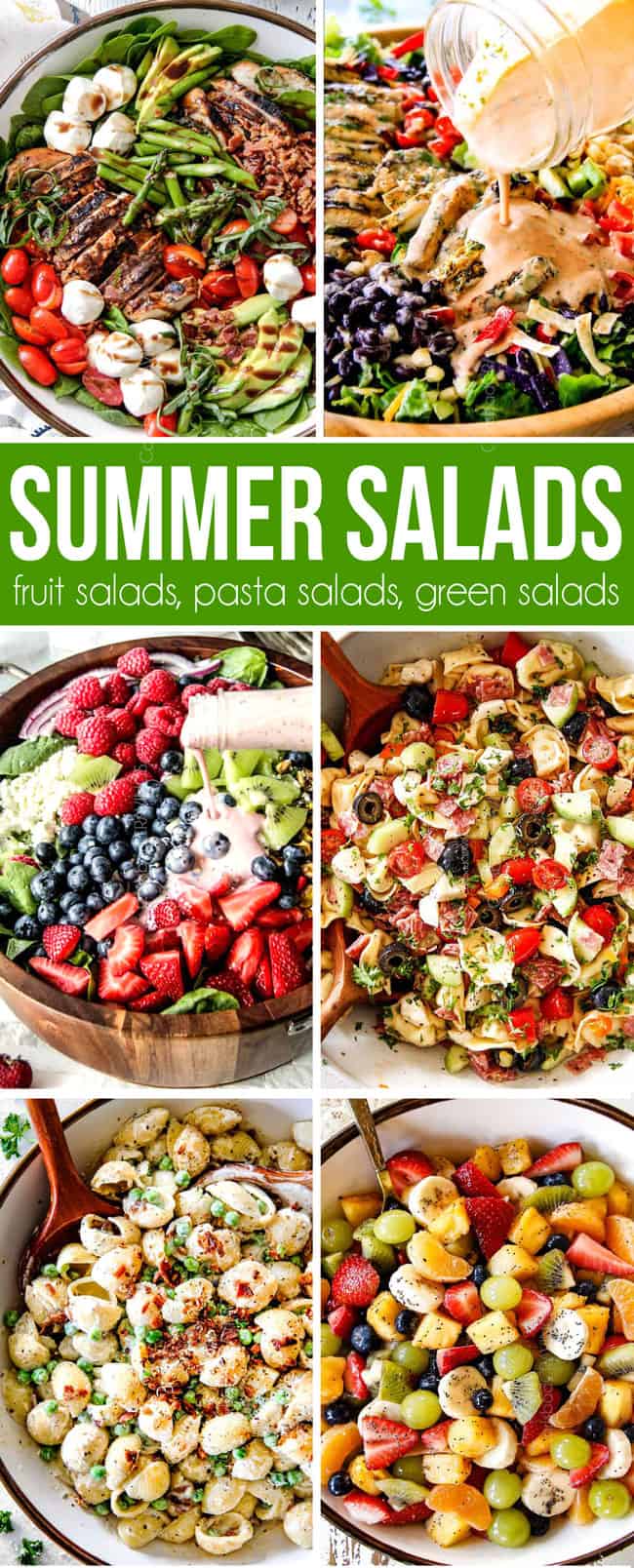 Carlsbad Cravings© Original
NEVER MISS A CARLSBAD CRAVINGS CREATION: