Mini Strawberry Pies loaded with the most unbelievably delicious strawberry pie filling all nestled in easy soft and chewy, buttery, sugar cookie crusts = the most adorable, crowd pleasing, make ahead dessert!
Mini Strawberry Pie Video

Happy Spring! Nothing screams spring like fresh strawberries and the best way I know how to eat strawberries is Strawberry Pie!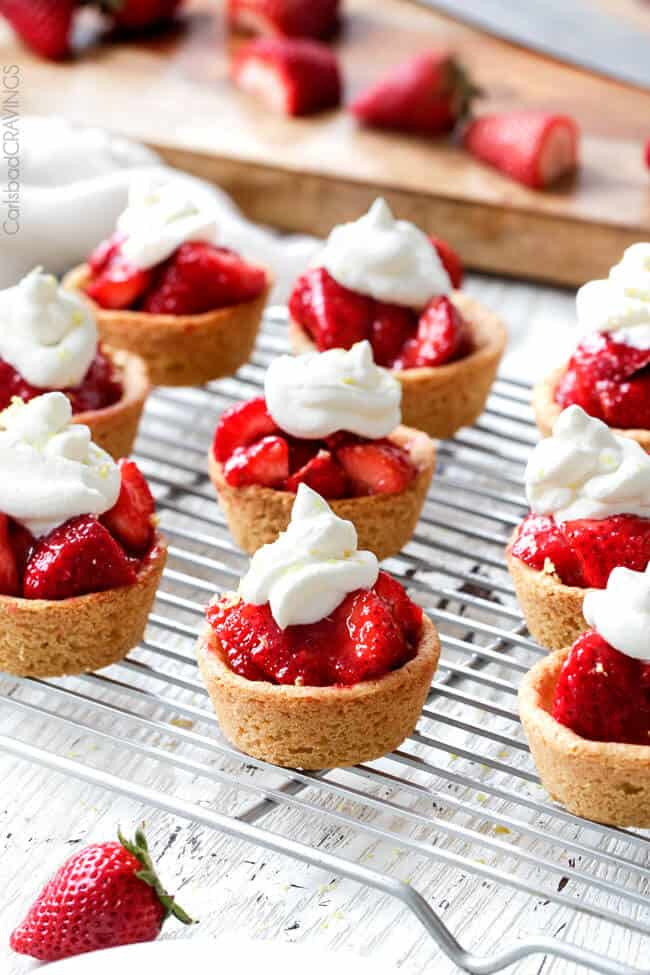 Happy Spring! Nothing screams spring like fresh strawberries and the best way I know how to eat strawberries is Strawberry Pie!

Growing up it was always a treat when Dad would surprise us with a fresh pie from the Marie Calendars by his work. Everyone had their favorite. I don't remember everyone's (after all, there are seven of us), but I do remember my dad's favorite was the razzleberry pie. And my favorite was the strawberry. Always the strawberry.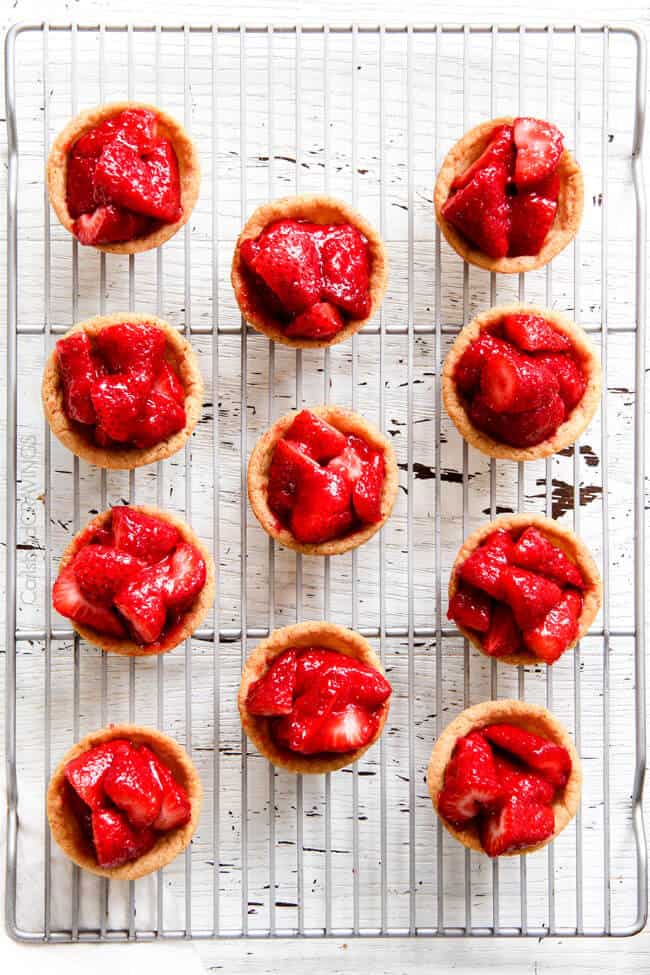 Not much has changed decades later. My dad still loves his Razzleberry Pie and I still love Strawberry Pie – but I love it even more with sugar cookie crust!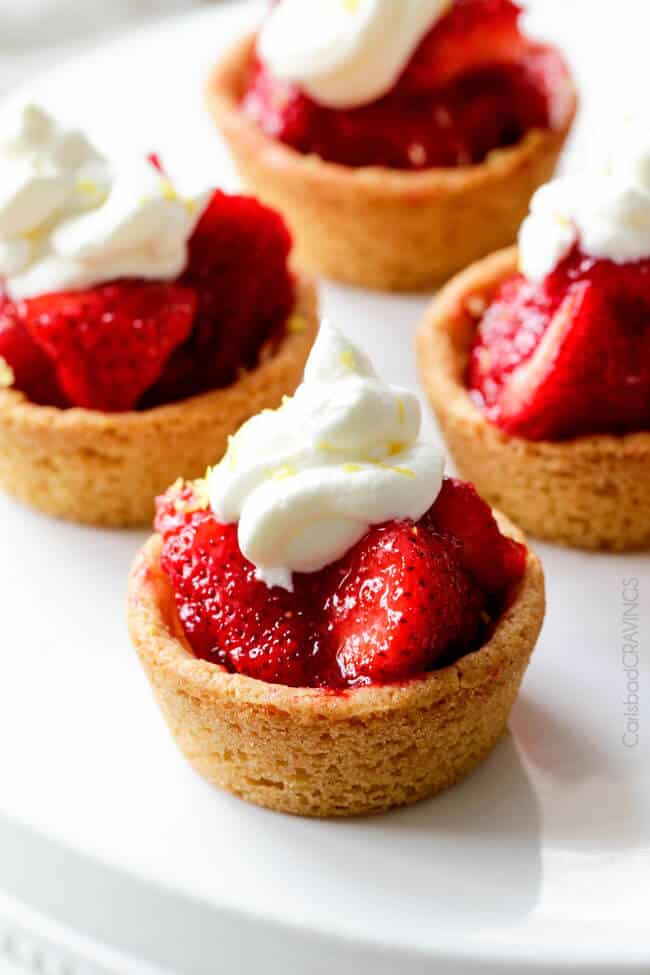 To do justice to my favorite pie, I wanted to create a filling that was packed full of fresh and sweet strawberry flavor all married with a glaze that wasn't stiff or bouncy or runny. To create such a Glaze, I pureed some of the strawberries with water then added them to a saucepan along with sugar and cornstarch to thicken – then I added a a splash of lemon juice and 3 tablespoons of Strawberry Jell-O – just enough to infuse the glaze with an oomph of strawberry flavor while still keeping the flavor fresh and natural. Perfection.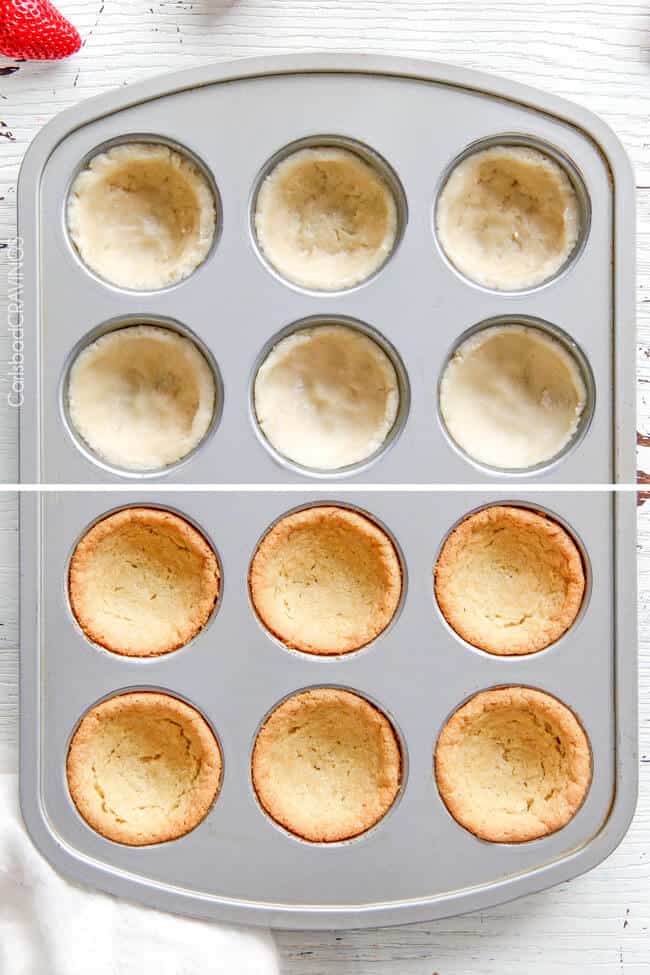 And then it was time for the crust. But first, I just have to say it. Although I love pie filling, I am not a fan of pie crust – at all. I know, blasmphemously un-American. But I still love pie – just with non-traditional crusts. Enter Sugar Cookie Pie Crust – you will go crazy over this crust!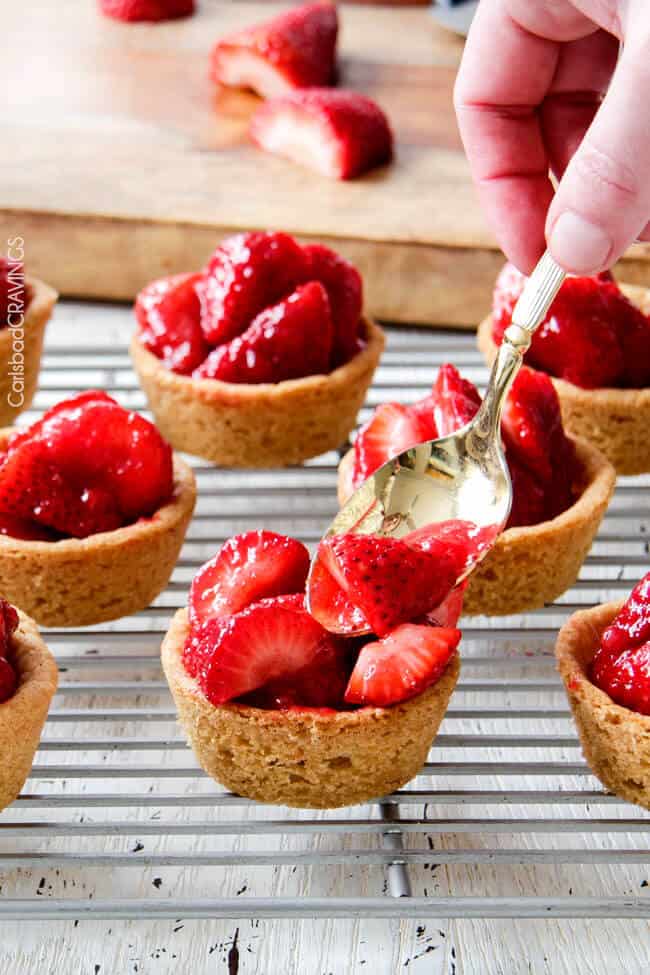 These buttery sugar cookie crusts are soft and chewy and super easy to make. Simply cut a package of sugar cookie dough into 12 slices and press them into your muffin tins to bake. Then pile them with sweet, luscious strawberries and you have chewy sugar cookie and glazed strawberries in every melt-in-your-mouth bite. Add some light, airy homemade whipped cream and and try not to eat three, four, five…or don't try at all.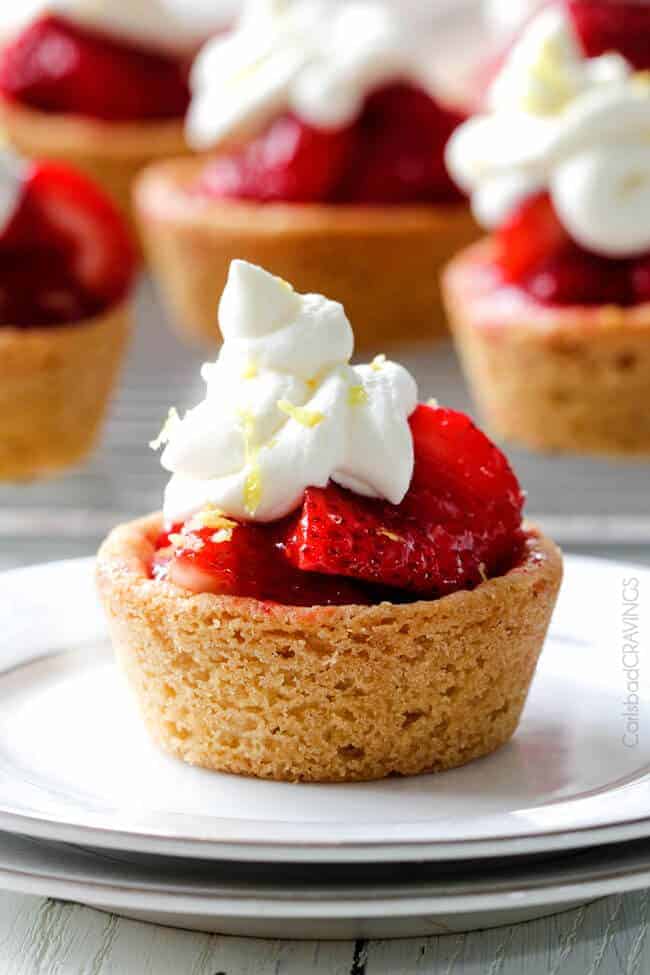 I didn't try at all…..
LOOKING FOR DELICIOUS PIE RECIPES?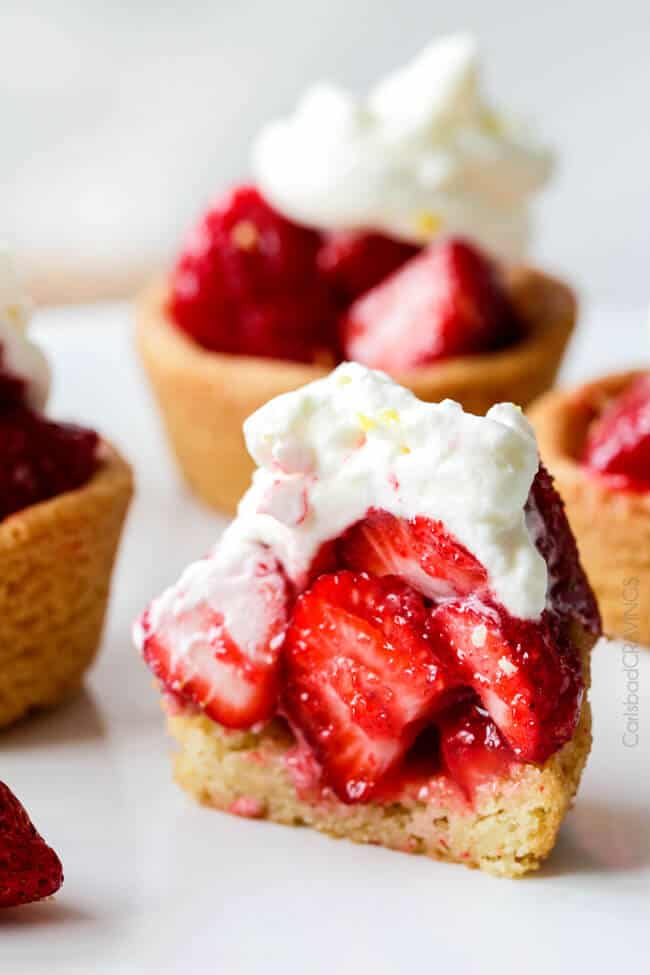 Want to try these Mini Strawberry Pies?
Pin it to your Dessert, Pie or Summer Board to SAVE for later!
Find me on Pinterest for more great recipes!  I am always pinning :)!
©Carlsbad Cravings by CarlsbadCravings.com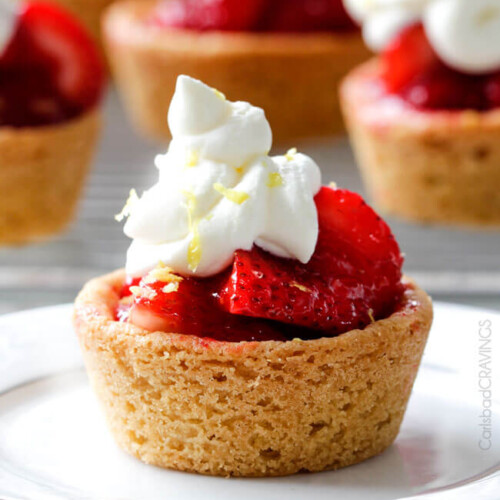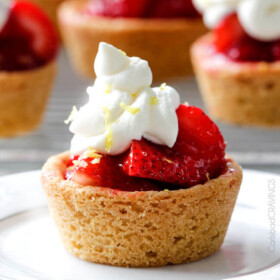 Mini Strawberry Pies with Sugar Cookie Crust (Video)
Save This Recipe To Your Recipe Box
You can now create an account on our site and save your favorite recipes all in one place!
Ingredients
1

16 oz. package

Pillsbury refrigerated sugar cookie dough
Strawberry Filling
2

pounds

strawberries

hulled, halved divided

1/2

cup

water

1/3

cup

sugar

1 1/2

tablespoons

cornstarch

1

Pinch

salt

3

tablespoons

strawberry gelatin

(powdered Jell-O)

2

teaspoons

lemon juice
Whipped Cream
1

cup

heavy whipping cream

2

tablespoons

sugar
Instructions
Sugar Cookie Pie Crust
NOTE – Sugar Cookie Pie Crusts can be made first and stored in an airtight container once cooled (up to 24 hours in advance) or made and cooled right before filling with strawberries.

Preheat oven to 350 degrees F.

Grease a 12-cup muffin tin with nonstick cooking spray with FLOUR or grease and flour your pan. Cut cookie dough into 12 even slices and press into the bottom and about 2/3 up the sides of prepared muffin cups.*

Bake for 18-20 minutes or until edges are barely golden. Let cool 5 minutes then gently transfer to a wire rack to cool completely (about 20 minutes). If your mini crusts don't cave in the center after cooling, then gently press the insides down with the bottom of a tablespoon.
Strawberry Glaze
Add 1 cup roughly chopped strawberries and ½ cup water to a blender and puree until smooth, scraping down sides as needed.

Add puree to a small saucepan along with cornstarch, sugar and a pinch of salt. Cook over medium high heat, stirring constantly, until thickened, being careful not to over-thicken (or your glaze will be more like Jell-O consistency once cooled). Transfer to a large bowl and stir in Jell-O and lemon juice. Cool to room temperature. Set aside.
Strawberry Filling
Slice any extra large strawberry halves into quarters and add all strawberries to cooled Strawberry Glaze and stir until evenly coated. Refrigerate for at least 2-5 hours, up to 24.

When ready to serve, spoon filling into cooled cookie cups.
Whipped Cream
When ready to serve, place a metal mixing bowl and metal whisk in the freezer for 10 to 15 minutes. Remove and add sugar and heavy cream. Whisk over medium high speed until stiff peaks form. Dollop mini pies with cream. Serve immediately.
Notes
Don't miss the "how to make" recipe video at the top of the post!
*I dip my fingertips in flour before I press the dough into the cups – makes the dough super easy to work with.
Did You Make This Recipe?
Tag @CarlsbadCravings and Use #CarlsbadCravngs
Leave a Review, I Always Love Hearing From You!
Carlsbad Cravings© Original