Tender Slow Cooker Hawaiian Meatballs are bathed in the most amazing sweet and tangy sauce and STUFFED with pineapple in every bite!! An incredible make ahead appetizer or family favorite dinner!

I am slightly obsessed with pineapple. I want to add it to every taco, salad, sandwich, salsa and kebab. And I practically do. To me, pineapple makes everything better as its fresh, sweet tang enlivens, compliments, and brightens every savory spice. And every meatball.
Every birthday growing up, each sibling excitedly chose their favorite "birthday meal" that Mom would make for our special family birthday dinner. I always looked forward to my birthday for this reason alone (I was always highly food motivated ) and always selected either Chicken Divan or Waikiki Meatballs. I just couldn't get enough of those melt in your mouth meatball morsels. The only problem was, I was always searching for pineapple to skewer along with my meatballs so I could savor the meatballs and pineapple together. So to update this classic, I kept the meatballs similar to the original with the addition of more seasonings and a splash of soy sauce and brown sugar but then I stuffed them with pineapple! No more searching, instead every juicy meatball gives way to refreshing sweet pineapple. mmmm….
But if you really don't want to stuff your meatballs, as it does take a little more time, then these meatballs are still totally worth making just for the sauce. I think it can be difficult to strike a balance between sweet and tangy and too tangy when it comes to Hawaiian sauces, so I hope you agree this sauce is just right. And if is not for your taste buds – you can add more tang with vinegar or less tang with brown sugar 🙂 For my Hawaiian Sauce, I incorporated a few special ingredients to take it to over the top delicious such as hoisin sauce (like Asian BBQ sauce) to add some balanced sweet and tang and Asian Sweet Chili Sauce to add a slight punch of sweet heat (still family friendly) and a depth of flavor you just won't drool over in other Hawaiian sauces.
I also wanted this sauce to have the perfect consistency but adding a cornstarch slurry at the end of cooking and simmering did not produce the silky, thickened sauce we know and love. To remedy the thin sauce problem, you simply simmer the sauce for a few minutes on the stove then pour all over your meatballs, pineapple and bell peppers and then you can walk away while your home fills with the enticing aroma of the islands.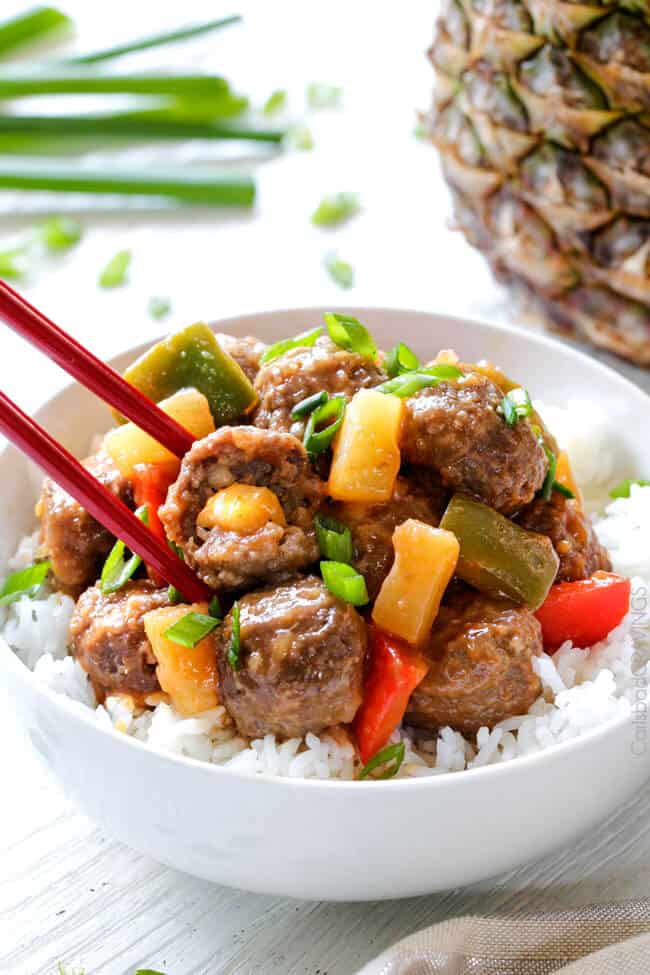 And when you can't stand the Hawaiian siren calls any longer, lift your slow cooker lid and tender, juicy mouthwatering Pineapple Stuffed Hawaiian Meatballs infused with the luscious paradisaical sauce await. Aloha!
LOOKING FOR MORE MEATBALL RECIPES?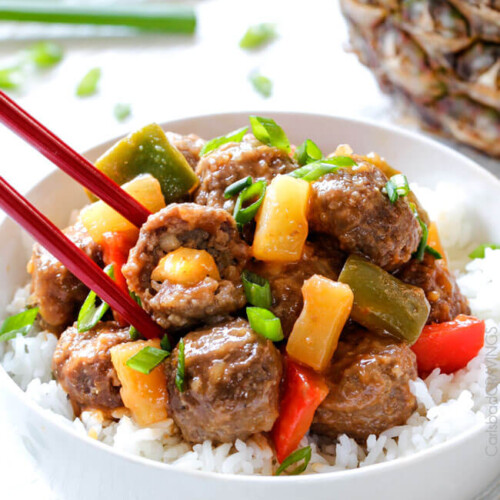 Slow Cooker Pineapple Stuffed Hawaiian Meatballs
Total Time:
2

hours
40

minutes
Save This Recipe To Your Recipe Box
You can now create an account on our site and save your favorite recipes all in one place!
Ingredients
Pineapple Stuffed Meatballs*
2

eggs

2

pounds

lean ground beef

22

saltine crackers, crushed

(1 cup)

1/3

cup

minced dry onion

1/4

cup

milk

2

tablespoons

low sodium soy sauce

1

tablespoon

brown sugar

1

teaspoon

salt

1

teaspoon

garlic powder

1/2

teaspoon

ginger powder

1/2

teaspoon

onion powder

1/4

teaspoon

pepper

1

20 oz. can

pineapple chunks, drained
Hawaiian Sauce
1

cup

pineapple juice

from 20 oz. can pineapple chunks used in meatballs, plus water if needed to equal 1 cup

1/2

cup

water

1/4

cup

packed brown sugar

1/4

cup

ketchup

1/4

cup

low sodium soy sauce

2

tablespoons

quality hoisin sauce

(Lee Kum Kee or Kikkoman)

2-3

tablespoons

Asian sweet red chili sauce

(3 for more of a kick)

2

tablespoons

rice wine vinegar

1

tablespoon

lemon juice

3

tablespoons

cornstarch

1

teaspoon

garlic powder

1/2

tsp EACH

ground ginger, onion pwder, salt, pepper
Add Ins
1

red bell pepper, chopped

1

green bell pepper, chopped

1

20 oz. can

pineapple chunks in juice, drained
Instructions
Preheat oven to 425 degrees F. Line a rimmed baking sheet with foil. Set aside.

In a large bowl, add eggs and gently whisk. Add all remaining Meatball Ingredients except pineapple chunks and mix until well combined. Shape meat mixture into an approximate 12 x 8 inch rectangle on a cutting board with even thickness. (I put parchment paper over the meat then roll with my rolling pin to form an even thickness rectangle.)

Strain

pineapple juice

from one can pineapple chunks. Line 10 pineapple chunks across the meat and 5 down, for a total of 50 pineapple chunks.

Using a pizza cutter, slice meat horizontally around pineapple to create 5 rows, then slice vertically around pineapple to create 10 rows and 50 squares. Shape squares into balls around pineapple chunks and line on baking sheet. Bake for 8 minutes, or until lightly browned. When cool enough to touch, line meatballs in rows in the slow cooker followed by drained pineapple chunks and red and green bell peppers.

Add all Hawaiian sauce ingredients to a small saucepan and whisk until smooth. Bring to a boil then reduce heat and simmer until thickened, stirring constantly.

Pour sauce over contents of slow cooker. Cover and cook on LOW heat for 2 hours or until cooked through, gently stirring one hour into cooking. Keep warm until serving. Serve with rice.
Notes
*You don't have to stuff the meatballs with pineapple if you prefer and can just omit this can of pineapple chunks.
**If you are stuffing the meatballs with pineapple you will need 2 20 oz. cans pineapple chunks total. You will use the pineapple from one can inside the meatballs. You will use the pineapple from the other can in the sauce. You will only use one cup of the pineapple juice and will have extra pineapple juice.
***Hoisin sauce can be found in the Asian section of most grocery stores.
Did You Make This Recipe?
Tag @CarlsbadCravings and Use #CarlsbadCravngs
Leave a Review, I Always Love Hearing From You!
Carlsbad Cravings© Original