Caprese Chicken Pasta with the most incredible balsamic marinated chicken, garlic infused roasted tomatoes, asparagus and zucchini all topped with freshly grated Parmesan and mozzarella! AKA the light, fresh taste of summer with just the right amount of cheeeeeeese!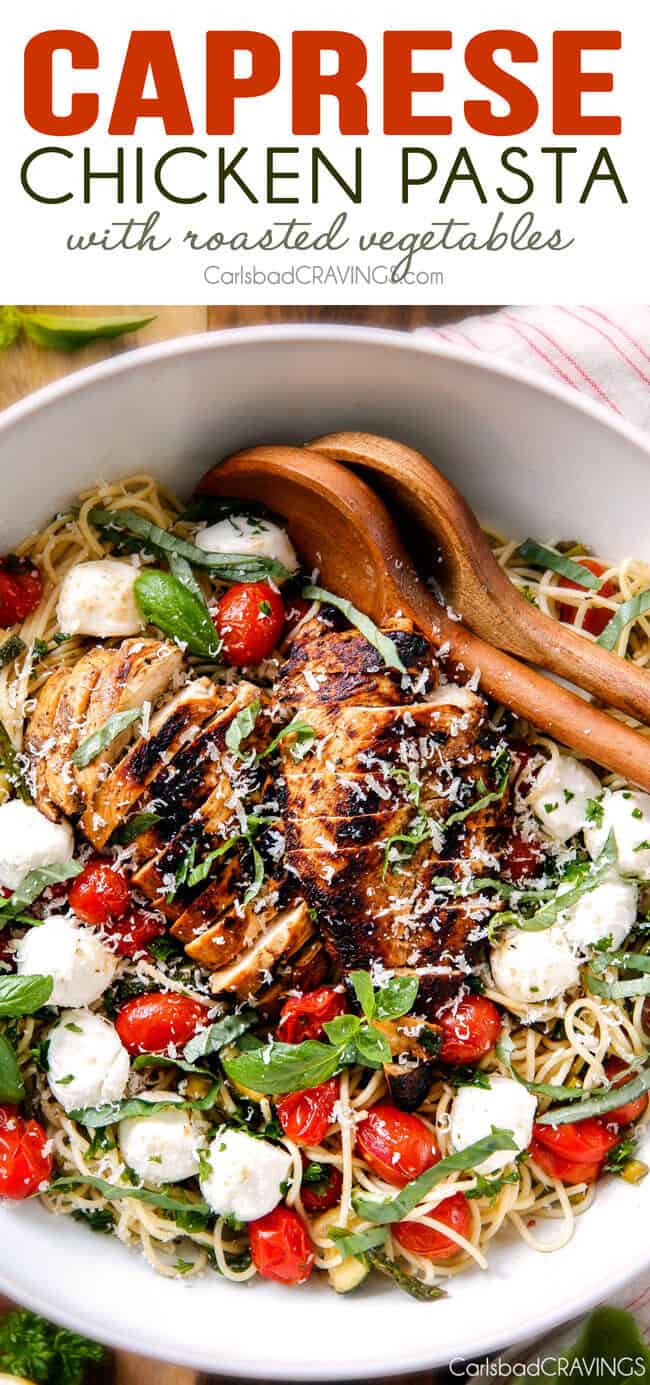 0
Long, long ago when I first stared Carlsbad Cravings (okay, less than 2 ½ years ago, but it feels like forever), I posted Garlic Roasted Vegetable and Lemon Basil Chicken Linguine. I still dream about the fresh pasta with its flavor enhanced roasted vegetables so I knew it was time to give them new life but with a balsamic spin!
What is Caprese?
Caprese refers to something from or in the style of Capri, an Italian island. Culinary speaking, "Caprese" refers to its namesake – Caprese Salad of fresh tomatoes, basil and mozzarella. I loooooove fresh and bright Caprese flavors and have celebrated them in my Caprese Avocado Chicken Wraps, Caprese Chicken Salad with Asparagus, Avocado and Bacon, Caprese Pasta Salad and my Sheet Pan Caprese Chicken and Veggies.
How To Make Caprese Chicken Pasta
I used the same balsamic chicken marinade in my Caprese Chicken Salad because its my favorite balsamic marinade with hints of Dijon, lemon juice, garlic and basil but instead of just marinating the chicken in it, we reserve two tablespoons and toss it with our tomatoes, asparagus and zucchini along with some fresh garlic, olive oil and salt and pepper so not only are we in for flavor bursting chicken but flavor bursting vegetables as well.
As your vegetables roast, the tomatoes sweeten and the zucchini and asparagus turn crisp tender all while soaking in the balsamic marinade. Now there might seem like extra marinade/olive oil when you are roasting your vegetables but that is a good thing because we are going to add the whole pan of roasted goodness – tomatoes, asparagus, zucchini and all the seasoned, roasted garlic infused olive oil to to our pasta.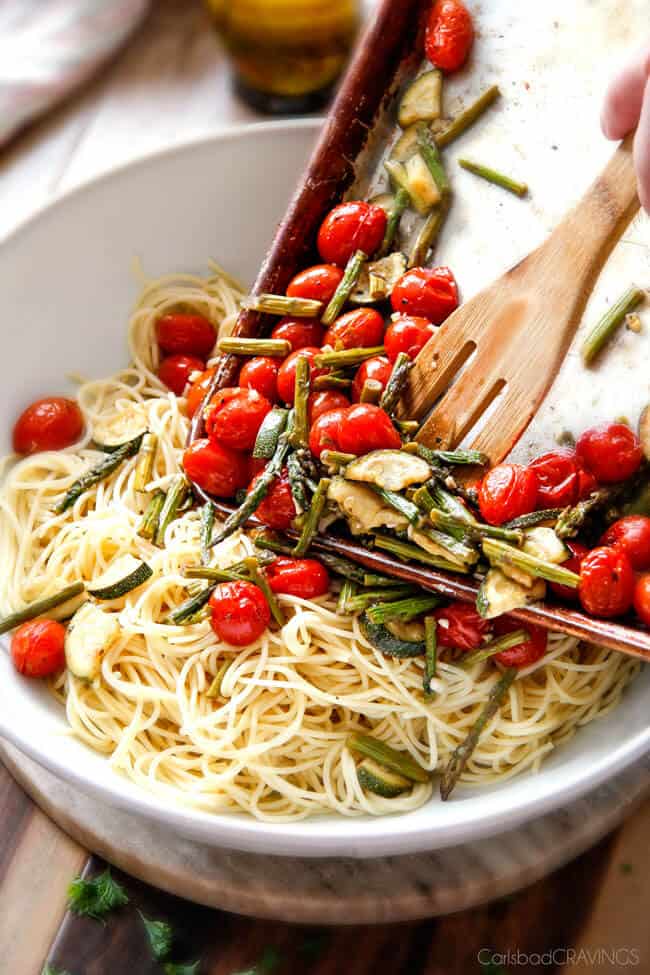 Now funny story right here. I was just taking these "pouring" shots when the buyers of our home stopped by early. We had just signed papers the day before and they wanted to see the house one more time before they left town. So all of these final Caprese Chicken Pasta shots are taken while I'm chatting pausing, snapping, chatting, pausing, schmoozing with the new owners. Thank goodness for a prep-ahead pasta!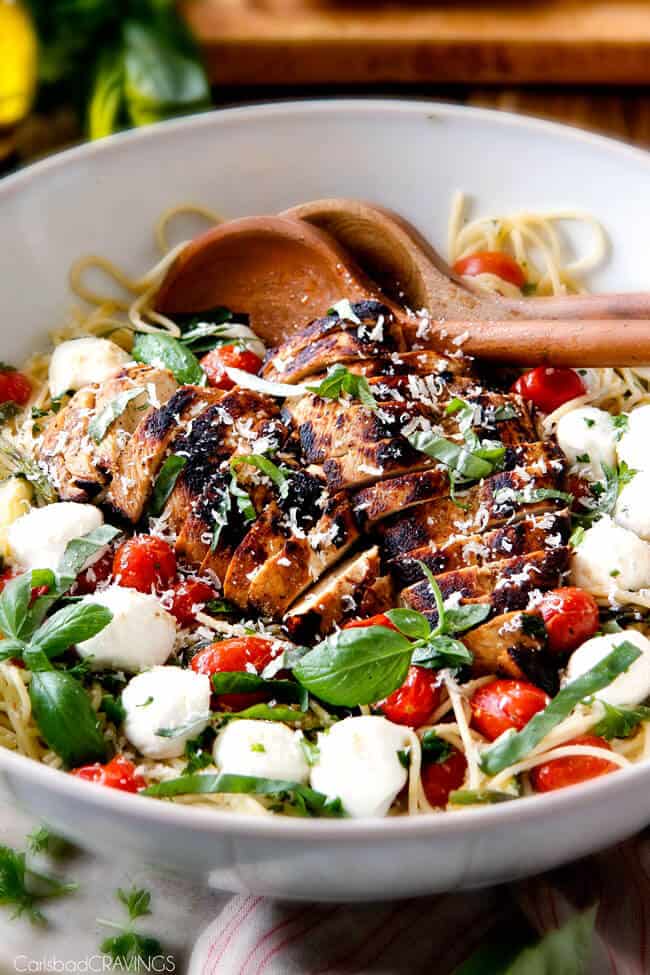 After you've tossed your pasta with your vegetables, you add enough reserved pasta water to reach desired consistency along with a splash of lemon juice and a splash of balsamic then toss with fresh parsley, fresh basil, freshly grated Parmesan and mozzarella pearls and of course your juicy Balsamic Chicken.

And then you are going to want to add extra freshly grated Parmesan. Because you can.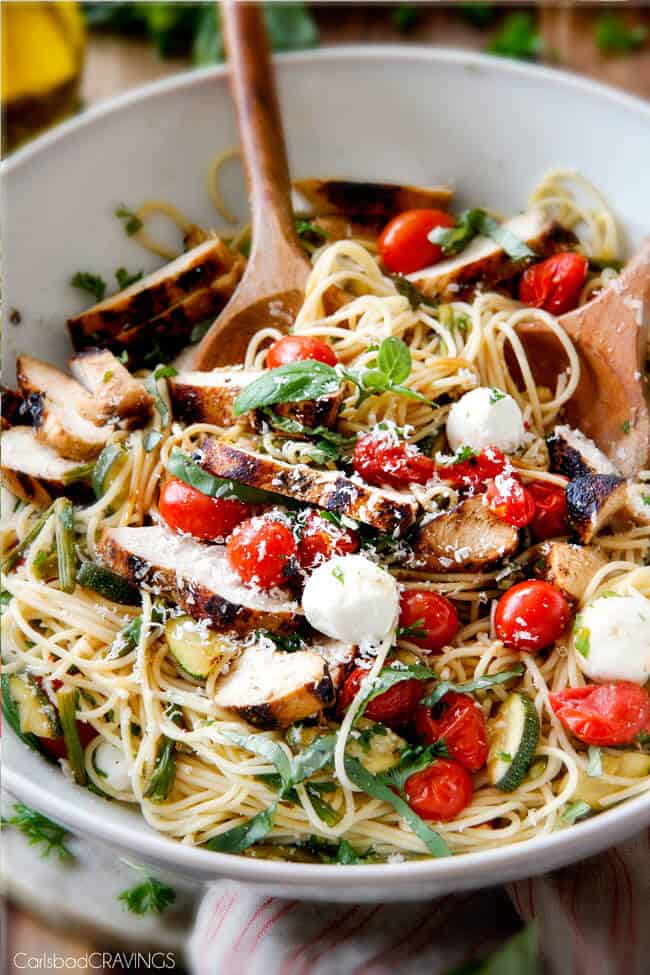 And there you have light, fresh, summery, Caprese Chicken Pasta with Balsamic Chicken. A celebration of summer on your plate and in your mouth!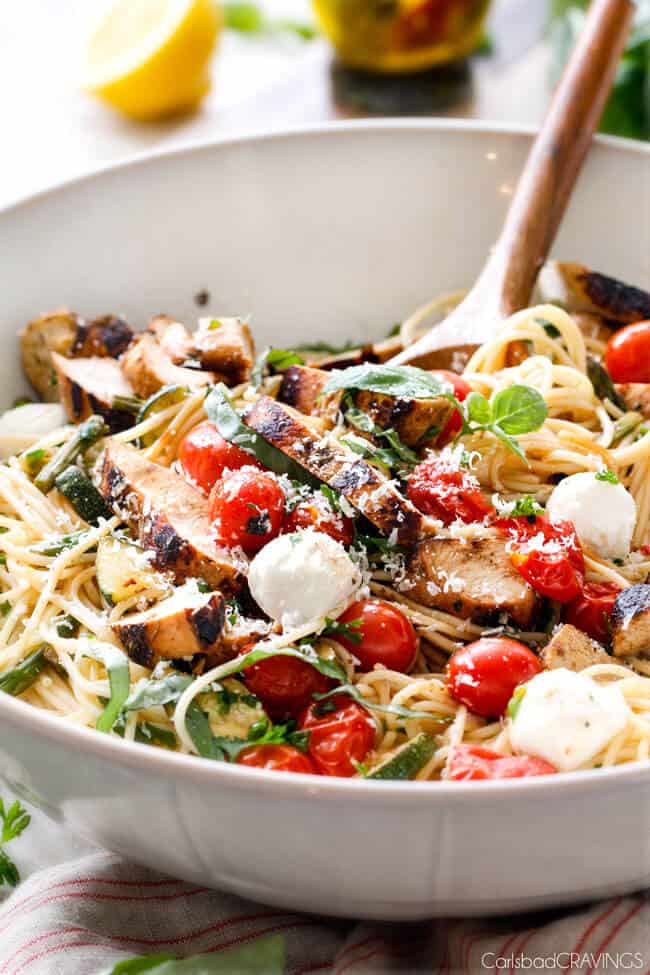 LOOKING FOR MORE PASTA RECIPES?
Want to try this Caprese Chicken Pasta with Roasted Vegetables?
PIN IT TO YOUR PASTA, CHICKEN OR DINNER BOARD TO SAVE FOR LATER!
Find me on Pinterest for more great recipes!  I am always pinning :)!
©Carlsbad Cravings by CarlsbadCravings.com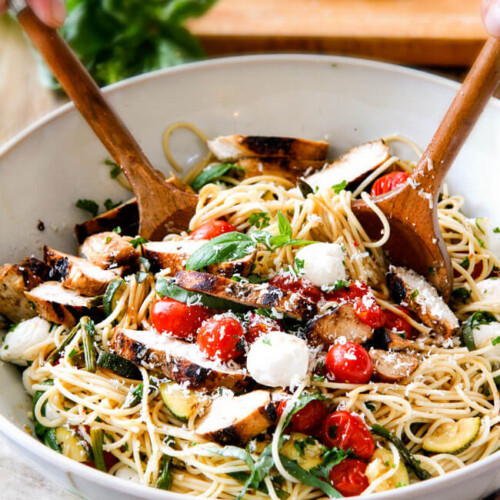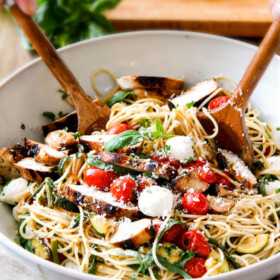 Caprese Chicken Pasta with Roasted Vegetables
Save This Recipe To Your Recipe Box
You can now create an account on our site and save your favorite recipes all in one place!
Ingredients
Instructions
MARINADE: Whisk together all of the Balsamic Marinade ingredients in a medium bowl. Remove 2 tablespoons to a large bowl along with tomatoes, asparagus, zucchini, 1 tablespoon olive oil, ½ teaspoon salt and ¼ teaspoon pepper. Toss evenly to coat. Refrigerate. Add remaining marinade to a large Ziploc bag along with chicken. Marinate 2-8 hours.

CHICKEN: When ready to cook, let chicken sit at room temperature for 15-30 minutes. Heat a large non-stick skillet over medium high heat. Once very hot, add chicken and cook, undisturbed for 3-5 minutes, or until nicely browned (or blackened if you prefer) on one side. Turn chicken over, cover, and reduce heat to medium. Cook for approximately 5-7 more minutes (depending on thickness of chicken), or until chicken is cooked through. Remove to a cutting board and let rest 5 minutes before slicing.

ROASTED VEGETABLES: Meanwhile, preheat oven to 400°F. Add vegetables, garlic, olive oil, reserved marinade, salt and pepper to baking sheet and toss to combine. Line vegetables on a baking sheet in a single layer. Roast for 12-15 minutes or until asparagus is crisp-tender.

PASTA: Meanwhile, cook pasta al dente in generously salted water according to package directions. Reserve 1 cup pasta water before you drain pasta. Add drained pasta to a very large mixing bowl or pot.

ASSEMBLE: Add roasted vegetables and all of the oil/juices/seasonings from the baking sheet to the pasta, along with 1 tablespoon lemon juice, 1 tablespoon balsamic vinegar, fresh parsley, and fresh basil. Add reserved pasta water (a little at a time, I used ½ cup) to reach desired consistency. Add desired amount of Parmesan and mozzarella pearls. Taste and add additional salt and pepper, and red pepper if desired.

Optional: Garnish with additional freshly grated Parmesan.
Did You Make This Recipe?
Tag @CarlsbadCravings and Use #CarlsbadCravngs
Leave a Review, I Always Love Hearing From You!
Carlsbad Cravings© Original