This pineapple rice is about to become your new addiction!  
This Pineapple Rice is sweet, slightly creamy cooked coconut milk, pineapple juice and crushed pineapple, brightened by cilantro, lime and roasted cashews AKA HEAVENLY! This Pineapple Rice recipe is an easy side for any main dish and impressive enough for company and great at potlucks!
Easy Pineapple Rice Recipe
I am constantly going through different "cravings." Mostly Mexican, mostly Asian, but right now, it's everything tropical island. I love the sweetness of pineapple and mangoes, the freshness of lime, and sweet, creamy coconut. Drool.
I currently have in my lineup to share with you: Island Shrimp Salad, Caribbean Sweet Heat Chicken, Island Sweet Chili Chicken and on and on. All seeping with paradisiacal flavors. And what does every tropical (and even Asian) entree need as a side?
The perfect Hawaiian pineapple coconut rice! Hello, gorgeous.
I can pretty much guarantee you won't be able to stop eating this Pineapple Rice. After all it cooks IN the pineapple juice and coconut milk so it is as tropically delicious as it gets.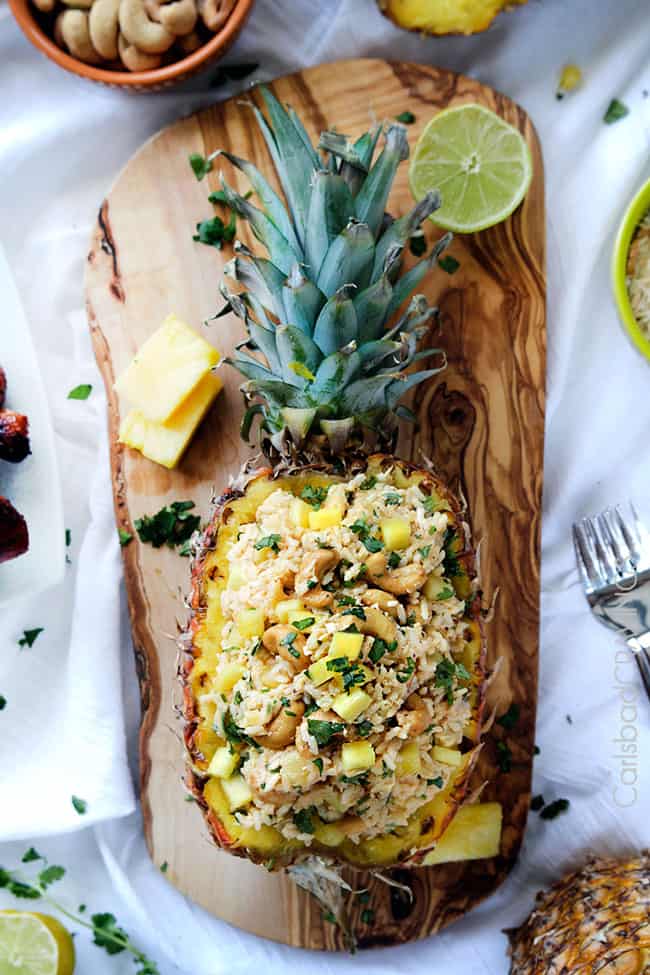 Pineapple Rice Ingredients
This Pineapple Rice comes together with minimal ingredients but packs in TONS of flavor! Here's what you'll need to make this recipe:
Long grain rice: Rinse and drain the rice before cooking it to remove the starches.
Pineapple chunks: Buy pineapple that's been packed in juice NOT in syrup.
Unsweetened coconut milk: You want to get the coconut milk that comes in a can not in a carton.
Sweetened coconut flakes: Often found in the baking aisle of the grocery store.
Thai red curry paste: Don't worry, it doesn't make the coconut milk rice spicy. Just adds flavor!
Spices: This coconut rice recipe is flavored with garlic powder, onion powder, and ground ginger.
Garnishes: I like to stir some fresh cilantro, cashews, and lime juice into this coconut rice.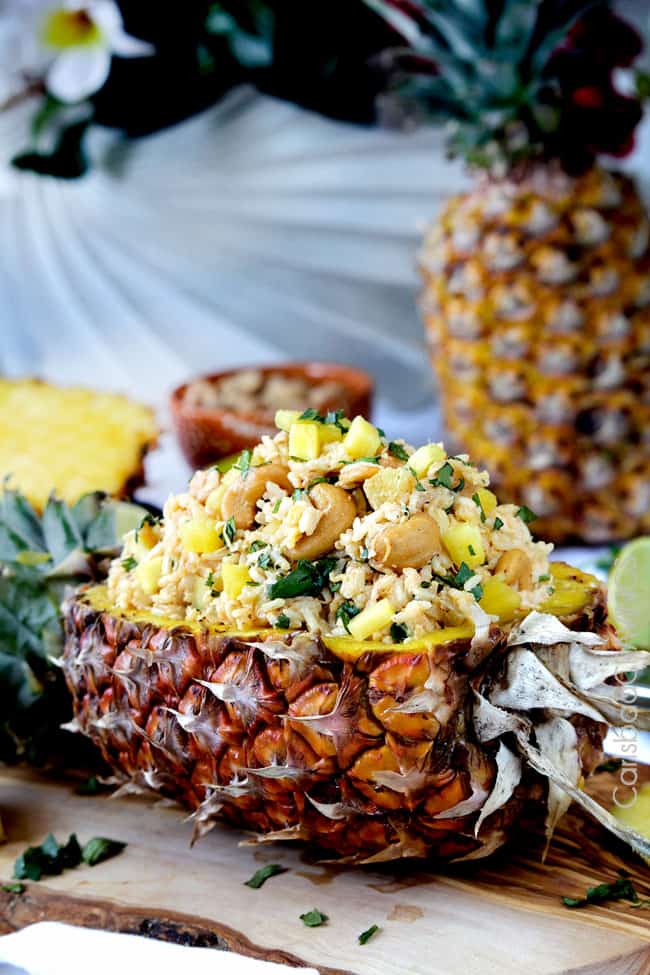 How to Make Pineapple Rice
This Pineapple Rice recipe starts with a can of crushed pineapple that you measure the pineapple juice of and add coconut milk to equal 3 cups.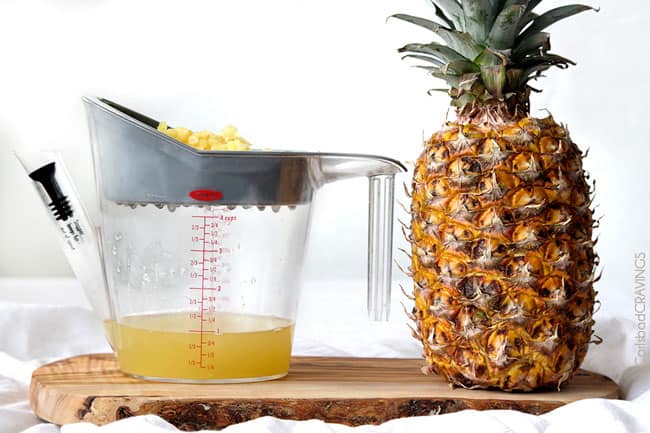 Bring to a simmer…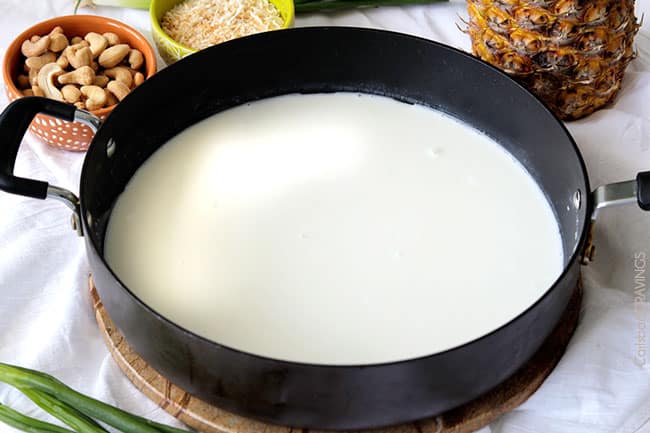 Then add your rice, crushed pineapple, Thai red curry paste, coconut flakes and ground ginger, garlic, onion, salt and pepper.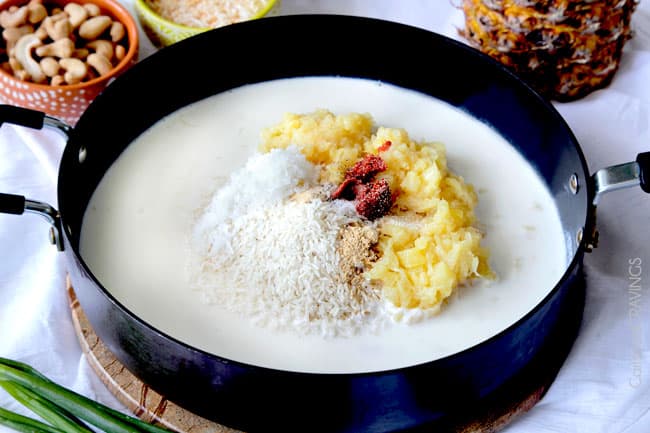 Cook, covered for approximately 20 minutes while the rice drinks in all that tropical goodness. Just think of all that flavor ingestion!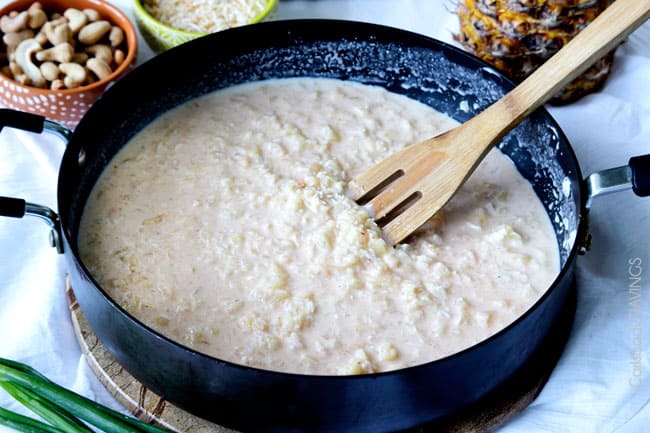 When the rice is done soaking in all the juices, it's slightly creamy from the coconut milk, sweet refreshing from the pineapple, with just slight undertones of spices. Just before serving (so the lime doesn't get lost), stir in your cilantro, lime juice to balance the sweet pineapple, and your roasted, salted, cashews to add a depth of nutty crunch.
And then it's eating time! AKA a taste of paradise time. AKA My favorite time.
Sweet, creamy pineapple coconut rice. I'll meet you in the tropics.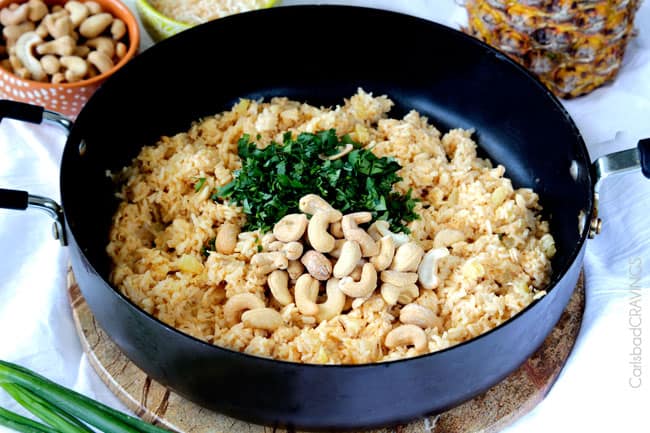 Tips for Cooking Pineapple Rice
Rinse and drain rice thoroughly: rice contains a lot of starch, which will cause the rice to stick together and can even make it mushy once cooked. To eliminate the mushy problem, it is crucial to remove the extra starch from the rice by rinsing it with cool water in a fine mesh sieve until the water runs clear – don't shortcut this process!
Use a nonstick pan. It is essential your pan is nonstick because the rice will soak up all the liquid, evaporating the protective barrier between the rice and the pan.
If liquid evaporates before rice is done: then add just a little liquid, keeping in mind that the rice will continue to steam for 10 minutes once it's removed from heat, so it doesn't need to be 100% cooked once liquid is gone.
If rice is still wet: don't worry, it will continue to absorb the 10 minutes while it is steaming. When you remove the lid after 10 minutes, you can let the rice sit an additional 5-10 minutes to dry out.
Let it steam: don't shortcut the 10-minute steaming process as it gives the rice time to finish cooking and firm up which in turn, makes it fluffier.
Use a fork to fluff the rice: instead of a spoon or a spatula because the tines help separate the rice grains whereas a spoon can mash or break the grains.
Salt and pepper to taste: if your Pineapple Rice tastes like it's missing something – it is probably salt. I add a decent dose of freshly cracked salt and pepper to my rice before serving – just make sure you taste your rice as you season.
Can I Prep Pineapple Rice in Advance?
Yes! While this Pineapple Rice recipe doesn't require much prep, you can still prep everything in advance so it can come together in minutes.
Chop aromatics. Chop your cilantro and cashews, then store in separate airtight containers in the fridge.
Measure seasonings. Measure out all of the seasoning and store in a separate airtight container.
Rinse rice. Thoroughly rinse rice and leave it in the strainer to dry.
How to Store Pineapple Rice
Let Pineapple Rice cool to room temperature then transfer to a tightly covered airtight container or to several small containers for meal prep. Store in the refrigerator for 4 to 5 days.
How to Reheat Pineapple Rice
Microwave: For small portions, microwave rice in a microwave safe container with a couple teaspoons water for 60-90 seconds or until warmed through.
Stove: For larger portions, transfer rice to a nonstick skillet along with a dash of water or chicken broth. Heat over medium heat, stirring often until warmed through.
Can I Freeze Pineapple Rice?
Let the rice cool completely before transferring to a freezer bag (recommended) or freezer-safe airtight container. If using a bag, squeeze out as much excess air as possible to prevent freezer burn.
Label and freeze for up to 3 months.
Let rice defrost overnight in the refrigerator.
Reheat in the microwave or stove as directed above.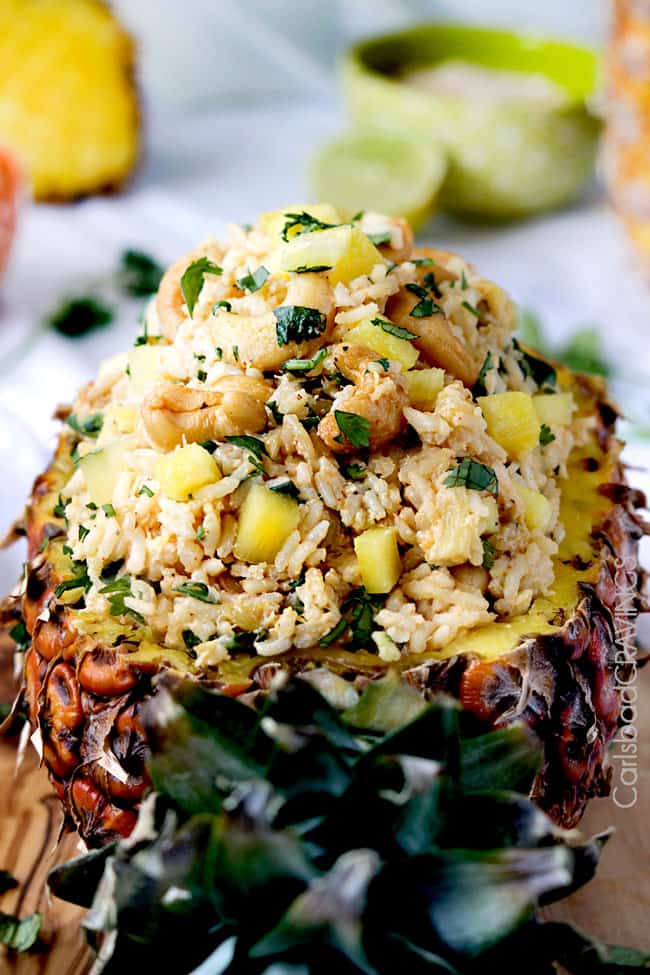 What to Serve with Pineapple Rice
This Pineapple Rice pairs perfectly with any number of Thai or island-inspired dishes! Here are some of my favs:
Looking for more Rice Recipes?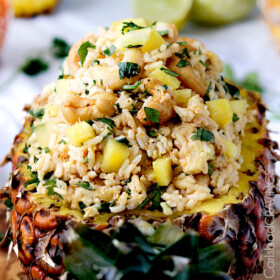 Pineapple Rice with Cashews
Pineapple Rice with Cashews is about to become your new addiction! This Coconut Rice  is sweet, slightly creamy cooked coconut milk, pineapple juice and crushed pineapple, brightened by cilantro, lime and roasted cashews  AKA HEAVENLY! 
Save This Recipe To Your Recipe Box
You can now create an account on our site and save your favorite recipes all in one place!
Ingredients
1 1/2

cups

uncooked long grained rice, rinsed and drained

1

20 oz. can,

crushed pineapple chunks in pineapple juice

NOT syrup

1

13.5 oz. can

unsweetened coconut milk

(I like Chaokoh)

3

tablespoons

sweetened coconut flakes

1

tablespoon

Thai red curry paste

1

teaspoon

garlic powder

1/2

teaspoon

onion powder

1/2

teaspoon

ground ginger

1/2

teaspoon

salt

1/8

teaspoon

pepper
Garnish
3

tablespoons

lime juice

more or less to taste

1/2

cup

salted roasted cashews

1/2

cup

chopped cilantro

freshly cracked salt and pepper to taste
Instructions
Drain

pineapple juice

from crushed pineapple in a measuring cup. Add coconut milk to equal 3 cups liquid, adding water if necessary.

Add liquid to a large nonstick saucepan and bring to a gentle simmer then stir in all remaining ingredients EXCEPT Garnishes. Bring to a boil then cover and reduce heat to low (dial should be a little above lowest setting). Simmer for approximately 20 minutes or until rice is tender, stirring at 15 minutes, adding water if necessary.

When rice is tender, remove from heat and let rest 5 minutes, covered.

When ready to serve (not before), stir in lime juice, cilantro and cashews.

Taste and season with freshly cracked salt and pepper and additional lime juice to taste if desired.
Did You Make This Recipe?
Tag @CarlsbadCravings and Use #CarlsbadCravngs
Leave a Review, I Always Love Hearing From You!