This Spinach Risotto is gloriously creamy, flavorful, restaurant delicious and easier than you think!
This Parmesan Spinach Risotto recipe is about to become a new favorite! It's easy enough for every day but elegant for company and delicious enough you will crave it always!!! And if you have never made risotto before, now is your chance! It's way easier than you think and the flavoring and add-in options are endless!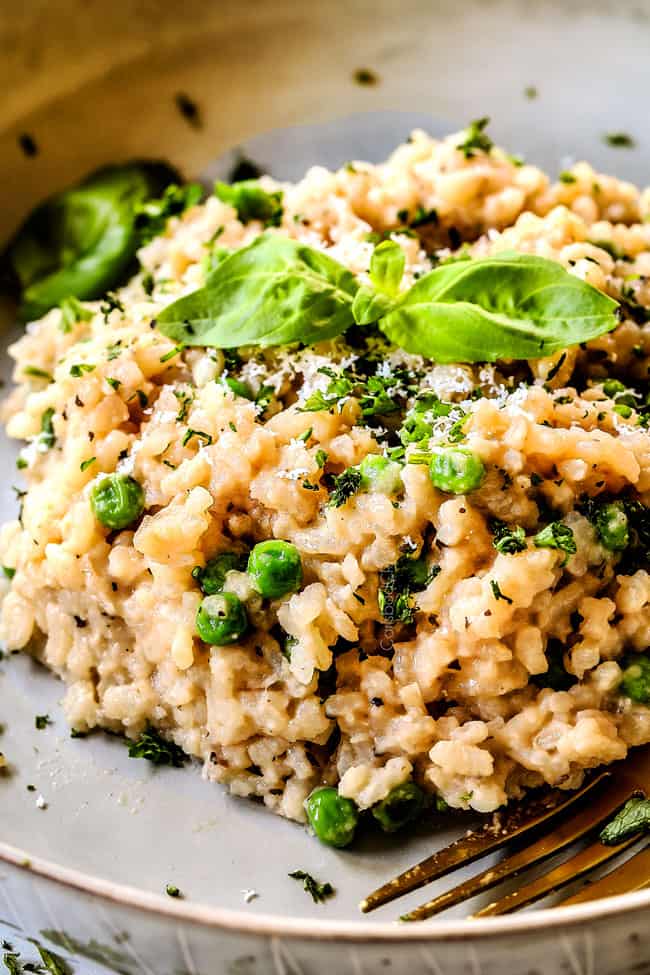 RISOTTO RECIPE
I heart rice so much! It is one of my most favorite foods from Butternut Squash Risotto to Cilantro Lime Rice to Greek Rice to this Parmesan Spinach Risotto! In fact, cheesy rice with peas was one of the very first foods I mastered at ten years old because it was the only thing I cared about eating. I would come home from school and make myself a big batch of rice coated in melted gooey cheddar cheese, mixed with petite peas and watch reruns of the Partridge Family.
Why the Partridge Family? Maybe it was because I had already seen every episode of the Brady Bunch or maybe it was the awesome lip syncing or maybe it was the multi-colored bellbottoms or maybe it was David Cassidy's good looks but even better looking hair. Clearly I was born in the wrong decade. No matter why I was drawn to the Partridge Family, I would watch the cheesy show with my cheesy rice.
Flash forward to today and I still love cheesy rice! This creamy Spinach Risotto with Parmesan and peas is my "grown up" version that I love even more than my "younger" version. I would eat it absolutely every day if I could.
WHAT IS RISOTTO?
Even though there are so many ways to prepare rice, risotto is still one of my favorites so I wanted to share this delectable spinach risotto because it feels kind of "fancy" making it the perfect Easter side!
First of all, what is risotto? Risotto comes from the Italian word for rice, "riso." It is a northern Italian rice dish made by stirring small amounts of warmed broth into a large pot of rice a little at a time, allowing the rice to absorb the liquid then stirring in some more until it is reaches its signature creamy consistency.
While you might think risotto is difficult to make because it is often found at expensive restaurants, it is actually inexpensive and EASY to make! Risotto is made in every Italian home and I hope this Spinach Risotto soon finds its way into your home!

WHAT IS THE BEST TYPE OF RICE FOR RISOTTO?
The key to the creaminess (without any cream) in Spinach Risotto is the Arborio rice. When cooked, the rounded grains become creamy and chewy due to the high starch content without becoming mushy. Please don't use a different rice or your risotto won't be the same!
ABOUT THIS SPINACH RISOTTO RECIPE
The risotto becomes oh so flavorful and creamy as it simmers in chicken broth literally soaking up every last drop of brothy goodness and then even creamier as Parmesan is stirred into the rice until it bathes the risotto with its cheesy glory and then the risotto instantly becomes guilt free with the addition of subtly crunchy peas and delicate spinach (because anything with peas and spinach instantly becomes mega healthy right?).
Every bite of this spinach risotto is a savory dream and SO much tastier than regular cheesy rice. Although risotto takes about a half hour to cook, it is SO easy! The only prerequisite is that you can stir rice, that's it! I usually just prepare the rest of my meal or clean my kitchen while my rice is becoming creamified, stirring whenever I think about it.
No matter how you spend those minutes of anticipation, in 30 minutes you will have one of the tastiest side dishes known to (wo)man and you will know why it's served at all the "fancy" restaurants.
So pamper yourself by making this risotto SOON because you deserve creamy.
You deserve fancy.
You deserve creamy Parmesan Spinach Risotto!
SPINACH RISOTTO INGREDIENTS
For this Parmesan Spinach Risotto recipe, you will need:
shallots
garlic
low sodium chicken broth
fresh or dried parsley
salt and pepper
freshly grated Parmesan cheese
baby spinach
petite peas (optional but recommend)
You may also add any vegetables such as mushrooms, carrots, corn zucchini, etc. You can also add any protein to risotto, such as Italian sausage, shrimp, salmon, lobster, chicken etc.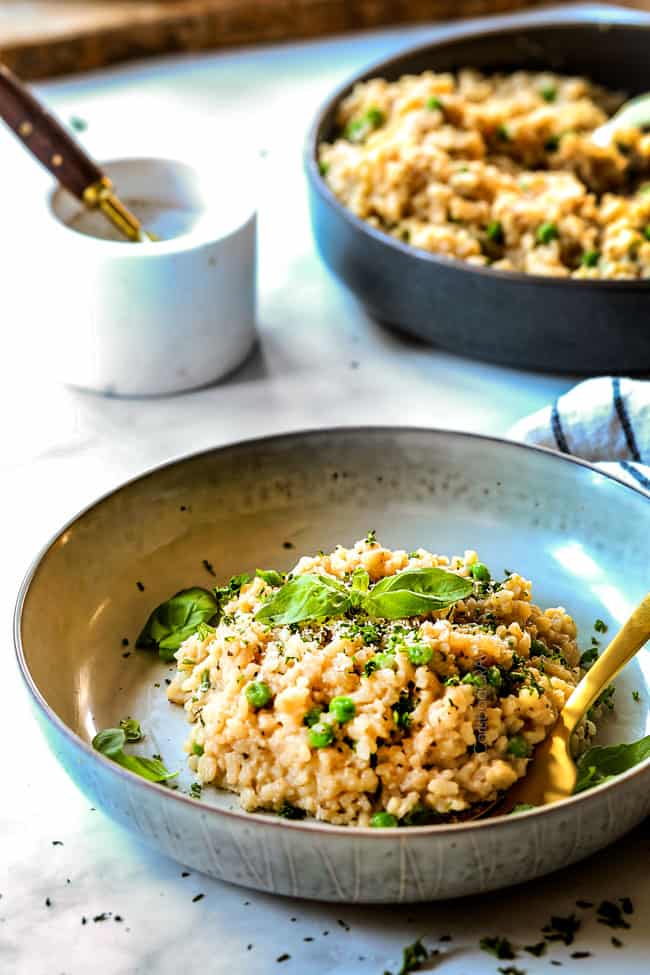 HOW TO MAKE SPINACH RISOTTO
You can prepare your risotto recipe on the stove or in the oven for equally impressive results. To cook in the oven, check out my Parmesan Risotto recipe and simply add spinach. To make Spinach on the stove:
Right skillet: Use a wide skillet in order for the rice to cook evenly.
Low sodium chicken broth: the broth will be reduced and absorbed into the rice so make sure to use LOW sodium chicken broth so there is some wiggle room to season. You may also use vegetable broth but your Spinach Risotto won't be as flavorful.
Prep ahead: make sure you have diced your shallots and garlic and have grated your Parmesan before you start making risotto, because once you start, both of your hands will be tied up- – one for stirring and one for ladling.
Toast rice: The brief step of sautéing the arborio rice is critical to perfect risotto. Toasting the rice not only infuses it with flavor, but more importantly, creates a protective barrier around each grain which helps the grains absorb moisture slowly. This allows the grains to maintain their structural integrity and become soft without becoming soggy or exploding from absorbing moisture too quickly.
Warm broth: only use warm broth so the rice will cook evenly. Adding cold broth reduces the temperature of the rice and interrupts the cooking process. Warming the broth before adding it to the rice also releases more starch from each grain of rice whereas cold broth will cook the rice while shocking it into holding onto its starches.
Add broth slowly: Add broth a little at a time. You want to add broth, then stir until most of the broth is absorbed before adding more.
Don't over-stir: You want to stir the risotto enough so the rice doesn't stick to the bottom but don't stir constantly. Stirring too much will incorporate air into the risotto which can make it gluey.
Salt to taste: if your risotto tastes like its missing something – it is probably salt. Salt enhances all of the other flavors. Add additional salt to taste a little at a time if needed.
WHAT IS THE CORRECT CONSISTENCY OF RISOTTO?
Your Spinach Risotto recipe should be saucy but not soupy. The rice should be slightly firm but not crunchy. If your risotto is too crunchy but the broth is gone, simply add more broth and cook until the risotto is al dente. If your risotto is too thick, simply stir in additional chicken broth at low heat until it reaches the desired consistency and texture.
HOW TO STORE AND REHEAT RISOTTO
o store Spinach Risotto, transfer it in an airtight container and store in the refrigerator for three to five days. When ready to reheat, you can reheat it in the microwave or the stove. To reheat on the stove:
Add risotto and some chicken broth or water to a skillet, about ¼ cup liquid for 1 cup risotto.
Heat over medium heat until warmed through, stirring often.
If the risotto is still thick, stir in additional liquid one tablespoon at a time.
You can also add additional butter and salt to taste as the salt will mellow when refrigerated.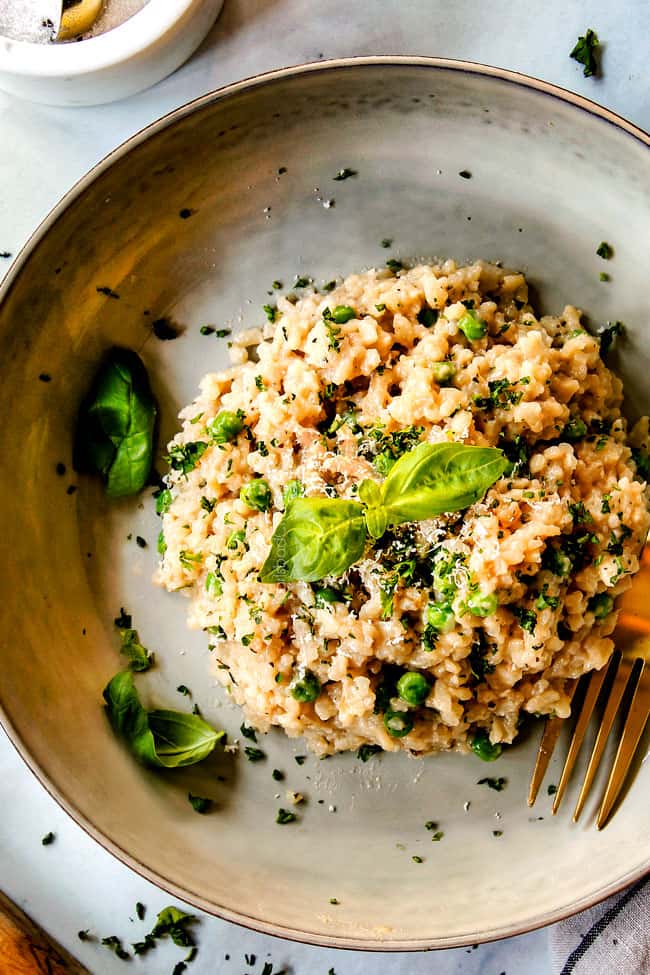 LOOKING FOR MORE RICE RECIPES?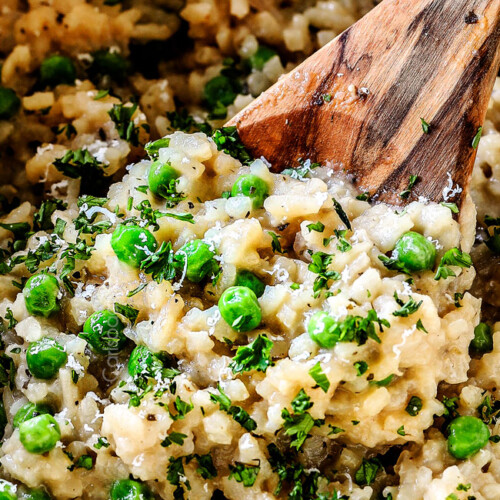 Spinach Risotto
This Creamy Parmesan Spinach Risotto with Peas is gloriously creamy, flavorful, restaurant delicious and easier than you think! This Parmesan Risotto recipe is about to become a new favorite!  It's easy enough for every day but elegant for company and delicious enough you will crave it always!!! 
Save This Recipe To Your Recipe Box
You can now create an account on our site and save your favorite recipes all in one place!
Ingredients
6

cups

low sodium chicken broth

(may sub vegetable)

3

tablespoons

butter

2

shallots, chopped

3

cloves

garlic, minced

1 1/2

cups

Arborio rice

1/2

cup

dry white wine

(may sub. chicken broth)

1

cup

freshly grated Parmesan cheese

1/2

teaspoon

salt

plus more to taste*

1/2

teaspoon

pepper

plus more to taste

1

tablespoon

fresh parsley, chopped

(1 teaspoon dried)

1

cup

frozen petite peas, thawed

1

cup

fresh spinach, chopped
Instructions
Add 6 cups of chicken broth to a medium sauce pan and bring to a boil. Reduce to low to keep warm while you make the risotto.

In a large skillet, melt the butter over medium heat (you will keep the heat at medium until finished cooking). Add shallots and saute 2-3 minutes or until golden; then add garlic and saute an additional 30 seconds. Add the rice and stir until well coated with butter and edges begin to look translucent, about 3-4 minutes.

Add the ½ cup white wine and cook for 2 minutes then add 1 cup of warmed broth to the skillet and stir until the broth is absorbed. Continue to add the broth, 1 cup at a time, until each cup is absorbed, stirring frequently.

After you have added your last cup of chicken broth and there is only about ¼ cup broth left to be absorbed, stir in salt, pepper, parsley, Parmesan cheese, peas and spinach. Continue to cook until the broth is absorbed, the rice is cooked, cheese is melted and peas are warmed through. The risotto will take about 25-30 minutes.
Did You Make This Recipe?
Tag @CarlsbadCravings and Use #CarlsbadCravngs
Leave a Review, I Always Love Hearing From You!