Thank you Flatout Flatbread for sponsoring this post. All opinions are my own.
Flatbread French Toast Roll Ups or French Toast Pinwheels will be your new favorite way to eat French Toast! Think texture of French Toast Crepe. And get giddy.
You guys, I am so in love with these Flatbread French Toast Pinwheels (Or Flatbread French Toast Roll Ups), I can't even tell you! But of course I am going to try…
The inspiration came when I watched THIS VIDEO by Flatout Flatbread. My mind began to race over the newfound French Toast possibilities when made with Flatbread! It was literally 10:30 at night and Patrick was ready for bed but I begged him not to brush his teeth yet because I HAD to make Flatbread French Toast Roll Ups.
In just minutes my excitement was rewarded as I discovered Flatout Flatbread keeps its shape and rolls so much easier than bread plus you don't have to roll the bread thin or cut the crust off, ladeedadeeda – you simply, dip, pan fry, and roll! The thinness of the Flatbread combined with the French Toast breading reminds of a French Toast Crepe – can you image the delicoiusness?! You are just going to have to try them…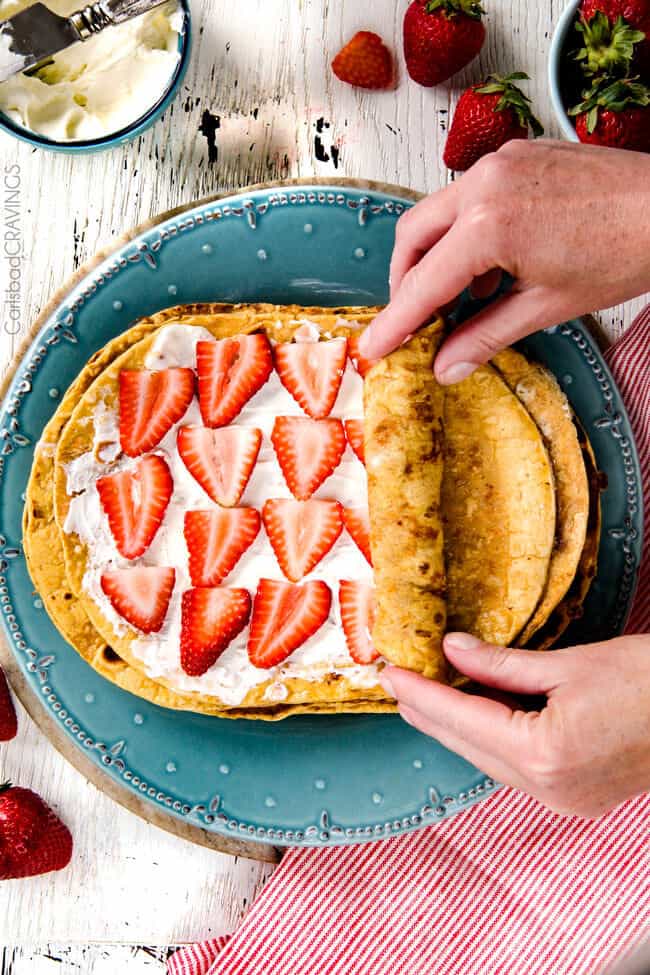 For my first batch, I just dunked the soft Flatout Flatbread in batter like in the video, rolled them up doused with syrup. Divine. I brought them up to Patrick and we both shoveled them into our mouths like we just discovered the new best French Toast recipe. He was more than happy he waited to brush his teeth.
Now you can eat these Flatbread French Toast Roll Ups plain just like we did that night, or you can stuff them with any of your favorite fillings- Nutella, lemon and powdered sugar, peanut butter, blueberries, bananas, raspberries, etc. – anything you would stuff inside a crepe then just roll them up!
If you want to make these Flatbread French Toast Roll Ups extra fancy and turn them into pinwheels for special occasion breakfast or brunch, you would make them like a roll up, then slice into ½ inch pieces then secure with a toothpick – that' it!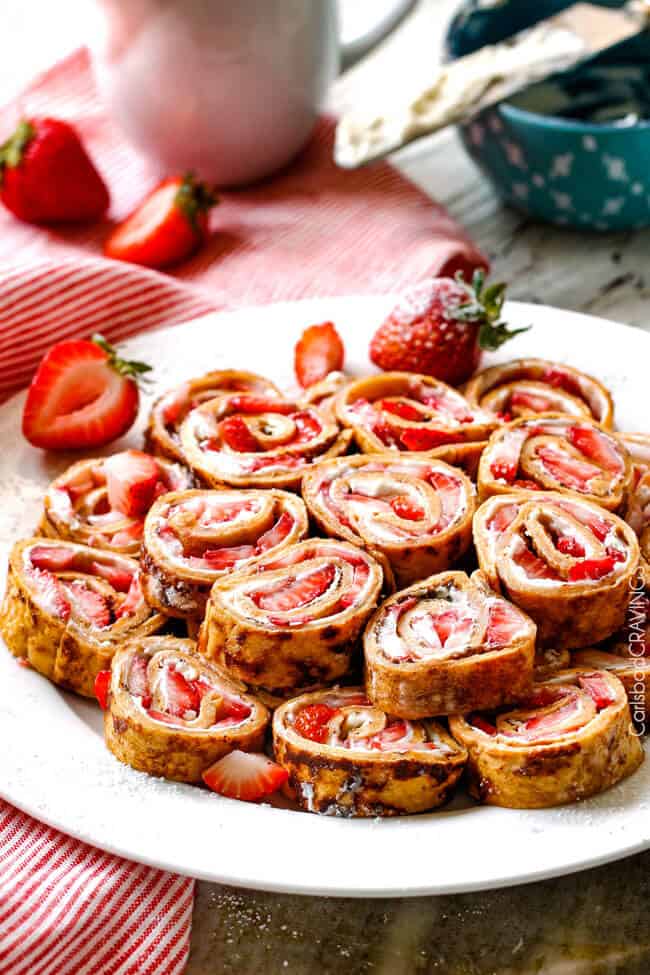 For this pinwheel spin, my favorite spring and summertime combination is strawberries and cream cheese, so I made Strawberries and Cream Cheese Pinwheels by smothering the Flatout Flatbreads with cream cheese, layering with thinly sliced strawberries and generously dusting with powdered sugar and drizzling (or dousing) with syrup. These French Toast Pinwheels would also be divine with flavored syrups like Raspberry or Blueberry – drool…
Flatbread French Toast Roll Ups or French Toast Pinwheels – just when you didn't think French Toast could get any better! now go make and get giddy.
Looking for more breakfast recipes?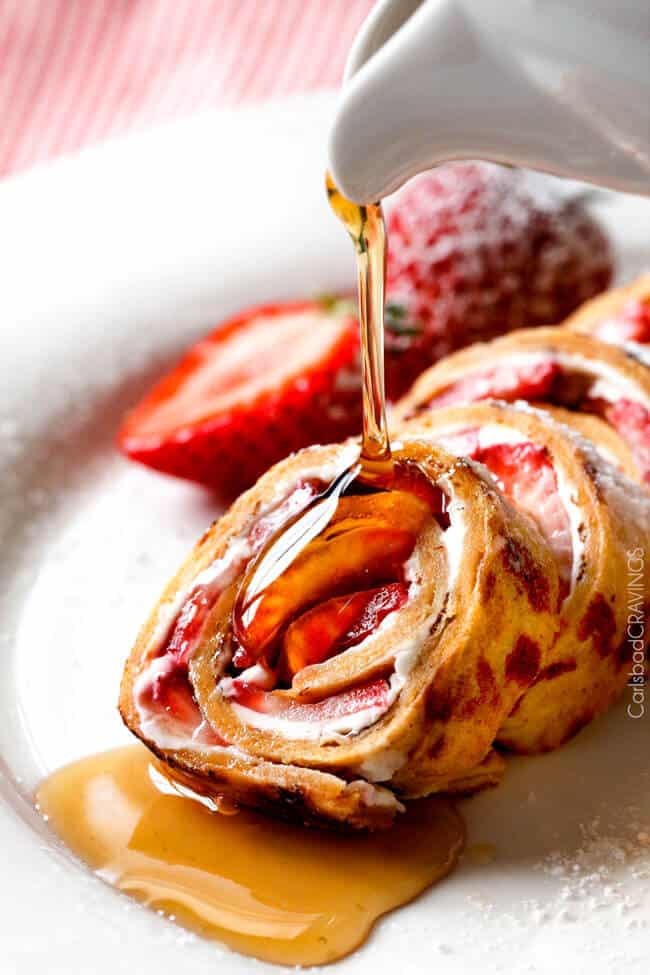 WANT TO TRY THESE FLATBREAD FRENCH TOAST PINWHEELS OR FRENCH TOAST ROLL UPS?
PIN THEM TO YOUR BREAKFAST OR BRUNCH BOARD TO SAVE FOR LATER!
FIND ME ON PINTEREST FOR MORE GREAT RECIPES!  I AM ALWAYS PINNING :)!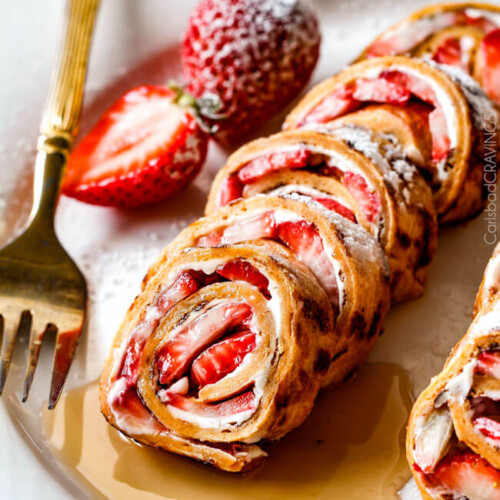 French Toast Roll Ups or French Toast Pinwheels
Servings:
7
Roll Ups or approx. 70 pinwheels
Save This Recipe To Your Recipe Box
You can now create an account on our site and save your favorite recipes all in one place!
Ingredients
1

pkg. Flatout Original Flatbread

(7 total)

Butter to grease skillet

toothpicks

(optional)
French Toast Batter*
5

eggs

2

tablespoons

milk

1/4

cup

granulated sugar

1

teaspoon

vanilla extract

1/2

teaspoon

cinnamon
Strawberries and Cream (optional)
12

oz.

cream cheese, softened

1 – 1 1/2

lbs

strawberries, thinly sliced**

Powdered sugar
Instructions
In a long shallow dish, whisk together all of the French Toast Batter ingredients. Set aside.

Heat a large nonstick skillet over medium high heat then reduce to medium. Grease with butter.

Working with one flatbread at a time, submerge in Batter, let excess drip off and add to skillet. Cook for 45-60 seconds on each side or until golden. Remove to a plate and repeat until all flatbreads are cooked. There will be batter remaining.

At this point, you can roll up the French Toast Flatbreads and serve plain with syrup or fill with any of your favorite toppings – Nutella, peanut butter, coconut, bananas, blueberries, etc. and garnish with powdered sugar and syrup OR proceed to make the Strawberries and Cream below:

STRAWBERRIES AND CREAM: Evenly spread 2 heaping tablespoons cream cheese over the top surface of each French Toast Flatbread then evenly layer with strawberries. Sprinkle strawberries with 1 teaspoon powdered sugar, roll Flatbread up tightly and sprinkle with additional powdered sugar.

Serve whole for French Toast Roll Ups or slice into ½ inch slices and serve as Pinwheels. Secure Pinwheels with a toothpick if serving on a platter. Best served with syrup.
Notes
*The batter has extra eggs and less milk than traditional batter because it doesn't get absorbed as much into the flatbread – it will not taste overly egg-y.
**You can get away with 1 lb. strawberries if you space them farther apart but for more fully loaded pinwheels, I recommend 1 ½ pounds strawberries.
***Feel free to get creative and stuff your Roll Ups/Pinwheels with anything your can imagine.
****Try drizzling with flavored syrups such as Blueberry, Strawberry or Raspberry or filling with flavored cream cheese!
Did You Make This Recipe?
Tag @CarlsbadCravings and Use #CarlsbadCravngs
Leave a Review, I Always Love Hearing From You!
Carlsbad Cravings© Original