Brazilian Mango Chimichurri Steak is a flavor explosion of tangy, rich, savory, spicy and sweet in each mouthwatering bite!
This Brazilian Mango Chimichurri Steak is one of the most tender steaks you will ever devour. It's prepared with a simple marinade then grilled or pan seared to perfection for complex savory, nutty, deeply caramelized flavors. It's then topped with a dynamic Mango Chimichurri that takes 5 minutes to make!
This Chimichurri Steak post is sponsored by the National Mango Board All opinions are my own.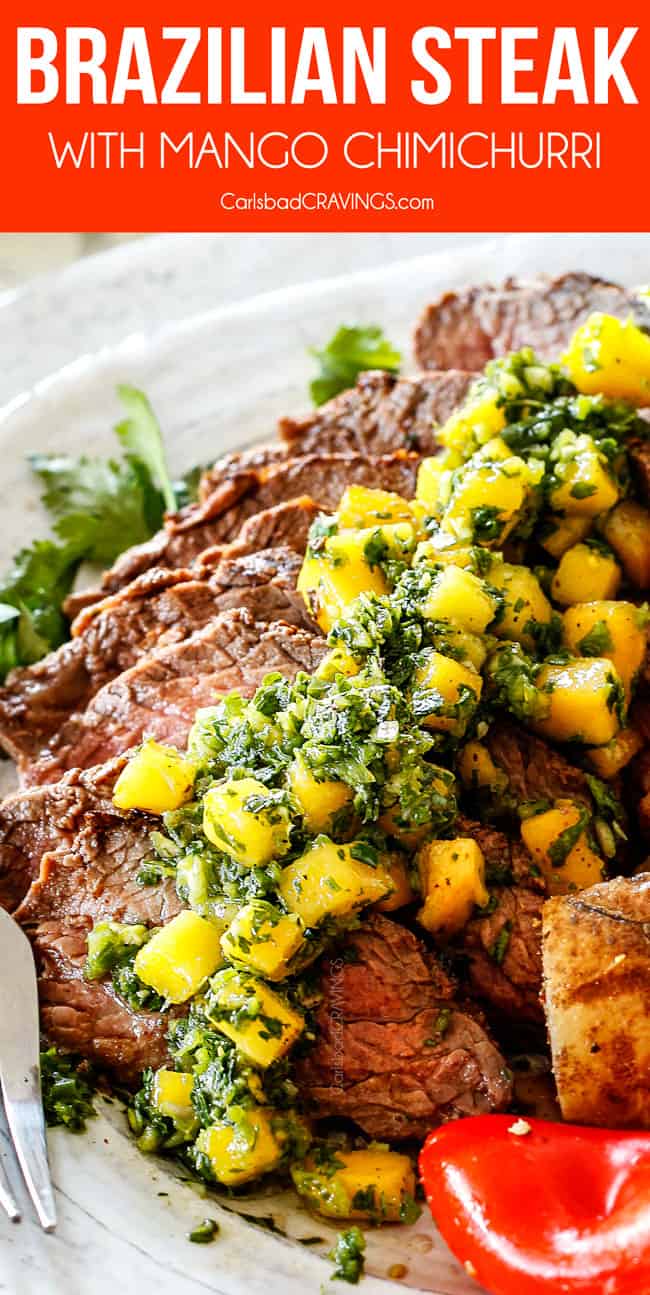 Brazilian Steak houses (churrascaria) with their variety of hot-off-the-grill meats served directly from the towering spit onto your plate are a meat-lovers dream come true. I wanted to bring these dreamy vibrant Brazilian Steak flavors home but made even more drool-worthy with the addition of Mango Chimichurri. So our Brazilian Mango Chimichurri Steak boasts not only juicy, buttery, melt-in-your-mouth tangy steak but fresh, bright, complimentary Mango Chimichurri that cuts through the richness of the steak. It's a match made in heaven – brought to your home.
This Mango Chimichurri Steak dinner tastes completely gourmet but is super simple to make. It just requires an easy steak marinade with pantry friendly ingredients and an easy Mango Chimichurri in which your food processor does most of the work. Both the marinade and Mango Chimichurri can be made ahead of time so when it's dinner time, all you have to do is grill your steaks for an easy, stress-free tangy, sweet and spicy dinner.
Here are some helpful tips and tricks to achieve perfect juicy grilled This Chimichurri Steak is even if you have never made steak before!

TIPS and TRICKS FOR CHIMICHURRI STEAK 
Choose meat. I chose top sirloin for this Mango Chimichurri Steak recipe because it's one of the more economical prime cuts of beef, not overly fatty and when cooked properly it's soooo tender. When we combine this already tender cut of beef with a marinade, it emerges the most gloriously melt-in-your-mouth steak you have ever sunk your teeth into. If, however, you would like to use a more economical cut of meat such as flank steak, it would still be tasty because the marinade will help tenderize the steak. Just take care you adjust grilling time according to whatever cut of meat you use.
Trim excess fat. Trim steak of excess fat because this will only lead to dreaded flare ups and keep you from deeply caramelizing the edges of your steak.
Bring steak to room temperature. Let steaks sit at room temperature for 60 minutes before cooking. This not only allows the steaks to cook more evenly and quickly, but it gives the meat time to relax, allowing its natural moisture to reabsorb into the muscle, instead of staying trapped in its fibers.
Pat steaks dry of excess marinade. This will allow the steaks to sear instead of just steam.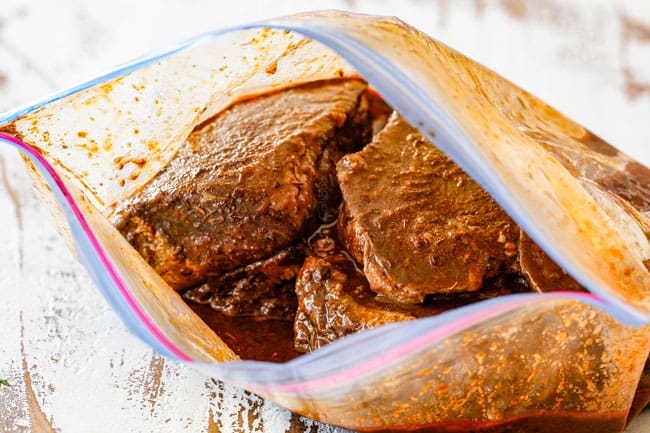 Preheat grill or barbecue. We want to grill our steaks at medium-high heat to get a nice, caramelized sear. To do this, heat the grill with the lid closed for about 10 minutes. We are going to grill our steaks with the lid open, but this helps get the grill nice and hot for a beautiful sear.
Clean grill. A clean and greased grill ensures our steak won't stick and will come in contact with the grill and not leftover food. The easiest way to clean a grill is after it's preheated very hot. Simply brush the hot grill with a grill brush and any cooking remnants come right off.
Lightly grease grill. Lightly grease your grill once it is cleaned to help your steak release easily. Use oil with a high smoking point such as safflower, canola, corn, soy, sunflower, and peanut oils. NEVER use cooking spray on a grill because it is flammable. Take care to lightly grease in order to avoid flare ups.
Flip with tongs. Use tongs and never a fork to flip your steak. Forks pierce the meat which means your steak will continuously loose its tenderizing juices.
Flip once. You can check your steak to see how the grill side is doing, but only flip your steak once during cooking in order to develop that beautiful, nutty, deeply caramelized crust. A steak that is not ready to flip will stick to the grill instead of easily release.
Use an instant-read thermometer. I can't tell you exactly how long to cook your steak because it depends on the exact thickness of your steak and how your grill cooks. I have given a general rule of thumb in the instructions, but only an instant-read thermometer can tell you exactly when your steak is done to your desired doneness. To check the temperature of your steak, insert the thermometer into the thickest part of the steak (full cooking temperatures in directions).
Let steaks rest. Rest steaks for at least 10 minutes before slicing for optimal juiciness and flavor. While the steak cooks, the juices are forced away from the heat to the middle of the meat. The resting time allows for the redistribution and reabsorption of the juices throughout the whole steak.
Cut against the grain. You can see the "grain" running through the meat in one direction. The grain is essentially the muscle fibers running through the meat. You want to cut perpendicular to the muscle fibers so they become as short as possible. You can a juicy steak hot off the grill but if you cut it parallel to the grain you will end up with long muscle fibers AKA chewy, rubbery tough meat.

Mango Chimichurri
This Brazilian Mango Chimichurri Steak would be incomplete without the sweet and spicy Mango Chimichurri. The Brazilian steak itself is amazingly tender and juicy with hints of lime and cumin but the Mango Chimichurri is what really knocks the steak out of the park and ensures each bite is dripping with flavor.
If you aren't familiar with Chimichurri, it is a spicy herbed flavor bomb that is super easy to make. Traditional Chimichurri is a South American sauce typically comprised of parsley, garlic, red wine vinegar and chili pepper flakes and adds a dynamic, fresh, often spicy flavor to steak.
To play with the flavor profile, I swapped most of the parsley for cilantro, swapped red pepper flakes for jalapeno, and added juicy, sweet mangos. The resulting Mango Chimichurri is so bright, fresh and flavorful, you will want to put it on everything from fish, to chicken to pork to salad! But, my favorite, of course, is this Brazilian Mango Chimichurri Steak.
Tips for Mango Chimichurri
Food processor. I use my food processor to finely chop my cilantro, parsley, shallot and garlic. By adding them to your food processor, it literally takes seconds to chop! If you don't have a food processor you are welcome to chop by hand.

Customize garlic. I love garlic, so I use 4 garlic cloves in this Mango Chimichurri but if you like milder garlic, start with 2 cloves. After the chimichurri is mixed and allowed to rest for 10 minutes, you can taste and add more garlic if you prefer.
Customize heat. Chimichurri is meant to be spicy but you can customize just how spicy. Jalapeno peppers vary wildly in size and heat. If you know you don't like heat then start with half of a jalapeno. If you know you like some heat then start with one jalapeno, mix everything together and then taste. If you would like more heat, stir in some jalapeno seeds or red pepper flakes. You can also omit the jalapeno completely and add red pepper flakes to taste.

Customize consistency. Add more or less olive oil depending on how thick or thin you prefer your Mango Chimichurri.

Let flavors meld. Mango Chimichurri is best if allowed to sit, covered, for 2 hours before serving to allow flavors to meld. If you're not serving the Chimichurri within 2 hours, then cover, chill in the refrigerator then allow Chimichurri to return to room temperature before serving. Stir before serving.

The Mango in Mango Chimichurri
If you have been following me for long, you know I love mangos. They make everything better in my book from tacos, to salads, to stir fries, to this Mango Chimichurri! After one bite of this Mango Chimichurri, you will never go back to traditional chimichurri again. The sweetness of the mangos cuts through the spiciness and the bright juiciness perfectly complements the earthy cilantro and parsley. So while I like Chimichurri, I LOVE this Mango Chimichurri!

Not only are mangos sweet and juicy, they are a superfruit full of vitamins, minerals and fiber. Just one cup of mangos provides 100% of the daily value for vitamin C and is just 100 calories! Mangos are also fat free, sodium free and cholesterol free.
Thankfully this healthy deliciousness is available year-round thanks to the six varieties of mangos that have staggered growing seasons in Mexico, Peru, Ecuador, Brazil, Guatemala and Haiti so now you can enjoy this Brazilian Mango Chimichurri Steak year-round. And if you have been postponing enjoying mangos because you are intimidated by cutting them, never fear, my How to Cut A Mango Post is here! It teaches you exactly how to cut a mango as well as how to tell if mangos are ripe, how to store mangos etc.

What to Serve with Chimichurri Steak?
This Brazilian Mango Chimichurri Steak is fabulous with any of these sides:
But any way you serve it, this Brazilian Mango Chimichurri Steak will be a family and company favorite to rival any churrascarias!
Looking for More Steak Recipes?

WANT TO TRY THIS CHIMICHURRI STEAK RECIPE?
PIN IT TO YOUR GRILLING, STEAK OR DINNER BOARD TO SAVE FOR LATER!
FIND ME ON PINTEREST FOR MORE GREAT RECIPES! I AM ALWAYS PINNING :)!
©Carlsbad Cravings by CarlsbadCravings.com
Brazilian Mango Chimichurri Steak
Crazy juicy, tender Brazilian Mango Chimichurri Steak seeping with flavor from an easy, amazing marinade topped with spicy, sweet and tangy Mango Chimichurri. You can prep your entire meal ahead-of-time for an easy gourmet-tasting steak dinner any night of the week.
Save This Recipe To Your Recipe Box
You can now create an account on our site and save your favorite recipes all in one place!
Ingredients
4-6

top sirloin steaks 1" thick (3-4 lbs)

room temperature

Vegetable oil

pan searing only

butter

pan searing only

Freshly cracked salt and pepper
Instructions
Marinade
Whisk together all of the marinade ingredients in a freezer size plastic bag or shallow container (whatever you are going to marinate your steak in). Add steaks and turn to evenly coat. Marinate 6 – 18 hours in the refrigerator.
Mango Chimichurri
Finely chop the parsley, cilantro, jalapeno (without seeds), shallot and garlic in food processor. Remove to a bowl and stir in remaining Chimichurri ingredients. Taste and add jalapeno seeds, a little at a time, to reach desired heat or add red pepper flakes (optional).

Chimichurri is best if allowed to sit, covered, for 2 hours before serving to allow flavors to meld. If not serving for a few hours, chill in refrigerator then allow to return to room temperature before serving.
TO GRILL
Remove steaks from refrigerator 60 minutes before cooking to bring to room temperature. Pat off excess marinade and season each side with freshly cracked salt and pepp

Clean, grease and heat grill to medium high heat. Add steaks and grill to desired doneness, using tongs to turn the steaks once (never a fork). You want the temperature to register 5°F lower than the desired doneness (steaks will continue to cook after removing from the grill):

Cooking times for 1" steaks – thicker steaks will require longer. Medium rare: approximately 4-5 minutes per side, internal temp of 135/140°F. Medium: approximately 5-7 minutes per side, internal temp of 140-145°F. Medium Well: approximately 8-10 minutes per side, internal temp of 150/160°.

Transfer steaks to cutting board and loosely tent with foil. Let rest at least 10 minutes before slicing against the grain. Serve with Mango Chimichurri.
TO PAN SEAR
Remove steaks from refrigerator 60 minutes before cooking to bring to room temperature. Pat off excess marinade and season each side with freshly cracked salt and pepp

Heat CAST IRON SKILLET over high heat. Add 1 tablespoon vegetable oil. When it starts to smoke, reduce heat to medium-high and add steaks (working in 2 batches). Cook for 4 minutes without moving (SET TIMER). Add 2 tablespoons butter. Flip steaks with tongs (NOT a fork), and continue to cook for 4 more minutes. MEANWHILE…

Right after you flip the steaks, spoon melted butter over the steaks. Continue to baste steaks for the remaining cooking time, tilting the pan as needed to spoon the butter.

Check the internal temperature of the steaks after they have cooked a total of 8 minutes (they should be medium rare at this point). You want the temperature to register 5°F lower than the desired doneness (steaks will continue to cook after removing from skillet): For Medium Rare: 135°-140°, Medium: 140°-145°, Medium Well: 150°-160°.

If you wish to continue to cook your steaks, reduce heat to medium and continue to cook steaks to desired temperature, about 3-7 more minutes, flipping one more time and continuing to baste.

Transfer steaks to cutting board, and baste one more time and loosely tent with foil. Let rest at least 10 minutes before slicing against the grain. Serve with Mango Chimichurri.
Did You Make This Recipe?
Tag @CarlsbadCravings and Use #CarlsbadCravngs
Leave a Review, I Always Love Hearing From You!
©Carlsbad Cravings Original