Not sure what to do with that leftover pulled pork you have? Make these BBQ Pulled Pork Sliders! Topped with homemade coleslaw and served on Hawaiian sweet rolls!
The "best" tender, tangy sweet, smokey, BBQ Pulled Pork smothering melty cheddar buns topped with light bacon broccoli slaw for the ULTIMATE easy, cheesy BBQ Pulled Pork Sliders. Perfect make ahead meal or appetizer your fans won't be able to stop munching.
Easy Pulled Pork Sliders Recipe
A couple weeks ago, I shared with you my "Best" Pulled Pork recipe that was so addictelicous I was eating it all on its own. But with family and company present, you really can't eat the BBQ pork just with a fork, so I did something wonderful. I created BBQ Pork Sliders.
There is just something about sliders. They are so cute. They are so bite size. They are so easy to eat a million of (good thing they are so easy to make!).
Especially when the soft Hawaiian rolls are smothered in ooey, gooey cheddar cheese, topped with sweet, smokey, melt in your mouth tender pork. Add the texture of bright, light broccoli slaw sprinkled with crispy bacon and we have ourselves a BBQ slider that magically disappears into thin air. Again and again.
Lick your fingers, come back for 5ths and no one will know. Easy, Cheesy BBQ Pork Sliders with Bacon Broccoli Slaw. Ultimate Ease. Ultimate Flavor. Ultimate craviliious flavor, texture combination.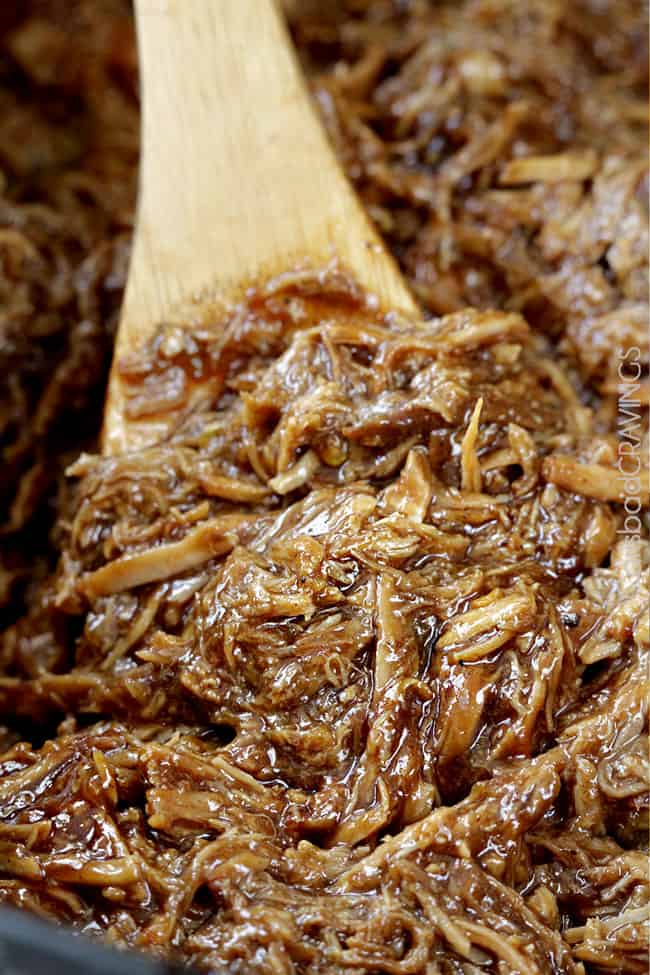 Ingredients in BBQ Pulled Pork Sliders
These bbq pulled pork sandwiches are a breeze to make! Here's what goes into this recipe:
BBQ Pulled Pork: You can find my recipe here.
Hawaiian sweet rolls: The best bread for sliders, in my humble opinion.
Cheddar cheese: I prefer using sliced cheddar cheese as it sticks to the sliders more easily than shredded would.
Broccoli slaw: You can find pre-mixed broccoli slaw in the produce section of your grocery store.
Bacon: Use any kind you'd like. Cook it until crisp, then crumble.
Mayonnaise: When making coleslaw for pulled pork, I like it to be creamier. Hence the mayo (use light mayo if desired).
Apple cider vinegar: Cuts through the rich mayo and adds some tanginess to the slaw.
Sugar: Balances out the vinegar and lemon juice without making the slaw too sweet.
Lemon juice: Freshly squeezed or bottled will work.
Dijon mustard: Dijon mustard has a deeper flavor than regular yellow mustard.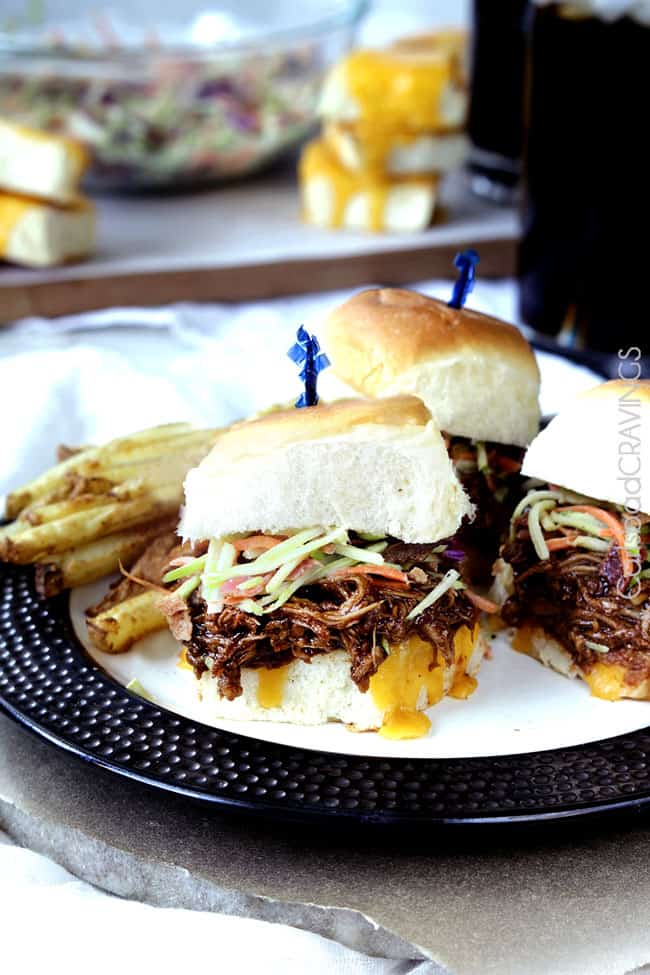 How to Make Pulled Pork Sliders
Prepare the BBQ Pulled Pork according to the recipe.
Meanwhile, add all of the coleslaw ingredients EXCEPT for the bacon to a large bowl and mix until well combined. Chill in the refrigerator until ready to use.
When ready to serve, lay bottom of buns in a single layer on a baking sheet (you might need to prepare in batches). Top with sliced cheese and broil until melted.
Remove slaw from refrigerator and stir in bacon.
To assemble, top cheddar buns with BBQ pork, followed by slaw and top bun.
Tips for Making Pulled Pork Sliders
You can substitute pork with rotisserie chicken or leftover shredded chicken. You can also substitute it with shredded beef.
The broccoli slaw is optional but HIGHLY recommended.
Don't broil the cheese with the sliders for too long or else the cheese isn't as gooey.
For extra cheesy pulled pork sliders on hawaiian rolls, use thicker slices of cheese.
Recipe Variations to Try
Change up the sauce: Add extra chipotle chili powder or cayenne pepper to give the bbq sauce more of a kick. Add more brown sugar to make the bbq sauce sweeter. Add a little extra vinegar to bump up the tanginess of the bbq pork.
Change up the cheese: I love sharp cheddar with barbecue sauce but you may also use Havarti, Gruyere, Swiss or provolone.
Change up the slaw: Alternatively, you can substitute with shredded red or green cabbage, lettuce, or something else crunchy.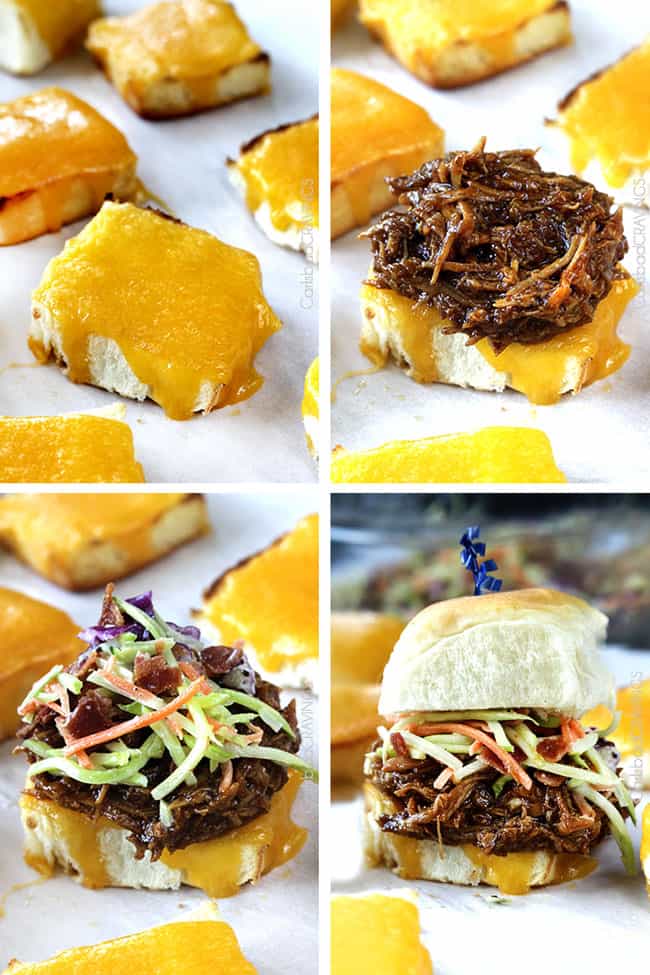 Can I Prep Pulled Pork Sliders in Advance?
Yes! The individual components can be made in advance, stored in separate containers, and refrigerated until you're ready to assemble and serve the sliders.
How to Store Leftover Pulled Pork
Leftover pulled pork sliders should preferable be stored with the buns, pork and coleslaw separately otherwise the coleslaw can get soggy and the sliders are difficult to reheat to their former glory.
If you think you might have leftovers, then you can make a "pulled pork slider bar" so so everyone can make their own sandwiches and so you can keep the components separate. Store sliders for up to 5 days.
How to Reheat Pulled Pork Sliders
Gently reheat the pulled pork in the Crockpot (depending on the portion size) or in the microwave. Then, assemble the sliders as you normally would.
Can I Freeze Pulled Pork Sliders?
Yes! You can freeze bbq pork sliders but I would not freeze them assembled. Instead, freeze the bbq pulled pork and the buns separately. To freeze the buns, seal them in sealed freezer bags.
To freeze the pork:
Prepare bbq pulled pork according to directions.
Cool to room temperature.
Transfer to a freezer size plastic bag OR portion into smaller size sandwich bags.
Press bag flat, squeeze out excess air to prevent freezer burn.
Seal, label and freeze for up to 3 months.
When ready to use, defrost pulled pork in the refrigerator overnight.
Remove pork and reheat in a skillet over medium heat until warmed through.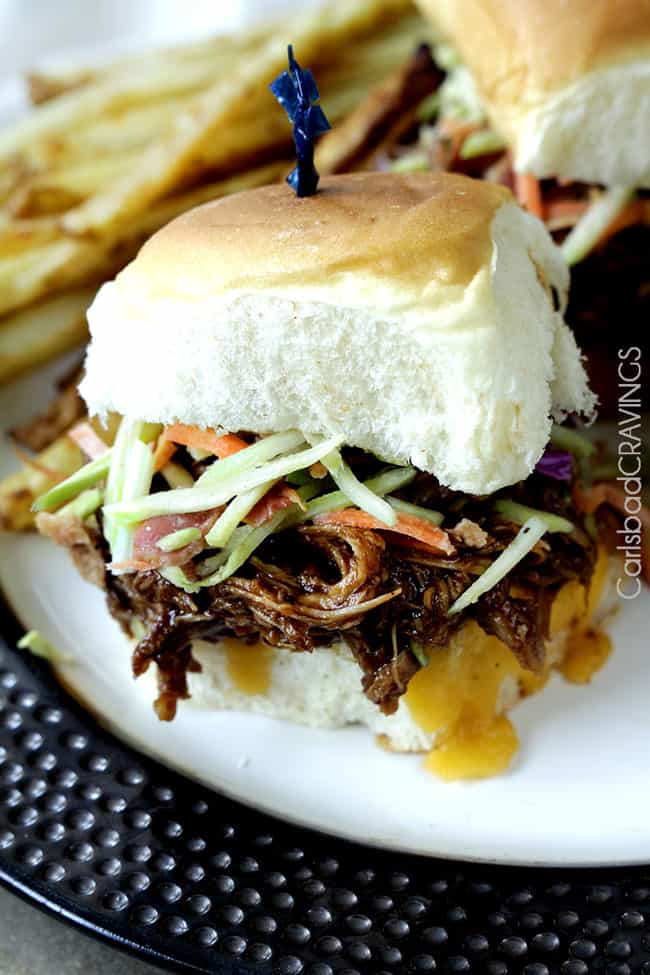 Side Dishes for Pulled Pork Sliders
These bbq pork sliders don't have to complicated, you can make a meal with just a green salad or Wedge Salad and fruit, or you can blow your guests away with any of these sides:
LOOKING FOR MORE SANDWICH AND BURGER RECIPES?
Pulled Pork Sliders
Servings:
6
-8 people, 24sliders
Total Time:
8

hours
20

minutes
Save This Recipe To Your Recipe Box
You can now create an account on our site and save your favorite recipes all in one place!
Ingredients
Light Bacon Broccoli Slaw
1

12 oz. package

package broccoli slaw

4

slices

bacon, cooked and crumbled

2

tablespoons

mayonnaise

2

tablespoons

apple cider vinegar

1

tablespoon

sugar

1

teaspoon

lemon juice

1

teaspoon

Dijon mustard

salt and pepper

to taste
Instructions
Prepare BBQ Pulled Pork according to recipe.

Meanwhile add all of the Bacon Broccoli Slaw Ingredients EXCEPT for the bacon to a large bowl and mix until well combined. Chill in the refrigerator.

When ready to serve, lay bottom of buns in a single layer on a baking sheet (you might need to prepare in batches). Top with sliced cheese and broil until melted, approximately, 1-2 minutes.

Remove Slaw from refrigerator taste and add additional sugar, vinegar, salt to taste. Drain off ay excess liquid and stir in bacon.

To assemble, top cheddar buns with BBQ Pork followed by Slaw and top bun. Secure with a toothpick if desired.
Notes
You pork might make more or less than 24 sliders so prepare cheese/buns accordingly.
Did You Make This Recipe?
Tag @CarlsbadCravings and Use #CarlsbadCravngs
Leave a Review, I Always Love Hearing From You!