ROASTED PORK TENDERLOIN IS SIMPLE TO MAKE, AMAZINGLY JUICY AND SMOTHERED IN THE BEST GLAZE!
This Roasted Pork Tenderloin recipe is buttery tender and exploding with flavor. It's smothered in a delectable Blackberry Hoisin Ginger Glaze that will have you licking your plate! This Oven Roasted Pork Tenderloin Recipe is deceptively easy but will blow you guests away! It requires just 60 minutes start to finish and most of that time is hand's off cooking in the oven. I've included detailed instructions, tips, tricks and everything you need to know to make the BEST Roasted Pork Tenderloin recipe!
Roasted Pork Tenderloin
This Roasted Pork Tenderloin is juicy, melt-in-your mouth tender, sweet, spicy (you can adjust the heat), looks fancy, tastes fancy but I promise ANYONE can make it!
It's so divine I am personally making it for my mom on Mother's Day – because I know she will love it, and I also want to eat it again. and again and again! This oven Roasted Pork Tenderloin is taste bud heaven and the easiest heaven you can create at home.
Roasted Pork Tenderloin Recipe
How easy you may ask? To make Roasted Pork Tenderloin, we place it in a water/salt/ brine for 20 minutes which ensures 110% tender pork! They don't call it pork tenderloin for nothing!
While the pork is tenderizing, its Blackberry Hoisin Ginger time! This glaze seriously takes 5 minutes to make without any skill involved! Simply saute garlic, ginger and red pepper flakes, then stir in blackberry preserves, hoisin sauce and red wine vinegar then cook until heated through – that's it!
Once your pork is removed from the brine, you sear it, then glaze it with the Blackberry Hoisin Ginger Sauce and then bake 25-30 minutes, brushing it with the glaze a couple times while cooking. And that's it!
One of the simplest, tastiest, impressive meals! This Roasted Pork Tenderloin is great for special occasions or anytime you have company over, or simply anytime you need a sweet and spicy, blackberry smothered, melt in your mouth, pork tenderloin fix!
pork loin vs pork tenderloin
Now let's get into some details, tips and tricks for this Roasted Pork Tenderloin recipe so you can have a runaway success! (If you don't want the nitty gritty, you can use the "jump to recipe" button at the top of the page).
First, it's important that you use the correct cut of pork – you need pork tenderloin and NOT pork loin for this recipe. You cannot use pork tenderloin and pork loin interchangeably – they are not the same.
Pork tenderloin is smaller and thinner (about 1-2 pounds) than pork loin which is much wider and longer (about 3-5 pounds).
Pork tenderloin is unbelievably tender because it comes from a muscle that doesn't get much exercise, whereas pork loin is more muscly and therefore requires longer baking time to become tender.
Pork tenderloin should be roasted at higher temperatures to seal in the juices but pork loin should be cooked low and slow to break down the muscles fibers and become tender.
In short, if you try and use pork loin in this Roasted Pork Tenderloin recipe, it won't be as tender or be done in the allotted baking time.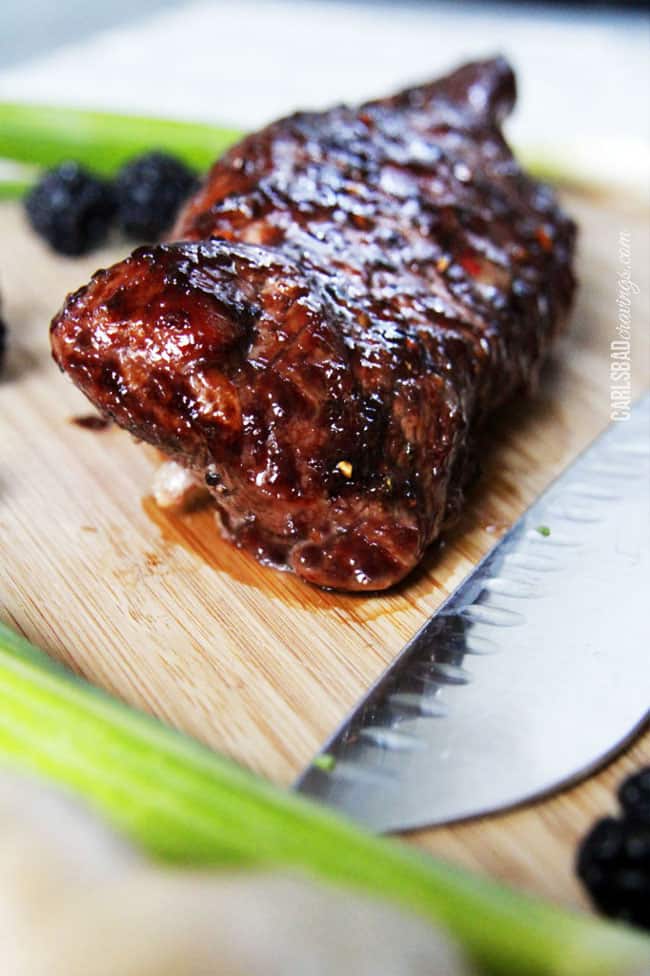 What to Look for in a Pork Tenderloin?
Should I buy pork tenderloin with a rub? The best Roasted Pork Tenderloin starts with quality pork tenderloin. You want to purchase plain pork tenderloin that isn't packaged in a rub or marinade. This allows us to season our pork tenderloin, control the amount of salt and eliminate the oil in the marinade.
Where should I purchase pork tenderloin? You can purchase pork tenderloin in the meat section of your grocery store or at Costco for less. At Costco, one package of pork tenderloin (which comes with two loins) costs about $15 per package. Although pork tenderloin is pricier than chicken it is still a very economical price to feed the family or company a restaurant quality dinner.
Do I use two pork tenderloin in this recipe? Yes! Pork tenderloin almost always is packaged with two tenderloins per package. Each tenderloin weighs roughly 1-1 ½ pounds. You will need one package with TWO pork tenderloins for this Roasted Pork Tenderloin recipe.
Do I need to remove the silverskin before cooking in the oven?
Many packages of pork tenderloin will come pre-trimmed so you don't need to worry about removing the silverskin before cooking in the oven. If your pork comes with the silverskin intact, however, you will need to remove it before roasting.
What does it look like? The silverskin is part of a sinew on one side of the pork and looks like thin, silvery fat. You will want to remove it because it can become tough and chewy when cooked.
How do I remove it? To remove the silverskin, slip a sharp knife in between the silver skin and the meat then cut it away until free. Take care to just remove the silverskin and not a big chunk of meat!
Why Brine Pork Tenderloin?
The JUICIEST Roasted Pork Tenderloin of your life starts with a brine. You are probably familiar with brining a turkey, and the same concept holds true to create moist pork.
Brining is like marinating meat in that it helps keep meat moist and tender by actually changing the molecular structure of the pork and increasing the moisture capacity of the meat.
The salt in the brine hydrates the cells of the muscle tissues via osmosis and allows the cells to hold onto the water while they are cooked by breaking down the proteins so they can no longer contract when cooking. This means less water will be squeezed out and lost, resulting in juicier pork.
How to Brine Pork Tenderloin
I LOVE brining oven Roasted Pork Tenderloin because you achieve the juiciest pork without having to plan ahead with an overnight marinade. So, if you've never brined any protein before, don't be intimidated – it literally takes 20 minutes! To brine pork, you will combine the following ingredients and let sit at room temperate for 20 minutes:
kosher salt
warm water
red wine vinegar
brown sugar
ice cubes
red pepper flakes
pork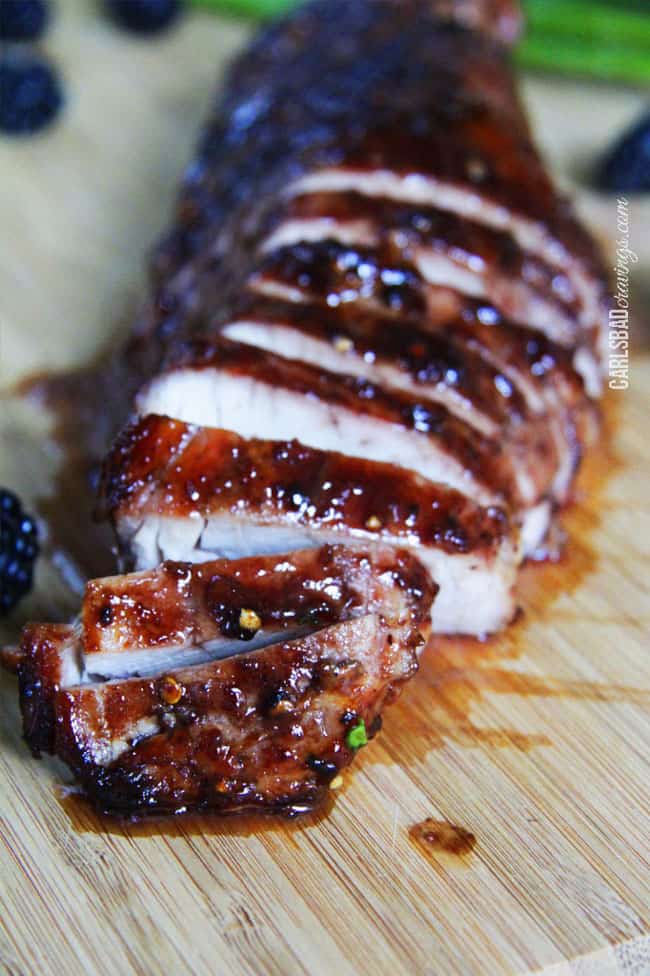 Brining Tips for Roasted Pork Tenderloin
Whisk the kosher salt in the warm water until it is dissolved before adding the rest of the ingredients.
DON'T brine for any longer than 20  minutes otherwise the pork will become mealy.
Do NOT evenly swap table salt in your brining solution for kosher salt or your pork will be too salty.  You will need half as much table salt as kosher salt if that's all you have on hand.
Rinse your pork thoroughly after brining to remove excess salt otherwise it will taste too salty.
How to cook pork tenderloin in oven
Roasted Pork Tenderloin is very easy to make. Here are some tips and tricks for the best oven baked pork tenderloin every time:
Brine for juiciness:  Mix the kosher salt with warm water in order to dissolve the salt, then mix in the vinegar, brown sugar and ice cubes. Add the pork and brine for 20 minutes.  Make sure both of the pork tenderloin pieces are completely emerged in the brine.  
Sear before roasting.   Just like you sear steak or roast, it is important to sear pork tenderloin before roasting.  Searing the pork achieves two things: 1) it develops rich, deep, complex flavor through the Maillard reaction and as Gordon Ramsey always says color = flavor; 2) searing the pork locks in the moisture which prevents the surface of the tenderloin from becoming dehydrated when cooked at high heat.
Sear in batches. If you cannot sear both tenderloins without them touching, then you will want to sear in two batches.    Sear the tenderloin until golden on all sides.
Use vegetable oil.   Don't substitute olive oil for vegetable oil in searing because we need an oil with a high smoking point.
Use a heavy bottom pan.  A cast iron skillet is ideal for searing but if you don't have one, you can use a QUALITY nonstick pan, it will just take a little longer to brown.  If your nonstick pan is too hot or not quality, it can ruin the nonstick surface.
Use a meat thermometer.   Pork tenderloin is lean and therefore can dry out very easily if overcooked so it is important to use a meat thermometer to achieve the correct temperature.  They are a small investment and come in handy ALL the time and eliminate all of the guess-work. You simply cannot make perfect baked pork tenderloin without one.
Rest before slicing: Let the Roasted Pork Tenderloin rest 5-10 minutes before slicing.  This time allows time for the redistribution and reabsorption of the juices throughout the pork tenderloin.
Slice across the grain:  Slice the pork across the grain. You want to cut perpendicular to the muscle fibers so they become as short as possible, as opposed to parallel which will result in long muscle fibers and chewy, rubbery meat.  You can either slice in ½" slices or my husband loves super thin slices. 
Use quality hoisin sauce.  If you aren't familiar with hoisin sauce, it can be found in the Asian section of any grocery store.  It is kind of like an Asian barbecue sauce and usually consists of soy, red chiles, garlic, vinegar and sugar.  Please only use quality hoisin sauce such as Lee Kum Kee or Kikkoman because you can TASTE the difference.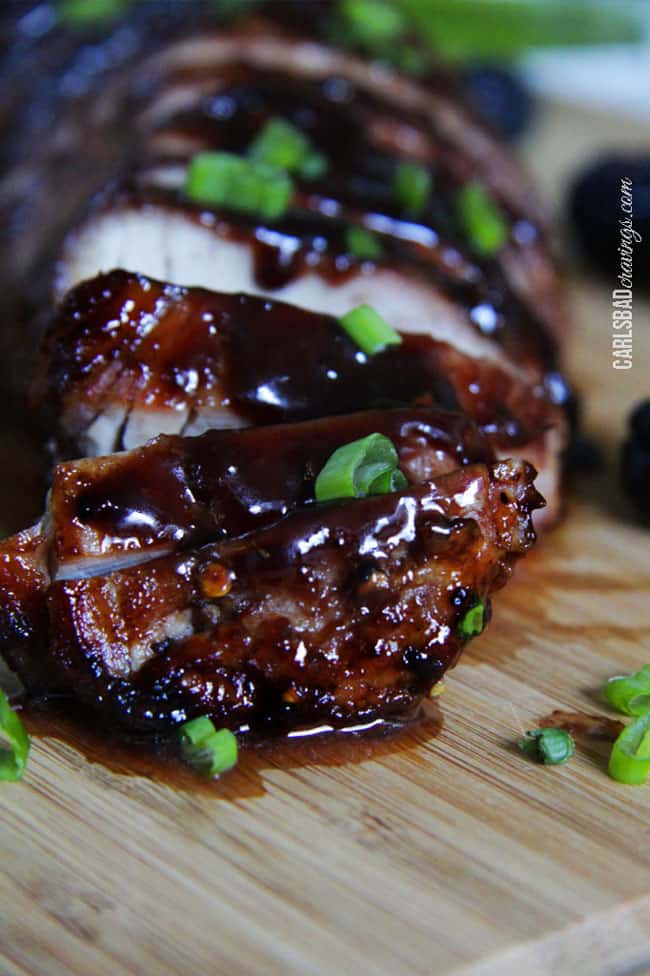 PORK TENDERLOIN temperature 
Pork Tenderloin is a very lean cut of meat so it requires a high oven baking temperature, about 425 degrees F so the meat can cook before it has time to dry out. If you were to roast the pork tenderloin at a lower temperature, it would take longer to cook which can dry out the pork.
The USDA guidelines state that pork can be safely consumed when cooked to an internal temperature of 145 degrees F with a resting time of three minutes, however, anywhere from 145-160 degrees is considered acceptable.
Your Roasted Pork Tenderloin will increase anywhere from 5-10 degrees in temperature as it rests, so I like to take mine out as soon as it hits 145 degrees for the juiciest pork. If you overcook your pork tenderloin, it will transform from fork tender to dry and chewy.
Baking pork tenderloin at 425 degrees F can take anywhere from 25-30 minutes depending on the desired temperature, exact size and thickness of your pork tenderloin.
Pork Tenderloin Internal Temp:
This is what your pork will look like with the allotted 5-minute resting time:
take pork out at 145 F, will rise to 150 F – slices will be somewhat pink and moist
take pork out at 150 F, will rise to 155 F – slices will be a little pink and moist
take pork out at 160 F, will rise to 165 F – slices will not be pink but still should be relatively moist
Can Pork Tenderloin Be Pink Inside?
Yes! Your oven roasted pork tenderloin is safe to consume when a thermometer inserted into the thickest part of the meat registers 145 degrees F.   This means it will be slightly pink inside which is OKAY.   This is different than old standards, but new research shows that 145 degrees F is the same safety-wise as cooking pork to 160 degrees F AND yields much more tender pork.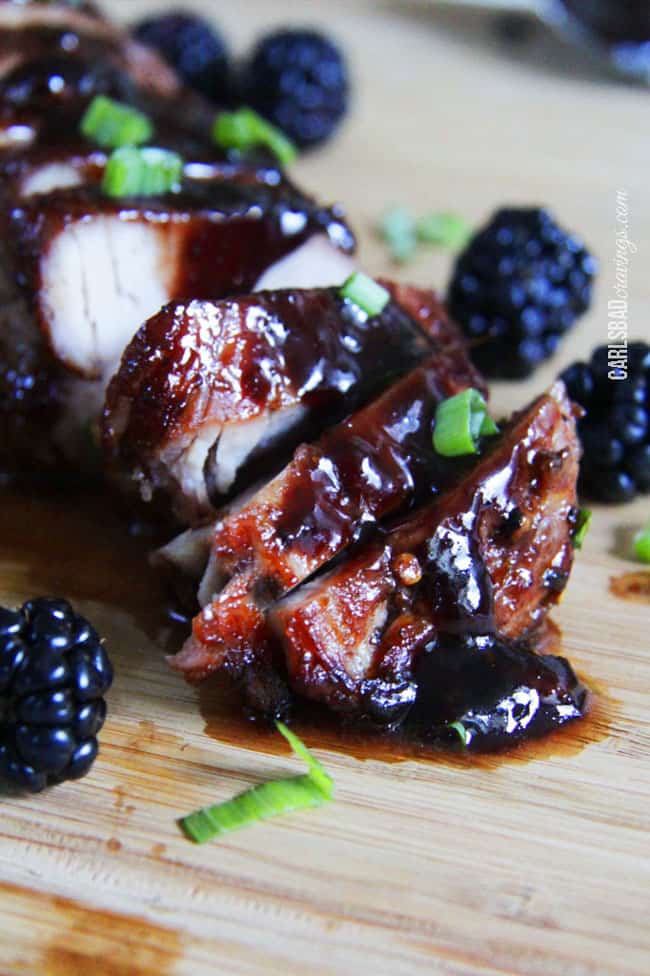 The Best Glaze for Pork Tenderloin
What makes this the BEST Roasted Pork Tenderloin (in addition to its melt-in-your -mouth juiciness) is the sensational Blackberry Hoisin Glaze. The glaze is a simple simmering of hoisin, blackberry preserves, garlic, ginger and red pepper to create a delectable luscious sauce. The sauce tastes of sweet blackberries, with an underlying Asian flair, with the option to choose how spicy you would like to make it.
The glaze gets brushed onto the oven roasted pork after it is seared and before it is baked and then again after 15 minutes of baking. This ensures our oven pork tenderloin will be seeping with flavor from the inside out.
WHAT SIDES ARE BEST WITH OVEN ROASTED PORK TENDERLOIN?
This Oven Pork Tenderloin is wonderfully flavorful so it pairs nicely with plain rice and a green salad. It is also delicious with Fruit Salad, Asian Salad, stir-fried or roasted veggies (Roasted Broccoli, Roasted Cauliflower, Roasted Carrots, Saluted Brussels Sprouts, Glazed Carrots), .
For a full Asian feast, pair it with Wontons,Potstickers, Wonton Soup and/or Chinese Chicken Egg Rolls.
HOW LONG IS LEFTOVER PORK GOOD FOR?
Leftover oven roasted pork tenderloin should be stored in an airtight container in the refrigerator. When properly stored, pork is good up to 5 days.
CAN I FREEZE LEFTOVER PORK TENDERLOIN?
Yes! You can freeze pork tenderloin whole, chopped or in slices. Frozen tenderloin should be used within 3-4 months.
LOOKING FOR MORE PORK RECIPES?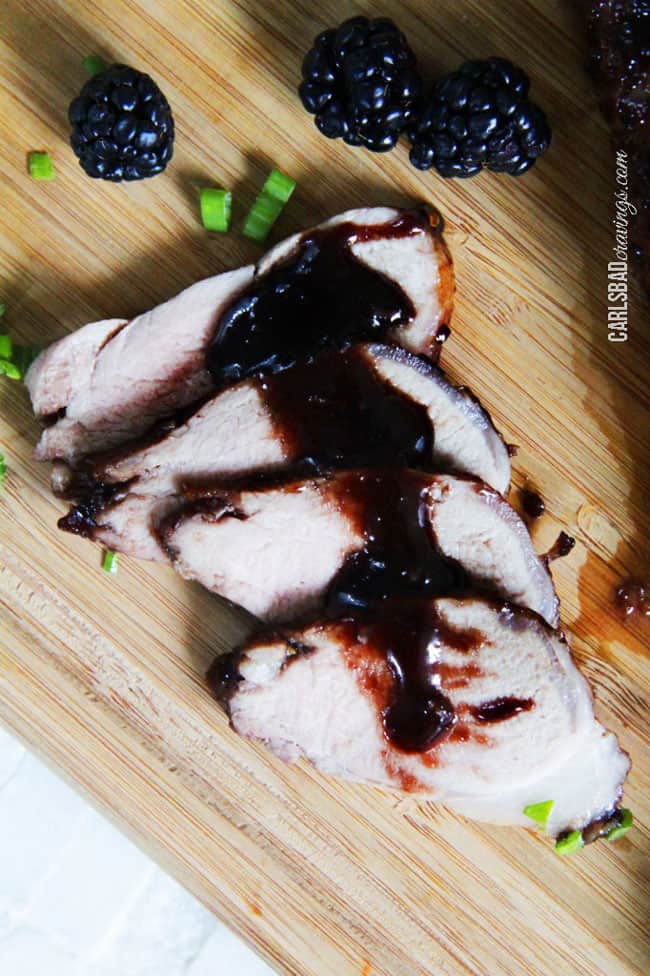 WANT TO TRY THIS ROASTED TENDERLOIN RECIPE?
PIN IT TO YOUR HOLIDAY, MEAT OR DINNER BOARD TO SAVE FOR LATER!
FIND ME ON PINTEREST FOR MORE GREAT RECIPES! I AM ALWAYS PINNING :)!
©Carlsbad Cravings by CarlsbadCravings.com
Blackberry Hoisin Ginger Pork Tenderloin
This Roasted Pork Tenderloin is simple to make, amazingly juicy and smothered in the best glaze! This pork tenderloin recipe is buttery tender and exploding with flavor.  It's smothered in a delectable Blackberry Hoisin Ginger Glaze that will have you licking your plate!   This Roasted Pork Tenderloin Recipe is deceptively easy but will blow you guests away!  It requires just 60 minutes start to finish and most of that time is hand's off cooking in the oven.  I've included detailed instructions, tips, tricks and everything you need to know to make the BEST Roasted Pork Tenderloin recipe!
Save This Recipe To Your Recipe Box
You can now create an account on our site and save your favorite recipes all in one place!
Ingredients
Pork Tenderloin Brine
2

14-16 oz.

pork tenderloins, trimmed

1/4

cup

kosher salt

3

cups

warm water

2

tablespoons

red wine vinegar

1/4

teaspoon

red pepper flakes

2

tablespoons

brown sugar

1

cup

ice cubes
Pork Tenderloin Rub
1

tablespoon

Vegetable oil

1

teaspoon

freshly cracked black pepper

1

teaspoon

salt
Blackberry Hoisin Ginger Glaze
Instructions
In a gallon-size freezer bag, dissolve ¼ cup of

kosher salt

in the warm water. Add the remaining brine ingredients, including the pork. Brine for exactly 20 minutes. The pork becomes mealy if its brined longer.

Meanwhile, prepare the Blackberry Hoisin Ginger Glaze by melting 1 tablespoon butter in a small saucepan over medium heat. Add garlic, ginger and red pepper flakes and saute for 30 seconds. Stir in blackberry preserves,

hoisin sauce

, red wine vinegar, salt and pepper. Taste and add more red pepper flakes if desired, remembering that the glaze will be less "spicy" because only a little is drizzled over each serving.

At exactly 20 minutes, remove the pork from the brine and pat dry. Rub the pork all over with 1 tablespoon olive oil, followed by 1 teaspoon salt and 1 teaspoon freshly cracked pepper.

Preheat oven to 425°F.

Heat 1 tablespoon of oil in a heavy bottom skillet over medium high heat. When oil is very hot and rippling, add pork tenderloin. Sear each side until browned, approximately 1-2 minutes per side. Place tenderloin on rack in shallow roasting pan or a rack paced on a baking sheet. Brush with Blackberry Hoisin Ginger Glaze, brushing again after 15 minutes of cooking. Roast approximately 25 to 30 minutes or until until an internal thermometer inserted into the thickest part of the tenderloin registers between 145 and 150 degrees F (63 and 65 degrees C). This means the pork will be juicy and slightly pink in the middle.

When pork is done, let stand 10 minutes before slicing. Meanwhile, warm the sauce. Slice pork thinly then drizzle with Blackberry Hoisin Ginger Glaze – either on a platter or on individual servings.

Enjoy!
Did You Make This Recipe?
Tag @CarlsbadCravings and Use #CarlsbadCravngs
Leave a Review, I Always Love Hearing From You!